Multiple services have sprung up around Airbnb, for instance companies that relieve hosts from checking in and out guests, as well as from cleaning up their rental and from doing the laundry. In Europe, one of the main players in this service industry is called Bnbsitter. Headquartered in France, it already operates in 3 countries and 13 local markets.
I recently sat down with Yassine Yacoubi, Bnbsitter's business developer, to better understand what they do (I had first met Yassine at an event for French vacation rental tech companies). What makes a company like this successful, is it the service or the technology? Why do they see themselves as a marketplace à la Uber? How do you handle international expansion when every local market seems to differ one from the other one? Why do short term rental companies now use Bnbsitter as a service provider?
Yassine, can you tell us what Bnbsitter does? How big is the company?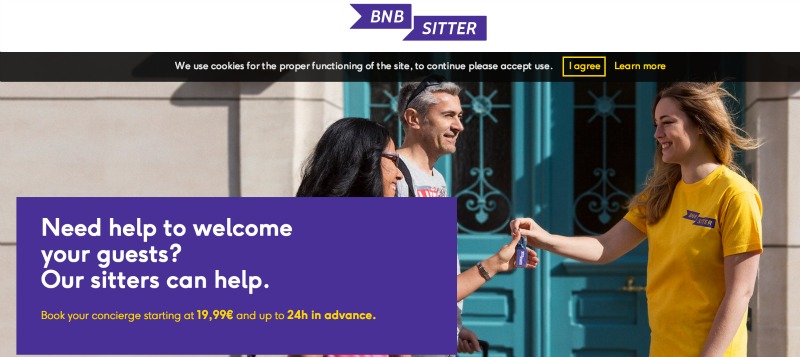 Bnbsitter provides on-demand services to short-term rentals owners, for instance Airbnb hosts. Our "sitters", or concierges, can checkin / checkout guests, clean up the rental and/or take care of the laundry.
Since our inception in December 2013, we have already serviced 3,000+ properties, welcomed 30,000+ guests, with the help of 300+ concierges.
Bnbsitter is a French company currently active in 3 countries (France, Italy and Spain), specifically in 10 local markets in France (e.g. Paris, French Alps, French Riviera), in Barcelona, Milan and Rome. Our company was incubated within Welcome City Lab, the world's first incubator 100% dedicated to travel startups.
Our website and our services are available in 4 languages: English, French, Italian and Spanish. We provide services to Airbnb hosts, as well as to people listing their rental properties on sites like HomeAway, MisterBnb, HouseTrip, Sejourning, etc.
There are so many services providers and with a wide array of business models. How do you compare with companies like Pillow or Guesty?

We believe that guests deserve to be warmly welcomed when they arrive at a rental. Imagine that you are an American family booking an apartment in Paris or Rome. You need someone to show you how to open the one-of-a-kind doors of your rental, to give you a brief overview of how the dishwasher works, to give you some tips about moving around the city, etc. How guests are welcomed is very important in reviews.
Bnbsitter is a marketplace: Our website connects hosts with concierges. Hosts have real time access to the concierges available and can book services such checkin or checkout. We simply take a commission on these services. In a way, we are a bit like Uber, as we are a platform, a marketplace.
However, we carefully vet our concierges through a rigorous interview process. Concierges are rated by hosts. This is our core belief: We want to maintain the relationship between hosts and guests, not replace hosts. We are not taking over the relationship, we only help with the logistics. This is on par with the spirit of the Airbnb community and with the vacation rental by owner ethos, where guests connect with owners.
In the US, a company like Properly does the same thing as we do, but the difference is that they have their own staff. At Bnbsitter, our concierges are vetted freelancers. So, our model is more flexible. Another US company like Urban Bellhop offers a service that is quite similar to ours.
Our business model is different from that of Pillow in the US and of HostMaker in the UK. Unlike them, we do not handle booking inquiries and we do not take a commission on booking. Also, in a market like Paris, which is Airbnb's #1 market in the world, it would be very hard to automate thinks through electronic key locks (most doors are old and one-of-a-kind, so it is very hard and expensive to set up electronic key locks).
Finally, Guesty is completely different from us: They handle booking enquiries, but not the logistics of welcoming guests, cleaning up the apartment, etc. I think that they take a 3% commission on bookings.
Is Bnbsitter a service company or a tech company?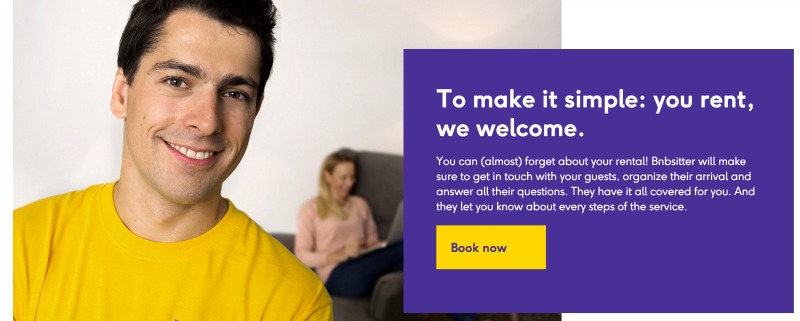 We are a tech company. It's all about connecting owners and concierges, as seamlessly as possible. These people are usually on the go. They want to be able to book a concierge as soon as the Airbnb app notifies them that they have a booking.
So, we've made sure that our website was very easy to use. It means that owners have real time access to the available concierges for the date of the booking. But it also means that concierges have full access to the all the relevant data and information about each property that they are going to service: Its location, how to get in, how the music system works, etc.
It's all about storing this key information. For instance, if the concierge finds something broken at the time of check-out, he or she will take photos that will be added to the property data. This way, the owner can get notified, review what's been broken and decide what to do.
Owners and concierges can easily chat and exchange information through our platform, even before the arrival of the guests. For instance, an owner can notify the concierge that dishwasher detergent is missing, and the concierge can fetch it before the guests arrive.
So, Bnbsitter invests a lot to make sure that information flows smoothly when it comes to booking a service, storing or updating property information, financial transactions between owner and concierge, etc.
But we also want to provide a service that is welcoming, warm, personal and human. For instance, before the guests arrive, they are contacted by the concierges who introduce themselves to the travelers. Concierges ask the guests to confirm their arrival time, for instance. This way, if a plane is delayed or if the guests are stuck into a traffic jam, the concierge can notify the owner. The concierge can also plan his / her day better and come back later. This way, an owner does not have to reschedule (and pay) for another appointment.
Bnbsitter also has 10 employees working in the Customer and Quality Service. These employees help sort out tricky situations. For instance, if, after 3 back-to-back bookings, an owner comes back to her apartment and finds a big stain on the floor, which one of the previous guests should she blame? Our Customer services pours over the concierge reports and photos to help the owner get down to the root of the matter.
Also, our Customer Service makes a phone call to every owner who has not given a 5-star review to their concierge, so that we can understand what went wrong. If needed, we then brief the concierges again or even ban them from the marketplace.
You are a small, but ambitious company, already working in 3 different countries. How different are these markets?

Our goal is to go after specific, identified local markets, like Paris, Milan, the French Alps and to become the leader. We use the same platform everywhere, but the way the marketplace works is different from one place to another.
Even within France, we have noticed some differences. For instance, Paris is a very busy market, with plenty of owners and plenty of concierges. In smaller cities, it can be hard to maintain a marketplace that is active: If there are not that many bookings in a city, not many owners will use our services. As a result, there will not be many concierges who can make a living relying on us. So the marketplace may be stuck in a circle where there are not enough concierges available because there is not enough demand. This is where we can help by being tactical and investing only into local markets that can take off.
But things are also different from one big city to another. For instance, Parisians are used to using apps to get on-demand services such car rides (Uber, Chauffeur Privé) and food delivery (e.g. Deliveroo, Take Eat Easy, AlloResto). It is not as intense in Barcelona or Milan.
Meanwhile, Uber has been banned in Spain. As Bnbsitter is a provider of on-demand services, it means that people in these locations do not alway have this built-in reflex of looking up their smartphone for help.
Cultural differences can also be more subtle. For instance, in Barcelona, apartments are bigger than in Paris. Owners have been used for a long time to renting out 1 or 2 bedrooms to strangers to make ends meet. Often, one of these renters actually stays for free, provided he or she takes care of the whole apartment, cleaning here and there, overseeing the other renters, etc. As an international company, you have to know to these cultural differences otherwise they can be lethal pitfalls.
Another difference is launderettes: There are plenty of them in Paris, so it is easy for a concierge to wash and dry linens. It is not so in Rome or Milan, where we cannot offer same-day linen cleaning like in Paris.
At a recent event, called VR Tech Paris, I heard you explain how you had been gaining B2B clients, that is short-term rental management companies that are very happy to use Bnbsitter in lieu of hiring employees. Can you elaborate on this?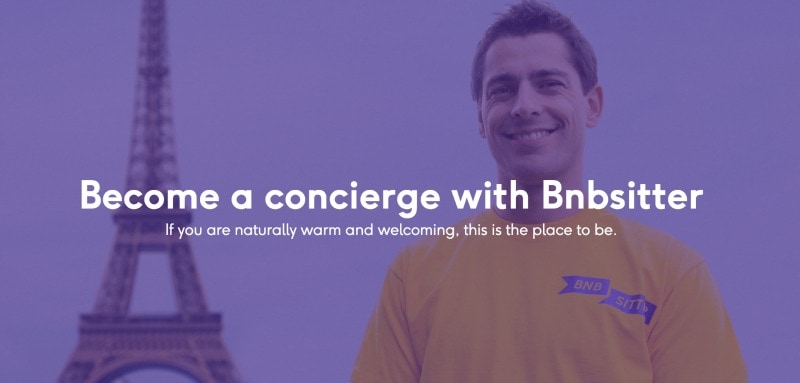 It happened naturally. As early as August 2014, we had rental management companies asking to use our services. For instance, it can be difficult for a company like this to find employees willing to hand in some keys early morning on Sundays.
Also, if multiple guests are arriving all over Paris at the same time on a Friday evening, you need a lot of employees to face a demand peak. Using our vetted freelance concierges makes more sense to these companies who still want to provide a personal touch when welcoming guests. Rental management companies take guest reviews on listing sites very seriously, so it is important the service that we provide gives the most satisfaction possible to the guests.
If you want to know more about Bnbsitter, you also get my French book on Airbnb called "Doublez Vos Réservations". You will find an interview of Piero Cipriano, Bnbsitter's co-founder.