Key Insights for Vacation Rental Managers:
Many property managers hesitate to offer direct bookings due to concerns about guest trustworthiness and property safety. They often rely on Online Travel Agencies (OTAs) for added protection.
Dtravel, a community-owned travel ecosystem, partners with Superhog to integrate their advanced risk management system, Know Your Guest (KYG), into Dtravel Direct – a direct booking website builder.
KYG utilizes data analytics and screening tools to identify high-risk guests. With this integration, property managers gain access to a powerful guest screening solution.
Property managers can implement protection measures, such as deposit requirements or damage waivers, based on KYG's risk assessment to mitigate potential issues.
This collaboration aims to empower property managers to create a secure and reliable guest community, boosting confidence in direct bookings and reducing the risk of fraudulent activities and property damage.
About The Companies:
Dtravel is a community-owned travel ecosystem that aims to revolutionize vacation rentals through direct connections and blockchain products.
Superhog is a leader in short-term rental risk management, providing a pre-emptive risk management platform for property managers.
Uvika's View:
The collaboration between Dtravel and Superhog does address a crucial pain point in the vacation rental industry: the struggle of property managers to confidently offer direct bookings.
Through KYG's advanced screening and data analytics, property managers can identify guests with questionable backgrounds, mitigating risks such as parties, criminal incidents, and fraudulent activities.
While this collaboration significantly enhances guest trust and safety, it's important for property managers to leverage the full potential of KYG beyond initial screening. Managers can further strengthen their safety measures by clearly communicating rules and expectations to guests and maintaining property compliance with local regulations.
Overall, Dtravel and Superhog's partnership offers valuable tools to vacation rental managers seeking to provide a secure and seamless experience for guests. However, to maximize its benefits, property managers must integrate KYG into a comprehensive safety strategy that covers all aspects of guest management and property protection.
Related Read: Airbnb Strengthens Security Measures: Balancing Safety and Host Autonomy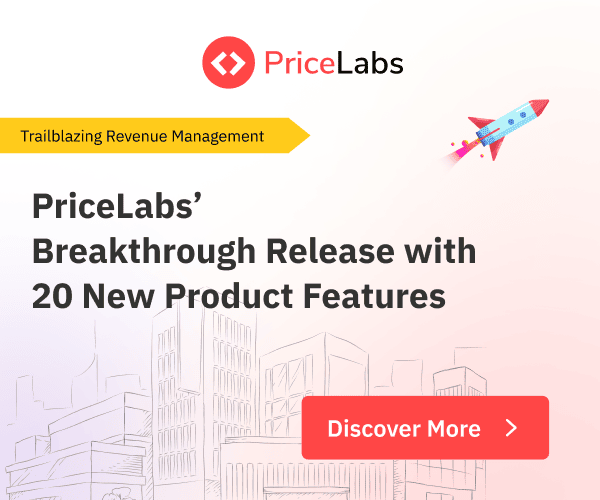 Key Takeaways for Vacation Rental Managers:
Host & Stay, a UK-based family-owned holiday let management company, has completed the acquisition of Host So Simple, a Liverpool-based short-term let property management company.
Through this acquisition, the Host & Stay portfolio now exceeds 900 properties, offering guests a wider range of accommodation options.
Vacation rental managers partnering with Host & Stay can benefit from the company's hands-free, end-to-end service model, covering cleaning, maintenance, marketing, and guest relations.
The merger hints at positive growth trends in the UK's short-term rental industry. This could signal increased demand for vacation rentals in various regions, potentially benefiting vacation rental managers in the UK by capturing a share of this growing market.
Over the next three years, Host & Stay aims to acquire multiple holiday home and short-term rental management businesses throughout the UK. This strategic move is backed by reinvestment of profits, enabling them to scale operations and optimize capabilities.
About the Companies
Host & Stay: A UK-based company offering a hands-free, end-to-end vacation rental management service, including cleaning, maintenance, marketing, and guest relations.
Host So Simple: A Liverpool company providing end-to-end short-term let management services.
Uvika's View
Merger of this scale have the potential to spur innovation and raise the bar for standards in the vacation rental market. This could create new opportunities and healthy competition, benefiting both managers and guests.
The acquisition opens doors for Host & Stay to expand beyond Liverpool. Vacation rental managers in other regions may find this attractive, seeking collaboration with a reputable company that has a proven track record of growth and success.
For vacation rental managers aspiring to scale their operations efficiently, studying Host & Stay's playbook can offer valuable insights and ideas. Their hands-free service model and strategic approach may serve as a valuable blueprint for growth.
The emphasis on shared 'family-backed values' in the acquisition underlines the importance of effective branding. Demonstrating aligned values can attract the right investors and collaborators, fostering successful partnerships and business expansion.
Related read: Want to buy/sell your short-term rental company or attract investors? Here's what you need to know.
Key Takeaways for Vacation Rental Managers:
Marseille-based holiday club operator, Villages Clubs du Soleil, acquires holiday rental specialist Vacancéole to expand in the French market and diversify services.
Vacancéole will maintain its identity post-acquisition.
The transaction involved support from various banks and funds to aid SMEs with long-term financing.
About the Companies:
Villages Clubs du Soleil: A Marseille-based holiday club operator with 17 holiday villages across France.
Vacancéole: A holiday rental specialist managing 100+ holiday rentals and residences in different locations in France.
Uvika's View:
With an expanded portfolio, Villages Clubs du Soleil is well-positioned to leverage the consolidation and rising investor interest in the French domestic holiday sector, which is anticipated to surge due to the Paris 2024 Summer Olympics and Paralympics.
The acquisition seems poised for success, as Villages Clubs du Soleil, hailing from Marseille, positions itself strategically in one of the most searched-for destinations for the upcoming Paris 2024 Summer Olympic and Paralympic games, alongside the capital city.
Nonetheless, vacation rental managers should remain attentive to ongoing discussions in the country about the potential for tighter regulations in the short-term rental market, which could shape the industry's dynamics in the mid to long term.