The VRMA International Conference 2023 at Disney Coronado Springs in Orlando, Florida, was a grand spectacle to behold. With an impressive turnout of 2,500 attendees and over 100 vendors showcasing their offerings in vibrant and spacious booths, it was indeed the largest event I've ever participated in.
Despite the enormity of the occasion, the strategic layout of the convention center ensured that things didn't get too overwhelming.
Given the vastness of such an event, finding some downtime to reconnect both professionally and personally with industry peers and friends can be a challenge.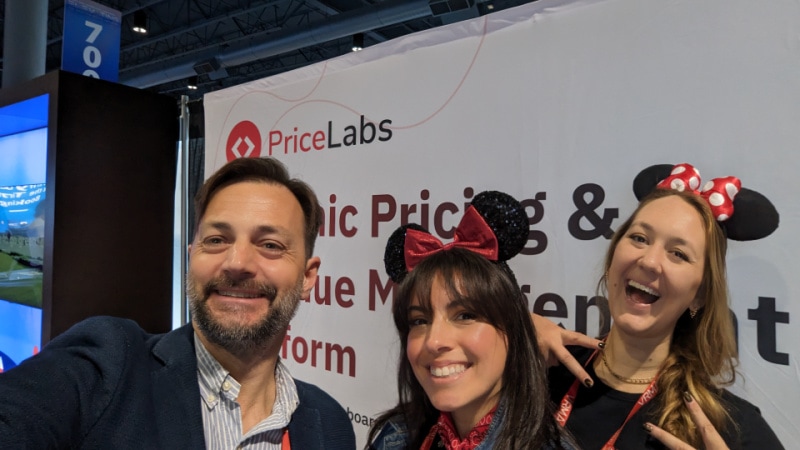 Data and trends: Clouds on the horizon, especially in affordable markets
The atmosphere was tinged with uncertainty, as evidenced by the large number of participants attending sessions on revenue management and data interpretation.
The hospitality industry has seen a fair share of fluctuations, with summer offering a smoother ride compared to fall. However, this pattern isn't consistent across the board.
In the luxury market segment, things appear to be flourishing. Those with substantial financial resources continue to have them.
On the other hand, in more budget-friendly markets, the average daily rates (ADR) are dwindling and demand seems to be more unstable. To maintain occupancy, many providers had to reduce their ADR.
Looking ahead to the winter season, initial indicators seem positive, but there is a caveat: While early bookings for winter look promising, there's speculation that these may primarily be from early birds. If last-minute bookings don't follow suit, final occupancy could be lower than expected.
The booking window appears to have contracted again, suggesting less predictability in bookings compared to 2022. This situation underscores the importance of last-minute reservations.
This presents an opportune moment for dynamic pricing companies, particularly for PriceLabs and its new market-driven last-minute customizations based on hyper-local data and the new HLP algorithm. Such services promise to offer discounts as necessary, but not more, an attractive proposition in the current climate.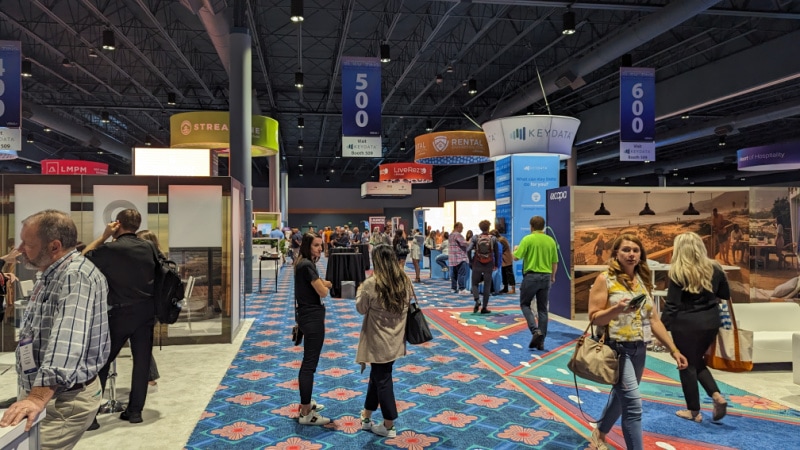 Regulatory Changes threaten to gut supply in key markets
From major cities like New York to vacation hotspots such as Steamboat, new regulations are cropping up across the board, affecting both urban markets dealing with housing shortages and areas traditionally favorable to vacation rentals. This issue was clearly on many people's minds, underscoring the importance of active advocacy in this area.
Companies like PriceLabs are stepping up to support these advocacy efforts, aligning themselves with the Vacation Rental Management Association (VRMA) to challenge and navigate these evolving regulations.
During a presentation, Matt Landau revealed a sobering prediction from a software vendor: due to tightening regulations on short-term rentals, they expect to lose up to 30% of their listings in key markets. This stark forecast further highlights why supporting VRMA's advocacy work is crucial for the industry's future.
Mid-Term Rentals as the solution?
Numerous sessions mentioned the growing trend of vacation rental managers integrating mid-term rental management into their operations. This strategic pivot is not just about diversification, but also a protective measure against potential regulatory clampdowns on short-term rentals. By expanding into the mid-term rental space, managers can mitigate the risks associated with stringent regulations that might affect short-term rentals, ensuring a continuous and stable revenue flow even in restrictive regulatory environments. This approach showcases foresight, preparing businesses to adapt and thrive amidst changing legal landscapes.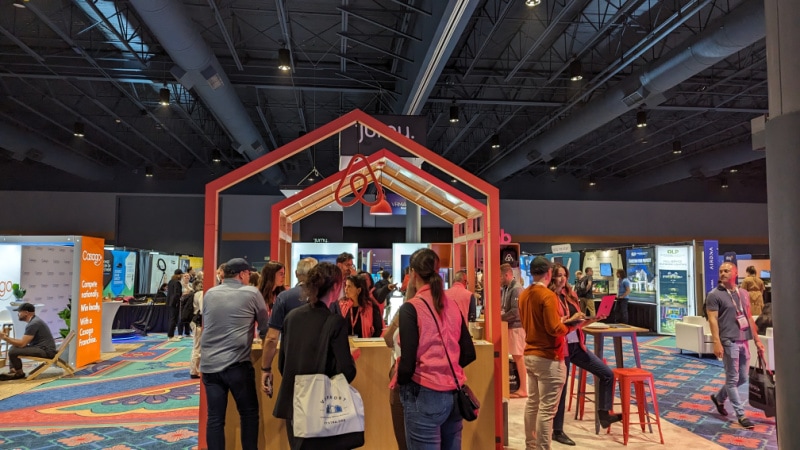 Most AI tools are not quite ready yet, but some concrete applications exist
There were at least four sessions dedicated to AI, with one notably led by Rental Scale-Up's Thibault Masson. The overarching sentiment suggests that vacation rental managers are cautiously exploring AI, especially following the initial buzz around it. They are making substantial use of tools such as ChatGPT to refine listings, often by integrating them with feedback from guest reviews. Additionally, there are AI-powered tools designed to optimize OTA strategies, transcribe interactions with homeowners, store these dialogues in CRM systems, and automatically dispatch summaries and action emails to property owners. On the vendor side, there's been a noticeable reduction in the AI hype. This downturn is actually encouraging, indicating that after making initial announcements, vendors are now genuinely engaged in development and implementation.
ESG and Sustainability matter to PMs (and to their investors)
Environmental, Social, and Governance (ESG) factors have become a focal point in assessing the sustainability and ethical impact of investments. Interestingly, discussions around ESG and sustainability are now emerging at US vacation rental conferences, a shift from their usual prominence at European events.
Evidence #1: Highlighting this trend, Vanessa De Souza-Lage, who introduced the sustainability badge Sustonica, was a key speaker at the grand opening session, "The Future of Vacation Rentals."
Evidence #2: This surge in ESG discussions might be attributed to increasing indirect pressure on vacation rental managers. Investors and potential buyers, recognizing the importance of ESG, are often inquiring about these factors before making acquisitions, pushing companies to adopt more responsible practices.
Evidence #3: Established platforms are also joining the movement. Booking.com actively promotes its sustainability program, Vrbo has unveiled "76 new accessibility and sustainability badges," and Airbnb is in the midst of crafting its own dedicated sustainability initiative.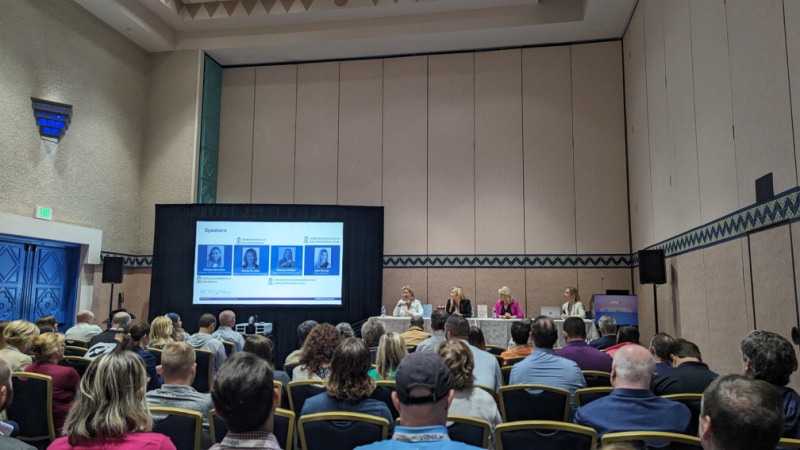 Revenue management insights
Understanding Revenue Beyond Just Pricing
While revenue management often conjures thoughts of pricing, the issue might not always lie there. Factors other than pricing can affect occupancy, ADR, and overall revenue. For example, distribution can play a significant role: Are your properties listed on the most suitable platforms, like Vrbo for larger properties? Are they consistently live on all platforms? Andrew Lensjedk ensures daily scans of his properties on Guesty from the Philippines to maintain availability. Furthermore, solely targeting 30+ day bookings on platforms exclusive for such stays can be limiting. Diversifying platforms can help capture varied demand, as travelers often don't stick to a single channel.
Another consideration is the Minimum Length of Stay (LOS). With evolving travel patterns, guests might be looking for shorter stays.
The Era of Hyper-local: PriceLabs' Innovation
PriceLabs introduces its Hyper Local Pulse (HLP) algorithm, a pioneering solution in the vacation rental domain. Designed to recognize and adapt to nuanced local short-term rental market behaviors, it empowers managers to respond timely to market shifts.
Key Advantages:
Market Dynamics Comprehension: HLP provides a detailed view of market movements, equipping managers to adapt promptly and outpace competitors.
Refined Pricing: The algorithm fine-tunes PriceLabs' seasonality and demand modifications, potentially amplifying revenues.
Focused Local Data: Prioritizing data from fewer than 350 listings, HLP identifies distinct trends that might be missed by broader market analyses.
Innovative Price Approach: Pioneers, like Grand Welcome, found that HLP transformed their pricing methods.
Enhanced Pricing via Competitive Sets: HLP's focus on competitive sets refines pricing, facilitating more informed choices by juxtaposing similar properties.
Prompt Impact: Early users have seen marked enhancements within a quarter of adopting HLP, showcasing its prompt efficacy.
PriceLabs' HLP stands out due to its hyper-local data emphasis, blending advanced algorithms with human intervention and market insights. This combination offers rental managers a robust method to amplify their revenue management tactics, ensuring a stronger foothold in the vacation rental sector.
Matrix Pacing by Wheelhouse's John DeRoulet
While RevPar is excellent for assessing past achievements, it can obscure many variables for future projections. John suggests focusing on two metrics: ADR and Occupancy. Using these, he devises a matrix, plotting each upcoming month. By comparing ADR and occupancy against the same period from the previous year, he determines appropriate actions based on where a month positions in the Pacing Matrix.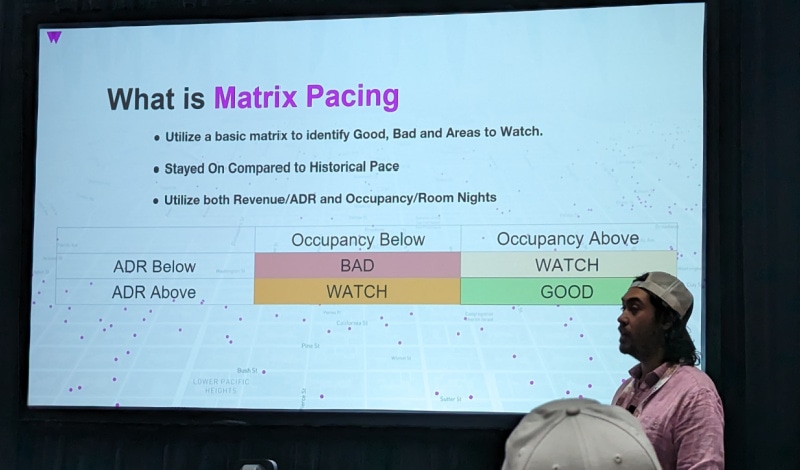 More takeaways from the 2023 VRMA International Conference
Here are 3 dedicated mini-articles that I've created for you on topics I enjoyed at the conference: