This article is part of our Rental Scale-Up vacation rental management conference series. This is an extract from our May 2020 conference: "How villa and holiday rental managers are navigating the COVID-19 crisis in Southeast Asia and Oceania".
Vacation Rental Management Conference: MadeComfy's Quirin Schwaighofer
Quirin Schwaighofer is the Co-CEO & Co-Founder of Australia's accommodation innovator MadeComfy. Since its launch in 2015, MadeComfy transformed into a fast-growing and multi-award-winning disrupter of the Real Estate and Hospitality market and became an official partner of Airbnb in 2019. Before MadeComfy, Quirin Schwaighofer co-founded tech startup HiKey Resources that operates in Germany, Australia, and Chile.
Vacation Rental Management Conference: Video from the 2020 Southeast Asia & Oceania Conference
MadeComfy focuses on its brand image not only with guests but also with property owners. They only take on properties that fit the brand's personality, so all of their units have a certain character, quality, and location profile.
Until the coronavirus crisis hit, MadeComfy's biggest challenge was acquiring properties. Their properties are all in great locations so there was plenty of demand. The challenging part was finding the right properties for their portfolio
But when Australia closed its borders at the beginning of the pandemic, MadeComfy had to switch their focus to the demand side of the business. They had relied heavily on sites like Booking.com and Airbnb and wanted to diversify.
Quirin and his team started to focus on MadeComfy's own website and build specific offers that target certain types of guests.
For example, they targeted service workers or people who needed long-term accommodation. They tried to make the booking process as streamlined as possible for these types of guests by offering a quoting system, which meant the company had to change their tech team's roadmap for the year and prioritize changes to the booking system, which they had planned to do much later in the year.
Quirin takes a lesson from Charles Darwin, who said the "one who is the most adaptable" will survive, so he is working on making MadeComfy as flexible as possible, including working with several different booking channels and implementing changes efficiently.
To make their business less risky, MadeComfy is trying to diversify its booking sources and target guest mix. They don't want to be too reliant on any one site or any one type of guest, and they're not trying to stop their OTA business while focusing on direct bookings.
Speaking of diversification, Quirin recommends reading "Who Moved My Cheese" by Brian Johnson.
Another focus area for MadeComfy is research. When the pandemic started, they called and emailed guests to better understand what was happening. They're trying to figure out when people will start traveling again.
Quirin and his team uncovered a potential business opportunity with corporate travelers – based on their research, Quirin believes business travelers will travel less often, but for a longer duration each time. So rather than staying in hotels for short visits, these travelers might prefer to stay in a short-term rental.
Quirin predicts that Australia will see more domestic travel and visitors from New Zealand in the short term.
Vacation Rental Management Conference: Full conversation between Quirin Schwaighofer and Thibault Masson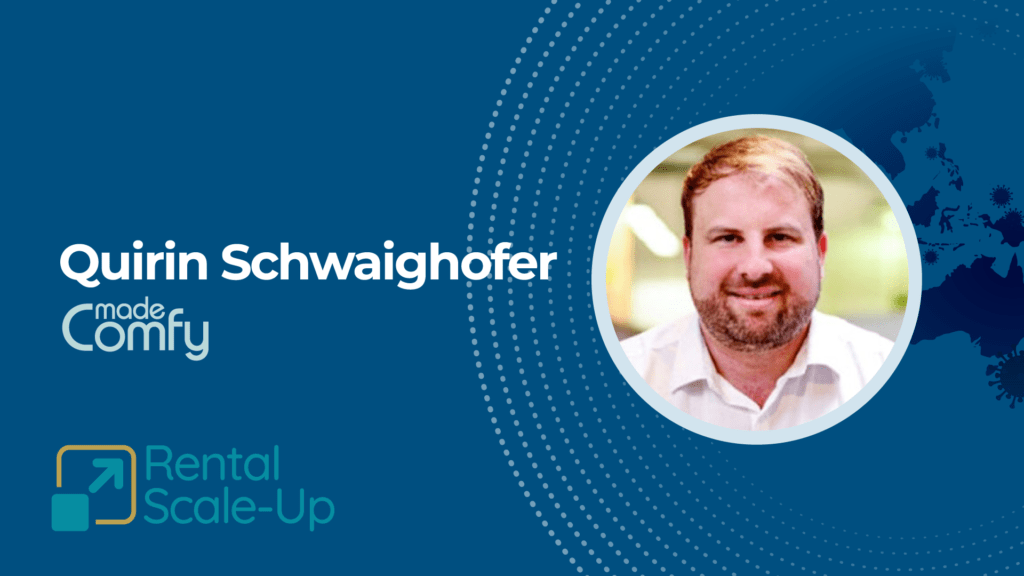 Thibault:
Dear RentalScaleUp members. Thank you for joining us. Now we are with Quirin Schwaighofer. Quirin Is the head of MadeComfy here in Australia. With Quirin we'll be covering not only what the business is usually, usually like also we'll be talking about what situation is right now in Australia. Interestingly enough we'd be talking about urban property managers, what they can do to adapt and we'd be talking about topics like, you know extended stays, corporate travel as well as creating confidence. How do you create confidence when you have such a great brand but still have to face this new doubts that travelers may have. So first, without further ado, Quirin, welcome and how are you?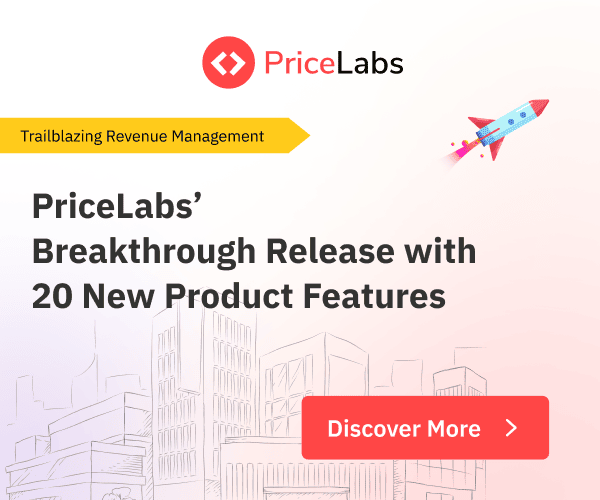 Quirin:
I'm great. Thank you so much for having me here. And yeah, I think during these days you're always at home I guess. And and I'm not, but we are, we all good here. Safe Australia is doing well with fighting the coronavirus and restrictions are lifted. So that is all looking currently very positive.
Thibault:
That's great to hear. Busted news. And so maybe for those who don't know the business, who don't know you, can you maybe introduce, MadeComfy?
Quirin:
Yeah, of course. So my name is Quirin. I'm, I'm actually from Germany as you can hear from my accent. So there's no Aussie slang here. I'm the co-founder of MadeComfy and what we do is we are fast growing short-term rental company. We, we won the Shortyz award in 2020 as best property manager, which was sort of a, a real surprise. But but great. And yeah, we, we manage properties on the short term rental market focusing on urban locations in Australia at the moment. And yeah, we have a brand towards property owners that is very developed. It's very strong but also brand to guests. So when you book on MadeComfy, you know, that you book on MadeComfy no matter if you book by Airbnb, booking.com or something else. And with that comes certain expectations and sort of brand promises. And on the property side, we, we have a brand towards property owners really mainly around the returns we generate and the entrance service that we have. I'm taking all of that out of their hands. One thing that we also have is that we select properties. So yeah, properties have to have a certain character, quality,, location and quirkiness and yeah, if that all ticks the box, then we take it on board and offer to our guests.
Thibault:
So that's that. That's great to hear because again, we MadeComfy had this, this great brand towards supplying with property owners to be able to make promise and stand for something. But if, if I'm correct, there's been a big switch in your business right now. It's like this focus, which is a hundred percent about getting the right properties for, for, for MadeComfy has switched to getting actually more demand right now and demand on your own. Can you please share a bit about, about what you, you've been doing?
Quirin:
Yeah, sure. So until today, like we are four years old, the bottleneck we always had was acquiring more properties and like Australia is a very attractive country. Sydney, Melbourne, Brisbane, there was no struggle to find guests. So it was really finding the right properties that will attract guests to solve our growth problem. And we've always been very growth driven. We've been growing at one to two hundred % year on year. And yeah, when, when all of this happened and there was this moment when the WHO declared this a pandemic, when we realized very early that that will have certain consequences and us being an Island continent, it was very likely that the borders will be shot. Very, very, very soon. By then it was only shot towards China, but we saw that coming to be shut down for the rest of the world. And that happened.
Quirin:
So what we did was OK, we thought like adding more properties doesn't really help if you have no guests in these properties anymore. At the end, the property owners are doing that for return reasons and if we can't generate the returns for them, we will have a huge churn. So we switched pretty much overnight. Our whole focus from, and it sounds very easy, but I'll focus from property owners towards the demand side and that required us to really analyze where is the demand coming from and how do we do that. Because we were really relying on the Airbnb, booking.com, HomeAway to get bookings. It's really limited to do practice things on these platforms. So that was our challenge in early March and our focus for the last couple of months now.
Thibault:
So what's been interesting as well, so we're talking about this, so if you go to MadeComfy website right now, they can see that people can book straight away on the platform and that's, that's I guess it's something actually new, right? Because you want more depending for that on the, the bigger TAs. And not only can people go so they can book a new kind of stays with you, the extended stays. So there's been a lot of efforts to, to go after demand and even new types of demand. So how do you think about it and how did you, did your team lead this effort?
Quirin:
So I think when you do a lot, you're doing a lot and we've always been a a, a company that has been evolving heaps and like our four just to share this with you, very, very culture value-driven company agility, empowerment, trust and vow and the whole agility bit was an important bit to really leave no stone untapped. And we identified by asking anyone – 'cause we knew our properties are beautiful, then I saw something that people require but who does it? And I'm doing it out of exercise, calling people, emailing people, like messaging people. We realized a few groups that were requiring properties and that was service workers, hospitals, the government to prepare for that wave that was that we sort of faced in Australia back then. And they needed accommodation, self-contained accommodation where they don't put sick, but those would have to isolate or separate from sort of loved ones at home because they have a job that is more at risk to take to sort of catch the coronavirus.
Quirin:
So positioning of MadeComfy on that was something that we know we just can't do that with the OTA is because it's just complex to, to, to really like offer that as a package. So we changed our whole tech roadmap, whole tech team focus on developing a booking platform that was in the pipeline, but we moved to sort of like several months forward and we sort of fast track that to target service workers and to target extended stays because the second bit around, next to service workers where we saw that people are stranded in Australia that can't leave the country because there simply are no planes. And there was a, an increase in demand for four guests requiring a stay for two weeks, one month, two months, three months. And we looked into ways of how do we simplify that? How do we simplify that booking process?
Quirin:
And that's a quoting process. And yet we are still far away maybe where we maybe say this is a perfect solution, but I never asked to drive occupancy. We've always been between a 40 and now 55% occupancy. And for urban PM in these days when you have no tourism and you have no travel allowed except those service workers it is quite remarkable. And it sort of gave us some proof that what we're doing is, is actually not just water treading, but there's actually a successful and yeah we will learn more on that. But it's been, it's been, it's been okay. Good road so far.
Thibault:
So the team took action on, on developing things and understanding what was going on in this pocket of demand. As you say, your business is a lot about an urban property manager. So as you know, there've been things on the internet, so it must be true because it's on the internet. Told me right about the death of urban property managers. I mean, obviously some business models have taken very, very bad hit. What do you think about that?
Quirin:
Well, there's a quote from Charles Darvin that we've shared with our team as well and that says "Not the most intelligent, not the strongest man will survive. But the one who is most adaptable". And I think that applies to any kind of industry you play in a certain area that is sort of at threat and definitely urban PMs. I like hotels. I like airplanes, airlines currently those where you crashed and how will it come back, number one. And if it comes back, how will travel come back and if you sit there and help the things become normal again, I think that will be a big disappointment because that might take a few years time and that normal might be different normal and you need to adapt and a lot better. Crisis is accelerating certain trends and there will be certain accelerations for sure in, in that, in that is the opportunity for short term rentals.
Quirin:
But of course, you need to understand what value do you, what is your value proposition, what value do you offer. Two people that require accommodation in urban locations. How do you work with legislation a hundred percent. And how do you promote that and make it easy to be found that to be booked. And for me, like I'm definitely our own direct portal platform was an important bit, but of course, part of the strategy is working with the Airbnb, working with Booking.com together because at the end it's about being found and and being available via several channels But you have to be flexible, adaptable as an urban PM. But we can say the same really for hotels.
Thibault:
So it does mean that for the summer talking about I'm in Europe so it's see my summer, your winter. So it does mean that things would be relaxing a bit more. So your strategy was still to go for direct bookings, but as well still be using these channels we found. Right. It's not like a complete switch from one to the other or what, how do you see things evolving, that you've adapted, you've learned, how do you see evolving for yourself?
Quirin:
Well, I think it's always about risk diversification in general now. So I think it is an important bit that we, that we adjust our business to not be dependent on one, one big part. So, and that means being dependent from one channel, not being dependent one tourist group or something like that. So, so that's why we strongly believe it's about diversification and being confident and up to date with certain trends and that you are having a solution for that. So we, we also see that certain things stopped. For example, we focus a lot on service workers, but that wave really never hit Australia. So we, I think at the maximum we had a hundred ICU beds filled out of 8,000, so not many with the service workers had to travel. Now it's about what is that next and sort of we call this "bucket of cheese" as an amazing book that's called "Who moved my cheese" from Brian Johnson. Can recommend that to anyone to read that which is around if your cheese station is gone, what is the next cheese station. And you need to be always ahead of certain trends and you just can't be relying on this, on this one. And for that it is important to work with your channel partners and to really also understand how, how do you practically drive I guess to your properties? As a, as a, as a PM, as a brand or as a franchise or things like that.
Thibault:
I really liked the quote about "Who moved my cheese", which of course is a great book and there's a French person, of course, it's a topic that's very important to me whenever a cheese.
Quirin:
So as a German too, we love cheese, we love your cheese, actually.
Thibault:
So a bit more seriously. But you're right. I mean these kind of books would make you think where to go next and what, you know, I also liked what you said earlier in the conversation that this happened, you called customers, you try to reach out to see what was doing what was happening. Right. So research is very important and I think you right now your team is you so busy collecting more research, understand the new trends or for example, the importance of trust and confidence. So can you share a bit more about this research you're doing? Maybe some of the few things you found already?
Quirin:
Yeah. I mean we are still doing research because I think we are still all thinking about is it safe again to be in a bus, is it safe again to fly? Is it safe again to stay somewhere? And I think there will be more of a change in consumer behavior over the next couple of weeks, months and maybe year to come. One thing we identified is that let's say there's always an opportunity in everything. So far we were never really able to get into the corporate space. And and they had long relationships with hotels. They integrated with with corporate travel businesses and so on. And we identified that employees do have concerns being in a hotel, being in a hotel where people are quarantined, where you are in contact with a lot of travelers where you're also having a very small space.
Quirin:
So what we've learned from our research is that the one day trips, two days business trips they might reduce and people might likely to consolidate several trips into one, one or two week trip to reduce the number of all the time in a plane and things like that. And for that, a short term rental is something by far more appealing. Having space, being able to, to work in the place where you don't have to go to a coworking space, you do your meetings, but you go back to your property and you're not stuck in your little room. And that is a change in behavior is usually very difficult to change the user behavior. But, Oh, what Corona does at the moment is changing our old habits and things like that. And in that we see a very, very great opportunity for short term rentals and for MadeComfy to have something that is very important for employees and with that then company's interest to, to investigate something that employees prefer.
Quirin:
And when you look at the whole duty of care you have as an employer to make sure your employees are looked after when they travel is a huge opportunity in that. But the limitations of course are all around. How do you manage companies? How do you guarantee quality of the whole property of cleaning, of selling taste sanitization that all needs to be executed. And with that as one of the challenges of short term rentals in general consistency and things like that. And then a lot of talks around how to provide a consistent cleaning standard and things like that within the industry. I think it's difficult as a brand you can do that. And I think with MadeComfy this is one thing we really strive to do getting this across the industry is where we have a lot of smart people. Like Alex from Properly and Jeremy from Breezeway, and Simon Lehmann is a big promoter of that charity. Something where short term rentals have to think about how do they get that standard up to be interesting for corporates when you talk about especially urban PMSs
Thibault:
Yeah. So the trust is I really liked what you said as well, right? For corporate travelers for example, notion of duty of care is very important, right? Because it depends on the countries, but some countries, if you are a travel manager and you're sending an employee to a place that's not safe, it's your personal liability, right? So it's, it's, it's a, it's some country, it's a very big deal. So it's so, so as you sharing with the switch maybe to corporate travel is not that easy because it's not, as you said, it's a matter, you talk about the channels, you have to be on those channels. Maybe you have to have the certifications or the standards to create trust. So it's yeah, I, I, it's a very nice, what you're sharing cause it does reflect on the, the challenge that it is to go back. So maybe the rewards of going to that after that new "piece of cheese". And that now when it comes to switch a bit to when to leisure travelers. Do you think, how about leisure travelers in Australia? I guess you just like most people, you talk about the, the you know probably domestic travel first and maybe a New Zealand new Zealanders coming over. What, how do you see things evolving on the leisure side?
Quirin:
Well, that's still a little off politician talk around is Queensland allowed to leave Queensland this year or not? But new South Wales has opened the borders and is welcoming people to come here and look a hundred percent. People have been in New England and quarantine for or isolation for like two months. And Australians in general are people that love the outdoors, that love the beach, love their holidays and their trips. The opportunity of course is now that no one can leave the country and people still want to travel. It's much cheaper to drive or to fly domestically than overseas. And the thing is this great excuse now to not fly to Bali, to not fly to Fiji. We're lucky we are so close to Bali and Fiji, but we also lucky we have the great barrier reef. We have the route, Northern territories, beautiful nature and sites to really see Tasmania itself.
Quirin:
I can go on and on with that and I think that's a great chance for for in general tourism Australia to, to raise the awareness of this beautiful country to everyone here. And of course also New Zealand. New Zealand is Australia's second largest source of travelers after China. And the other way around it is exactly the same thing. And this is where, yeah, and you see that in Australia as talking currently to create this test man bubble the way we Australians can travel to New Zealand and you see lenders can travel to Australia given that there are there's a very low number of cases in both countries are very strict with implementations they have done to, to drive social distancing and traceability of cases. So yeah, that's where we see a, a big opportunity. And when I look at a fellow the vacation rental managers that is going to be, it's been very tough here with the Bush fires, with the drought, the floods that they're coronavirus.
Quirin:
I don't, don't know. We can't have earthquakes, I think. Yeah. So it's but honestly it's been really, really tough for a lot of a lot of us here and it's now time that I'm, well, this changes things. It's a, it's, it's a very positive, positive time about to come for the vacation industry here and in New Zealand. And like I personally looking forward to to do my first travel again. When the company allows me to take some time off, it's maybe long time away, but yeah, personally I couldn't wait to travel again.
Thibault:
Thank you Quirin, because it's, it's very great to hear from you. What's the division, the com as well because I really liked this. It's also property managers, so it's just so helpful to hear like new app people taking actions but remaining calm and so these positive notes or things will, some things will come back differently but trying to identify where they are and hopefully, yes, I agree, we could, we'll take a break at some point. That'd be, that would be amazing. On this again, I would like to thank you for your time today. I think we've covered a lot, but the situation for MadeComfy about Australia, urban property managers, where to go next. So if people want to reach out to you, what's, what's the best thing they can do?
Quirin:
The best thing is to go to MadeComfy.com.au and you can check it out. Beautiful properties like the one behind me. You can contact us via chat, via email there, in any form. You can contact me personally on LinkedIn, maybe the easiest. There are not many clearings in the world, so if you type that in, there's a good chance that there's only one. And I'm really easy on answering. I'm super happy to help. We have had a lot of support at MadeComfy from our advisors, from our investors and being very grateful for that. And I'm really, really, I'm more than open to to help anyone, any kind of property manager that sort of has some questions or requires us a second thought to, to jump on a zoom call or, or or chat. So yeah, well they're happy to do that.
Thibault:
That's a very generous offer for the people watching. Thanks and I'll also make sure to have a link to a MadeComfy, also as well to your LinkedIn profile to make it easier on people watching. So once again, thank you so much and have a great day.
Quirin:
Thank you so much. Well done on doing this and thank you so much for inviting me and really pulling this all off. It adds a lot of value to everyone. Thank you.