This article is part of our Rental Scale-Up vacation rental management conference series. This is the summary of the findings from our May 2020 conference: "How villa and holiday rental managers are navigating the COVID-19 crisis in Southeast Asia and Oceania".
In May 2020, we held an online conference across the Asia-Pacific holiday rental market. Here's our speaker line-up:
Quirin Schwaighofer, Co-CEO & Co-Founder at MadeComfy​
Jon Stonham, CEO at Elite Havens​
Daniel Rouquette, Managing Director at Villa Finder
Best Haputpong, VP of Business Development at igloohome
Jing Cho Yang, Founder, CEO and Director at Bukit Vista
Rex & Sibylle Brown, Directors at Holiday Rental Mastery
Anurag Verma, Co-Founder at PriceLabs
Marc Ribail, Director at Rentivo
Jack Eden, CEO at Eden Villas in Sri Lanka
Yoav Tourel​, Managing Director APAC at Guesty​
Andrew Macdonald, Director at Zenguest Bali & Baron Jamesson, Head of Operations at Zenguest Bali
David Whelan, Managing Director at Urban Rest Apartments
Victor Bosselaar, Data Sales and Partnerships at AllTheRooms
Joanne Bourke, Managing Director at Bach Break Taranaki
Kei Shibata – CEO and Co-Founder of Line Travel Japan and Trip101
Australia / New Zealand short-term rentals: Already bouncing back, strong domestic demand, non-urban markets first + Emphasis on direct booking
Real and Pent-up demand from domestic travelers already showed strong signs by late May 2020.
March had paradoxically been an excellent month according to the number of nights booked, in Australia and New Zealand, according to data reports made by PriceLabs exclusively for this conference. While the number of bookings was dropping, the increase in the length of stay more than made up for this decrease. Stranded travelers and returning locals in need of a self-quarantining accommodation may have contributed to this surprising result.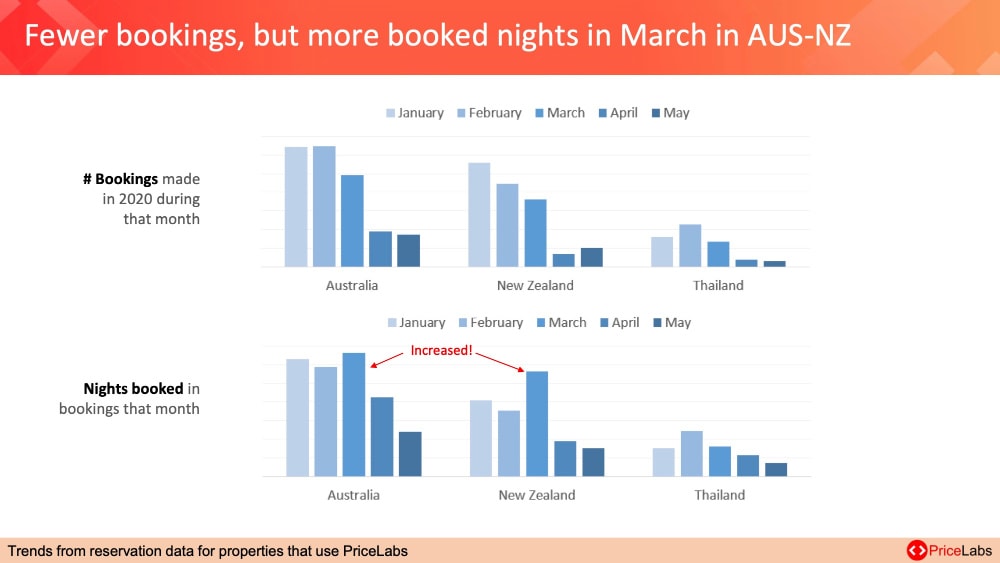 Both Australia and New Zealand have a robust domestic market. By late May, inter-state travel was still forbidden in Australia. Still, beach destinations like Surfers Paradise on the Gold Coast were also getting lots of bookings in anticipation of the relaxing of the stay-t-home orders. According to AllTheRooms, which also crunched data for our conference, the Surfers Paradise market was showing a steady amount of new bookings week-over-week, and some dates in the next 180 days were performing better than last year.
In New Zealand, bookings within the next few days were on par with last year's level, and the next few months were pacing nicely. For instance, ski resorts were already getting excellent bookings for the July and August months.
Australia and New Zealand rental managers focusing on generating domestic demand (especially direct bookers)
With existing strong domestic markets and the perspective of no international travelers from Asia, the US, and Europe for 2020, local actors have focused their efforts on domestic bookers. Short-term rental operators, taken aback by the changing policies and massive cancellation from online travel agencies (OTAs) such as Airbnb and Booking.com, have also changed their technical and marketing roadmaps to get more direct bookings.
Quirin Schwaighofer from MadeComfy shared that until the coronavirus crisis hit, the company's biggest challenge was acquiring properties. Their properties are all in great locations so there was plenty of demand. The challenging part was finding the right properties for their portfolio.
But when Australia closed its borders at the beginning of the pandemic, MadeComfy had to switch its focus on demand. They had relied heavily on sites like Booking.com and Airbnb and wanted to diversify. Quirin and his team started to focus on MadeComfy's website and build specific offers that target certain types of guests. For example, they targeted service workers or people who needed long-term accommodation. They developed their booking platform, which meant the company had to change their tech team's roadmap as they had initially planned to do it much later in the year.
To make their business less risky, MadeComfy is trying to diversify its booking sources and target guest mix. They don't want to be too reliant on any one site or any one type of guest, and they're not trying to stop their OTA business while focusing on direct bookings.
Non-urban holiday rentals have getting inquiries and bookings first, but, in Australian cities, the activity had not completely stopped. David Whelan from Urban Rest Apartments had already noticed a trend pre-coronavirus toward corporate travelers wanting to stay in the fringes of the city, so they had strategically acquired inventory in these areas. Companies like McKinsey were keen on letting their employees stay near parks and beaches, which was deemed more pleasant when posted in a city for a 3-month assignment.
Southeast Asia: A difficult 220, yet luxury villas are a good product – when stranded travelers show up in data (the domestic International travel)
Our 2020 Southeast Asia and Oceania conference was lucky to count several luxury villa rental experts, such as Elite Havens' Jon Stonham, Villa Finder's Daniel Rouquette, Jack Eden from Eden Villas. Up-and-coming Bali actors such as Andrew Macdonald from ZenGuest and Jing Cho Yang from Bukit Vista also shared their on-the-ground experience.
Due to the lack of long-haul travelers from Europe and the US, 2020 will be a tough year for SE Asia luxury vacation rentals
In Indonesia (e.g., Bali), Thailand, Sri Lanka, the lack of a domestic market capable of supporting luxury vacation rentals will be felt thought 2020.
In Indonesia's future booking curve looks bleak; very few new bookings were made within the last few weeks. This trend makes sense when we consider that most of Indonesia's travelers are international rather than domestic. In Thailand, it is much the same, as illustrated by this graph of the Phuket holiday rental market.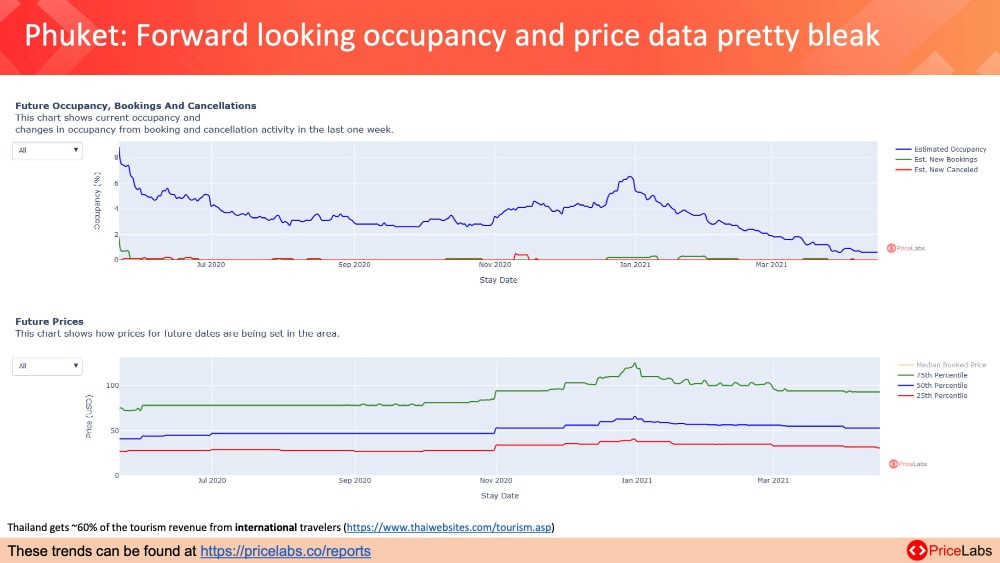 According to Thailand market expert Marc Ribail from Rentivo, travel from Europe may also be slower to rebound for a few reasons, first due to flight prices, which are 30% to 40% more expensive right now. Europe is also facing some economic uncertainty as many people have lost jobs, suffered financial losses, or feel anxiety about a potential second wave of the virus. Finally, many European governments are encouraging people to travel domestically instead of internationally, which will also cause fewer people to travel abroad.
Marc thinks Thailand and Bali could see guests from Hong Kong or Singapore traveling over the Christmas holidays. Jack Eden is also counting on Hong Kong and Singapore, as well as on ex-pats living in the United Arab Emirates (UAE) to start booking first his luxury villas in Sri Lanka.
When stranded foreign travelers create a small, but visible market
Throughout the conference, we heard anecdotes of Russians being the main occupants of villas in Bali and Thailand. Data from PriceLabs and AllTheRooms show that the relative weight of Russian, French, and German travelers had increased during the pandemic: Stranded travelers and digital nomads were the ones booking villas, shaping demand for long-term stays at a low price.
According to PriceLabs, the lead time in Thailand had gone down so much that half of the bookings had been made on the same day. These "international" bookings were domestic, as these travelers were already staying in the country.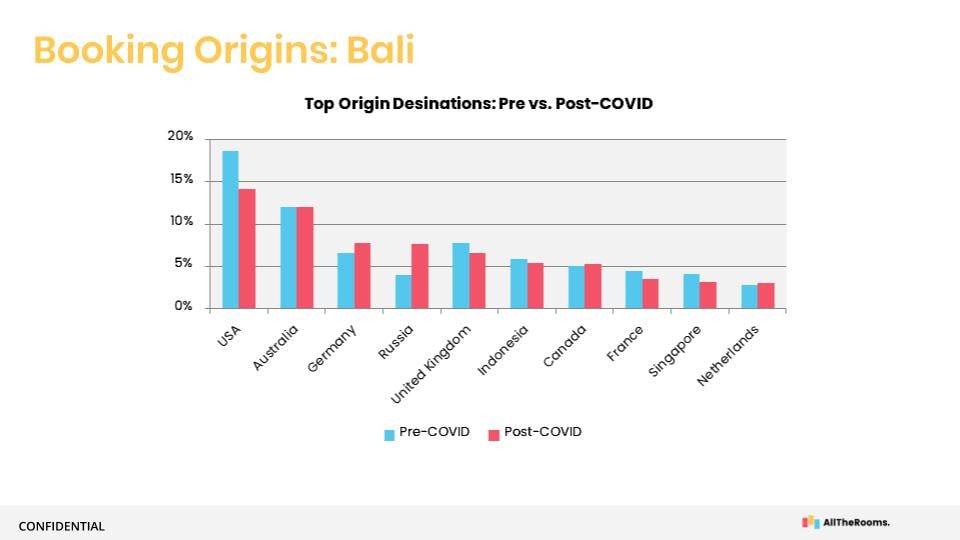 ZenGuest Bali's Andrew Macdonald reported that his company was doing well with nearly all of his villas full. His guests were booking monthly stays, so he expected to stay pretty busy for two or three months. Most guests (around 70%) were from Russia.
Similarly, Elite Havens shared that the guests staying at their properties, usually for long-term stays, were hiding out because they didn't want to be in their home city or country, or they could not go home because borders had been closed in their home country.
Luxury villa managers confident in their resilient DNA, yet expecting a shift in what defines luxury
In Southeast Asia, established villa managers acknowledged the severe impact of the crisis, but also emphasized that it was not the first crisis that they had to face.
Jack Eden said that Sri Lanka had faced several recent disasters (hurricanes, floods, warfare, politics), which has forced Eden Rentals to run a lean operation as a norm. They have not had to reduce staffing in response to coronavirus. Along the same line, Jon Stonham from Elite Havens told those property managers getting through their first crisis to remember that people have very short memory. The industry is always changing – after SARS, MERS, financial crises, etc., people always start traveling again.
This confidence also comes from their belief that a self-contained villa is a perfect place for travelers to stay in their bubble with friends and family. Villa Finder's Daniel Rouquette thought that villas offered a more private and controlled environment, compared to hotels, since you're only sharing the property within your traveling companions and perhaps a very small group of staff members.
For luxury villas, cleanliness is not seen as a real issue, as the standards had always been high. Enhanced guidelines have been issued, but villa managers also have in mind the health of the villa staff. At a villa in Sri Lanka or Bali, the team is usually the same every day, which also helps to minimize personal contact.
For instance, Elite Havens properties have always upheld high standards for hygiene and cleanliness, so that has not changed. But now interaction with guests has changed. Elite Havens always wants to provide the level of service that the guest wants, and lately, they are noticing that guests would prefer to be left alone or have less personal contact with staff.
In Bali, in response to longer stays, Zenguest is also providing less frequent cleaning service, which keeps staffing and laundry expenses down.
Luxury used to be staff at hand, hanging around the villa all day long. But it may not be so in the future.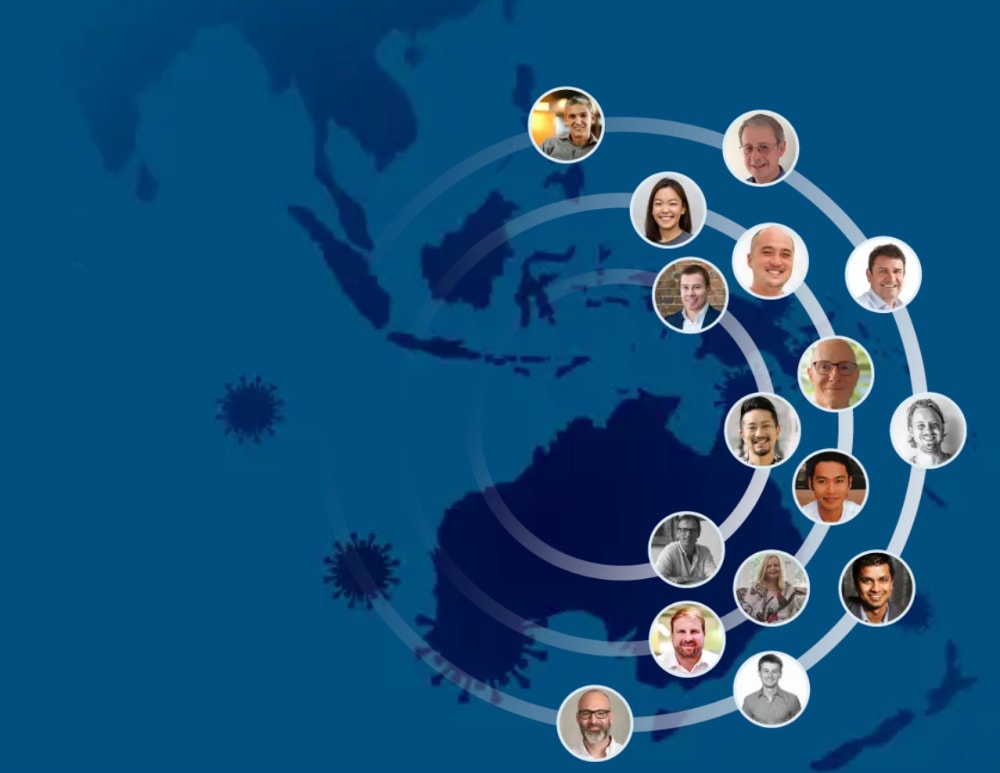 2020 Southeast Asia and Oceania conference: Speaker sessions
Quirin Schwaighofer, Co-CEO & Co-Founder at MadeComfy​
How urban rental company MadeComfy has switched its focus from acquiring supply to generating demand (direct bookings, extended stays, domestic travelers)
Jon Stonham, CEO at Elite Havens​
The path to recovery: Who, when, how? Why villas will be great for small groups. Why handpicked properties can deliver more trust.
Daniel Rouquette, Managing Director at Villa Finder
Understand the villa market in the market in the region and how it has been affected by COVID-19. Why staff and services are key topics for the recovery.
Best Haputpong, VP of Business Development at igloohome
How to enable self check-in at your properties? Why do platforms like Airbnb think that you need to provide it? How can automation decrease your operational costs?
Jing Cho Yang, Founder, CEO and Director at Bukit Vista
What is the current situation in Bali? How and why is Bukit Vista conducting product and service innovation right now?
Rex & Sibylle Brown, Directors at Holiday Rental Mastery
What holiday rental owners in non-urban markets can do to get bookings from past guests and from domestic travelers.
Anurag Verma, Co-Founder at PriceLabs
What market and booking data in Southeast Asia and Oceania tell us about the shape of the current demand. Why booking pace data matter.
Marc Ribail, Director at Rentivo
Why Marc's knowledge of the Thai market and of European travelers lead him to a conservative view on the recovery and why Agoda and Traveloka have a card to play.​
Jack Eden, CEO at Eden Villas in Sri Lanka
​How has the Sri Lanka villa rental market faced the crisis? How can you adapt to a change in sourcing markets?
Yoav Tourel​, Managing Director APAC at Guesty​
Adapting your business model & expanding your tech portfolio to ensure stability now & longevity post-pandemic.
Andrew Macdonald, Director at Zenguest Bali & Baron Jamesson, Head of Operations at Zenguest Bali
How the crisis is redefining the term "luxury." How to make a villa rental company more profitable by reorganizing operations and empowering staff.
David Whelan, Managing Director at Urban Rest Apartments
Why switching from leisure to corporate travelers may not be easy for all urban rental companies. How to address the risk aversion of travel managers.
Victor Bosselaar, Data Sales and Partnerships at AllTheRooms
Where do data and analytics show that markets in Southeast Asia and Oceania are bouncing back? What metrics to look at?
Joanne Bourke, Managing Director at Bach Break Taranaki
How New Zealand bach and holiday rental operators have adapted. Why cleanliness and sustainability matter more than ever.
Kei Shibata – CEO and Co-Founder of Line Travel Japan and Trip101
Why has Trip101 recorded its highest number of holiday rental room nights ever sold in the middle of the pandemic? Why are domestic OTAs ill-equipped to compete with Airbnb? What role will super apps play in the recovery?