In Europe and in the US, the vacation rental recovery seems to be here. Data show a marked interest for self-catered homes, from Florida villas to Colorado cabins, English cottages to French gites. Airbnb CEO Brian Chesky even says that "between the end of March and early June, Airbnb had more bookings in the U.S. than over the same period in 2019". We'll cover with charts and data the recovery in the US and in Europe. In May 2020, our vacation rental market trend report forecasted a summer of domestic travel. It is happening.
Yet, the picture is not as pretty as some headlines may lead to believe:
In the US, the rebound in COVID cases is slowing down the pace of the fantastic booking recovery
In Europe, the markets that are the most dependant on international travelers, such as Portugal and Croatia, cannot rely on strong domestic travel. In Portugal, most tourists actually come by plane, so this county will not benefit from the boom in drive-to destinations.
Big villa rental markets like Bali still remain closed to international tourists. In the Caribbean, another major villa market, flight schedules have not recovered and some airports have closed again to some source countries.
US Vacation Rental Market Data, June & July 2020
To illustrate the shape of the recovery in vacation rental bookings, we'll use graphs from dynamic pricing solution vendor Beyond Pricing, travel demand data from Airbnb, and search numbers on Google.
Beyond Pricing: Fantastic booking pace is slowing down in the US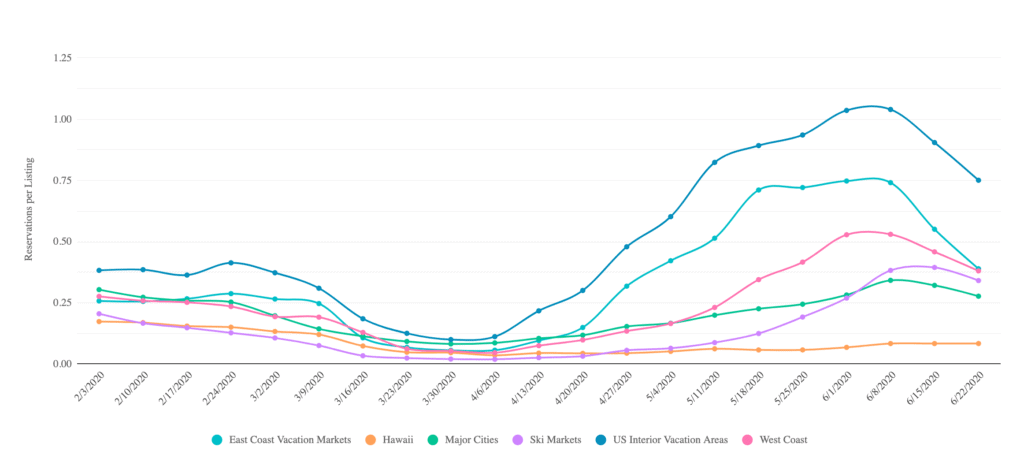 The US has been leading the recovery: Booking numbers dipped later than in Europe and came back up much earlier. Yet, for the last two weeks, the booking pace has slowed down. It remains very high, but regional differences are still visible:
Hawaii remains very low: Bans on vacation rentals and lack of flights from Asia and from the US are still hitting the market
US interior states had a fantastic, early, high recovery. Yet, the pace has slowed down, just like for East Coast vacation rental markets
Major cities have the lowest booking pace of all mainland US markets: Urban short-term rentals are not as popular as rural ones this Summer, and social unrest may also have added some difficulties
The increase in COVID cases in the US interior (e.g. Arizona), East Coast (e.g. Florida), and West Coast (e.g. California) may be hindering the booking pace. Also, the pent-up demand for vacation rentals may have run its course: People where may have been booking en masse when they got out of lockdown, but now this may have slowed down.
Airbnb: Domestic bookings in the US stronger than in 2019. Family travel, rural destinations Strong.
Airbnb has shared several data points that illustrate the shape of the vacation rental market recovery in the US:
"Between the end of March and early June, Airbnb had more bookings in the U.S. than over the same period in 2019, and could potentially even surpass its original expectations."

It's not fully recovered, but it's recovering way faster than any one of us imagined."

"We are above where we were last year, and we could get even higher than what we would have forecast before COVID."

Brian Chesky, Airbnb CEO
Since the beginning of April, over 60% of domestic US bookings have been for trips within 300 miles from the origin.
Over 20% of bookings over the Fourth of July weekend are in listings in rural areas, like the Adirondacks.
From June 1 through June 20, US domestic family bookings, which include at least one child, grew by 43% compared to the same time last year.
Cabins are among the most-searched listing types for trips during the Fourth of July Weekend. From June 1 through June 20, unique listings and boutique hotels in the US have seen year-over-year growth in nights booked for domestic travel. Specifically: chalets (64%), cabins (63%), islands (48%), barns (42%), cottages (37%), and boutique hotels (53%).
Google searches: Vacation Rental Property types such as cabins have never been more popular
We can cross-check Airbnb's data by looking at Google searches in the US for specific vacation rental property types. You will find below graphs charting searches for these terms over the last 5 years.
For the terms "vacation rentals", "cabin", "villa", and "cottage", the pattern is the same: Searches have been higher over the last past 5 years. It means that Americans are dreaming about, searching for and hopefully booking vacation rentals in drove.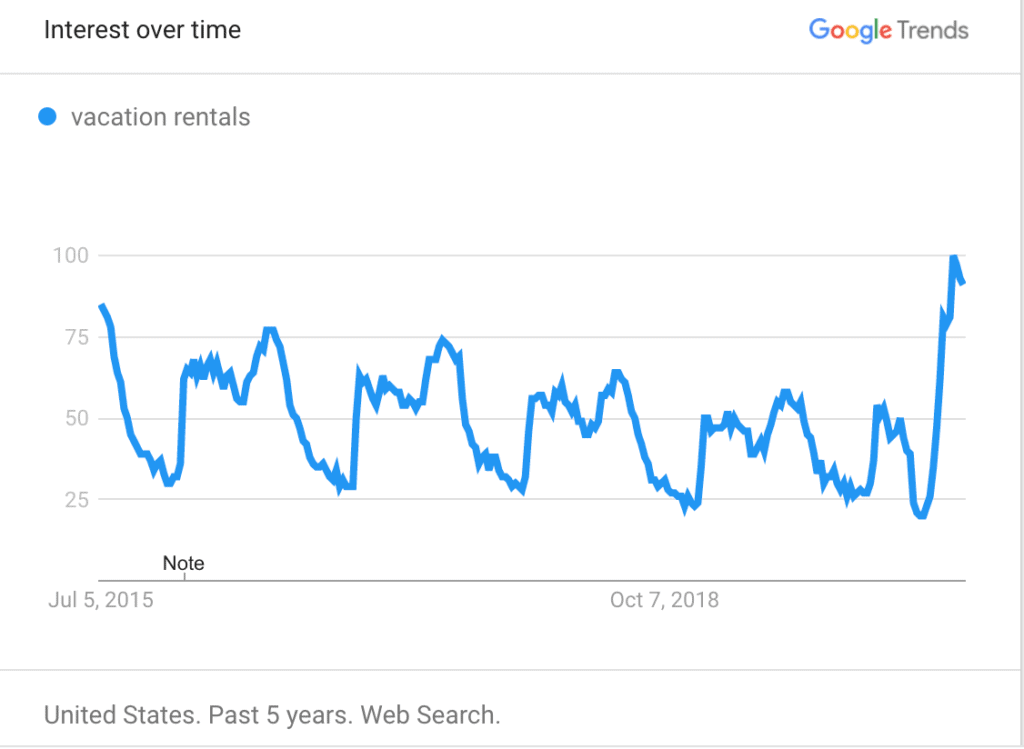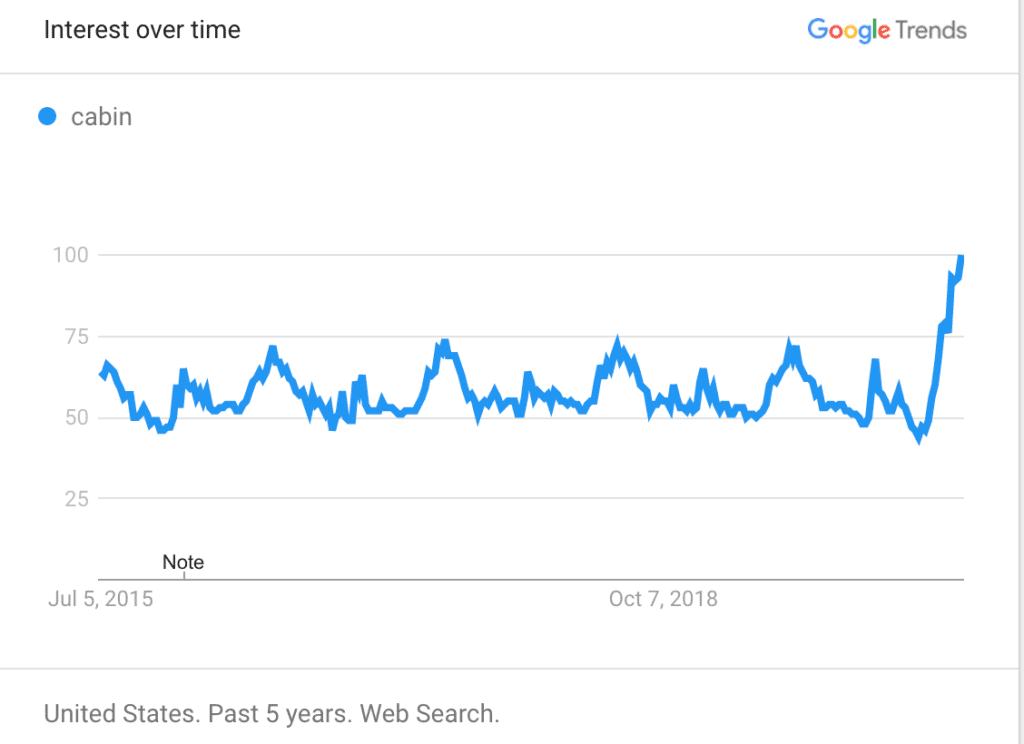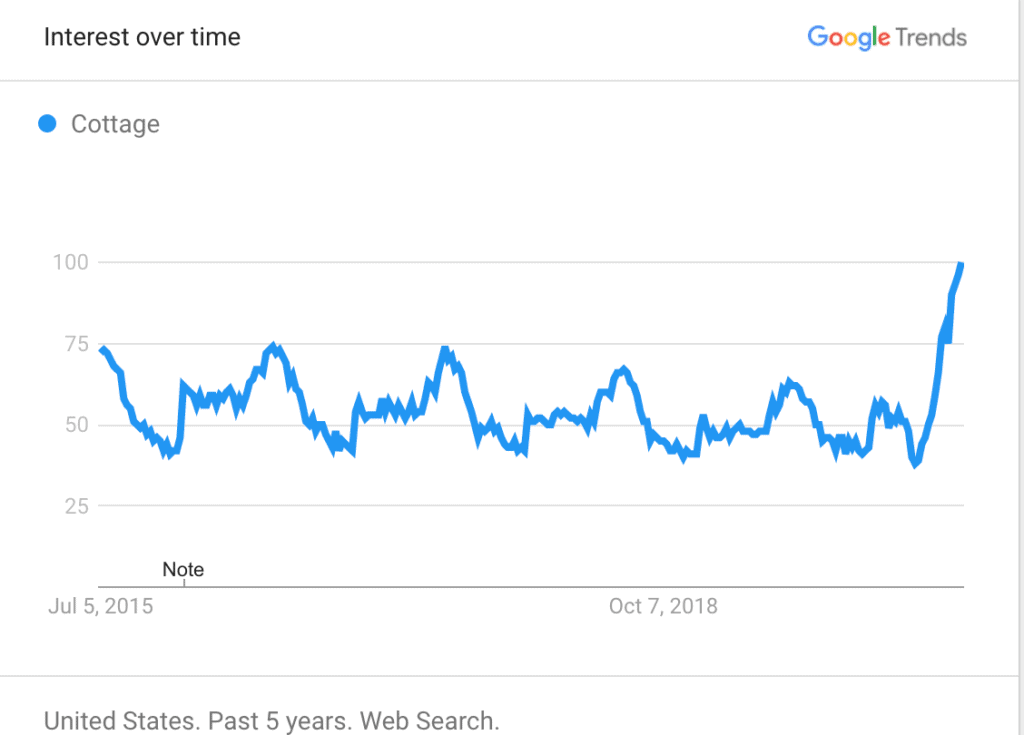 European vacation rental market data, June & July 2020
Let's use the same sources for the European vacation rental market: Dynamic pricing solution vendor Beyond Pricing, travel demand data from Airbnb, and search numbers on Google.
Beyond Pricing: Fantastic Booking Pace Is Slowing Down In The US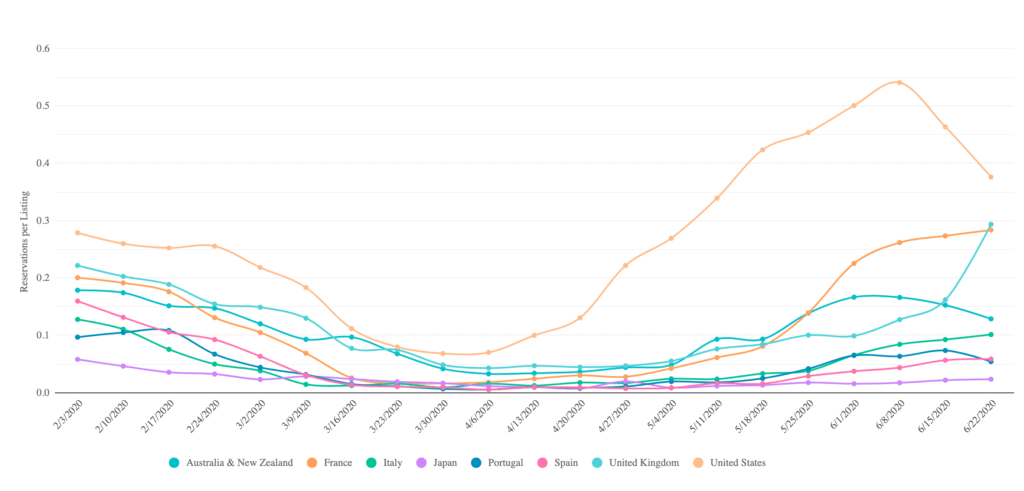 The graph represents the number of new reservations per listing.
The US, Australia & New Zealand data are here to bring some comparison in terms of booking pace: Their recovery was earlier than that in Europe, but the booking pace is slowing down.
France, Italy, and Spain have steadily improved: Chi va piano, va sano.
The UK booking pace has been surging, as the ban of holiday rentals was officially lifted in July 1.
A missing giant from the graph is Germany, where the domestic vacation rental market has been going strong. The Google searches below will illustrate it.
Google searches for vacation rental properties in Europe
In Europe as well, searches for vacation rentals / holiday homes have also exploded. Below, you will see Google search charts for the last 5 years:
In Germany, searches for "ferienwohnung" (vacation home) have never been so high. There are 25 points above the previous record.
In France, same thing: Searches for "location vacances" (vacation rental) are the highest at the moment.
In the UK, cottages, the most typical domestic vacation rental property type, are also hitting a record-high.
In France, the term "gîte" (a type of rural holiday accommodation) is also peaking.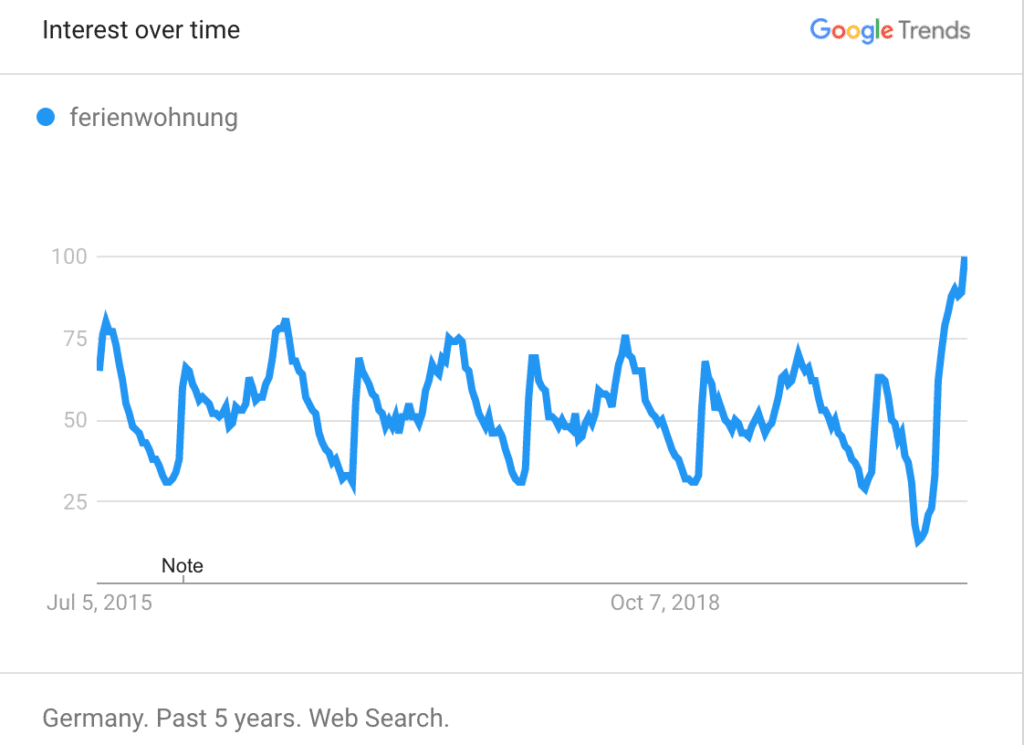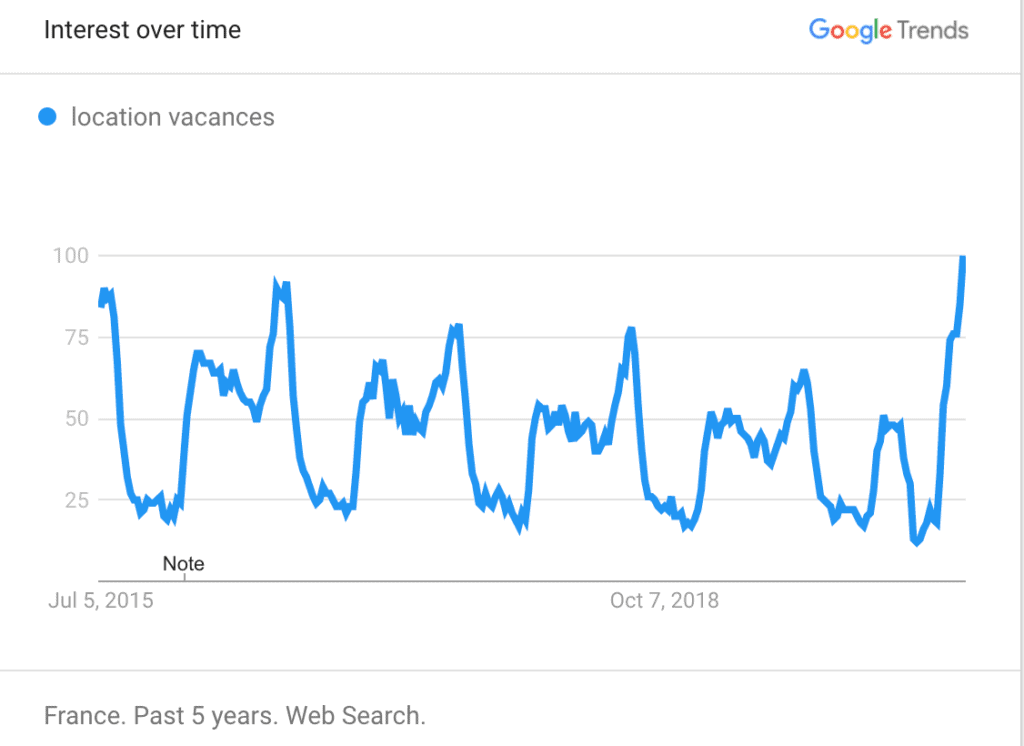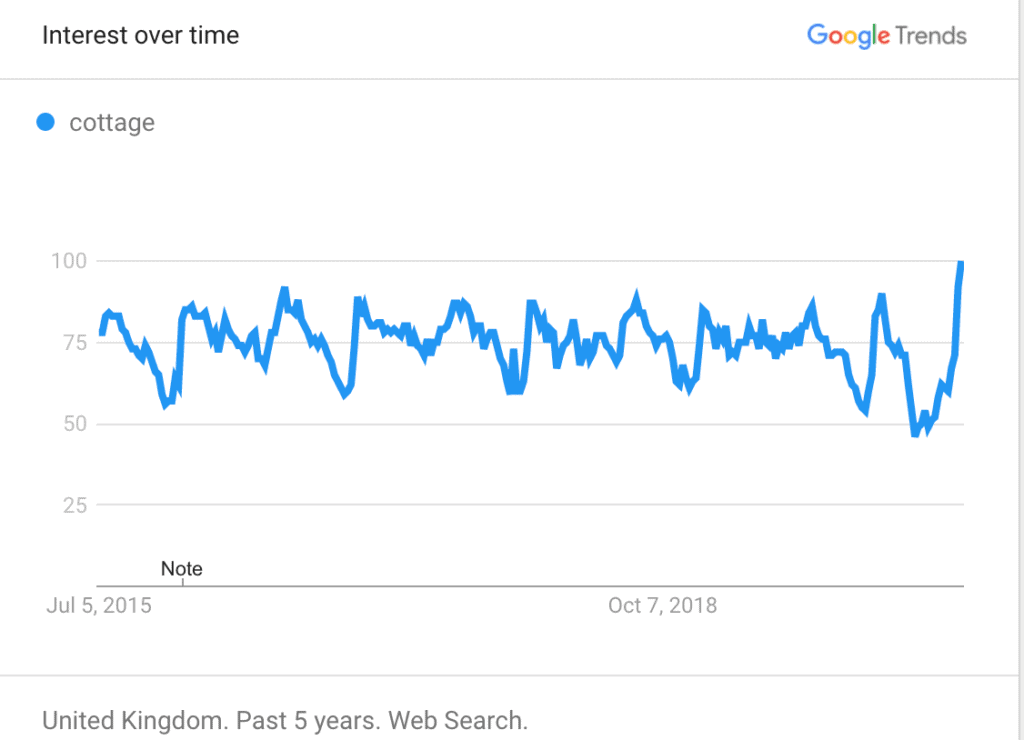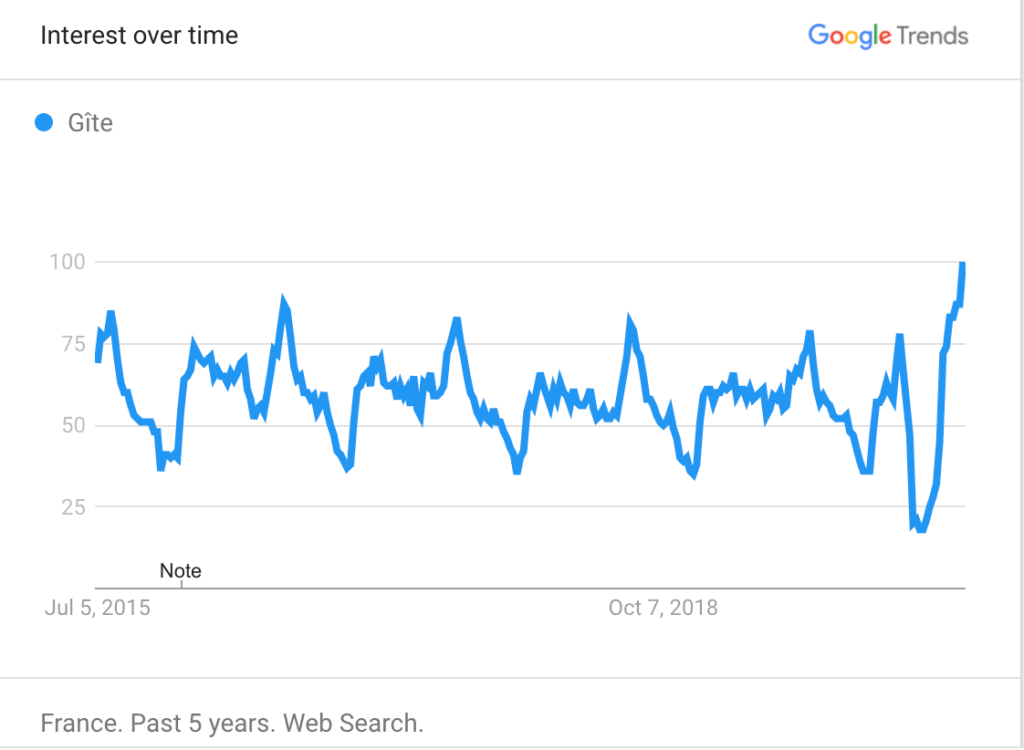 Conclusion: Lots of searches, domestic bookings, but still big losses from Q2
The data show that our vacation rental industry has been majority hit by the coronavirus COVID-19 crisis. The recovery is happening, but at different paces across the world. Q2 was financially horrible for many property managers.
In Asia, the recovery in markets like Bali will be longer: The country is barely open to foreigners and international flights are few. Yet, as says Jon Stonham, CEO of Elite Havens, the biggest luxury villa management company in Asia, vacation rentals and villas are the best property format for people who want to leave behind the thoughts of the virus (see video below).