What if the rise of HomeToGo's "onsite booking" services was allowing vacation rental managers to find a new source of direct-like bookings? Why is HomeToGo betting big on "onsite bookings"? How does the company enforce a property management company's own cancellation and booking policy, while getting guests to perform the booking on its app or website?
Thanks to our own research and an interview with Valentin Gruber, HomeToGo's Chief Operating Officer, we look for you at how "onsite bookings" work from the guest and the property manager's sides, as well as at the benefits and limitations of this model. While the company's average take rate was 8.4% in 2021, the onsite booking model allows HomeToGo to increase this rate to 13.9% in some circumstances. Note that the take rate is the fee charged by a platform on a booking made with a property manager or host. The take rate can be a mix of partner and guest fees and usually hovers above 15% for the likes of Airbnb, Booking.com, and Vrbo. In the case of HomeToGo, the take rate usually comes entirely from the partner-side fees.
As a source of bookings, HomeToGo wants to position itself as an additional booking channel that can allow vacation rental managers to diversify away from Airbnb and Vrbo in the US, as well as from Booking.com in Europe. HomeToGo can deliver bookings whose characteristics are close to the benefits of direct bookings (e.g. you receive and own all the guest details, guests have to abide by your own cancellation policy and booking terms, and you can even handle the payment yourself) while offering the reach and the booking experience of an OTA website or app. 
Onsite bookings are powering the growth of Hometogo, yet have not caught up yet in the US
HomeToGo was built as a vacation rental meta-search engine, listing properties from various sources, from property management companies to OTAs. Today, it wants to be seen as a booking channel that is an alternative to the likes of Airbnb and Vrbo. As a result, the company earns revenues in ways reminiscent of meta-search engines, such as Cost per Click and Cost per Lead, as well as booking platforms (Cost per acquisition). On a side note, HomeToGo is also trying to play a SAAS card, by growing its subscriptions business, after the acquisition of channel manager Smoobu.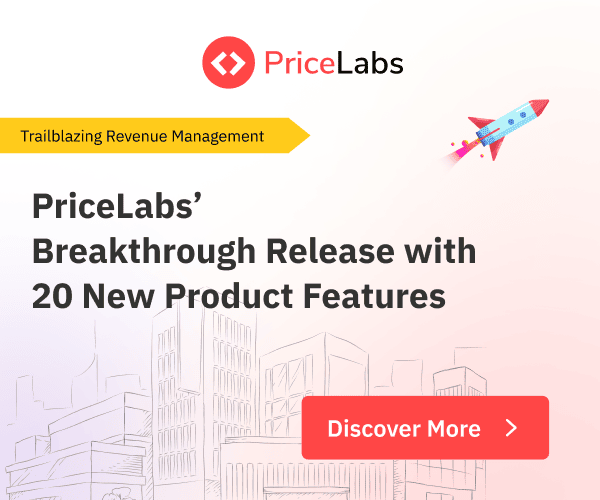 HomeToGo SE is listed on the Frankfurt Stock Exchange under the stock ticker HTG. The company has grown in 2020 and 2021, boosted by the vacation rental boom. Yet, as it is strong in Europe (especially in German-speaking countries / DACH) and less so in the US, it has less benefited from the explosion of vacation rental bookings that hit North America since the arrival of the COVID pandemic.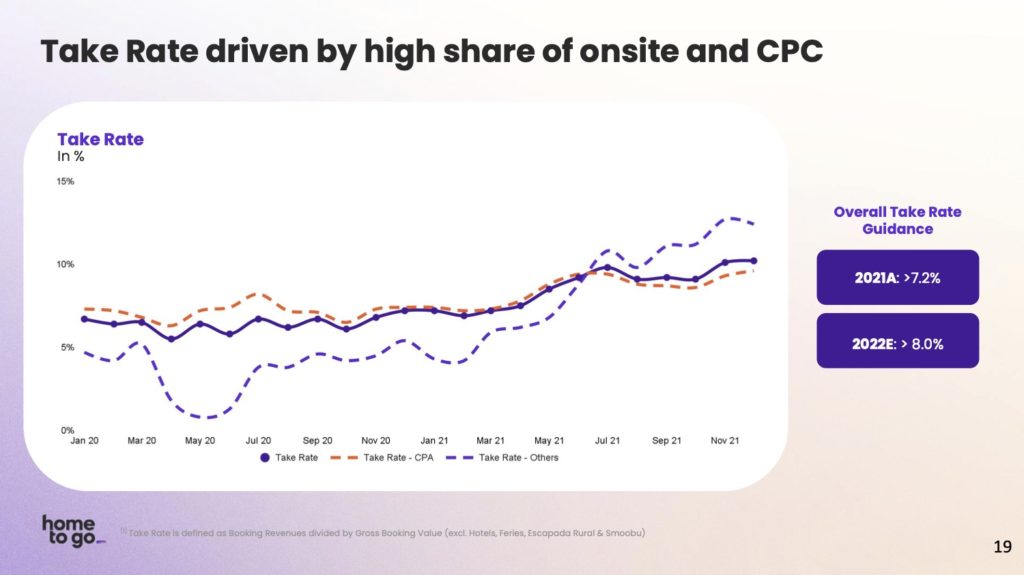 Here are some key numbers about the company, as disclosed in its 2021 yearly report:
In 2021, HomeToGo grew its site traffic by +20% vs. 2020
Its booking revenues grew by +51% vs. 2020 to EUR 123.6 million
Its onsite booking business has especially been growing:
HomeToGo grew its onsite booking revenues to EUR 50.2 million for the full year (+116% vs. 2020).
HomeToGo's share of onsite business is 44% for the full year, i.e. +13 points compared with 2020 (excluding Subscription & Services Revenues)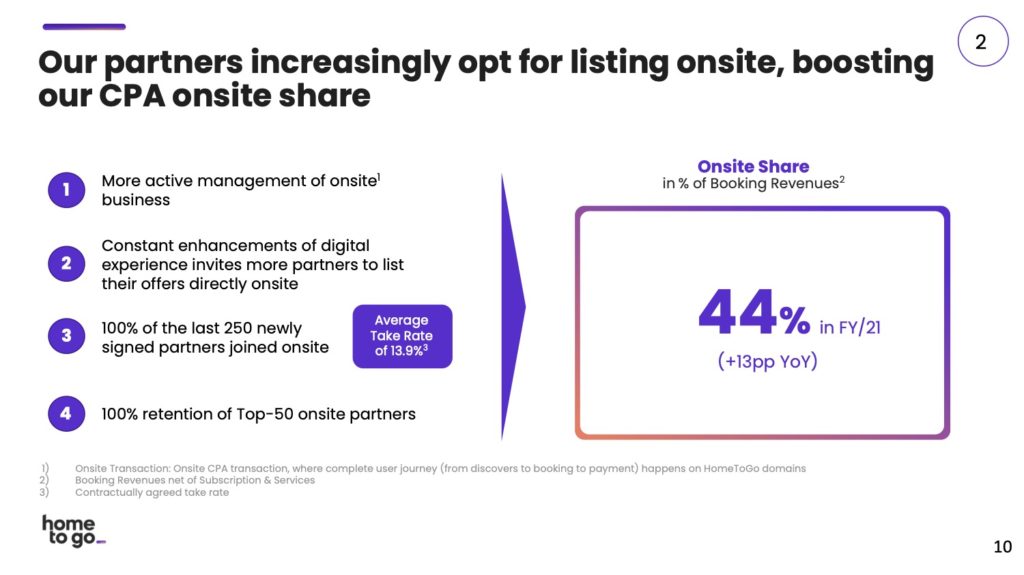 So, "onsite bookings" are becoming a serious business for HomeToGo. Yet, the share of "onsite bookings" is much higher in Europe than in the US. One hypothesis that we're making is that, in the US, HomeToGo is dealing with large property managers (Vacasa-like) that want to drive traffic to their own website and see HomeToGo more as a meta-search engine that can bring clicks. HomeToGo's local US team wants to sign up more property managers directly.
How do HomeToGo's onsite bookings work?
Here's the how "onsite bookings" work:
A traveler browses through millions of listings, either on the hometogo.com website or on the HomeToGo app
In the search results, the traveler can already see the name of the management company bringing each listing
The traveler compares a few properties and picks the one they want
On the listing page, the traveler can clearly see the specific cancellation policy and general terms & conditions of the vacation rental manager ("GTC of the provider"). It means that the traveler will make a booking whose terms are controlled by the property manager and not by the HomeToGo platform.
The traveler can then book online. This online booking is where the strict definition of HomeToGo's "onsite bookings" end.
As an option, HomeToGo may or may not process the payment. Valentin Gruber, the company's COO, says that "the payment is most of the time made on our platform."
Depending on the model, HomeToGo may take the payment ("Book & Pay"), the vacation rental manager may ask for an online payment or the travelers may have to wire money the vacation rental management company's bank account (something normal and free in some European countries).
Let's how HomeToGo works through images. I've searched and booked a place with BelVilla. I did not pay online but chose to pay later with BelVilla, so you will see that communications switch from website to email at some point.
1 – Started on the HomeToGo homepage

2 – Searched for a vacation rental in The Netherlands. Results show the name of the HomeToGo, i.e. the property management company, for instance here BelVilla by OYO and DanCenter. Note that it also displays the name E-Domizil, which is itself a vacation rental listing site now owned by … HomeToGo.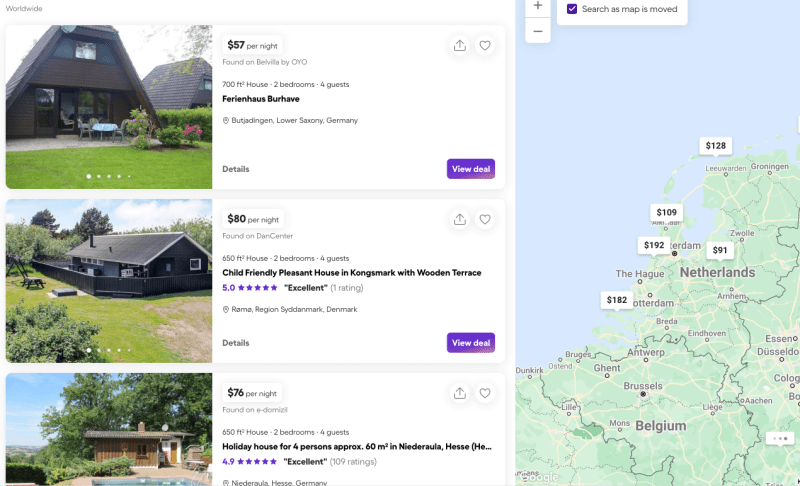 3 – On the property page, I could see a cancellation policy that is not standard but exactly what the property manager (here BelVilla) wants to show. Also, I could click on the "GTC of the provider" link to read a PDF with the terms and conditions of this property manager.

4 – Then, I received an email from HomeToGo explaining that I had booked with their partner BelVilla and that I would be receiving an email from them.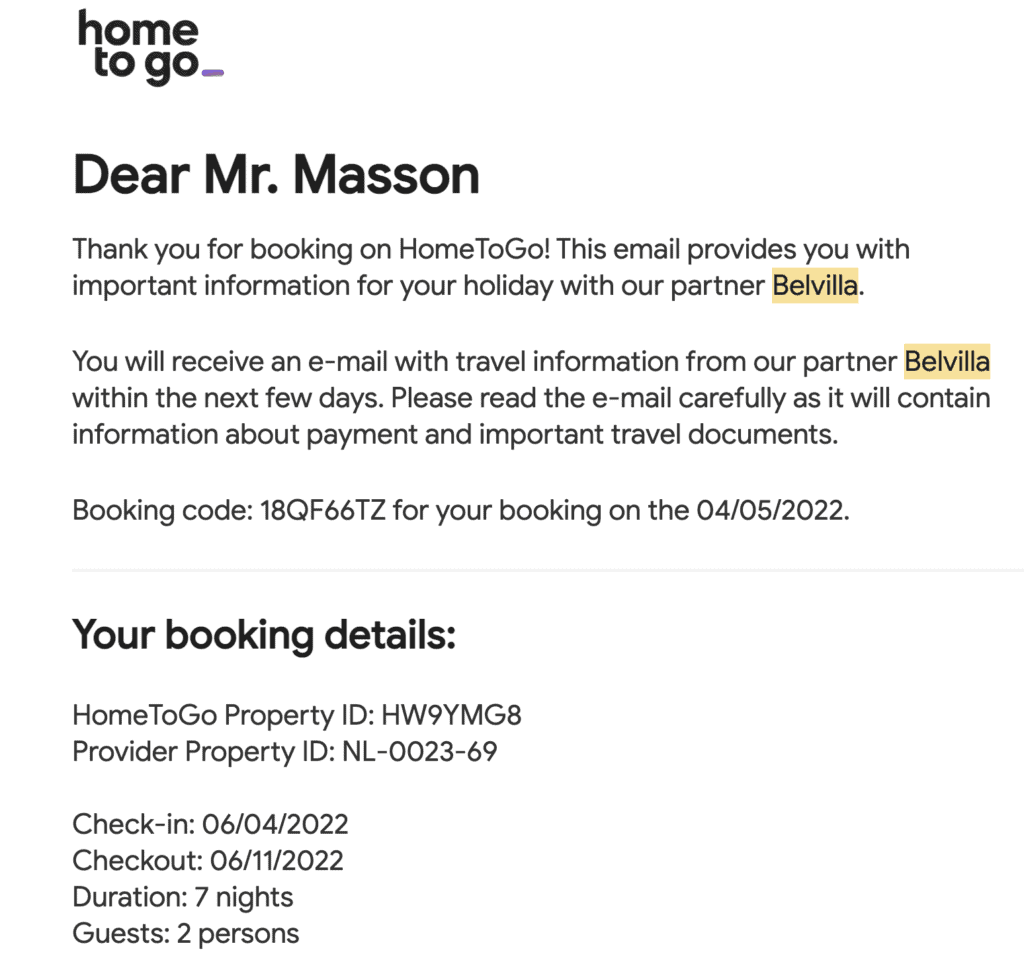 5 – As I had not opted to pay online, as I like to make things complicated in a test, I did receive an email from BelVilla asking me to pay.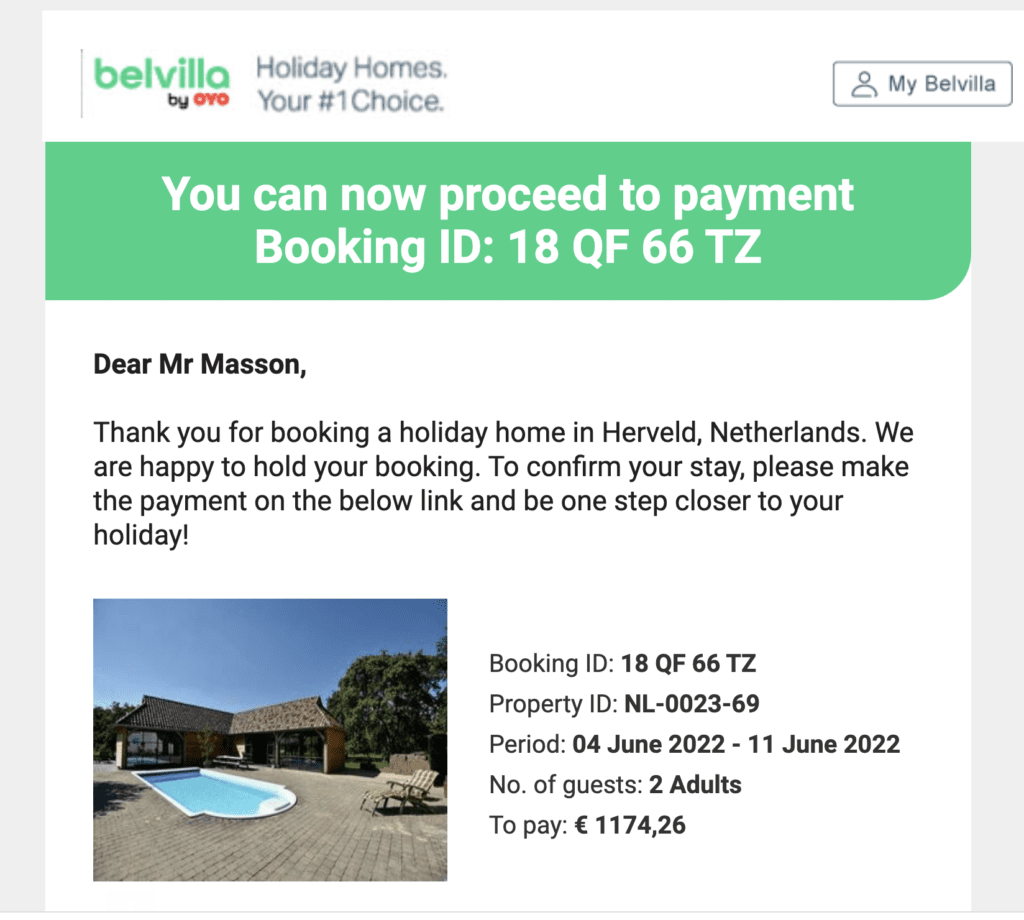 6 – Note that many bookings actually get completed online, as you can see with the other example below. The booking flow is then:
Guest enters their personal details
Guest validates booking and accepts to pay for it
Guest enter credit card details
Booking is paid and confirmed

What is the commission taken by HomeToGo?
The information is not publicly available. We know that the company's average take rate was 8.4% in 202, while the company says that it has managed to get to an average 13.9% from the 250 last property managers who have signed directly for the "onsite bookings" model.
The difference in HomeToGo fees depends on whether the booking is fully made online or whether the platform handles payment processing, for instance.
Pros of using HomeToGo's onsite bookings to get direct-like bookings
We think that, for smaller property managers, Hometogo can bring a broader reach than they could get on their own, a potentially better booking experience for guests than on a small PM website, as well as payment processing fees that may be smaller than those a PM gets from their bank.
HomeToGo's COO adds that the platform's reach (50M+ monthly users in 2021) is of specific interest to vacation rental managers trying to attract a diverse group of travelers.
HomeToGo vs Airbnb: More control for the property manager may confuse some travelers
To better understand HomeToGo's "onsite booking" model, I booked a vacation rental on the platform. The listing page made it clear that the place was offered through a property management company called "BelVilla by OYO" (BelVilla is a Dutch company acquired by OYO Vacation Homes).
The booking process was 100% on HomeToGo's platform, from searching properties to agreeing with the booking terms (e.g. price, cancellation policy, and house rules)
Yet, when I had to pay, I had the choice to wire money to their bank account. Note that, to Dutch travelers, it was completely normal, safe and free to send money from their bank account to pay companies.
A weakness of the onsite booking model may stem from customer confusion and ensuing customer support costs. For instance, after I booked on Hometogo and got a confirmation email from HomeToGo, I got another email from Belvilla asking me for payment. As an industry professional, I could understand why: The online booking had been made and, as clearly indicated in HomeToGo's website and email, it was the turn of the property manager to contact me.
Yet, Hometogo users who are familiar with OTAs like Airbnb may be surprised as to why another company, called BelVilla, would be sending them an email about their booking and asking for money. Back when I worked at Booking.com's headquarters, I remember we had similar issues when the payment was not provided by the platform. Guests would call customer support to ask what this was about thinking it could be a scam.
This confusion may impair the guest experience for some while creating costs for HomeToGo when travelers contact the platform to know whether the email from this other company is legit.
HomeToGo's COO recognized that this confusion may occur but said that the company was doing everything it could to clarify the process. For instance, it heavily features the name of the vacation rental partner in all guest communications.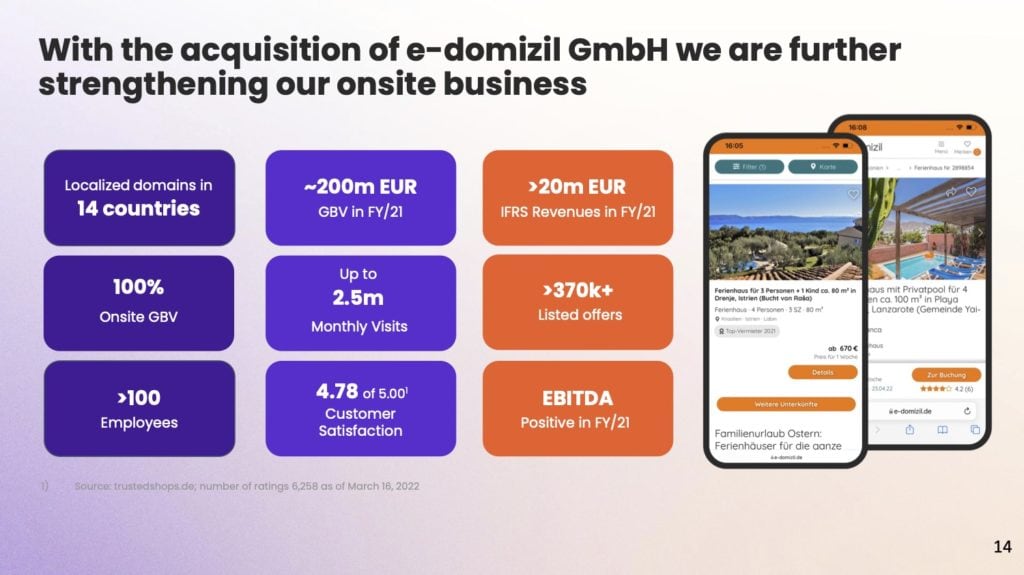 Finally, we talked with Valentin Gruber about the recent acquisition of the European listing site e-Domizil by HomeToGo. As e-Domizil is more of an OTA, with a model similar to Airbnb, all of the site's bookings can be categorized under the "onsite bookings" model. The acquisition helps increase the average take rate of the company as well as make it more familiar with OTA business models.
As HomeToGo is trying to move up the value chain by capturing more of commission on each vacation rental booking, it is key for the company to grow the share of its "onsite bookings", as well as to have some of its business operations as an OTA or traditional booking site. For vacation rental managers, HomeToGo can be a booking channel where they can exert more control over each booking's cancellation policy and T&Cs.
Bonus: What can we learn from HomeToGo's online ads?
In the US, on its ads in on Google, HomeToGo is still positioning itself as a "Vacation Rental Search Engine".
Here are some ads from the company that we've recently noticed:
HomeToGo.com – HomeToGo® Official Website

HomeToGo ®: The World's Largest Vacation Rental Search Engine! Low Prices. Mobile Friendly. World of Vacation Rentals. Most Properties. Numerous Trusted Partners. Millions of Offers. Widest Selection. Best Deals. Amenities: WiFi, TV, AC, Pool, Kitchen, Balcony, BBQ.

HomeToGo® Vacation Rentals – Find Your Dream Vacation Home

HomeToGo ®: The World's Largest Vacation Rental Search Engine! No Booking Fees. Thousands Booking Sites. Search by Budget. New Guest Reviews. Rental Price Comparison. Most Properties. Widest Selection. Compare Booking Sites. Millions of Offers.