Let's look at common Airbnb myths and see what is true about them. As hosts, a key to success is understanding what guests have in mind before entering your property. Crafting expectations is key, especially as many Airbnb users stay at a short-term rental for the first time, believe it or not. As a result, they may not know where the money goes (e.g. thinking that it is Airbnb that sets and keeps the cleaning fee) or have expectations that a vacation rental is just like a hotel.
We, hosts, use the Airbnb platform way more often than guests. As a result, we know too much and may forget what it is like to stay at an Airbnb from time to time. Now, some Airbnb guests are professional whiners empowered by social media, and we'll talk about that too.
Crazy Airbnb house rules: Hosts are now demanding that guests do a long list of chores such as cleaning all the dishes, taking out the garbage
You may remember that one of my takeaways from the VRWS 2022 conference was that 40% of the people who leave a review on Airbnb are first-time Airbnb users.
As a host, we may be used to hosting other people and staying at a vacation rental. We know what it is going to be like, more or less. Yet, we must remember that, for many people, staying at a short-term rental is still a new experience.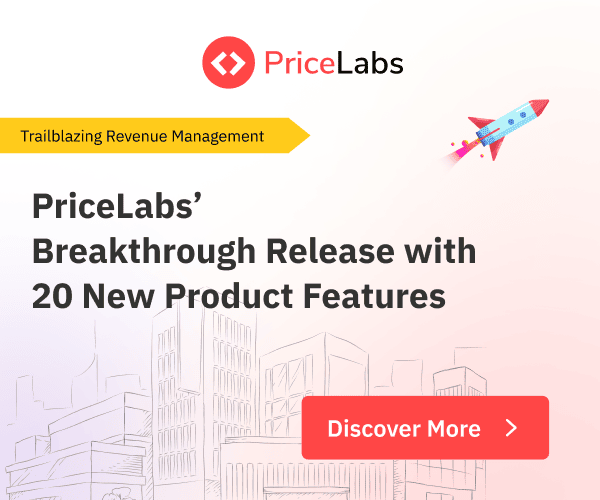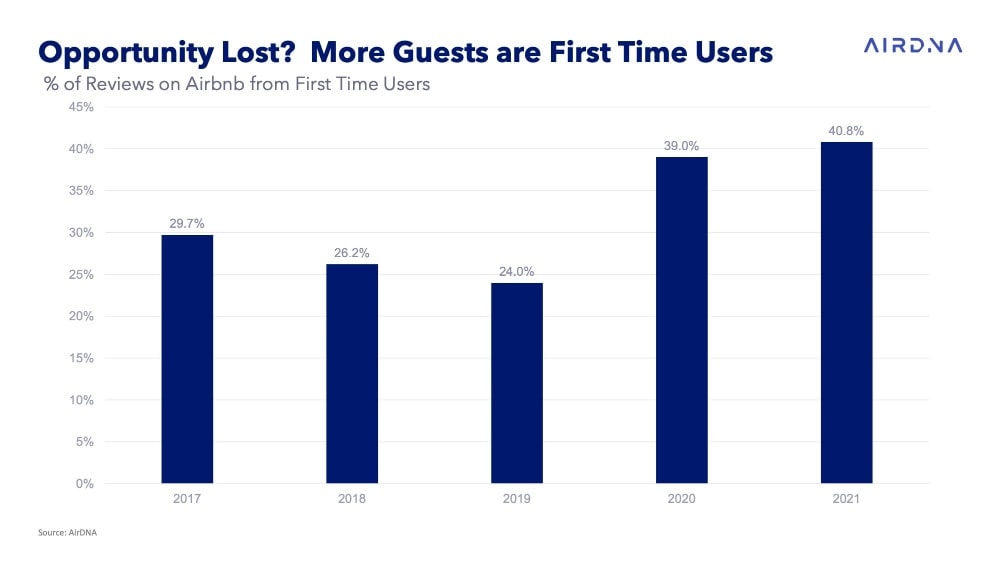 People who have always stayed at a hotel may expect to have to sort out their trash or keep the place clean-ish. Some local habits may surprise guests: For instance, in many French rural vacation rentals, you are expected to bring your linens and towels (or to pay an additional fee). So, such expectations are new, unlike what some people on Twitter claim to have discovered. 
So, spelling things out clearly within Airbnb's House Rules online is crucial. As hosts, you need to set the right expectations. Also, you need to think about what is reasonable to ask guests. For example, if your cleaning between two guests relies solely on guests, you may be in for unhappy guests and terrible cleanliness reviews.
Now, I will say that I have zero patience for guests that are outraged that they have to sort out their trash into the recycling bins provided. This is common adult behavior, expected in a lot of countries.
What would the guest do otherwise? Leave their trash on the kitchen table? Put all the trash in the same bin and expect the host to sort the garbage later?
I do not find these rules shocking at rules, as, in many communities, this is expected behavior. Hosts can get fined if the wrong kind of trash lands in some bins. In a hotel, you may not have to sort your trash (I wonder why not, by the way). Yet, you are not usually cooking entire meals for your family in your hotel bedroom either.
If I read these house rules correctly, they are about guests making sure that they put the right garbage in the right recycling bins.
Airbnb cleaning fees are out of control
As many Airbnb guests voiced their unhappiness with cleaning fees, the platform published in September 2021 the results of an internal inquiry. It shows that, for a US booking, the average cleaning fee had gone from $75 in the first half of 2019 to $100 in the first half of 2021. These additional $25 represent a +33% increase in 2 years.
Airbnb gave some compelling reasons behind this increase. One of the reasons for this was COVID-19 booking trends that led users towards larger and more expensive accommodations (whole houses) as opposed to smaller spaces like apartments or shared homes. Airbnb hosts also outsourced cleaning to professional vacation rental cleaners which drove up costs even further.
To placate guests, Airbnb has modified its previous one-size-fits-all approach to cleaning fees. Hosts can now add a few settings to their cleaning fees:
Add one flat-rate cleaning fee for all guests, regardless of their length of stay
Add a lower cleaning fee for short stays of only 1 or 2 nights, and keep your flat-rate fee for all other stays
Add a pet fee to cover the additional costs of cleaning when you host guests with 4-legged friends
In cities, Airbnb is stealing homes away from the housing market
It would be hard to argue that Airbnb has not made it easy for small and big investors to choose to maximize their revenues by putting houses on Airbnb rather than welcoming long-term tenants.
The expressions "rental arbitrage" and "Airbnb arbitrage" were born years ago yet are still incredibly popular. The Google Trends data show that the terms' popularity has risen to great levels since 2021.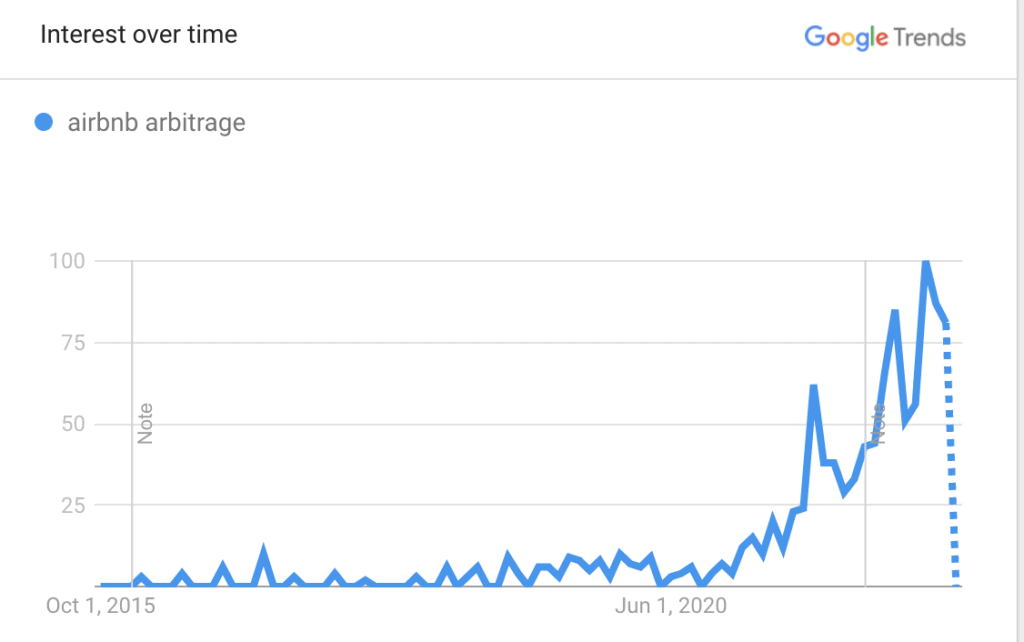 Rental arbitrage is when you sign a long-term lease to rent out a place, then list it on Airbnb as a nightly, weekly or monthly rental.
When we ran our article about Airbnb's impact on affordable housing, we talked about how we, as an industry, were sometimes creating our own problem: We complain about the lack of cleaners in key markets, while the rise of short-term rentals has made it prohibitively expensive for would-be cleaners to live within a reasonable distance from such jobs.
For instance, on its French-language blog, Airbnb has just published an article titled: "Airbnb commits to fighting real estate speculation in La Baule". The city of La Baule has been welcoming guests in vacation rentals for decades. Yet, the municipality has voted that owners of more than two short-term rentals in the city should also prove that they are investing in housing for residents.
Airbnb has made it too easy for guests to complain, cancel, and get a refund at the expense of the hosts
Yes and no. Airbnb is trying to balance the two sides of its marketplace, i.e. the interests of the hosts and the guests.
Let's consider what happened last week when Hurricane Ian hit Florida: Airbnb did not force hosts to refund hosts. As we noted, Weather events and natural conditions are usually excluded from Airbnb's Extenuating Circumstances Policy. Hurricanes in September and October are not a surprise in Florida, as expressed in Airbnb's terms and conditions. 
Now, hosts who were already active when the COVID-19 crisis struck may remember that, at the time, Airbnb ignored its Extenuating Circumstances Policy and forced hosts to refund guests. Sometimes, Airbnb just took the money from host accounts or deducted it from future revenues. Such drastic action caused a lot of uproar within the Airbnb host community, and the company spent most of 2020 apologizing for it and trying to make amends.
Airbnb has vowed not to bypass existing host cancellation policies anymore.
However, Airbnb introduced in April 2022 a new refund and rebooking policy as part of its Aircover guarantees for guests. Hosts have not been happy that guests now have 72 hours (3 days) to complain about a "travel issue" and get a refund, whatever the host cancellation policy is.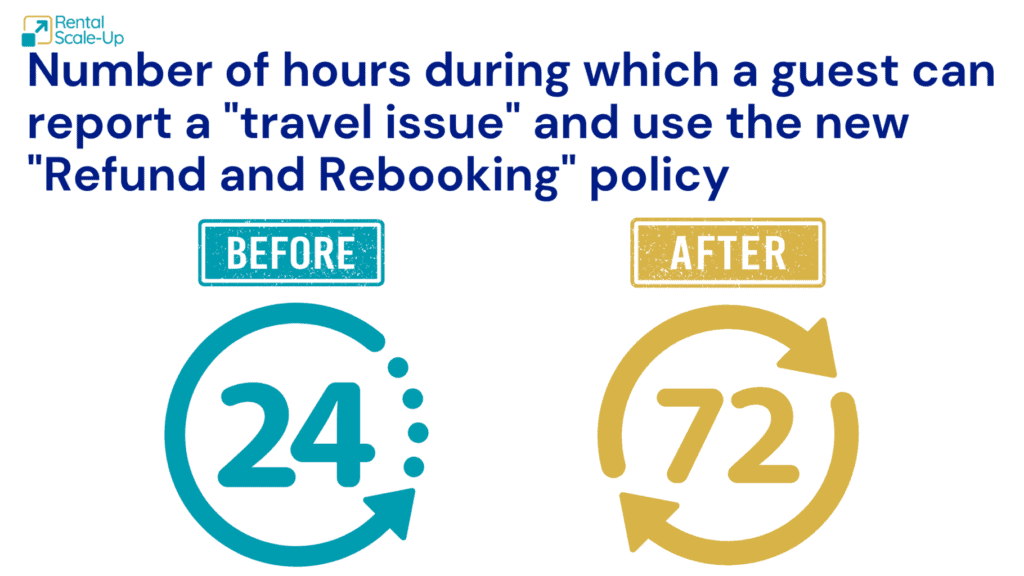 Guests have been telling us that 24 hours wasn't enough time to reach out for help and get their issues resolved. We investigated other possible time periods and concluded that giving guests 72 hours after they discovered an issue to report it to Airbnb actually resolved most of the guests' concerns, because it gave Hosts more time to address the issue.
The new policy can also be used by guests who complain to Airbnb about the place not being "reasonably clean", containing "pests", or if an amenity is not present (e.g. A/C). Here's the exact list of "travel issues" as shared by Airbnb:
Host cancels the reservation prior to check-in.
Host fails to provide access to the accommodations.
Host fails to disclose in the Listing that the Host, another person, or a pet will be present during the stay.
Accommodations are not habitable at check-in for any of the following reasons:

They are not reasonably clean and sanitary, including bedding and towels.
They contain safety or health hazards.
They contain pests.

Listing contains a material inaccuracy such as:

Incorrect home type (e.g. entire home, private room or shared room).
Incorrect type or number of rooms (e.g. bedrooms, bathrooms and kitchens).
Incorrect location of the accommodation.
Special amenity or feature described in the Listing is not present or does not function (e.g. pool, hot tub, bathroom – toilet, shower or bathtub, kitchen – sink, stove, refrigerator or other major appliance, electrical, heating or air conditioning systems).
Airbnb Hosts cannot use cameras and monitoring devices
Yes, they can! Provided that they are disclosed to guests before they book and provided they do not infringe on Airbnb's definition of guest privacy.
A whole industry has cropped up to help worried guests answer questions such as  "how to find cameras at an airbnb?"
What Airbnb allows
Disclosed devices monitoring only public spaces and common spaces: Devices that allow for viewing or monitoring of only a public space (ex: a front door or a driveway) or a common space that are clearly identified and disclosed ahead of a reservation are permitted. Common spaces do not include sleeping areas or bathrooms.
What Airbnb doesn't allow
Concealed and undisclosed devices monitoring common spaces: Any device monitoring a common space should be installed in a visible manner and disclosed in the listing description.
Devices located in or monitoring private spaces: Devices should never monitor private spaces (ex: bedrooms, bathrooms, or common areas that are being used as sleeping areas, like a living room with a sofa bed). Disconnected devices are allowed as long as they are turned off and proactively disclosed to guests.
To disclose recording devices in your listing
Go to Listings and click or tap on the on the listing you want to edit
In Listing details, scroll down to Things guests should know and click or tap Edit
Under Safety Devices, check the box for Security cameras/audio recording devices
Click or tap Edit and describe each device, its location, and if it will be off or on (you'll also be asked to confirm some details about your listing)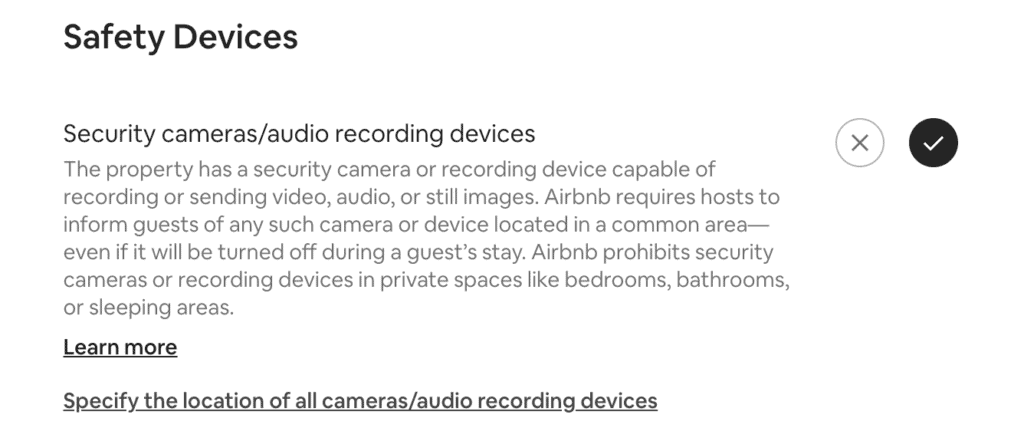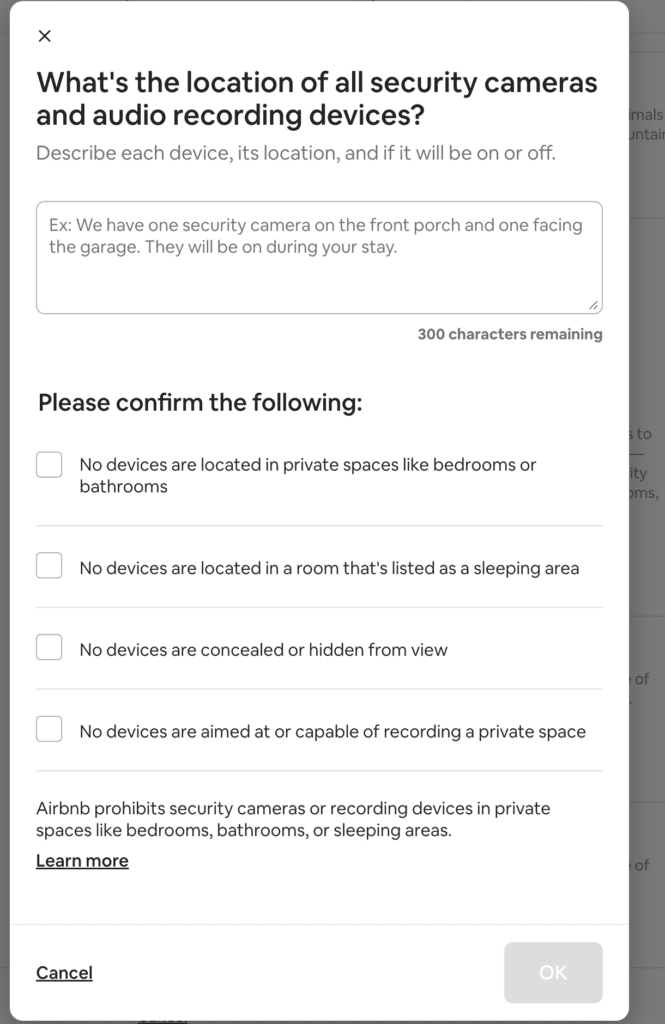 These are just a few Airbnb myths that we wanted to talk about. As you can see, all of them have some truth, making them hard for hosts to navigate. Crafting guests' expectations, such as cleaning, house rules, and cameras, is a priority.