A revived and deadly Hurricane Ian is barreling its way north toward South Carolina's coast today, a day after landing on the Gulf Coast and carving a path of destruction across central Florida. It is not only a disaster for local inhabitants but also a potentially big hit to the U.S. vacation rental industry: 22% of all U.S. vacation rentals are located in Florida, was telling us VTrip's Steve Milo a couple of months ago. You will see that Steve has found the time to share how he's dealing with the dire situation on the ground. The U.S. southeastern region captures a majority of all vacation rentals in the country.
As of writing, Hurricane Ian is now hitting the Carolinas, where big travel markets such as Hilton Head are located, as we will see through maps. Property managers on the ground have to try and fix impossible situations. Should guests be refunded or not? Often, it comes down to whether they followed the advice of a travel professional and took an insurance policy. This is a big test for Airbnb, as its much-publicized new AirCover guarantees do not cover guests from hurricanes. Yet, Airbnb's new travel insurance does not mention hurricanes or weather events. Can Airbnb guests understand the difference?
Hurricane Ian struck Florida on Wednesday, leaving about 2.6 million homes and businesses without power. Now, the hurricane is threatening Charleston and the Carolinas. First, I'd like to give some thoughts to all the local inhabitants who have to prepare for, go through, and face the aftermath of the biggest hurricane ever recorded in the U.S. Many lives have probably been lost.
Florida and South Carolina, major vacation rental markets under the path of Hurricane Ian
For local inhabitants and businesses, the disaster is also economic. Florida is a big travel market. With great beaches and world-famous attractions such as Walt Disney World and Universal Studios, the state attracts many families who book a vacation rental for their stay. Cities like Orlando and Kissimmee usually rank high in market size for vacation rental revenues.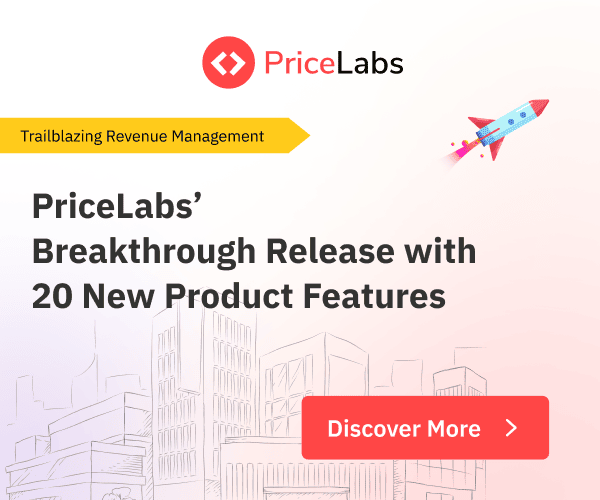 A lot of short-term rental investment money has poured into these destinations. For instance, Vacasa released an article called "Top 25 markets for buying a vacation home in 2022" earlier this year. Several cities hit by Hurricane Ian stand in this list, such as #3 Palm Coast, FL, #11 Cape Coral, FL, and #14 Daytona Beach, FL.
As of writing, Hurricane Ian has left Florida and is about to hit South Carolina, not too far from other major vacation rental destinations such as Hilton Head island.
To help you get an idea of how dense these key destinations are, I've used PriceLabs's Market Dashboards to get a map and some data about these markets (Full disclosure: PriceLabs is Rental Scale-Up's parent company).
Three high-value markets hit near Fort Myers: Sanibel, Marco Island, and Fort Myers Beach
A series of islands located just near or not too far from Fort Myers are very dense vacation rental markets. They offer a concentration of short-term rentals that are open year-round and with high rates. The potential loss of revenues in these markets is staggering.
The color mapping, from green to red, reflects the average daily rate (ADR). It has nothing to do with hurricane damage.
Sanibel Island (near Fort Myers, Florida)
Number of Airbnb listings: 1,840
Average yearly revenue: $68,400
Yearly market value: $105.3 million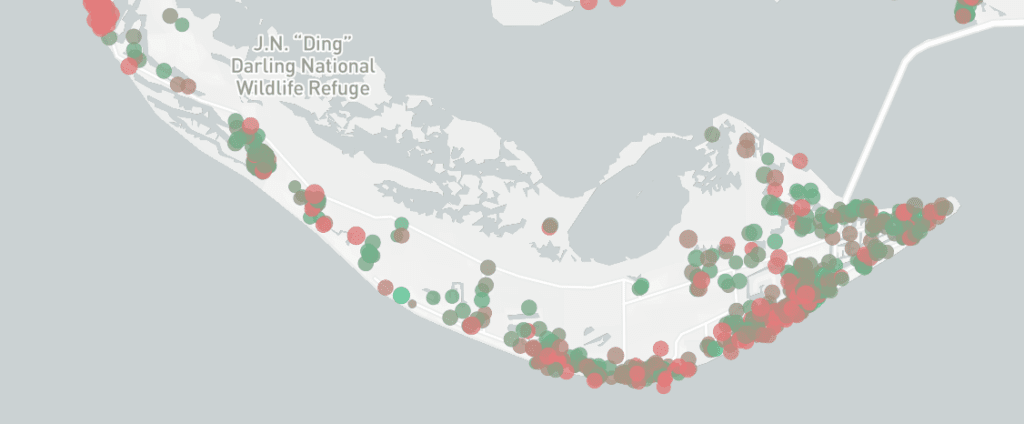 Marco Island (south of Fort Myers, Florida)
Number of Airbnb listings: 1,690
Average yearly revenue: $62,300
Yearly market value: $105.3 million
The PriceLabs data shows around 1,700 vacation rentals listed on Airbnb within a 5 km radius of the island's center, making it a very dense market.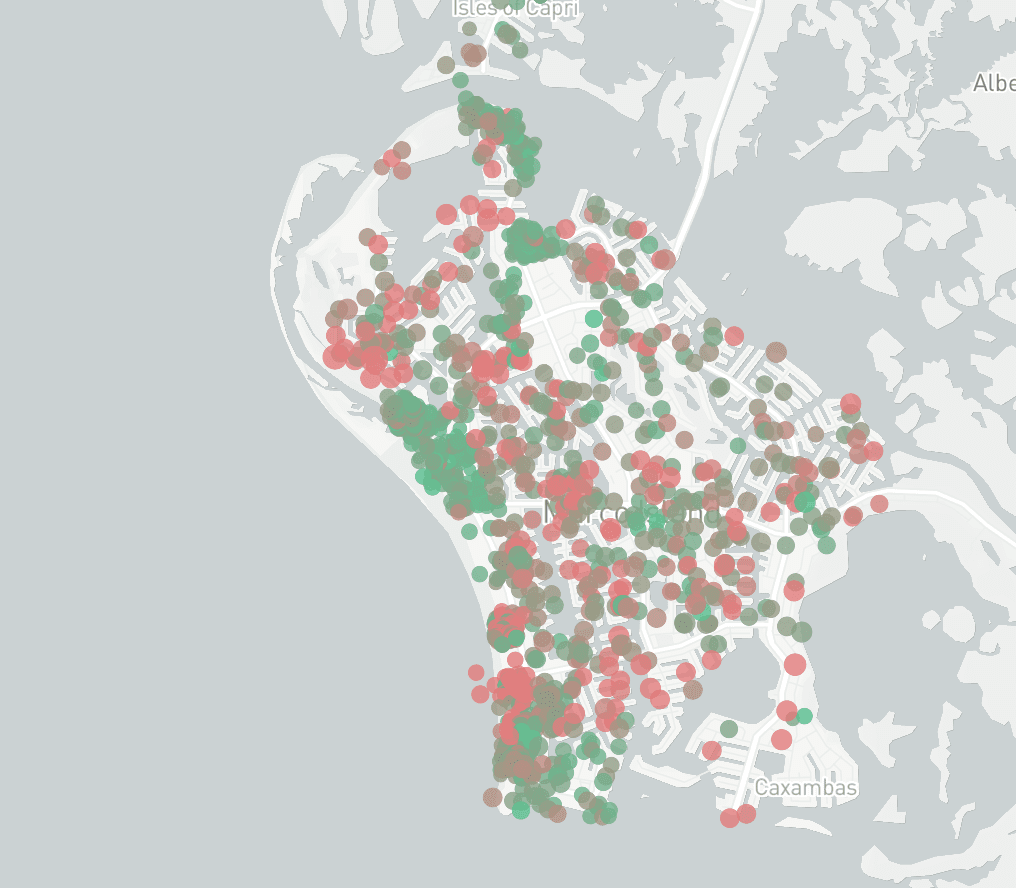 Fort Myers Beach, Florida
Number of Airbnb listings: 2,680
Average yearly revenue: $53,600
Yearly market value: $143.7 million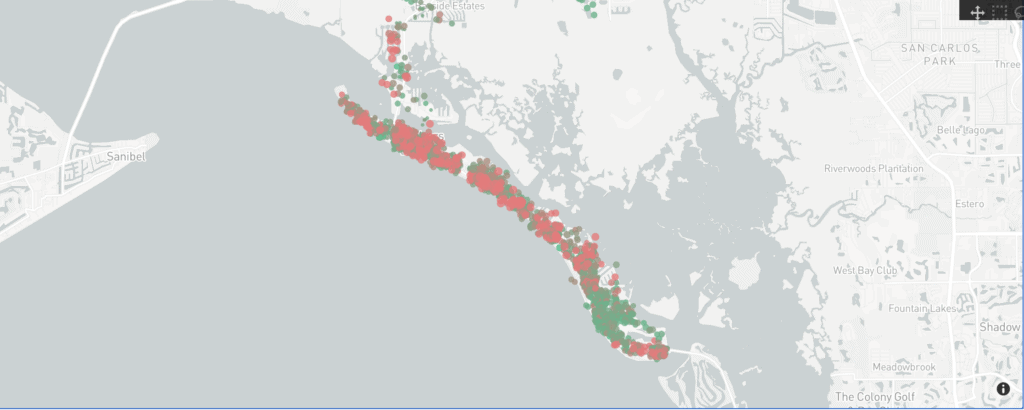 Hilton Head Island, South Carolina (where the hurricane will re-enter the U.S.)
Number of Airbnb listings: 4,790
Average yearly revenue: $67,700
Yearly market value: $343.3 million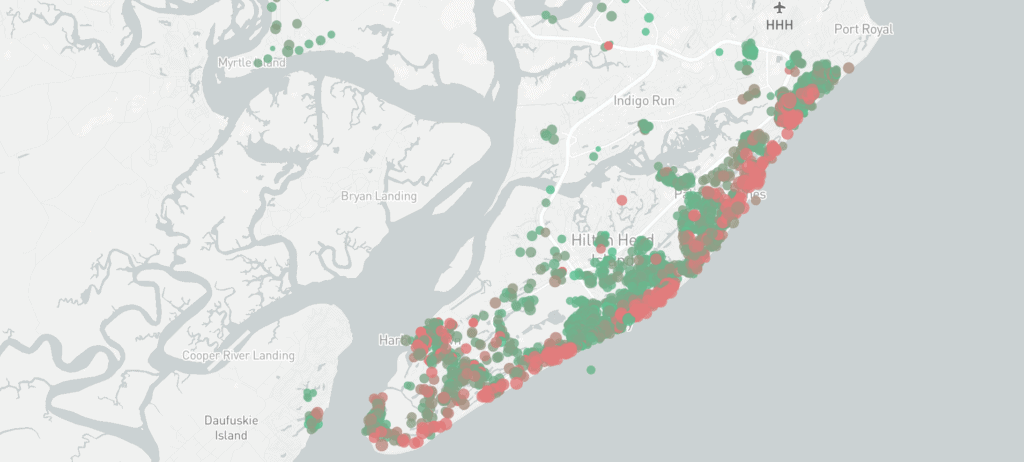 Steve Milo on the situation in Fort Myers Beach and how his team is address guest cancellations
Steve Milo, CEO of VTrips, one of the main vacation rental management companies in Florida, shared with us his testimonial earlier today:
Based on early reports (and from helicopter video) – the news is pretty grim on Ft Myers Beach.
We are still trying to find out if our employees and families are safe. Most cell phone towers are down – and there are reports of (many) fatalities from drowning due to storm surges.
No one is allowed on to Ft Myers Beach right now, and I am not sure when we will be allowed back on.
As I'm sure you've seen on the news, it appears the impact to Ft Myers Beach is severe and we are expecting a number of units to be unrentable for a period of time.
Once it is safe for the team to return to the beach we will begin the process of inspecting the properties and tracking the damage to the portfolio.
Assuming the units are unrentable, we'd take the approach below:
Anyone who purchased travel insurance would be sent to RedSky with instructions on how to file their claim for a refund
For those who did not have travel insurance, we would make every effort to have these individuals either:

Reschedule their trip for a future date
Reschedule their trip to be booked for a different market

As a last resort, we would provide a refund for their stay once all other options are exhausted
Airbnb only covers guests if they have purchased its new travel insurance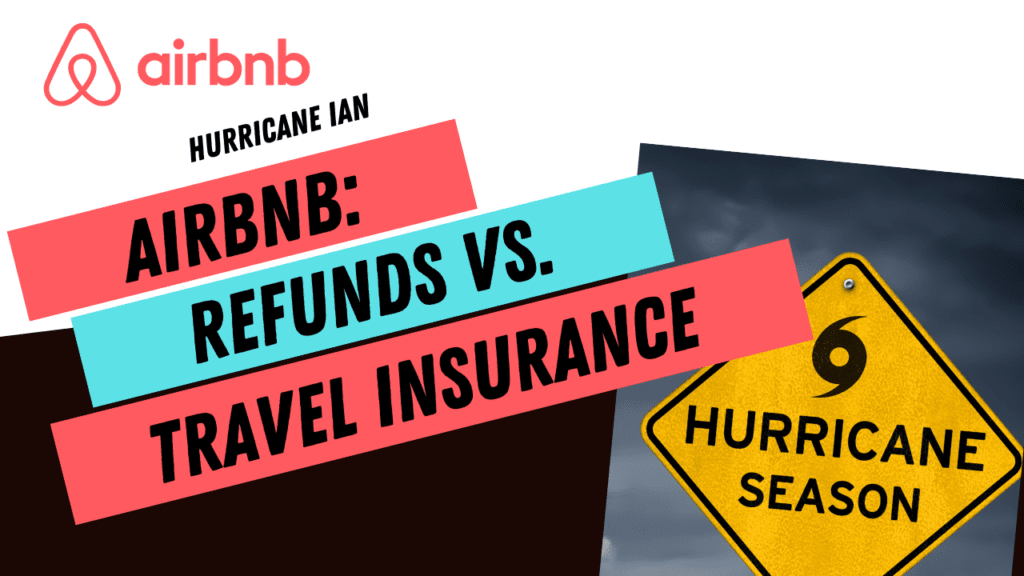 As grim as it sounds, hurricane risks yearly occur in Florida. When guests book in this season, vacation rental managers routinely strongly recommend they take a travel insurance. Indeed, a lot of travel companies exclude severe weather events.
Let's have a look at Airbnb. Weather events and natural conditions are usually excluded from its Extenuating Circumstances Policy. What is Airbnb's cancellation and refund policy when a hurricane hits a destination?
What does Airbnb say about hurricanes such as Hurricane Ian?
Our Extenuating Circumstances Policy allows for guests and hosts to cancel only where the circumstances were not foreseeable at the time the reservation was made.
Foreseeable circumstances that are not covered include the weather events, natural conditions and diseases described (below) as well as any transportation disruptions that result from them.
For instance:
Gulf of Mexico and the Caribbean Sea, from June through November
Examples: Belize, Cayman Islands, Colombia, Cuba, Dominican Republic, Honduras, Jamaica, Mexico, Nicaragua, Puerto Rico, Venezuela, The Bahamas, the United States (Alabama, Florida, Louisiana, Mississippi, and Texas), U.S. Virgin Islands, and the British Virgin Islands.
North Atlantic Ocean, from June through November
Examples: Delaware, Florida, Georgia, North Carolina, Maryland, New Jersey, New York, South Carolina, and Virginia.
This year, Airbnb has launched Aircover, a new series of rebooking and refunding guarantees for guests. Airbnb markets Aircover through video commercials, for instance on Youtube. Yet, Aircover is free and applies to all Airbnb guests. It no travel insurance. This is what Airbnb says:

AirCover is free protection for your booking, included for every guest. It helps you get refunded or find a new place to stay if you experience an unlikely issue like a Host cancellation, trouble checking in, or a missing key amenity. AirCover is not travel insurance.
Yet, Airbnb has been selling travel insurance for guests since July 2022. When reading the travel insurance policy, provided by Generali and Europ Assistance, it appears that the impact of hurricanes could be covered, from cancellations to travel delays.
What the policy covers
The Generali travel insurance policy includes:
Trip cancellation: Get reimbursed for up to 100% of your non-refunded Airbnb reservation cost if you cancel for a covered reason, such as: iIllness or injury, flight cancellations and delays due to weather, or mandatory evacuations due to weather.
Travel delay: Get reimbursed for certain additional expenses you incur because your trip is delayed for 12 hours or more for a covered reason, such as: flight delays, passport theft, or adverse weather.