Airbnb hosts can now test their wifi speed, see the results, and get their listing updated accordingly, straight from the Airbnb app. We show you how to do it and why it matters to you. As guests want to stay in secluded cabins while being able to watch Netflix and work remotely via Zoom, high-speed wifi is a must in 2021. Airbnb wants to help travelers find and book properties that offer high-speed internet: Airbnb users can tick WIFI as an amenity they are looking for during their search but, for the moment, they cannot indicate a preference for high speed. By enabling hosts to run a speed test straight from its app, Airbnb may then be able to collect enough data to turn it into a new "tested wifi" or "high-speed wifi" filter in the coming weeks.
If an Airbnb host writes in their listing description that the wifi connection is "fast", what does it mean? Speed is relative to who you are and who you use the internet. If you are traveling with a family where your spouse has to be on Zoom, while the first of your kids is playing video games online and the second is binge watching on Netflix, your needs are different from someone who just needs to send a few Whatsapp messages now and then.
Wifi speed: Guests need it, Hosts want to show it
As the trend for remote work has grown, savvy Airbnb hosts have started adding:
Screenshots of wifi speed tests to their listing photos,
Words such as "Cozy studio with high-speed wifi and free parking" to their listing titles,
Phrases such as "Wifi – Tested for teleworking" in their listing descriptions.
Yet, not everyone knows how to run an internet speed test, using free services such as https://www.speedtest.net/. Also, it can be tricky to see where to add wifi speed to an Airbnb listing.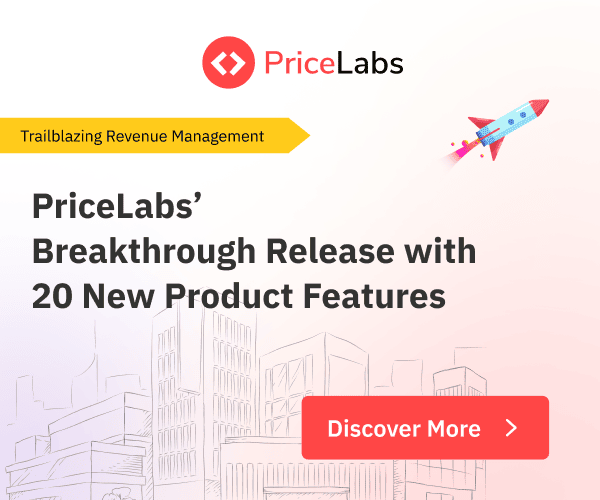 This is why Airbnb is coming up with an elegant solution: Enabling hosts to test their wifi speed straight from the Airbnb app, right where they need to enter the speed data. For the moment, the Airbnb wifi speed test tool is only available from its app (not the website) and in the US. The tool will be progressively rolled out worldwide in the coming weeks.
Airbnb wifi speed testing: Video explainer
How to run a wifi speed test with the Airbnb app and save the result in your Airbnb listing
Open the Airbnb app and go to Amenities.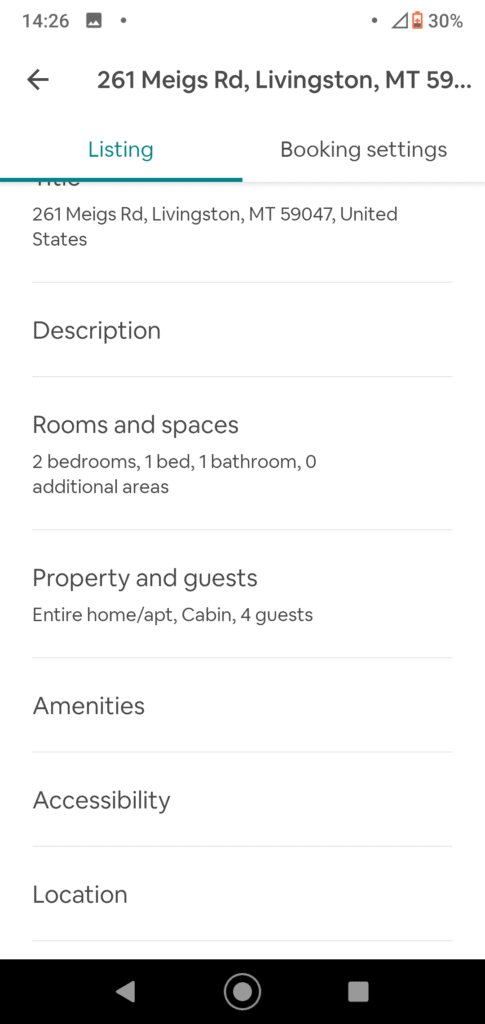 Scroll down the Amenities list and find the Wifi section.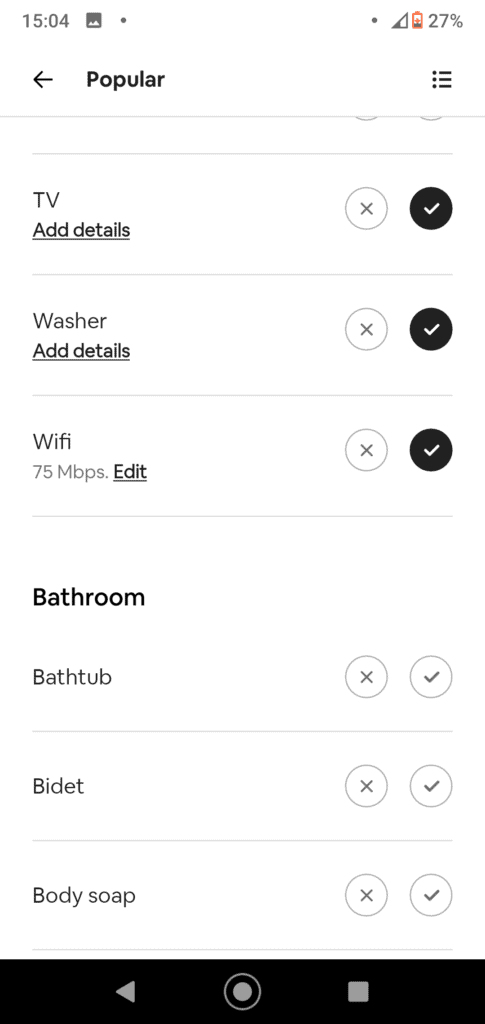 Click Edit Wifi. Pick the"Test your wifi speed" option.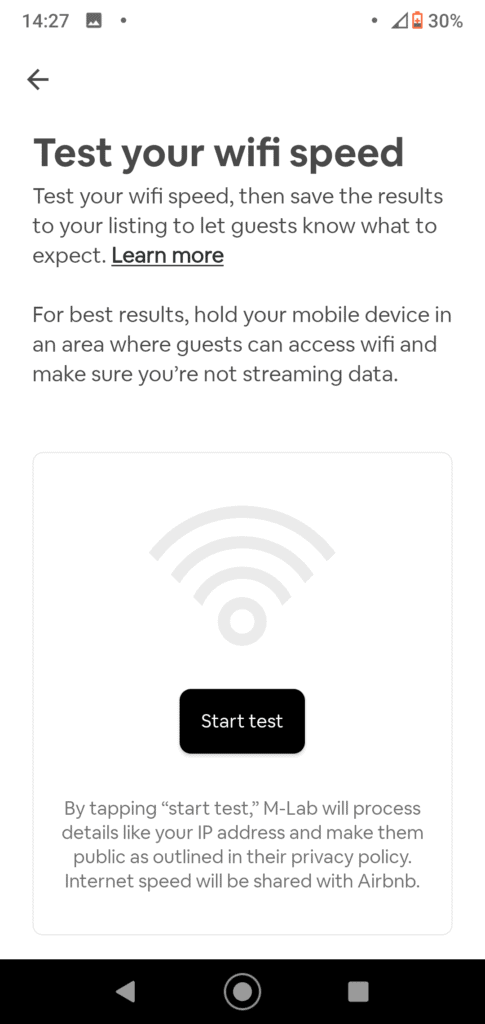 Warning: For the test to work straight away, you need to be on your listing's Wifi network and to have added its name into the Guest Resources section
In order to test the Wifi speed at your property from your Airbnb app, you need to have your app connected to the local wifi. Not any wifi, but the actual wifi at the actual property.
Also, you may bump into another issue: In order to proceed with the Airbnb wifi speed test, you need first to have added the name of your listing's Wifi network into Airbnb. This is something you can do in the Guest Resources / Info for Guests section (see below).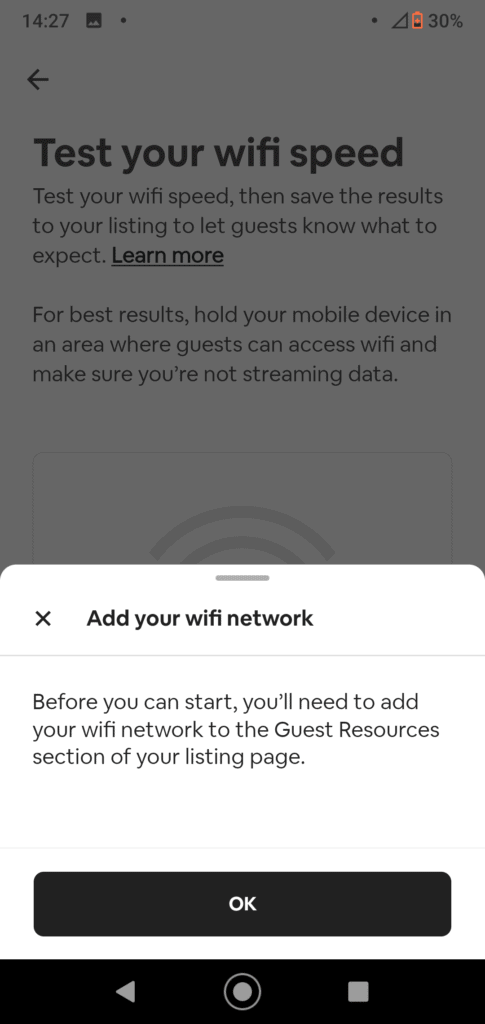 (Optional) Add the name of the property's wifi network to your listing.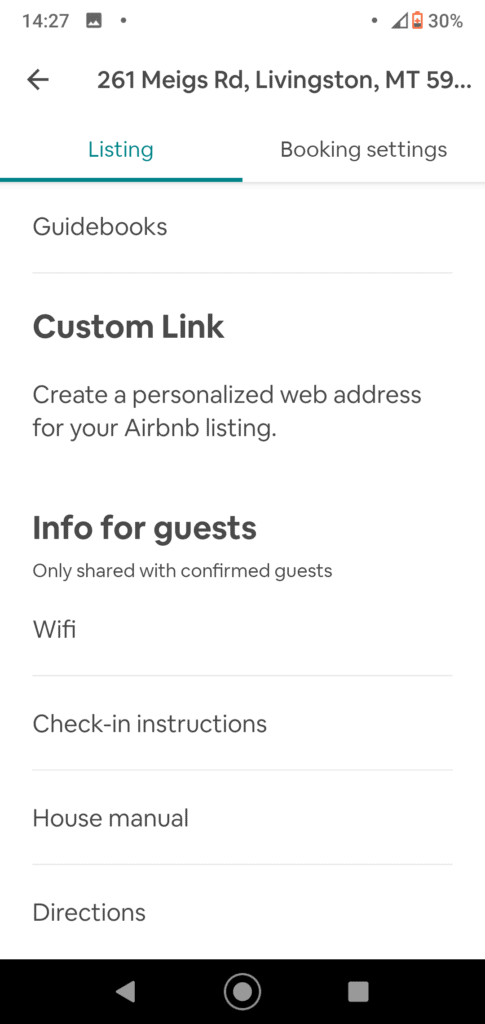 Click "Start Test" to run your Airbnb wifi speed test.
After you click "Start Test", the Airbnb app will use, behind the scenes, an open source software service from M-Lab ("the Measurement Lab"). This is a free and reliable test. M-Lab ensures that the data is kept anonymous.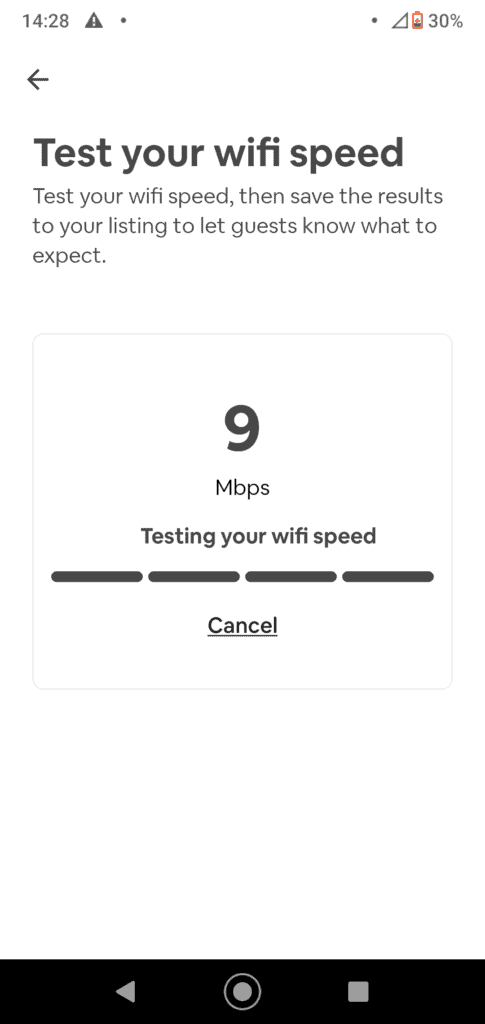 Look at the test results: Is your wifi solid? snappy?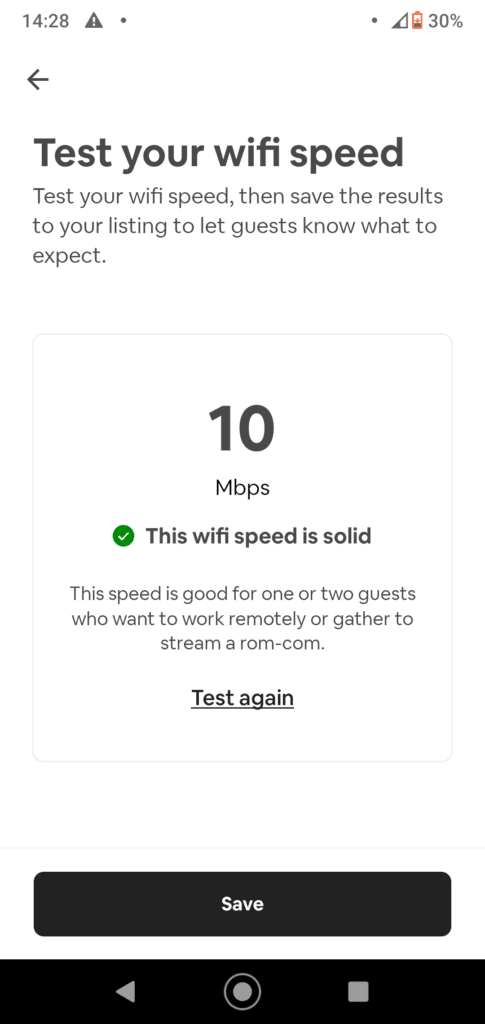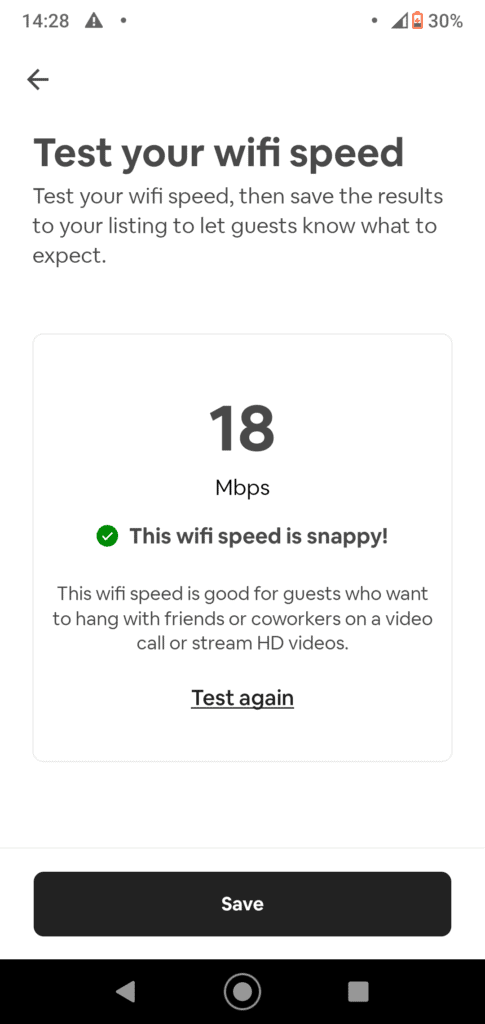 Decide whether to add the test results to your Airbnb listing.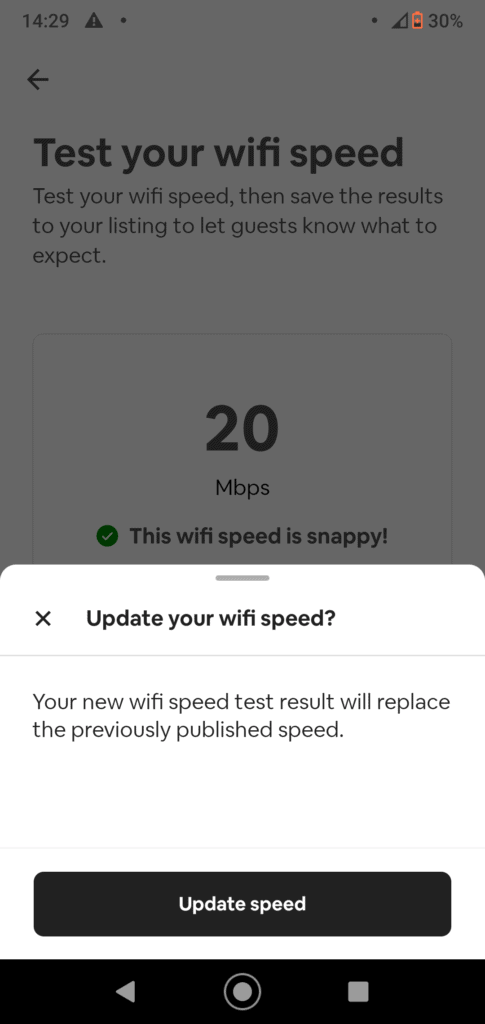 Understanding your Airbnb wifi speed test result
| | |
| --- | --- |
| Speeds | What it means for your guests |
| 0 Mbps | No wifi available. You either don't have wifi or can't connect. Try rebooting your router or moving to another space in your airbnb. |
| 1 – 6 Mbps | Your wifi is fairly slow. You either don't have wifi or can't connect. Try rebooting your router or moving to another space in your airbnb. |
| 7 – 13 Mbps | Your wifi is snappy. Guests can hang with family and friends on a video call or gather together to stream a rom-com. |
| 14 – 49 Mbps | Your wifi is fast! Break out the popcorn! Guests can stream multiple HD videos at the same time. |
| 50+ Mbps | Your wifi is lightning fast! There's nothing guests can't do: stream multiple HD videos or play games—you name it! |
Remote working is a big and no high-speed wifi is a deal-breaker
In early 2021, we looked at key trend data from the big OTAs. Even if offices reopen, remote working will stay, at least for a couple of days per week, at some companies. For instance, Google, Microsoft, Facebook, and Twitter have adopted remote worker-friendly policies.
Vrbo: A nationwide Vrbo survey of families revealed that 50% of those surveyed agreed that flexible school schedules provide more flexibility in vacationing, while 48% said they can work from anywhere
Airbnb: From "Belong Anywhere" to "Live Anywhere":

83 percent of respondents are in favor of relocating as part of remote working.
A quarter believes they will be able to 'live where they want to and work remotely.

Booking.com: Over a third (37%) of travelers have already considered booking somewhere to stay to work from a different destination, while 40% would be willing to quarantine if they could work remotely.
Booking.com: (52%) saying they would take the opportunity to extend any business trips also to enjoy leisure time at the destination.
Bonus: What does the Airbnb pocket wifi option mean?
As an Airbnb host, you may have been puzzled to see the words "pocket Wifi" as an option among Airbnb's amenities. If you use a pocket Wifi solution, instead of an internet broadband solution, you can also run the Airbnb wifi speed test and have the result added to your listing page.
What does pocket Wifi stand for?
If your Airbnb property does not have access to broadband internet, then pocket Wifi can be a great solution. It is basically a small device in which you insert a small SIM card. Just like a smartphone, the device can then connect to the 4G or 5G network and provide reliable internet access to your guests
A "pocket wifi" or "personal MiFi" is a portable pocket-sized wireless device that lets you easily and quickly connect to the Internet on the go and provides you with a secure gateway for sharing your connection with other devices.
It's perfect for staying connected when WiFi hotspots are not available or wanted, such as traveling abroad in countries without free public WiFi or using the office internet while connected to your mobile network data plan, which will save you money by preventing data overages on your phone. It's also great if you need to use multiple devices simultaneously without incurring roaming charges.
MiFi is an acronym for "Mobile Internet Facilitator."