Here's an updated version of our March 8 article "Vacation Rental Data and Charts show that coronavirus has biggest impact on bookings in Europe (vs US), in urban areas, for the next 30 days. Drive-to destinations to fare better."
The usual metrics are here: Number of listings available, occupancy, average daily rate (ADR), and Revenue Per Room/Rental (RevPar, calculated by dividing the total revenues earned by the number of available listings).
Just like in the previous edition, we are using several sources. Here, we mainly used AllTheRooms's coronavirus report for vacation rental and short-term rental data and STR's numbers for hotel figures (access here for free the replays of their webinars). Just a note: Hotel data are interesting for vacation rental managers too, as some of the trends they indicate can be transposed to our industry.
Same story everywhere: Supply going down, demand going down, ADR holding a bit better than expected, RevPar dramatically low
We will save you some time reading the article before jumping into data: As expected, data shows an unprecedented drop in demand, in all markets. Rates have started to go down, but what is affecting most revenues is the drop in occupancy.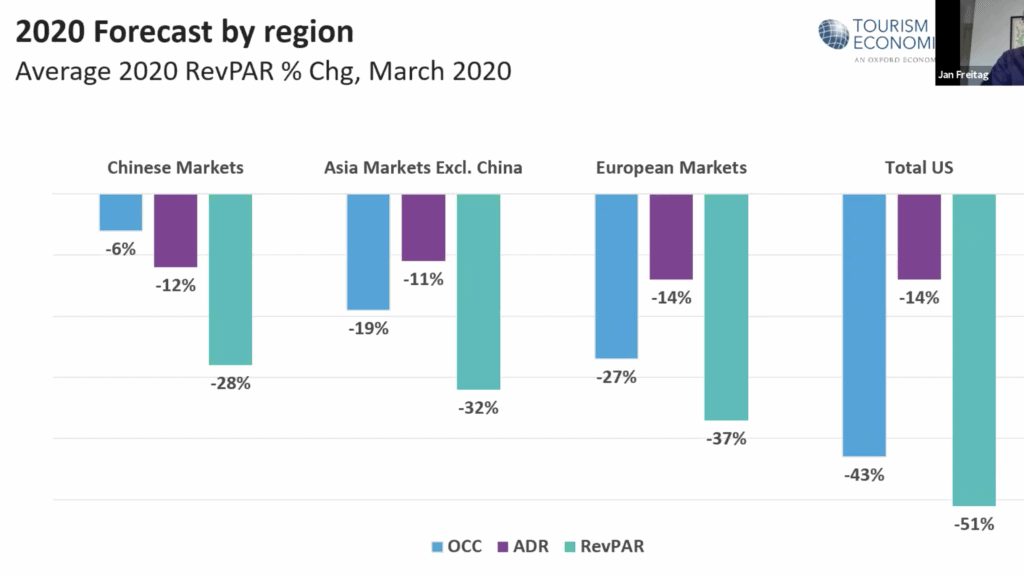 And for the rest of the year? Things are hard to predict, but you can see, above, based on hotel data, STR's forecast for 2020 occupancy, ADR, and RevPAR growth by region. This is what they think is going to happen, on average for 2020 (based on real data as of end of March 2020).
For the 2020 year, ADR is predicted to drop by 11% to 14%. For 2020, the forecasted occupancy should drop by 51% in the US and by 37% in the US.
Short-term rental data: US vs Italy (trends are similar for other markets)
We will only be comparing data for Italy and the US, as the patterns for France, the UK, Spain, Germany, and other markets are the same, if you look at AllTheRooms's coronavirus report.
Short-Term Rental Gross Revenues: -61% For Italy, -44% for US,
As Italy has been hit earlier than the US, Italian numbers are worse in March than those of the US. But, in both countries, gross revenues have been dropping sharply. As we will see below, the drop is due for a bigger part to the dramatic fall in the occupancy rate and due for a smaller part to a relatively moderate fall in the average daily rates (ADR).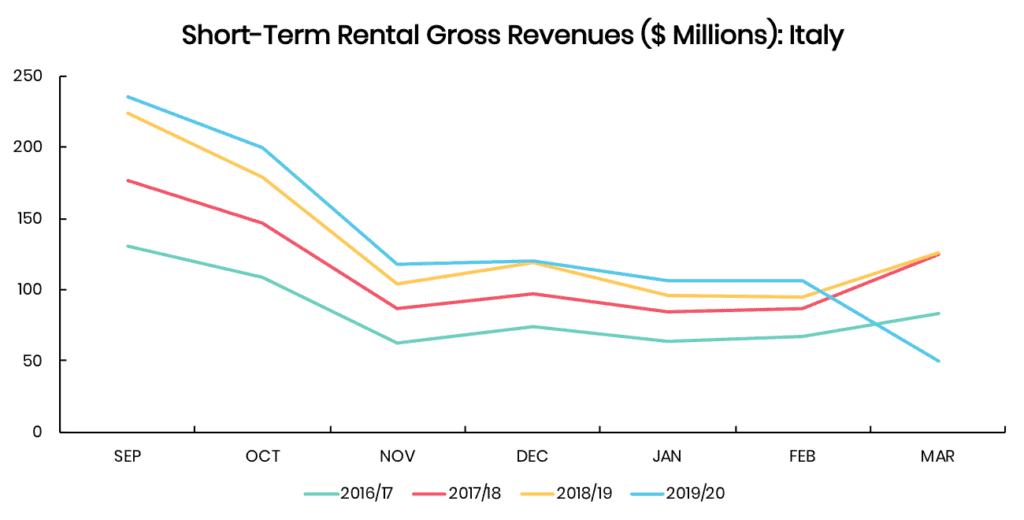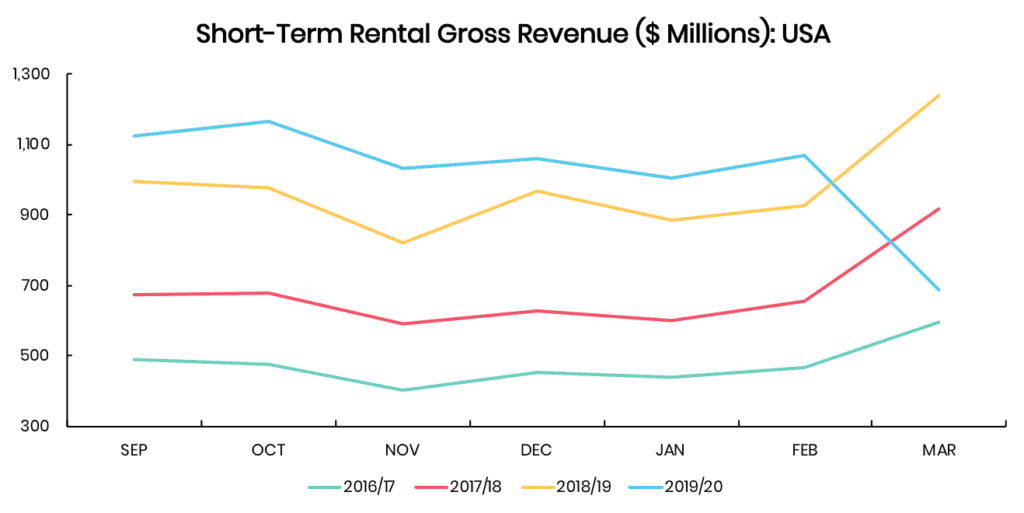 Occupancy of short-term rentals: -46% For Italy, -34% For the US.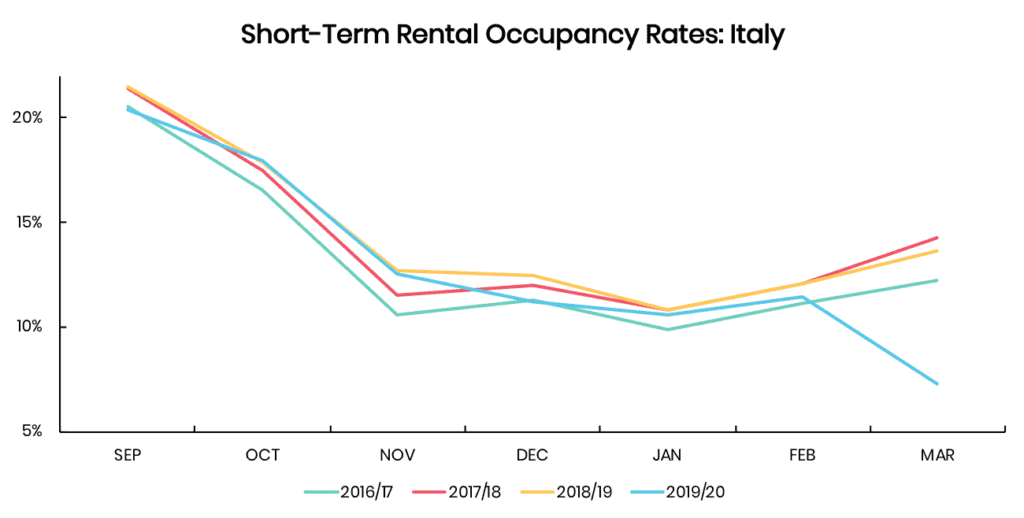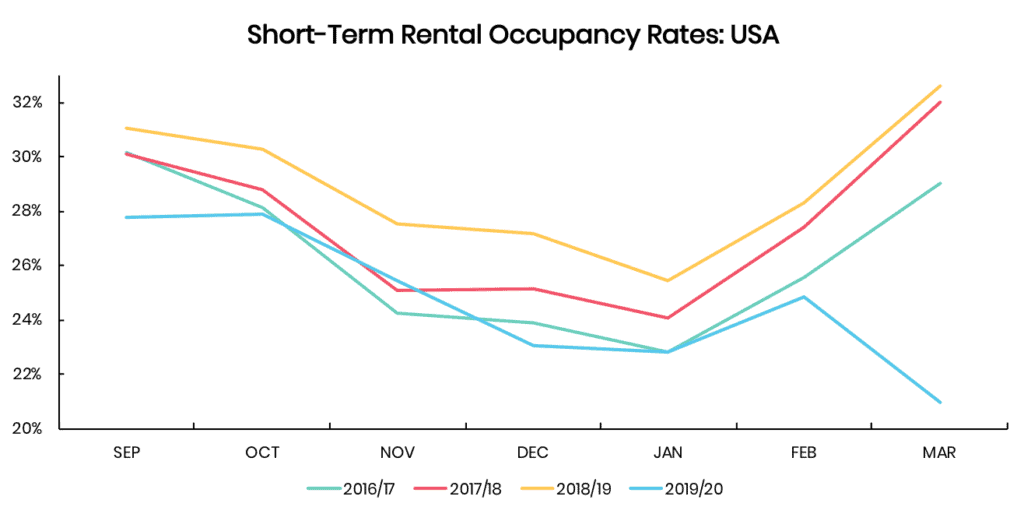 For the US, we are also adding in this graph by STR: This is hotel occupancy in the week ending in March 28. In Hawaii, New Orleans, San Francisco, Orlando, and Boston, occupancy was below 15%.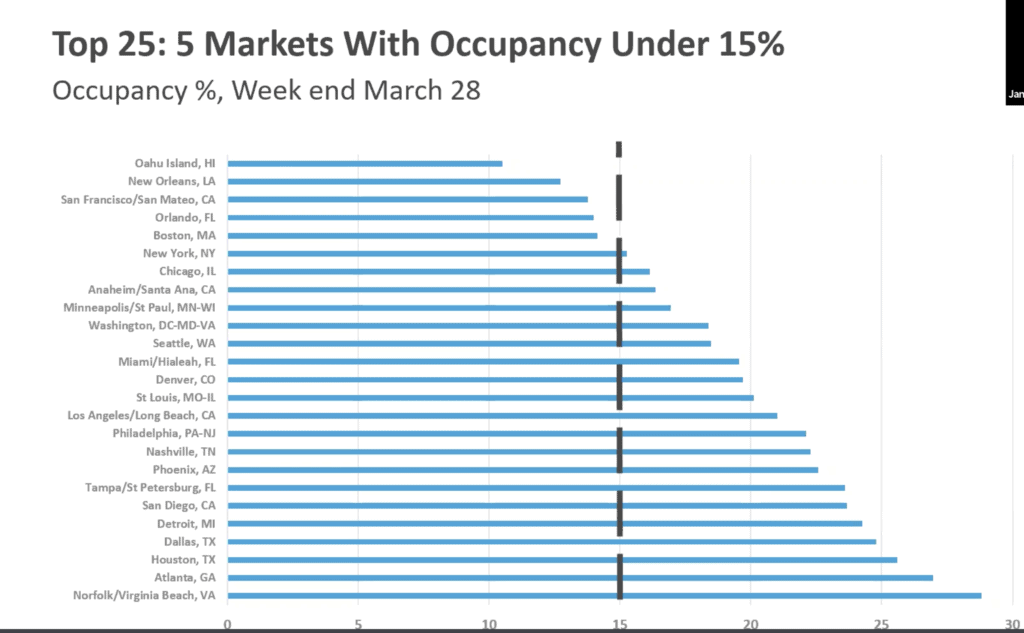 ADR od short-term rentals: -22% For Italy -15% for the US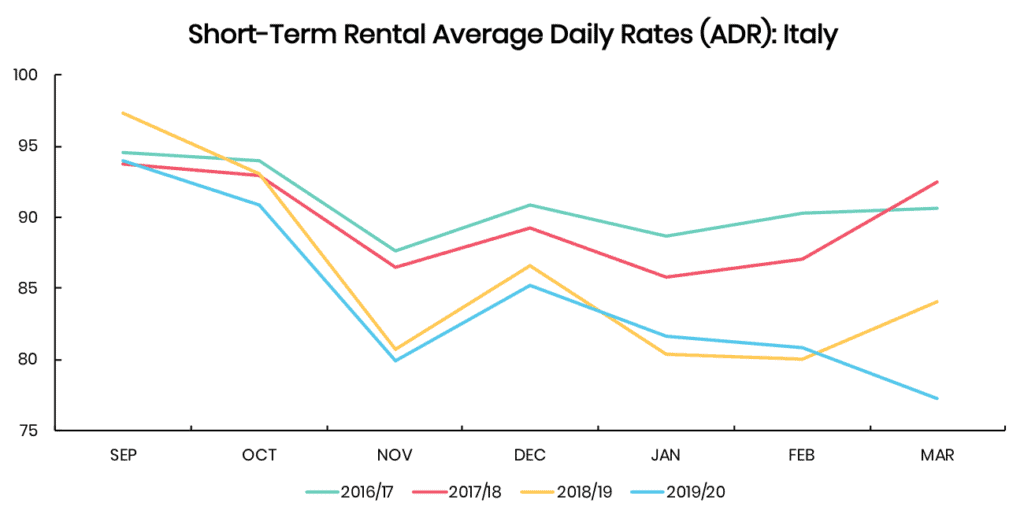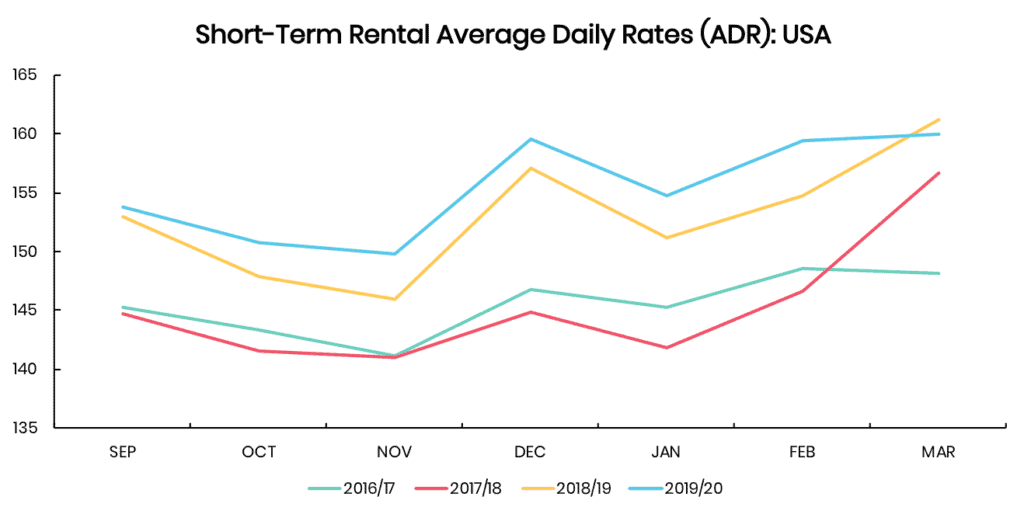 For the US, we are adding this interesting graph by STR about hotel RevPar: Urban and resort areas look to be the hardest it. For property managers renting out apartments in big cities or for vacation rental managers with properties in Orlando (Disney), these data are probably relatable.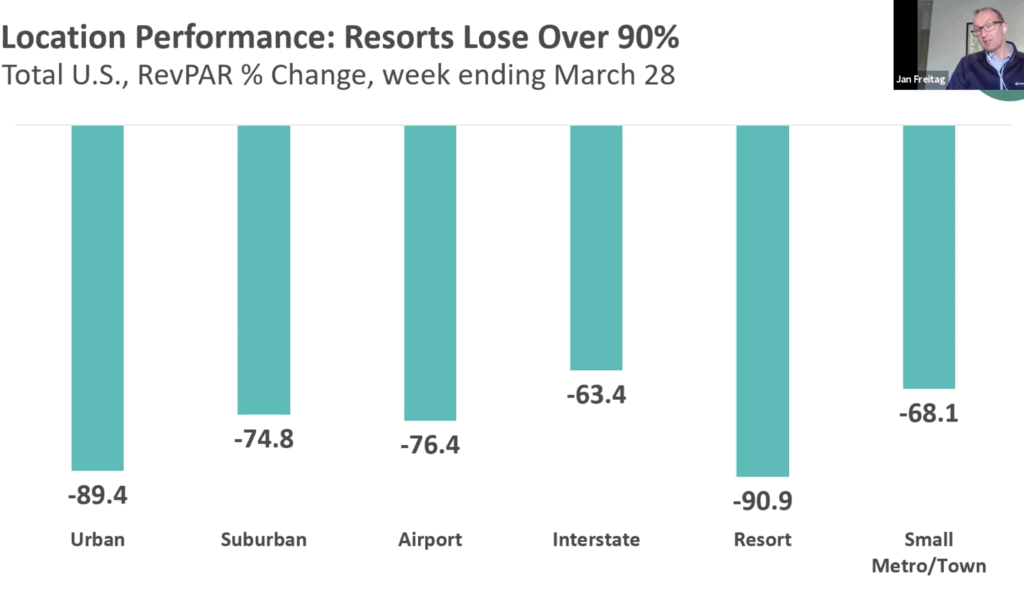 Short-term rental supply: -22% For Italy, -15% for the US
According to AllTheRooms, the number of short-term rental listings has dropped as well. In March 2020, there was a 15% drop in the US and a 22% drop in Italy. It means that fewer properties were on the market, for various reasons: New regulations made vacation rentals illegal in some regions and states, property managers and owners decided to turn to long-term rentals, and some chose to close shops (temporarily or not).
A glimmer of hope: Chinese hotel data picking up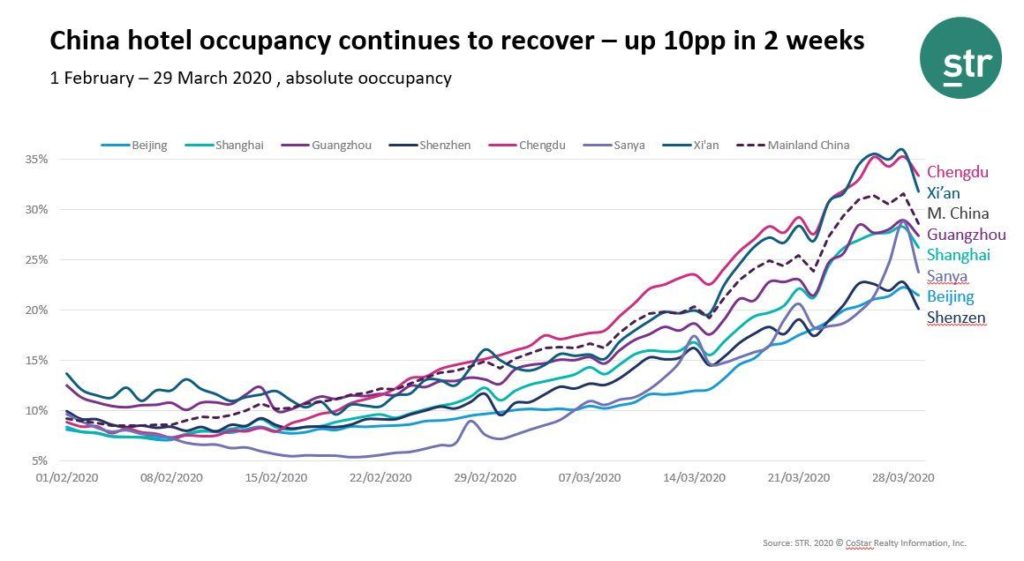 Let's conclude this article with a glimmer of hope: Since the end of February, the occupancy rates of Chinese hotels have started recovering. The graph by STR looks spectacular, but the numbers were restarting from under 15% occupancy.
Yet, STR looked at what happened after the 2007/2008 financial crisis: It took 5 to 7 years for ADR and RevPar to come back to pre-crisis levels. 2020 will be terrible and 2021 could be better but still not great.
Sources: AllTheRooms's coronavirus report for vacation rental and short-term rental data, STR's numbers for hotel figures (access here for free the replays of their webinars).