Why do property managers in traditional resort areas in the US seem less worried about the impact of the COVID-19 coronavirus? Why are European property managers in urban markets devastated when talking about the same pandemic? Where is coming from the data showing that new rental bookings are, on average, down by 50% in Europe and in the US? How are your properties faring, compared to your local market and to global trends?
To understand this, during the first week of March, we've gathered and compared free available data and charts. We've also listened to several webinars. All were using data, yet some sounded gloomy (the fantastically documented STR webinar on European trends), while others remained cautiously optimistic (the more US-focused VrmIntel / KeyData webinar). Let's remain humble here: We are looking at data from late February and early March, and the numbers of cases have jumped in some countries since then (e.g. in France and in Germany).
Visit our main coronavirus page for more updates on Airbnb and Booking's policies, travel restrictions, and canceled events. You may also want to know about Airbnb's More Flexible Reservations program aimed at solving refund issues and generating new bookings.
Our summary of data trends (US and Europe)
Europe has been hit earlier and harder than the US. Cases are increasing fast right now in Europe, while the situation is the US is a bit less clear (fewer people tested, yet big events already canceled like South by Southwest SXSW and travel restrictions for employees of big companies)
Bookings for the next 30 days are hit the hardest: People fear more for the near future than for the summer. Travelers may be hoping that the situation will get better by the Summer, thanks to warmer temperatures and just time passing (this is what happened with SARS in 2003).
Urban markets could suffer more than traditional vacation rental areas: Vacation rentals tend to be booked further in advance, so property managers have already logged bookings for the Summer. Also, vacation rentals far from the city may look safer than apartments in cities as an option for travelers. As a result, high cancellations and no-shows, as well as drops in bookings, could be affecting urban markets more than resort and mountain areas.
Drive-to destinations could fare better than fly-to destinations: Traveling by car to a relatively close area could look like to be the thing to do, reinforcing the fly-shaming trends. It means a rise in domestic travel in European countries and in bookings in cities located 3 to 5 hours around major US cities. Markets depending on international travelers could find it harder.
During the SARS crisis in 2003, it took only 3 months after travel restrictions started easing for the hotel occupancy is China to be back to normal. This is good to keep in mind and stay calm, but the comparison with short-term and vacation rental markets in 2020 only goes so far.
preserved US vacation rental markets vS devasted urban European Markets?
According to Key Data, traditional US vacation rental markets were still holding as of March 5. Look at the table below, you can see some softness in occupancy for the upcoming month of March (-8% in Oregon, -9% on the Gulf Coast), but occupancy for the Summer still up 5 to 13% compared with last year. It looks like a drop in last-minute bookings and increased cancellations are hitting the upcoming weeks, while Spring Break and Summer are still OK.
So, the next 30 days look to be hit the hardest with more cancellations, fewer bookings, and more no-shows.

In the graph below, published by STR, you can see negative data about hotel occupancy (not vacation rental) in key European urban markets. If you are a short-term rental manager or a serviced apartment operator in one of these cities, you have probably seen the same trends. For instance, occupancy in Milan dropped by 78% in the week of 24th February compared with last year. Several other markets progressively tuned negative too. And this was only until the end of February before the pandemic spiked in France and Germany.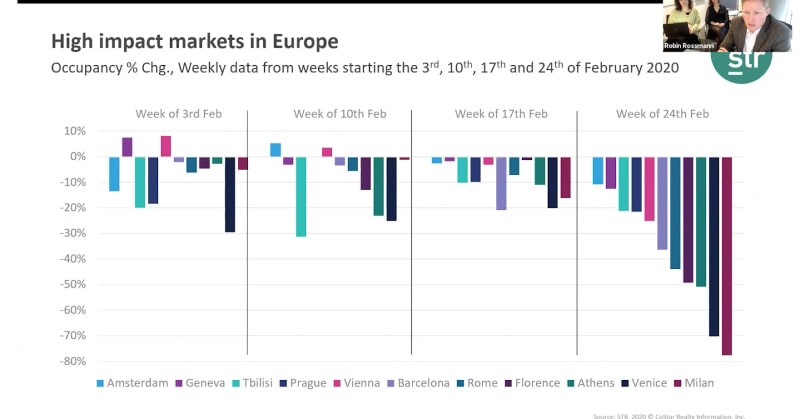 However, the time lag between the situation in Europe and in the US cannot hide the fact that, overall, the number of new bookings is down by 54% in Europe in 2020 compares with 2019, while it is already at 50% in the US: It looks like the drop in the US came later, but is also sharper, according to the KeyData graph below.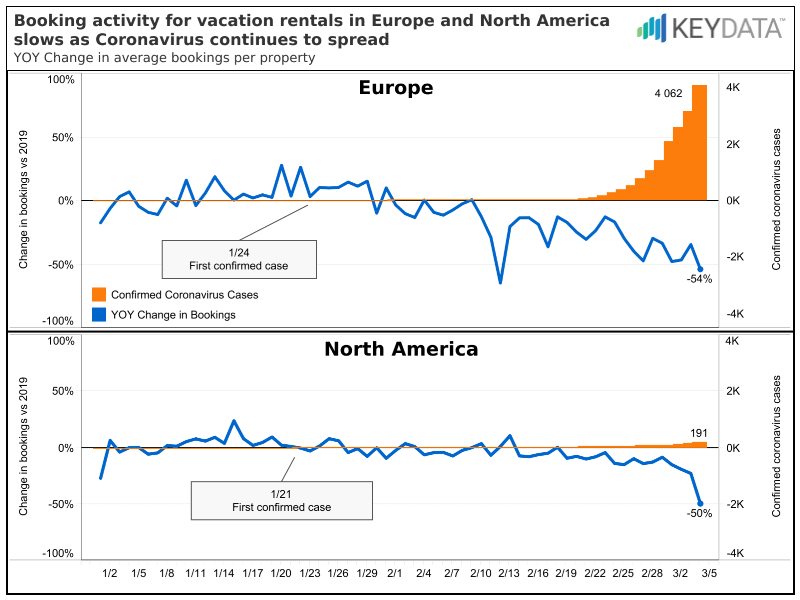 Europe was hit earlier; Will the US follow the same trends with a lag of 4 weeks?
Let's start with some data about coronavirus COVID-19 itself. The wave of coronavirus cases started rising around February 20 in Europe. And the trend is still up.
Italy has been the most hit, but France and Germany are seeing a big increase in cases. Italy and France are obvious vacation rental markets, as many foreigners travel there for their vacations. Yet, Germany is also a bit market, with a lot of domestic travelers traditionally staying in German rentals.
Adopt A market to market approach; Drive-to destinations could fare better
Not all countries have been affected at the same time. If you were reading the news in Europe in the first week of March, the Italian newspapers were talking of a terrible situation, the French ones were getting worried, and the British ones saw the topic as an international matter.
Even within a country, markets have reacted differently. For instance, hotel data from STR shows that RevPar (Revenue Per Available Room) went down by 81% in Milan (Nothern Italy) while "only" down by 18% in Palermo (Southern Italy). Obviously, the map matched that of the declared coronavirus in the country.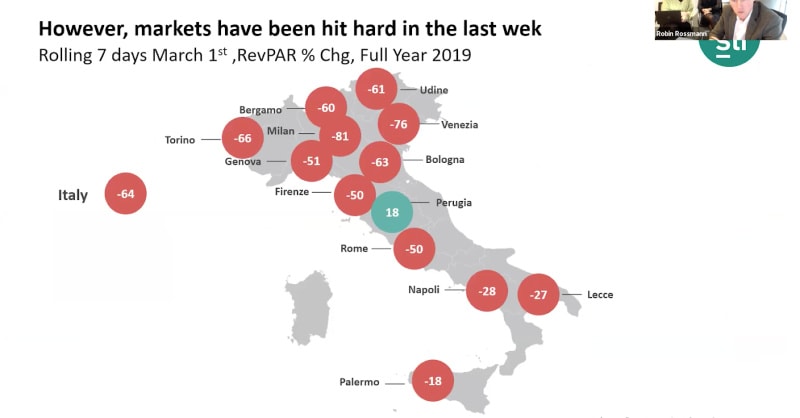 In the US, most traditional vacation rentals markets are located within driving distances of major cities. They receive fewer international guests than urban markets and depend less on flights and airports (Orlando being a major exception). These destinations could be more appealing for Easter and Summer vacations to people who want to avoid planes altogether.
In Europe, where countries are smaller than the US, a preference for drive-to destinations would often mean a preference for a domestic destination. This could explain some data shared by Sykes Holidays Cottages on Friday, March 6th. Sykes is the biggest vacation rental property manager in the UK. 85% of their guests come from Great Britain, so the company represents well the trends of a domestic player present in traditional holiday rentals and cottages areas.
As you can see above, Sykes' year-on-year growth in bookings was +19% from Jan 4 to Feb 5. It dropped to 2.5% from Feb 6 to March 4. So, this is lower, but this is not the -70% drop seen in Milan. Also, February was really bad for bookings in the UK, with 3 consecutive heavy storms hitting the country. Finally, the UK is only starting to see an increase in coronavirus cases, so there could be a lag here too in the bad news. To that point, the survey below conducted by Sykes does point to the impact of the virus on booking intentions.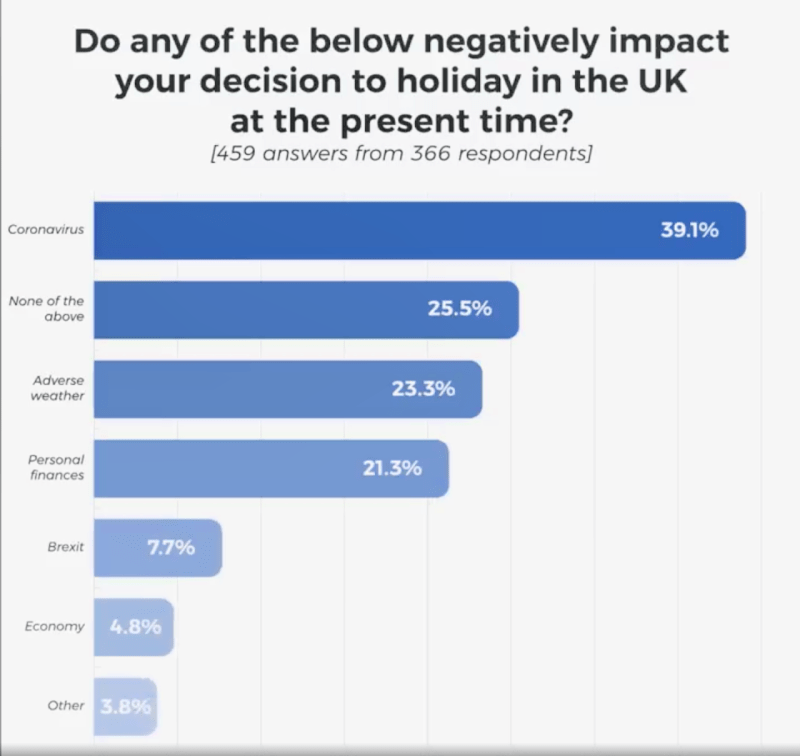 SARS crisis lasted 6 months before occupancy trends came back to normal
STR also shared interesting data about the SARS crisis of 2003 in China: It lasted 6 months. After hotel occupancy nosedived, it took 3 months after travel restrictions started easing for the trends to be back on track.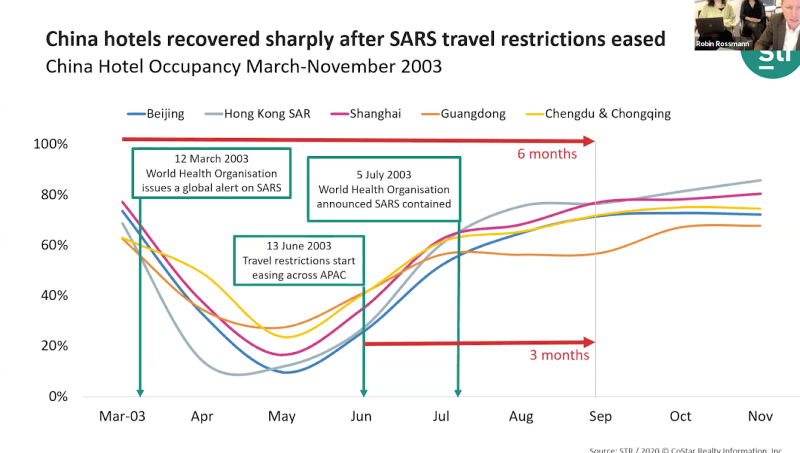 Conclusion: Brace yourself and balance guests and Homeowners interests (if you can)
The situation is very tough for a lot of property managers, especially in China, South Korea, and in Northern Italy. As the coronavirus COVID-19 is still spreading and fears have not gone down, property managers around the world can see in their own data the impact of lower bookings, higher cancellations and more no-shows.
As we've seen, you need to adopt an approach relevant to your region (Europe or US) and market (urban or resort?). In some cities, turning to extended stays and long-term tenants may be an option. But as corporate travel has also been hit by travel restrictions, the switch may not be easy.
Property managers need to listen to the need for guests to have some flexibility in the face of fear from COVID-19, but they often also have to balance the interests and revenues of the homeowners who are trusting them with their property. In areas not affected by the coronavirus, vacation rental managers may be able to hold a firmer line on cancellations with their direct bookings. Yet, with Airbnb declaring extenuating circumstances and Booking.com declaring force majeure, it may be a position difficult to hold every time.
For the moment, the data shows that it is the bookings for the upcoming weeks that are the most hit. Numbers for Spring Break and Summer in the US are still holding. Property managers that can explain the benefits of traditional vacation rentals, which give more space and are not located in urban areas, could fare better.
For more information on what Airbnb and Booking.com are doing in terms of cancellations, on travel restrictions, on how to re-price your urban or vacation rentals, and on the impact on vacation rental conferences, visit our updated coronavirus & rentals page.
Video: The VRMintel & KeyData webinar about the impact of the coronavirus