Searching and finding niche vacation rental sites for your properties should not be a time-consuming chore. But if you just use Google to conduct your search, it will indeed be an exacting task.
Here, I share with you my own tricks to find the top listing sites in specific markets. Once you know the name of a websites (say BringFido.com for pet-friendly rentals or WIMCO for St Barths vacation rentals), it is easy to find similar sites.
Discover how an oft-forgotten function in Google can help you find related sites. Find out how online tools like SEMrush and Spyfu, even in their free versions, let you uncover competing sites. Finally, see how I outsource my vacation rental market research for as little as $5 on Fiverr.com.
1 – Googling for niche vacation rental sites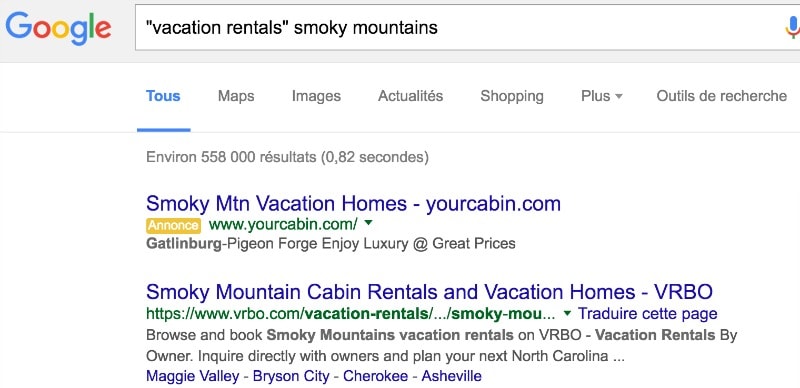 Google is an obvious place to start your search. It's also a great to be frustrated really fast, as the big listing sites rank very high for any almost niche that you are looking for. However, to save time, you have to use a few tricks.
Traditional search on Google
For instance, when I googled "niche vacation rental sites", I mainly stumbled on … blogs likes mine telling people about niche marketing, but without actually naming or linking to niche listing sites.
Better search on Google
To be more efficient, I recommend you typed in more specific requests, isolating "vacation rentals" and then adding your niche (Adding " " around vacation rentals" makes the search results more relevant). Examples:
However, the big listing sites, as well as vacation rental meta search engines like Tripping.com, rank high within these search results as well.
Much better search for niche rental sites
Now, here's a very handy trick: Used the "related" function in Google. All you need to do is type in the Google search bar related:domain name. For instance, if you want more pet-friendly vacation rental listing sites like BringFido.com, just type related:bringfido.com.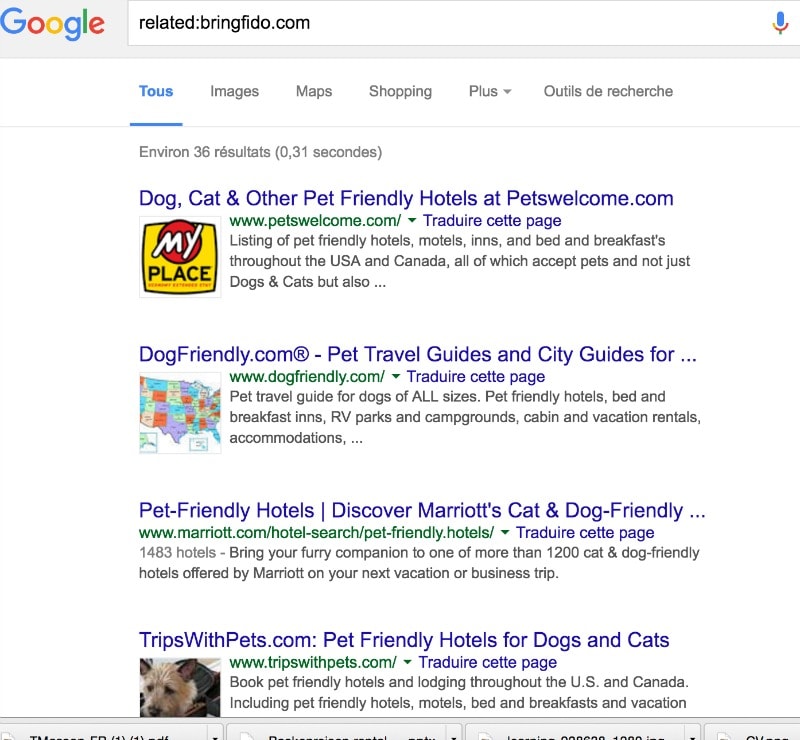 As you can see here, we are getting different sites. Some will not be a good fit, like Marriott's page about pet-friendly hotel rooms, but PetsWelcome.com and TripWithPets.com are definitively worth a visit to see whether you could advertise your vacation rental there.
Bonus: You may also get other ideas for related sites by using a websites called Similarsites.com.
2 – Using SEMrush to find the competitors of a niche site

Let's say that you already know the name of a niche vacation rental site that is great for you. How about using the name of this website to find competing sites where you could also list your properties? How about finding out which one of theme has the most traffic, before purchasing a listing?
You many an online tool called SEMrush. Its main use is for keyword research, for instance when you want to figure out how many people per month search for "St Barths vacation rentals".
But you can also use it to get data about specific websites. For instance, I may want to find more websites for Torah observant Jewish travelers like ReserveKosher.com. All I have to do is enter "reservekosher.com" in the search bar. Be careful, if you only search for "reservekosher", you will get data on this keyword, not on the whole website.
If you look at the image above, you can see that:
Competing sites include KosherTravelInfo.com, TotallyJewishTravel.com and PatentlyJewish.com
In the competitive positioning map, you can see that TotallyJewish has a lot of organic (SEO) traffic, but that ReserveKosher.com is not doing bad compared as a second.
Now, a site called sobevillas.com seems to be a competitor, in terms of keyword traffic, to reservekosher.com. When you click on "Com. Keywords", you can see that the keywords they have in commun are related to Miami Beach rentals. Which is not surprising, as Miami Beach has a strong Jewish community.
Similarly, if you run a search on "misterbnb.com", you can find competing gay-friendly accommodation sites such as gayhomestays.com and ebab.com. (Read my interview of Matthieu Jost, CEO of gay-friendly rental site Misterbnb.com)
So, SEMrush is a great tool to easily find relevant niche vacation rental sites and even to make a decision among them when it comes to investing.
Bonus: SpyFu, another handy research tool
Just like SEMrush, Spyfu.com can help you find related listing sites.
Just enter a domain name and get some ideas of who's competing against it, both in organic search (SEO) and paid search (SEM).
In the example below, I am looking for niche vacation rental sites that fit the location of my Caribbean villas, on the island  of St. Barths. So, I enter in Spyfu the domain name for WIMCO, the leading vacation rental management company on the island. Then, I get a new list of websites to investigate.

3 – Using Fiverr to get someone to do your market research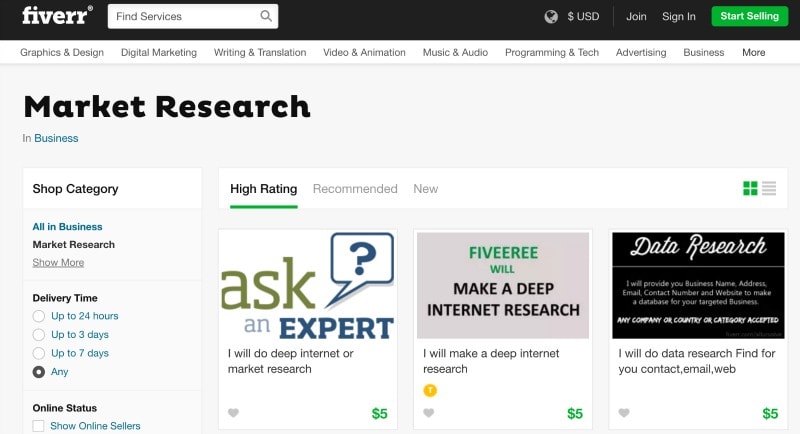 I use Fiverr.com every week to outsource simple tasks that would take me hours. For instance, for $5, you can get very nice intros for your YouTube videos. Or you can get someone to photoshop a few images.
You can also use Fiverr to get some quick market research done: Finding niche vacation rental sites is not really something difficult to do, but it is time-consuming. I much prefer paying $5 or $15 and have someone create a nice spreadsheet with the data I require than going myself.
For instance, here's what this guy can for $5:
I will make a deep web research during an hour about anything you would like to learn about and you can't find and collect the information easily. I am web researcher for years and know how to collect information the quickest possible. I will deliver the results of the research in pdf, doc or xls datasheet, whatever suits best to your request. Contact details, List of companies, market research, product list, competition analysis, surveys, statistical data, person or documents legitimacy, and any other info you might need, just send me a message.
A few tips:
Go to Fiverr.com, search for "Market Research".
Always go for people with the highest ratings and the best reviews
You may want to spend $5 on an extra gig to get more things done
These people will deliver what their posting mentions, nothing less, but nothing more. Find the posting that best fits what you are looking for. Or do contact them to know if they can do something and how much they would charge.
Conclusion
Finding niche vacation rental listing sites can be time-consuming. But with a few tricks, like the related function in Google, a tool like SEMrush or the help from someone on Fiverr, you can easily find the top listing websites for your niche.
After this, it is your job to investigate each of the top sites, to see what the fee structure is like, how your properties will be presented and get a feel whether you are going to like the people behind the site.