To Guests, With Love, is a fun initiative to unite and promote the vacation rental industry with an uplifting video. If you are a vacation rental manager, our Rental Scale-Up team encourages you to join: Add your logo, shoot a video at one of your rentals, and help promote our industry.
How the "To Guests, With love," initiative came about
David Jacoby from Hostfully and Andy McNulty of Touch Stay were brainstorming ways to try to unite the vacation rental industry and do something uplifting for our community. They came across this heartwarming video of dancers across China crowdsourcing a video to keep everyone's spirits up. They want to channel that concept for the vacation rental industry (don't worry…no dancing skills needed!)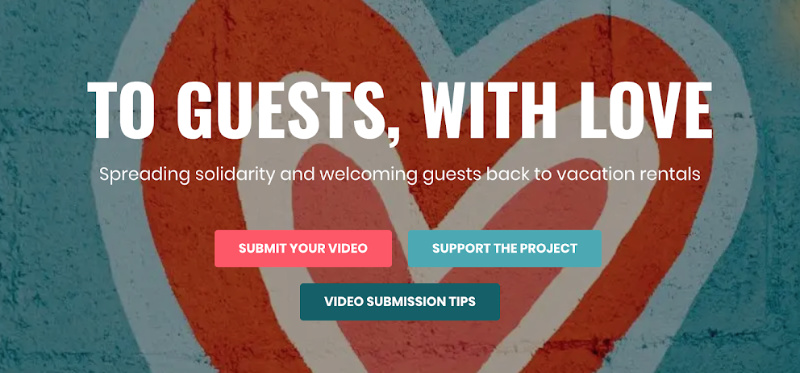 So with that inspiration, they created the project "To Guests, With Love" in which they are asking hosts, property managers, owners, vendors, to film a very short video of them doing something in preparation for welcoming back their guests. Ideally, it is silly, and ideally, it's in one of your vacation rentals. The "To Guests, With Love" teams will then edit the clips together to create a video celebrating the international diversity of the vacation rental industry, how we are united, and how we are ready and can't wait to welcome guests back into our homes.
Both David and Andy truly want this to be an industry-wide effort and are downplaying their specific brands as the organizers.  Rather, they want everyone to feel ownership of this project.  And they want the promotional page to have every logo of every vendor and property manager who wants to show their support and show we are united.
If you'd like to have your logo added, please click on the "Support the Project" link to upload your logo. It will only take you one minute!

Tips for an excellent clip:
Make your phone horizontal
Ideally place on a tripod OR prop on a table
Record a 5-10 second video
Extra fun we would love for you to do:
When beginning the video have yourself catching something from your right
When ending the video, throw that same thing to your left
This will be a great way for continuity between clips. The object could be a towel, tool, pillow, or anything vacation rental related.