Feeling the squeeze on your profit margins? The demand for short-term rentals (STRs) is still robust, but it's spreading thin across an ever-growing mass of listings. This saturation, coupled with global inflation, could be eating into your profits. Expenses are on the rise, and the once-steady revenue stream might look less assured now. Is growing your portfolio the solution? It might seem so, but that comes with its own set of challenges—more resources, more time, and more stress. 
There's another path to growth that doesn't require doubling down on your workload or making substantial additional investments: Upselling. Our recent online conference, "Protect Your Margins: Wield the Power of Upselling in Uncertain Times," was a seismic event that gathered industry luminaries to reveal the secrets of mastering the art of upselling. In this article, we have put together key highlights of this transformative conference.
Meet our speakers:
Maximizing Revenue Through Upselling: The Numbers Speak
Here is an example to provide a perspective on potential sources of additional income and illustrate how you can enhance your revenue per guest through strategic upselling: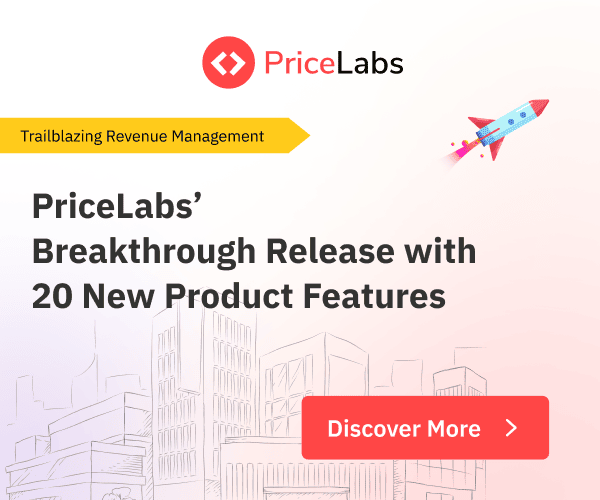 Consider the following: A rental typically represents about 25% of a traveler's budget. If we take a scenario where the total amount paid by a guest—the gross booking volume—amounts to $2,000, that implies their overall budget is approximately $6,700. This is, of course, a simplification for the sake of understanding the underlying principle.
Next, subtract the booking platform commission of $300 and the revenue shared with the property owner—let's say $1,700, for instance. This leaves you with gross margins of around 25%, or roughly $500 assuming a 30% revenue share with the property owner.
By successfully capturing an additional 5% of a guest's overall budget—through offering upsells on services or amenities they may already be considering elsewhere—you stand to augment your income by an estimated $285 per reservation.
How should hosts and managers think through possible upsells?
Navigating the upselling landscape within short-term rentals requires a well-planned approach. To help you build a successful strategy, let's explore the key factors to consider when stepping into the realm of upselling:
Guest-Centric Approach: Start by identifying your target guests and why they might choose your property over others. What questions might they ask, such as "What activities can I engage in?" or "What attractions should I visit?" These queries reveal what enhancements guests are willing to spend extra on.
Astonishingly, 83% of travelers routinely purchase extras to enrich their trips, spending between $80 to $100 daily on these enhancements. This represents a substantial, often overlooked source of potential revenue that you should consider harnessing.
Segmentation Matters: Recognize that the challenges you face in the world of upselling can vary based on your scale of operation. Whether you're managing a few properties as an owner, overseeing dozens of properties as a property manager, or operating an enterprise with hundreds of properties, your approach must align with your scale. For instance, larger-scale operations might focus on easy wins that seamlessly fit within existing operations, such as offering early check-ins, late check-outs, mid-stay cleaning, or gap night stays.
Operational Focus: If operational challenges are a daily reality for you, it's vital to prioritize upsells that dovetail with your operational capabilities. Consider providing services that won't interfere with your cleaning team's schedule or disrupt property occupancy, thus ensuring a smooth, hassle-free experience for your guests.
Start with the Basics: Initially, focus on upsells that are more operationally oriented than experience-driven. This approach helps establish a robust foundation for your upselling initiatives. Data indicates that one in three guests will opt for these operationally-focused upsells.
What are some examples of existing services hosts and managers can monetize and upsell?
Tapping into the potential of upselling in short-term rentals begins with identifying the multitude of existing services that hosts and managers can convert into profitable ventures. Here are a few examples to contemplate:
Early Check-in/Late Checkout: Offer the luxury of an early arrival or relaxed departure to guests willing to pay an additional fee, ensuring they can relish every moment of their stay.

In-House Services: Enhance the guest experience by providing services like mid-stay cleaning or equipment rentals, adding an extra layer of convenience and comfort to their stay.

Direct Property Rebookings: Motivate guests to book their next stay with you before they even check out, cultivating future loyalty and repeat business.

Affiliate Partnerships: Delve into the realm of affiliate marketing by establishing partnerships with brands that you already incorporate in your rentals. For example, contemplate affiliate links for services such as transportation (e.g., ride-sharing), local experiences, or even in-room amenities.
Building a Vendor Network for Upselling Success
Tapping into the art of upselling involves more than what meets the eye. It's about forging strategic partnerships within your local ecosystem to enhance both the guest experience and your bottom line. Here's how you can capitalize on this approach:
Hyper-Local Experiences: Embrace the concept of hyper-locality to infuse a unique and personalized touch into your rentals, tailored to your location's specific attractions. Consider the following scenarios:

Coastal Getaways: Partner with local surfing or paddleboarding schools for exciting beachside adventures.
Nature Retreats: Collaborate with hiking tour operators to offer guided treks through scenic wilderness.
Bachelorette Hotspots: In popular bachelorette destinations, team up with nightlife venues, spas, and event planners to create exclusive packages for bridal parties.

Shoppable Stays: Think beyond the stay itself and explore opportunities to monetize your property's design. If your property boasts a distinctive and inspiring aesthetic, consider making it "shoppable." Curate items within your rental that guests can purchase, from artwork and furnishings to bedding and decor. You can also leverage affiliate marketing through platforms like Amazon to earn commissions on these curated products.
Community Synergy: Strengthen your bonds with the local community by partnering with neighborhood restaurants, cafes, bars, and more. Promote these establishments within your rental, offering guests an authentic taste of the area's culinary and cultural scene. Not only does this enhance the guest experience, but it also fosters goodwill within the community, creating a positive feedback loop.
How to Successfully Upsell to Guests Without Being Pushy or Intrusive
Upselling to guests can be a valuable revenue-boosting strategy for short-term rental owners and property managers. However, it's crucial to execute this strategy in a way that enhances the guest experience rather than coming across as pushy or intrusive. Here are some key principles to successfully upsell to guests while maintaining a positive guest-host relationship:
Personalization is Key:

Collect Information: Gather data about your guests' preferences, interests, and needs during the booking process. This information will allow you to tailor your upsell offers to individual guests.
Segmentation: Segment your guest database based on factors like travel purpose (business, leisure, family), demographics, and past booking history. This segmentation enables you to provide relevant upsell options.
2. Pre-Stay Communication:
Start Early: Introduce upsell opportunities in your pre-stay communication. This could be during the booking confirmation email or in a pre-arrival message.
Highlight Benefits: Emphasize the benefits of the upsell, such as convenience, unique experiences, or cost savings. Explain how these add-ons can enhance their stay.
3. Non-Intrusive Presentation:
Seamless Integration: Integrate upsell options naturally into the guest experience. Avoid overwhelming the space with promotional materials or pop-up advertisements.
Subtle Prompts: Instead of bombarding guests with offers, use subtle prompts. For example, place a well-designed booklet or digital guidebook in the rental that includes information about local activities, services, and exclusive offers.
4. Be Genuine and Helpful:
Authentic Recommendations: Ensure that your upsell recommendations align with the guest's profile and interests. Guests appreciate genuine and thoughtful suggestions.
Focus on Value: Stress how the upsell can genuinely enhance their stay. Whether it's a spa package, guided tour, or late check-out option, emphasize how it contributes to a more enjoyable visit.
5. Upsell Via Technology:
Tech Integration: Utilize technology platforms designed for upselling. These tools can automate upsell suggestions based on guest data and booking information.
Messaging Automation: Use messaging apps or automated messaging systems to send personalized upsell offers and reminders.
6. Encourage Feedback:
Post-Stay Surveys: After the guest's stay, send a survey asking for feedback on their experience, including any upsell services they used. This data can help refine your upsell strategy.
7. Monitor and Adjust:
Analyze Results: Continuously monitor the success of your upsell strategies. Review which upsells were most popular and which need improvement.
Flexibility: Be prepared to adjust your upsell offerings based on changing guest demographics or local events.
8. Collaboration with Local Businesses:
Partner with Local Vendors: Collaborate with local restaurants, tour operators, and businesses to provide exclusive discounts or offers to your guests. These partnerships can enhance the guest experience and encourage upsells.
Remember, the goal of upselling is to enhance the guest experience by providing valuable and relevant add-ons. When done right, upselling can increase your revenue while leaving guests with a positive impression of your rental property and hospitality.
Delegating the Heavy Lifting
Building a robust vendor network can be a time-consuming endeavor. Coordinating contracts, negotiating affiliate revenue, and managing numerous local business relationships may feel like running a separate business altogether. However, there's a savvy way to achieve these benefits without drowning in administrative work.
Partner with a Specialist: Companies like Mount excel at establishing and maintaining relationships with local businesses. They handle the intricacies of contract negotiations, revenue sharing, and partnership management, sparing you the time and legwork involved in forging these connections.
Use Tech to Your Advantage: Leverage advanced tools like Enso Connect to simplify and monetize every step of your guest journey. With features such as AI messaging, custom automation, and guest web apps, you can enhance guest experiences and increase your earnings through custom upsells, affiliate marketing, and local partnerships.
Highlight Upsells: Collaborate with partners like GuestView Guide to keep your upsells visible. By offering real-time recommendations about local restaurants and activities through their digital guidebook, you can delight your guests. Present them with a variety of bookable and purchasable options, all with the local touch they desire. This enhances your reputation as a knowledgeable and accommodating host.
Your guests will see you as the hero who provides them with a treasure trove of local recommendations and experiences. Best of all, you won't need to invest extensive time and resources in building each relationship individually. This approach empowers you to work smarter, not harder, as you maximize the potential of your vendor network.
Conclusion
The journey of managing and monetizing a short-term rental property is one that requires strategic planning, efficient use of technology, and strong local partnerships. It's not merely about providing accommodation, but about curating a memorable experience that reflects the local charm and uniqueness of your property. By leveraging specialized services, utilizing smart technology, and maintaining visibility of upsells you can significantly enhance your guest experience and augment your revenue.