As the Airbnb IPO is upon us, data companies have been gathering insights from different angles to help investors price Airbnb shares. In another article, we've looked at the risks and opportunities that could appear within Airbnb's IPO prospectus, thanks to data gathered by AllTheRooms Analytics.
One way to estimate Airbnb's value is to compare it with that of companies that are already trading, namely Booking.com (part of Booking Holdings: BKNG) and Expedia / Vrbo (part of Expedia Group: EXPE). Transparent, another vacation rental data provider, has put together its own Airbnb IPO guide, with data helping to make comparisons among these companies.
The comparisons help answer questions such:
Should I list on Airbnb and Vrbo at the same time? How about Booking.com?
Which is more popular, Airbnb or VRBO?
How much of Airbnb's supply is exclusive to the platform?
Is the exclusivity to Airbnb stronger in the US than in Europe?
Do I get more bookings by listing exclusively on Airbnb or by listing on all platforms?
Before diving into the data, a note of caution: Transparent's insights rely on data samples and data scraping. These are not the actual data from the platforms. No methodology is perfect. There may even be mistakes in the way they count listings or reservations. What matters here is the relative data, i.e., the order of magnitude between platform. The numbers may be off, but they probably give you a consistent sense of what is happening.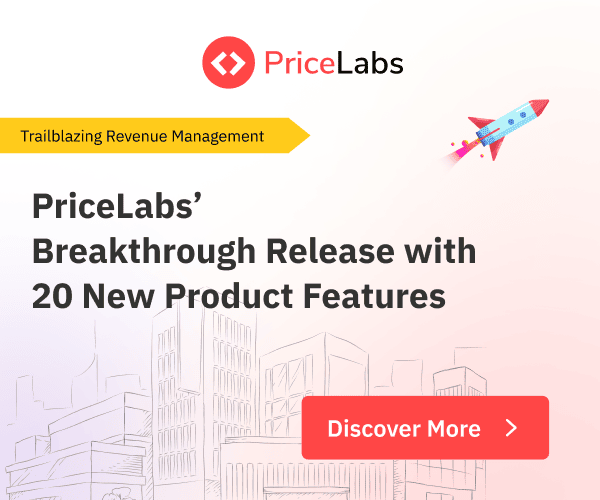 Which is more popular, Airbnb or VRBO? And Booking.com?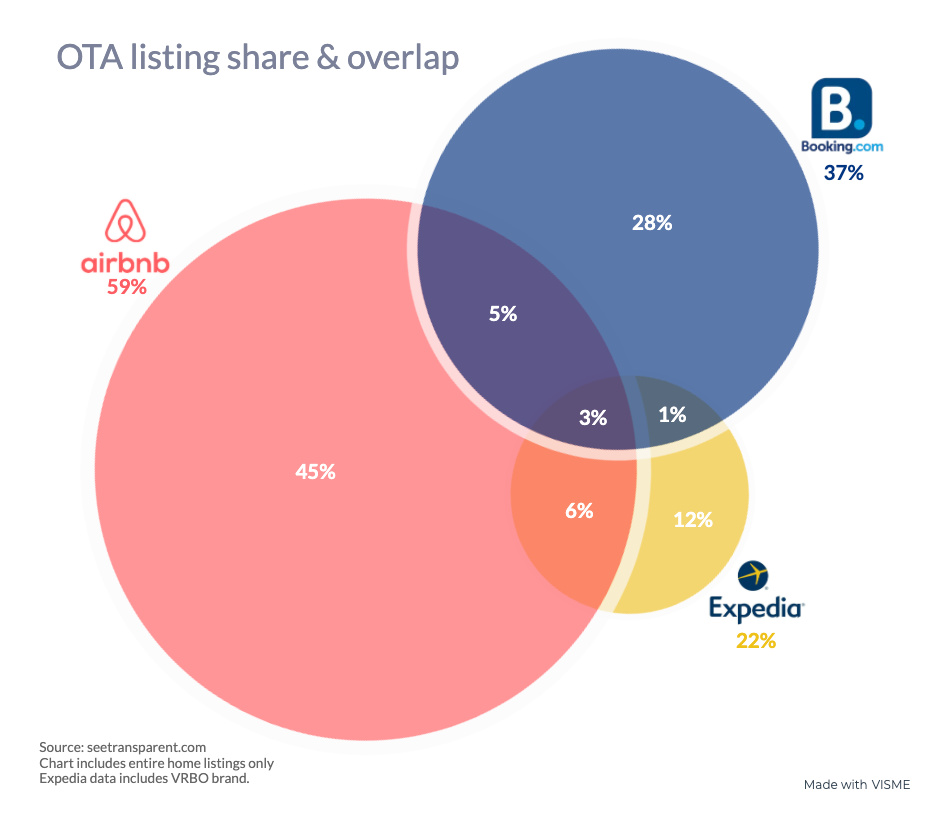 According to Transparent, if you add up all the short-term rental listings present on Airbnb, Booking, Expedia, and Vrbo, then about 59% of them are listed on Airbnb, 37% on Booking.com, and 22% on Expedia + Vrbo.
The percentages add up to more than 100%, as the same listing can be present on several platforms simultaneously. For instance, 6% of all these listings are present on Expedia/Vrbo and Airbnb simultaneously, but not on Booking.com. 1% are on both Expedia/Vrbo and Booking.com but not on Airbnb.
This diagram also gives you some insights about exclusivity:
45% of all of these listings are exclusive to Airbnb (i.e. only listed on Airbnb and not on either Expedia-Vrbo or on Booking.com)
28% are exclusive to Booking.com
12% are exclusive to Expedia–Vrbo
Can I list my airbnb on Booking.com? Should I list my vrbo on Airbnb?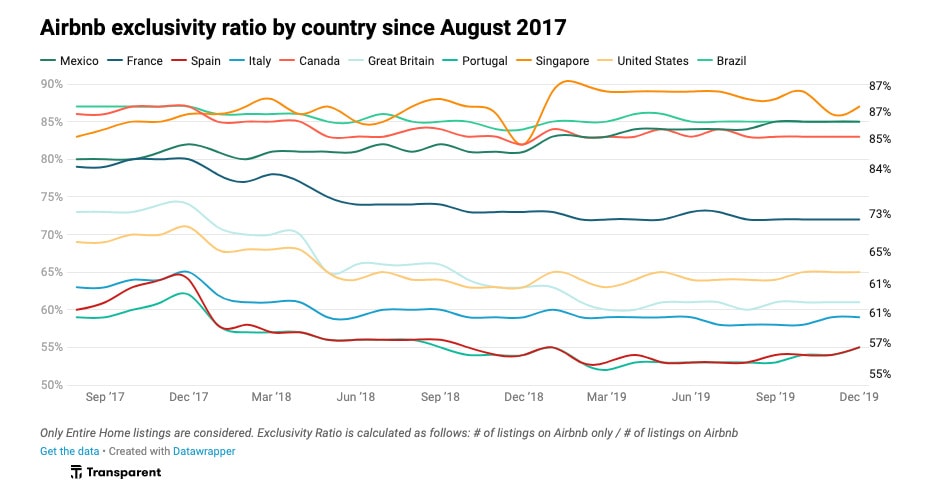 Yes, you can list your airbnbs, vrbos, short-term rentals, or whatever you want to call vacation rentals, on Airbnb, Booking.com, and Expedia-Vrbo. But what do others do? Do Airbnb hosts actually venture beyond the Airbnb ecosystem?
Well, according to this Transparent graph, less than 50% of entire homes / vacation rentals do. A lot of the Airbnb supply looks to be exclusive to Airbnb, even if this is less true than a couple of years ago.
Here are some numbers, as of the end of 2019:
In Singapore, Brazil, and Canada, more than 80% of all the listings on Airbnb were present ONLY on Airbnb (so, in these countries, you can find less than 20% of the Airbnb properties on other platforms). Really?
France is at a 72% exclusivity rate.
Italy, the US, and Great Britain are at around 60 to 65% exclusivity.
Spain and Portugal's listings are at about 55% exclusive to Airbnb.
Does it make sense to you? Is the exclusivity to Airbnb lower in Europe, where Booking.com is very much to count with? Why is France such an outlier? Does it mean that the Airbnb brand is much stronger among French owners and managers than among their Spanish and Italian peers?
Which is better for owners, Airbnb or VRBO? Or is it Booking.com?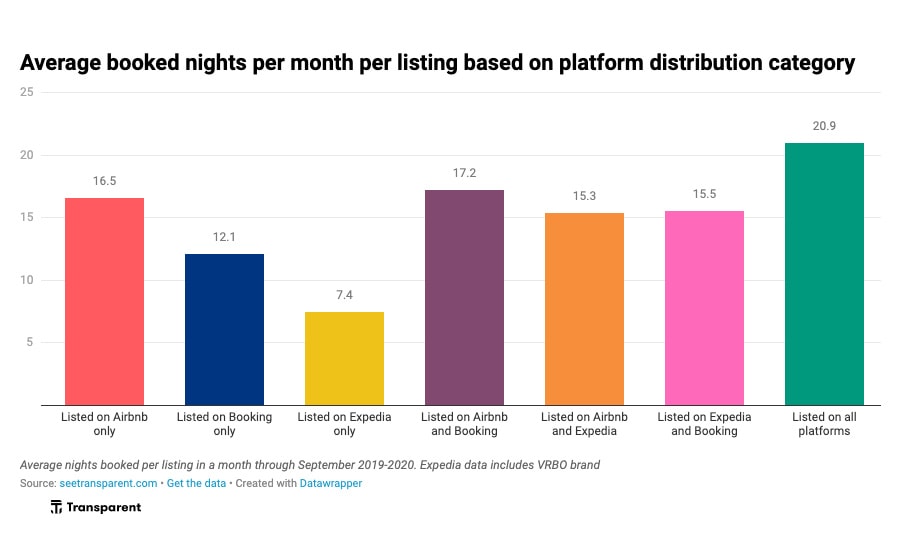 Does it pay to be faithful in a relationship, that is, with an OTA? Not, unless this is Airbnb, according to Transparent. The answer is actually more nuanced, but if an owner must pick only one platform, it looks like Airbnb is a better choice in terms of the number of booked nights per month that their listing would get.
Overall, an owner or a property manager will get more booked nights in a month if their listing is listed on all of these platforms (20.9 nights booked per month). Then, if you have to pick only 2 platforms, then combining Airbnb and Booking.com makes the most sense, with 17.2 nights booked. Note that, whether you are in Europe or North America, the combination may change: Airbnb + Expedia / Vrbo may be the winning pair for you, as Booking.com is less strong in the US.
Now, if a listing is only on Airbnb, it still gets 16.5 booked nights. For some owners, getting fewer nights booked may sound like a better option, in terms of costs and headaches, than having to synchronize calendars across the platforms, either with iCal or with a channel manager.
More data to think about Airbnb's IPO
Transparent's Airbnb IPO guide has way more data about Airbnb than this. Here, we used their graphs to establish that a lot of Airbnb hosts are still exclusive to Airbnb, but that listing on multiple platforms brought in more booked nights. When bookings are more uncertain, diversification sounds like a good thing to catch the wind, from wherever it may blow.