As a vacation rental manager, should you see the value of the shares of publicly-traded companies such as Vacasa, Sonder, and Airbnb as canaries in the coal mine? Over the last 6 months, Sonder's stock price has gone down by 87%, while Vacasa is down by 66% and Airbnb by 41%. Their drop is higher than that of the NASDAQ, which is down by 26%. What does it mean for vacation rental managers? Does the value of these shares already price in a series of bad things that will be driving occupancy and bookings down in Q3 and Q4 2022 for everyone, such as high inflation, higher interest rates, and an upcoming recession? On the other hand, are there unique factors to the business models of Sonder and Vacasa that do not make them comparable to traditional vacation rental companies? Sonder has already announced drastic measures to cut costs, such as a 21% reduction of existing corporate roles. What are these companies doing to protect themselves from inflation and lower demand?
Are Sonder and Vacasa just part of a gloomy stock market?
The combination of higher interest rates and a potential recession as inflation surges is hitting the stock market. Over the last 6 months, tech and travel stocks have dropped, from Netflix (-70%) to Meta (-50%), Expedia (-52%) to Airbnb (-41%). Only Booking Holdings seems to fare much better, at only -17% over the same period.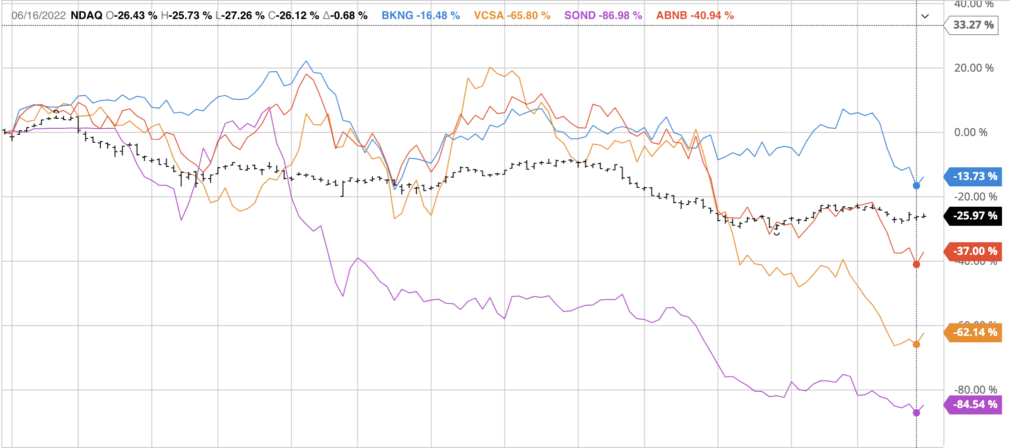 In the vacation rental industry, two companies are drawing some attention: Vacasa, the largest vacation rental management company in North America and Sonder, an operator of serviced apartments and small hotels. Both companies went public by merging with a SPAC less than 8 months ago. In the last 6 months, Sonder's stock price has gone down by 87%, while Vacasa is down by 66%. 
On LinkedIn, Steve Milo, CEO of Vtrips, one of Vacasa's biggest rivals in the US, published a very negative post about both Sonder and Vacasa. Milo is known for his sharp tongue, as well as for not being afraid of going after competitors.
The San Francisco-based startup, Sonder Inc., had more than 80% of its shares fall this year and cut both corporate and frontline roles after a difficult restructuring.

While unfortunate, this doesn't reflect the #vacationrental industry as a whole, it mirrors bad business models. As the #stockmarket fled to value and cash flow, it ran against companies that lose tens of millions of dollars a month. Sonder's model is essentially a WeWork Jr. and #Vacasa is following suit in terms of profitability.

The performance of these companies is one of the main reasons VTrips positions itself as a #hospitality company and not technology.
When going public, both Sonder and Vasca positioned themselves as tech-oriented companies, while one could argue that Sonder's core skills have to do with real estate and hospitality, while Vacasa is a huge property management company that has grown through a series of acquisitions. Yet, being able to explain how the respective companies could leverage tech to scale across markets and reduce operational costs was key to the story sold to investors.
Sonder is not a vacation rental management company
Sonder's key markets are not in the traditional vacation rental market. The company focuses on urban markets, where it leases buildings to offer a mix of serviced apartments and small boutique hotels. Thus, part of the revenues generated by Sonder comes from short-term rental bookings. Unlike vacation rental managers, the company does not deal with individual property owners, but with real estate operators.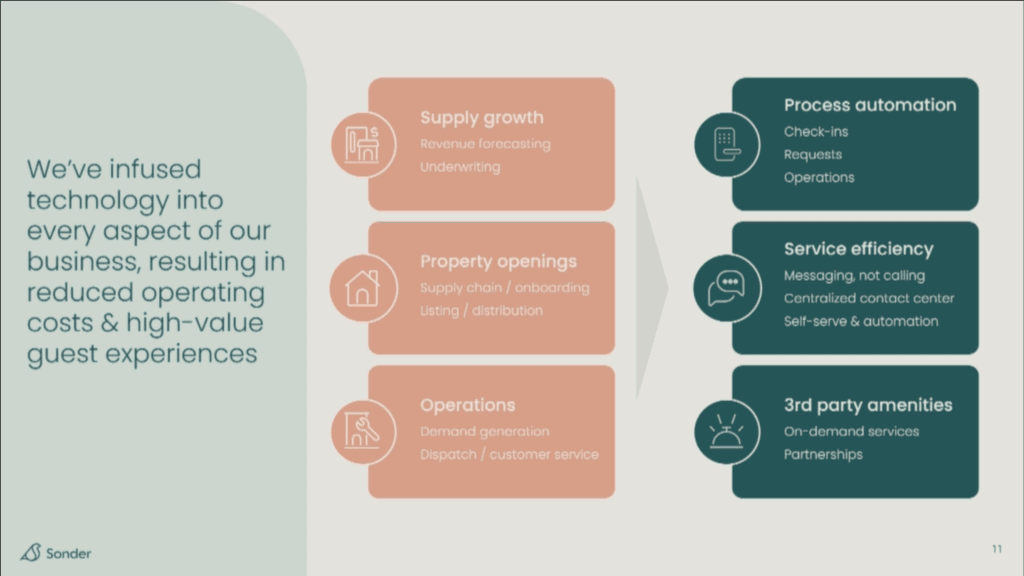 Sonder has managed to survive the COVID-19 pandemic and even to go public, while competitors such as Lyric and Stay Alfred folded. Companies such Sextant Stays, Mint House, and Zeus.
Here's how Sonder pitches itself:
Sonder is revolutionizing hospitality through innovative, tech-powered service and inspiring, thoughtfully designed accommodations combined into one seamlessly managed experience. Officially launched in 2014 and headquartered in San Francisco, Sonder is making a world of better stays open to all with a variety of accommodation options — from rooms to suites and apartments — found in 35+ cities spanning ten countries and three continents. Sonder's innovative app empowers guests by making self-service features and 24/7 on-the-ground support just a tap away. From simple self-check-in to boutique bathroom amenities, we bring the best of a hotel without any of the formality.
The precipitous fall of Sonder has prompted its leadership team into action. The company has announced measures to preserve cash and focus even more on achieving profitability in the near future. For instance, Sonder is completing a restructuring of its operations which will result in an approximately 21% reduction of existing corporate roles and a 7% reduction of existing frontline roles. It is also reducing the pace of planned signings of new places that it had planned to operate.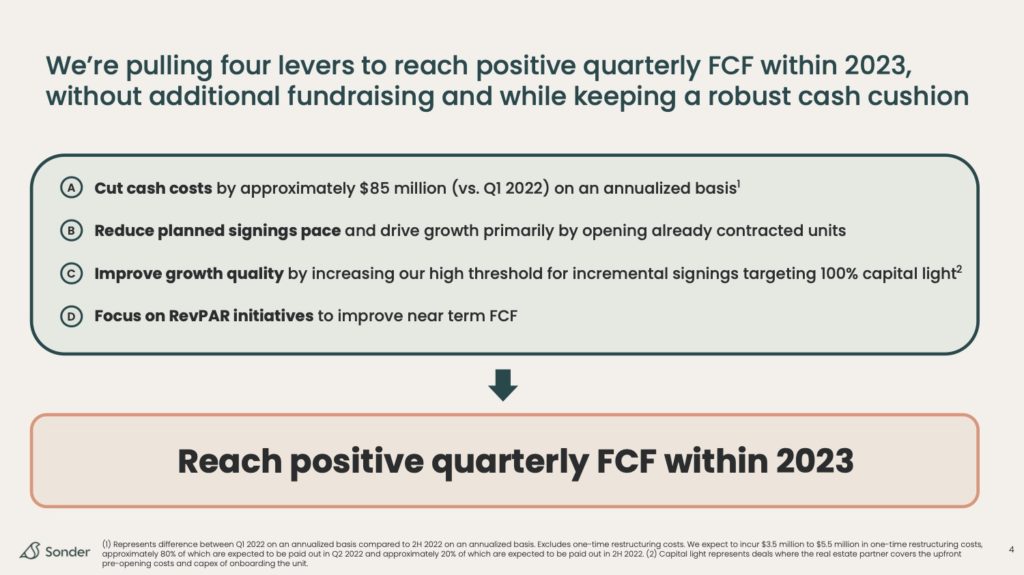 Sonder is betting that the return of business travel and city trips will drive up occupancy and urban ADRs in 2022. This increase in revenues and focus on cutting costs could help it preserve cash and go through this tough patch.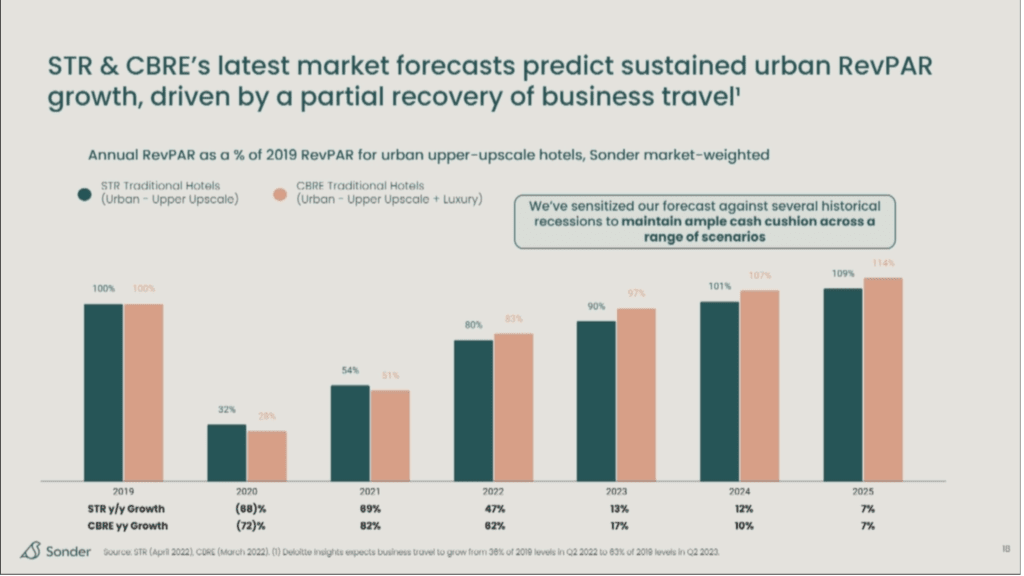 Vacasa is not a tech company (and not profitable yet)
Vacasa's stock seems to have been affected by what's happening over at Sonder. Like Sonder, Vacasa's pitch deck emphasized technology and it also went public via a SPAC. Yet, Vacass's business model is different.
The story of Vacasa, Inc. (VCSA) is one of spending a lot of money on building a tech platform and acquiring supply – mostly by buying out medium and large vacation rental companies. Yet, when discussing its Q1 2022 results, Vacasa insisted that it's now got better at running direct homeowner acquisition campaigns. As the largest property management company in the US, its goal is to become the dominant supply player in key vacation rental markets and then start making profits by mastering the revenue side (through size effect and price optimization) and lowering costs where it has a high density of properties (where shorter drive time from one place to another end up saving on labor costs, for instance).
Is it working? In 2021, Vacasa grew to 37,000 properties, bought its large competitor Turnkey, started trading on the NASDAQ in December, but still lost a lot of money. Yet, Matthew Roberts, its CEO, says that, in 2021, "we consistently beat and raised versus our initial projections. First, we beat Q2 and raised Q3, then we beat the high end of Q3 and raised Q4, then we beat the high end of Q4, and now, we're raising our 2022 outlook. We also expect the business to reach adjusted EBITDA profitability for the full-year 2023."
While Vacasa is the biggest player in the US, the market is still very fragmented. Whenever Vacasa buys a property management company, it seems that five new ones pop up. Property management is oftentimes a local business and it is not easy to build a national brand (see Vacasa vs Evolve).
Have your own tech team is important to have the best API connections with OTAs, but some vacation rental software companies also offer more than decent connections to Vacasa's smaller rivals.
Negative factors that are threatening everyone
When looking at national-level data in the US, we can assume that ADRs will not grow as fast in 2022 as they did in 2021. First, they've grown amazingly fast in 2020 and 2021. Second, demand is back in urban destinations, where the ADR for a studio apartment is usually lower than that of a 4-bedroom vacation house in Gatlinburg. The shift in product mix (i.e. relatively more urban bookings) should limit the growth of ADRs on a national level.
It also means that the revival of demand for city and international trips could take bookings away from traditional vacation rental markets. Similarly, with more people returning to the office, the 2022 shoulder season (October) may see less demand than in 2021.
More worryingly, inflation, airport chaos, and the threat of recession could make people think twice about booking an expensive family trip. The rising costs of plane and car travel could deter some people from traveling too often in Q3 and Q4 2022.
In Europe, pent-up demand is still very strong, after two years of lockdown. It may explain why the stock price of Euro-centric Booking Holdings is doing better than of its competitors, together with Booking.com's remarkable industry-leading operational margins.