The story of Vacasa, Inc. (VCSA) is one of spending a lot of money on building a tech platform and acquiring supply – mostly by acquiring medium and large vacation rental companies, yet Vacasa insists that it's now got better at running direct homeowner acquisition campaigns. As the largest property management company in the US, its goal is to become the dominant supply player in key vacation rental markets and then start making profits by mastering the revenue side (through size effect and price optimization) and lowering costs where it has a high density of properties (where shorter drive time from one place to another end up saving on labor costs, for instance).
Is it working? In 2021, Vacasa grew to 37,000 properties, bought its large competitor Turnkey, started trading on the NASDAQ in December, but still lost a lot of money. Yet, Matthew Roberts, its CEO, says that, in 2021, "we consistently beat and raised versus our initial projections. First, we beat Q2 and raised Q3, then we beat the high end of Q3 and raised Q4, then we beat the high end of Q4, and now, we're raising our 2022 outlook. We also expect the business to reach adjusted EBITDA profitability for the full-year 2023."
The vacation rental industry is fragmented, yet, when it comes to supply available through OTA channels in key markets, Vacasa seems to be on the right path (Graph source: 2021 investor deck).
Vacasa says that it has an asset-light (yet salespeople-heavy) business model, which enables the company to compete with other fast-moving vacation rental industry actors, such as Evolve, AvantStay, VTrips, and Sykes (in Europe).
Let's have a look at Vacasa's 2021 commercial and financial performance, then examine its biggest accomplishments and sources of expenses: Supply growth and Tech.
Vacasa Performance (Commercial and Financial)
"Our team executed extremely well last year delivering full-year 2021 Revenue and Adjusted EBITDA ahead of the initial targets we provided in July 2021," said Jamie Cohen, Chief Financial Officer of Vacasa. "Building on our success over the past year, we are raising our full-year 2022 Revenue and Adjusted EBITDA outlook and expect to achieve positive Adjusted EBITDA next year."
Key commercial performance indicators (2021 vs 2020, full years)
Nights Sold were 5.2 million, a 72% year-over-year increase.
Gross Booking Value per Night Sold was $371, a 19% year-over-year increase.
Gross Booking Value was $1.9 billion, a 105% year-over-year increase
Key financial performance indicators (2021 vs 2020, full years)
Revenue was $889 million, an 81% year-over-year increase.
Net Loss was $155 million, compared to $92 million.
Adjusted EBITDA was negative $29 million, compared to negative $35 million.
How Vacasa says it achieved these results:
In 2021, according to the company's statements, Vacasa:
Achieved Record Gross Booking Value and Revenue. For the full year 2021, Vacasa generated a record $1.9 billion of Gross Booking Value, up 105% year-over-year, driving Revenue of $889 million, more than $130 million ahead of the initial target outlined in July 2021.
Extended Scale and National Leadership Position. Vacasa finished 2021 with approximately 37,000 homes on its platform, up more than 60% year-over-year, extending its position as North America's leading vacation rental management platform.
Expanded Sales Capacity. Over the course of 2021, Vacasa added about 200 new sales executives, more than doubling the size of its sales force, and positioning it for continued growth in the years ahead.
Launched Differentiated, Proprietary Technology Products. Vacasa's nearly 200 engineers and product managers launched a number of new technology solutions during the past year, including the Vacasa Homeowner app, the clean inspection tool and the itinerary-based pricing algorithm, and announced the roll-out of its smart home management system.
Vacasa's growth supply strategy: Portfolio (company acquisition) vs Individual (homeowner acquisition) strategies
Vacasa finished 2021 with approximately 37,000 homes on its platform, up more than 60% year-over-year. When it comes to supply growth, Vacasa insists that it is not a one-trick pony that can only grow by gobbling up existing vacation rental companies (what it calls its "portfolio strategy"). In its investment deck and during the recent earnings call, its leadership team spend some time talking about how its "individual strategy", i.e. direct homeowner acquisition marketing campaigns were improving. Note that we got on details on how much better it is getting in relative terms ("Our sales force added nearly 2.5 times more homes than it did in the first quarter of the year") but not in absolute terms (i.e. how many vacation rental homes actually got acquired through homeowner acquisition campaigns?).
Yet, Vacasa markets it clear that, in 2021, it spent time and money muscling up its efforts to sign up vacation rental owners directly:
Here's what Vacasa had to say about its supply growth efforts in its shareholder letter. We've re-arranged it a bit for comprehension purposes and illustrated it with slides from its 2021 investor deck:
Vacasa's individual approach (vacation rental homeowner acquisition)
The individual approach is a direct sales model where we create leads through direct response marketing and then leverage predominantly local sales representatives to sign up individual homeowners. This approach is used in existing markets and accounts for the majority of our new home additions.
New home additions under the individual approach ramped throughout the year as we successfully added nearly 200 new sales executives. To put this in context, in the fourth quarter of 2021, our sales force added nearly 2.5 times more homes than it did in the first quarter of the year.
We also expect to benefit from continued productivity improvements, as sales representatives that have been with Vacasa more than 12 months have been shown to be about twice as productive as sales representatives that have been with us for three to six months.
Finally, under this approach, we typically target a lifetime value ("LTV") to customer acquisition cost ("CAC") ratio between 4x and 5x. We ended 2021 at the high end of that range and expect to do so again in 2022.
Vacasa's portfolio approach (vacation rental compay acquisitions)
Under the portfolio approach, we buy local vacation rental managers, bringing on dozens of homes at once. Through this approach we are able to efficiently enter new markets and build density at a faster rate, allowing us to accelerate our margin expansion in those markets.
We also successfully leveraged the portfolio approach in 2021, onboarding 29 portfolios during the year, including seven in the fourth quarter. The portfolio approach is a highly efficient way to enter new markets. For example, in December we signed agreements with Beach Pros Realty and Sandbridge Realty, marking our entry into Virginia Beach. With the addition of these homes, we are now a leader in this popular vacation market and can use the individual approach to grow our inventory in the years ahead.
Vacasa's other source of expenses: Building a tech platform
Short-term rental industry players know that tackling operational issues through tech can help solve pain points, improve guest experience, lower costs, and price nights better. Talking tech is also a great way to capture the attention of financial analysts. The best player at this game is Sonder, yet Vacasa has also become good at it.
Here are a few tech products that Vacasa rolled out in 2021 and early 2022:
Homeowner App
The Vacasa Homeowner app was announced for both iOS and Android devices in November 2021. In just four months, about 40% of our homeowners have already downloaded and begun using the new app and we are seeing more than 60% of those homeowners log into the app weekly. We've received positive feedback from homeowners and the app has a 4.9 rating in Apple's App Store. This strong engagement in such a short amount of time demonstrates that keeping homeowners updated on the care and performance of their vacation home is just as important as optimizing their income.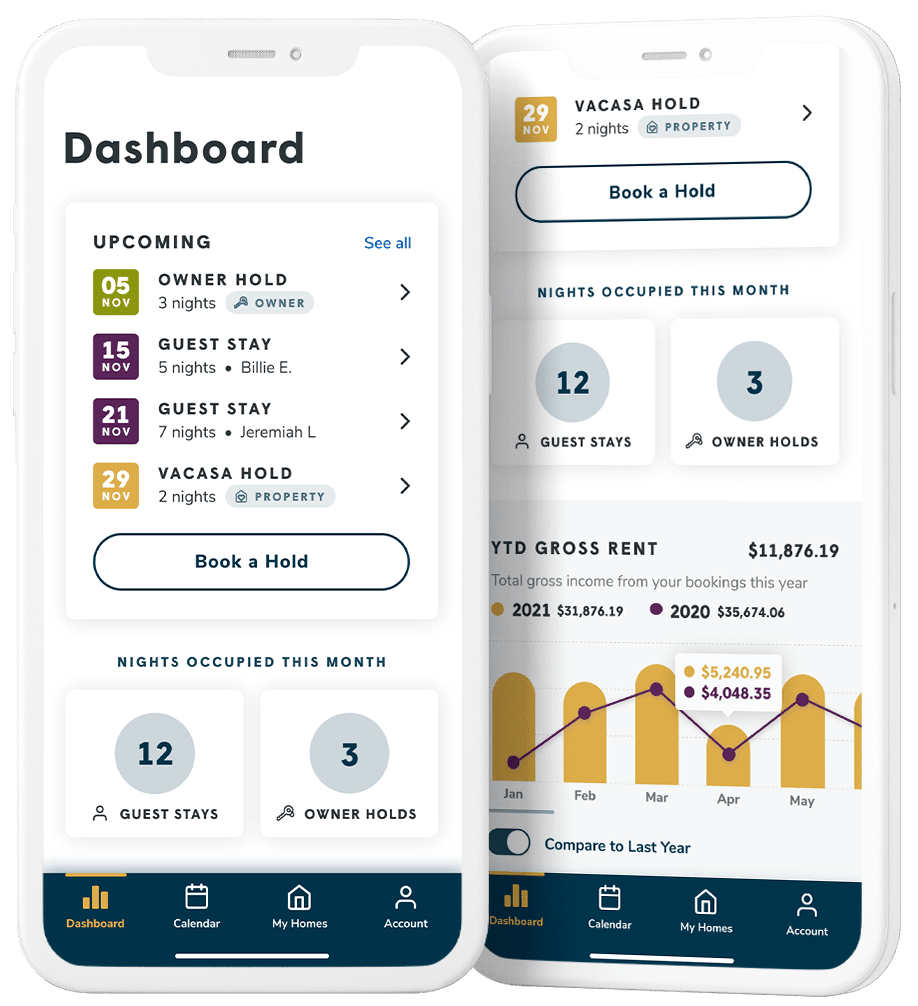 Clean Inspection Tool
The clean inspection tool is designed to improve guest and homeowner satisfaction by ensuring a standardized, efficient cleaning process across the tens of thousands of homes on our platform. Accessible in the Vacasa Field App, housekeepers use the tool to document cleans by going through a checklist and taking several photos of each area cleaned. Local market managers have the ability to review the photos in the HomeCare Hub replacing manual inspections, one of the ways we are creating efficiencies in our housekeeping labor. The tool also allows housekeepers to flag potential issues, such as a broken light, before the guest arrives. During beta testing in the second half of 2021, we observed a lift in guest clean scores when the tool was used and the tool was fully rolled out in February.
Itinerary-Based Pricing
Our newest yield management innovation takes dynamic pricing beyond just considering a nightly rate by giving each itinerary, as defined by a start date and end date, its own price. The price of the itinerary incorporates how each unique reservation, or itinerary, affects a property's entire calendar. For example, the AI-powered algorithm may display a higher effective nightly rate if the itinerary is likely to result in "stranded nights". Or, it might display a lower effective nightly rate for nights that typically go unbooked, such as an open Monday and Tuesday between two existing reservations. In each example, we generate more income for our homeowners. We began testing itinerary-based pricing in the summer of 2021 and now use the tool to price hundreds of millions of itineraries per day.
Vacasa Smart Home Management System.
Following extensive testing, we announced that homes on our platform will feature our smart home management system, including proprietary keyless locks, WiFi router with custom connectivity experience, and a patented noise monitoring system. These technologies will be provided at no additional cost to Vacasa homeowners and will be rolled out to homes throughout 2022.
While Vacasa is still losing money, its efforts at attracting vacation rental owners and building a competitive tech advantage are starting to take shape. Now, in order to deliver supply growth, it may still need to acquire property managers. In a market that remains fragmented, can the company achieve dominance in key markets to let it reap the benefits of being a price maker and having lower operational costs? The company's leadership team bets that it will be able to do significantly so in 2023.