"Trees Don't Grow to the Sky" is a popular German proverb. In the US, will 2023 be the year when the vacation rental industry stops growing after the incredible growth years of 2021 and 2022? According to AirDNA's outlook report for 2023:
Demand will grow by only 5%, after growing by more than 20% consecutively in 2021 and 2021.
On the supply side, the number of listings will increase by 9%, against +25% in 2022.
ADR (average daily rates) should stabilize with a 1.7% increase, after growing by 12% in 2021 and 5.6% in 2021 (Note that this is for the US as a whole; ADRs in traditional vacation rental markets boomed way more than in depressed in urban markets).
Occupancy should drop from 58.3% in 2022 to 56.4% in 2023 (although it would remain higher than the 53.3% occupancy rate recorded pre-pandemic in 2019)
2023 Vacation rental trends according to AirDNA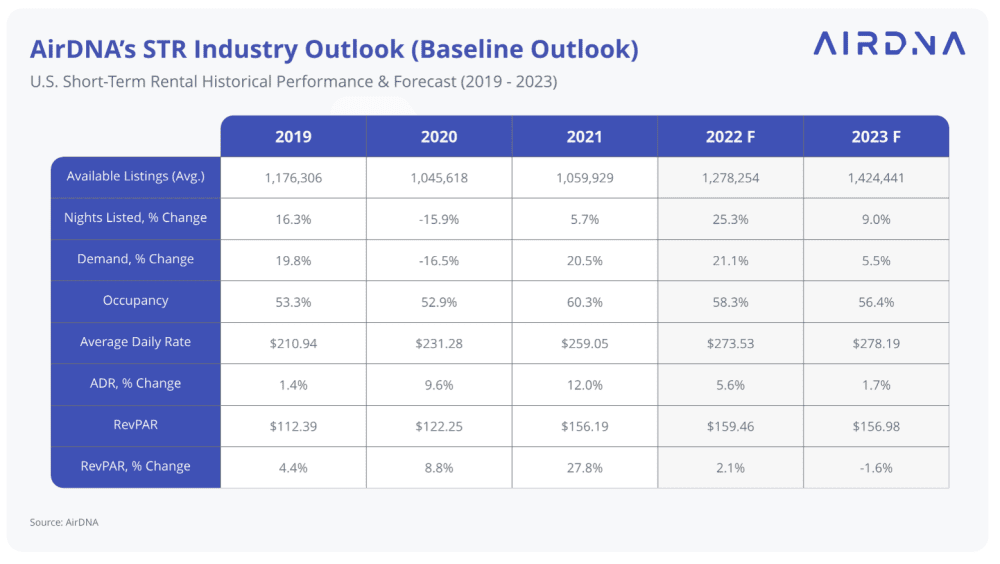 AirDNA's 2023 outlook shows very interesting and well-researched vacation rental trends. I strongly encourage you to read it in its entirety.
Here are a few graphs I've selected for you from the outlook. They show mostly 2022 end-of-year performance data for the US vacation rental market. Yet, they give interesting directions from the start of the year 2023.
2023 short-term rental supply numbers should break records again
In September 2022, there were 1,374,075 short-term rental listings available in the US. This was more than ever. We may be on a seasonal high at the end of summer, but as AirDNA forecasts that supply will grow by 9% in 2023, we should break this number again next summer.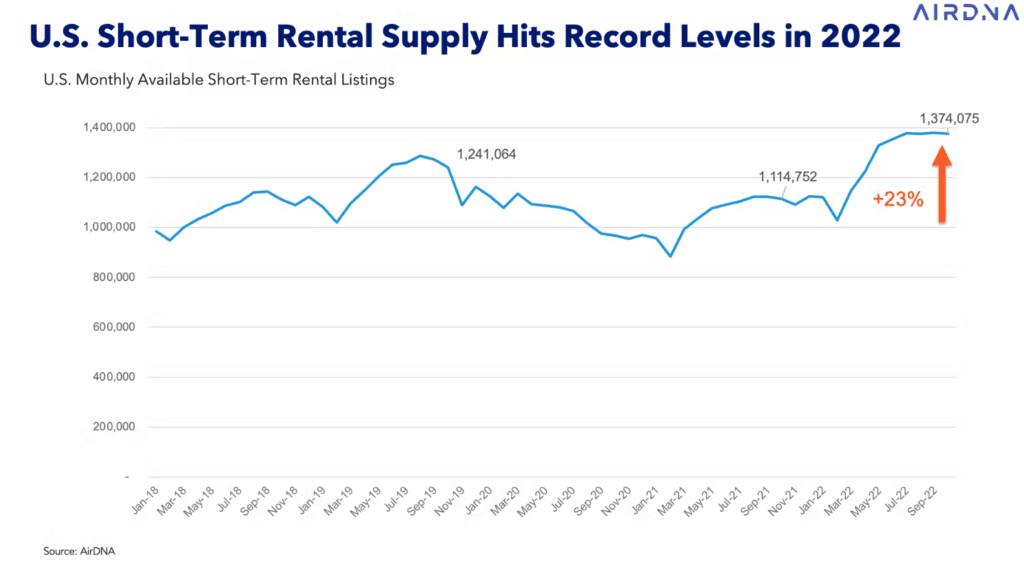 Will demand for short-term rentals in large urban markets finally come back in 2023?
Compared with the same period in 2019, occupancy in October 2022 was more than 20% higher in coastal and mountain markets.
However, in large urban markets, occupancy was still down 4%, more than 2.5 years after the start of the COVID-19 pandemic. While traditional vacation rental markets have diversified and markets in small towns have opened, big cities are very slowly creeping back to 2019 levels.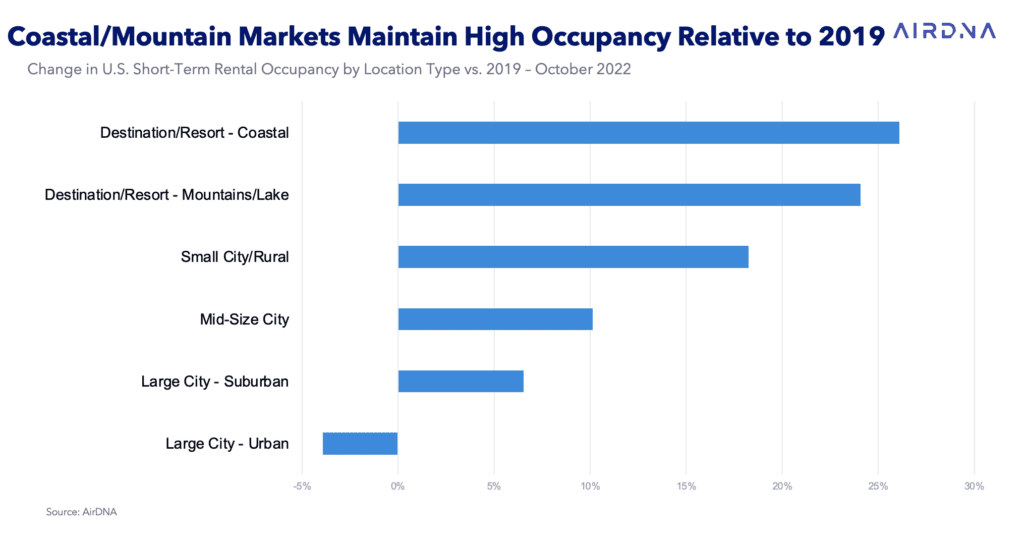 The graph below is about RevPAR (revenue per rental) from 2019 to 2022. Base 100 is in February 2020, at the onset of the COVID-19 pandemic. Let's contrast two markets:
The yellow line shows the evolution of RevPAR in large city / urban markets. It kept on crashing throughout 2022, as occupancy and ADR dropped. It now stands at around 120: Rates and occupancy have come up, but much slower than in all other markets.
The green line shows the Mountains and Lake markets. As soon as June 2022, it started booming. RevPAR grew above 145 (+45%) above February 2020 but started dropping in mid-2022. A key factor may be the increase in supply, which pushes occupancy rates down (but still at a high level)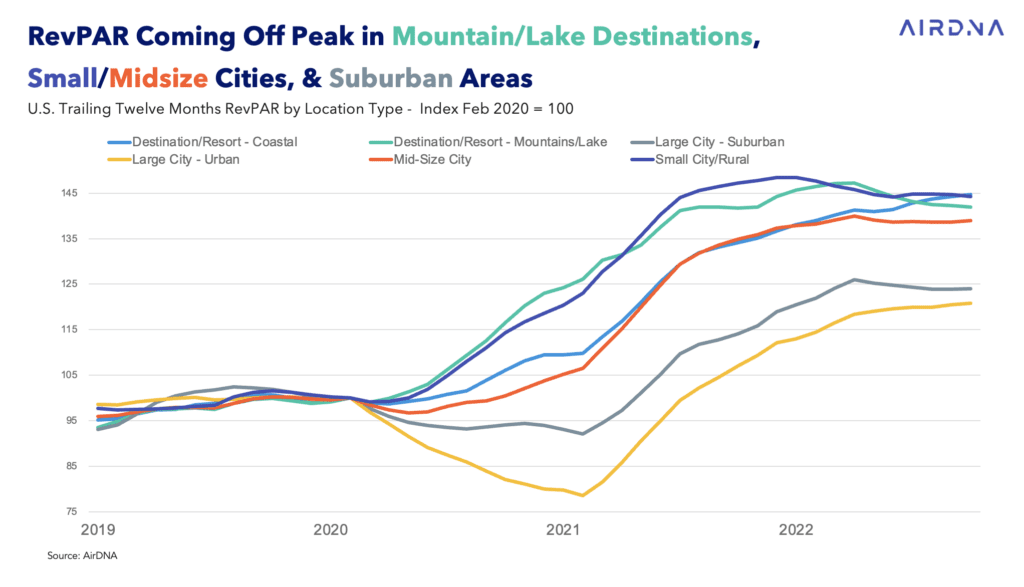 A key factor in the slow recovery of U.S. short-term rentals in large cities is the lack of international travelers. The high dollar, remaining infection fears, lockdowns in China, and lower purchasing power in Europe weigh down on international travel.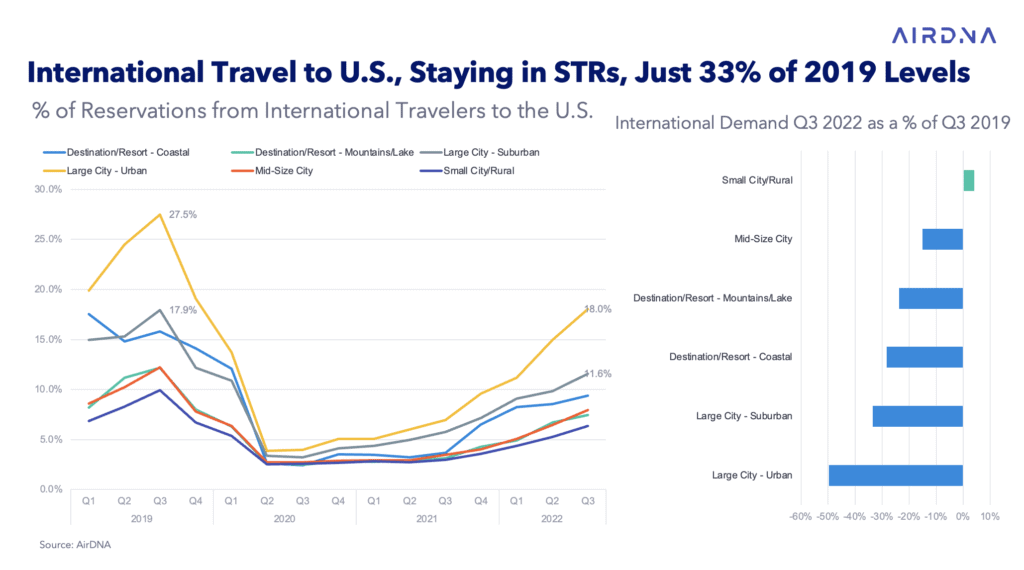 2023 will test the formidable resiliency of the short-term rental demand
The graph below illustrates the strength of the demand for short-term rentals since the nadir of April 2020 and its massive cancellations.
Among all types of travel demand, short-term rentals (look at the purple line) have grown the month, ahead of auto trips and hotel demand.
Despite all the talks of a recession in the US, this graph shows that demand is staying strong. Now, this is data for the overall US market. As more supply has come online in 2022, it may mean that individually, some hosts or companies may actually see fewer bookings.