Vacation rental data provider AirDNA has used May and June data from Airbnb and Vrbo to look at what Summer 2022 could be like for vacation rental managers in Europe and the US. In both regions, you should be expecting an exceptional summer, despite clouds gathering on the horizon. In the US, overall demand is up 12.8% compared with the pre-pandemic summer of 2019, while supply has reached the historic record number of 1.34 million unique listings. In both regions, demand is coming back to large cities. In Europe, the overall number of listings is getting closer to pre-pandemic levels, while As of June 12th, demand on the books was 55.5% higher than in 2021. While Europe is rebounding, average daily rates are starting to drop in many countries. The combined threats of inflation, gas price increases, war in Ukraine, and higher interest rates could mean that the vacation rental boom may end during the fall.
US vacation rental market outlook (based on May and early June data)
Demand is returning to large cities
As demand returns to the cities, higher pricing is returning as well. Demand grew the fastest in urban locations in May, up 31.8% compared to 2021.
Record number of listings in the US: 1.34 million
In May, hosts in the U.S. added 84,000 new listings, and after subtracting properties that left, saw a net increase of 57,000 listings. There were 1.34 million unique listings available for rent on Airbnb and Vrbo, which is up by 24.7% over the previous year and marks a new record high for listings in the U.S.
Many markets have strong booking activity and high occupancy levels already on the books. All of the top markets for occupancy this summer, as of early June, are located on the coast. Homes are already over 70% occupied in the Outer Banks, NC, Downeast Maine, and Pawleys Island, SC.
As of early June, overall demand is up by 12.8% for this coming summer when compared with demand booked for summer 2021, and it is up 21.8% compared with the summer of 2019. 
ADRs continue to push higher, and the average nightly rate for a trip booked this summer is $351, an 8% increase from last year.
AirDNA expects that demand for short-term rentals will remain strong throughout 2022, despite the threats of high inflation, higher interest rates, and talks of recession. The stark increase in supply and the return of demand for small apartments should pressure ADRs down.
European vacation rental market outlook (based on May and early June data)
Summer 2022 Outlook:
As of June 12th, summer (June-September) demand on the books in Europe was 5.0% higher than at the same point in 2019 and 55.5% higher than in 2021.
So far, here is how the booking page is doing compared to 2019, for all of Europe, month by month. Note that, according to AirDNA, August's performance is negative but September remains positive.
June +5.2%
July +12.1%
August – 2.8%
September +7.0%
Yet, if you dig deeper, you can see that the situation is contrasted within Europe: Out of the region's top 20 markets, 11 are outpacing 2019 figures, while 9 are falling behind:
The strongest gains over 2019:
Germany +35.7%,
Greece +26.8%,
and Austria +16.0%,
while the greatest laggards continued to be
Czech Republic -36.1%,
Hungary -28.5%,
and Ireland -21.7%.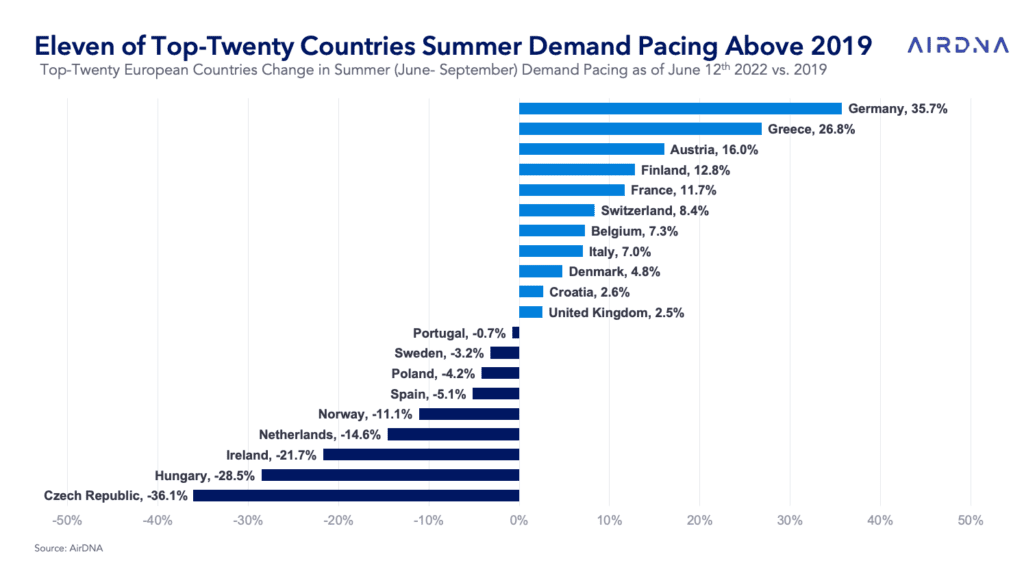 Note that some markets are severely affected by new regulations restricting short-term rentals, such as in The Netherlands (e.g. Amsterdam) and the Czech Republic (e.g. Prague).
While demand is coming to European cities and traditional vacation rental markets continue to enjoy high demand, the situation looks more precarious than in the US. The weight of the war in Ukraine, the high energy prices, and high inflation should dampen more consumer appetites than in the US. However, after two years of longer lockdown periods than in the US, Europeans have a strong pent-up need to travel this summer. Things look more uncertain after September.