On June 28, 2022, Airbnb turned its temporary global party ban into a permanent one. The ban was born from the occurrence of multiple shooting incidents and infamously noisy COVID house parties over the last two years. Airbnb's move is opening the door to smart entrepreneurs, such as French-based Crazy Villas, who've been busy buying properties in secluded locations to turn them into party houses. In this article, we'll use this example as a case study for the unbundling of Airbnb. "Go to Airbnb, pick a niche and execute it 10x better", this is what SurfOffice CEO Peter Fabor wrote in March 2022 on social media. His posts led to hundreds of positive comments from short-term entrepreneurs. We'll see what Fabor meant, as well as the risks from just picking a niche without 10x-ing the execution. 
Airbnb's permanent ban on house parties prevents guests from hosting events (yet 16-person occupancy cap is lifted)
In August 2020, Airbnb announced a global ban on all parties and events at its listings, including a cap on occupancy at 16. In late June 2022, the company updated this policy:
The global ban on parties and events is now permanent: Disruptive parties and events will continue to be prohibited, including open-invite gatherings.
"Party house" properties will continue to be strictly prohibited as well.
The 16-person occupancy cap is now lifted.
Airbnb's removal of the occupancy cap is a very interesting move, as the company is now able to again welcome large properties (e.g. castles, big villas), get a share of these high-value bookings, and not leave Vrbo as the sole booking platform for such large properties.
Here's how Airbnb justifies the end of its occupancy cap:
​​Our recent Summer Release introduced Categories, which highlight several types of larger homes that, by definition, are capable of comfortably and safely housing more than 16 people — from castles in Europe to vineyards in the US to large beachfront villas in the Caribbean. Amazing properties like these thrive on hosting multi-generational family trips and larger groups, and removing this cap is meant to allow those Hosts to responsibly utilize the space in their homes while still complying with our ban on disruptive parties.
How Crazy Villas has been unbundling (and now replacing) Airbnb to build an event-friendly property management company
Large groups booking a vacation rental: curse or benediction?
Depending on the situation, you can view bookings made by groups as something beneficial or dreadful:
A benediction: Imagine a large inter-generational family booking a 7-bedroom house to celebrate the 90th birthday of one of the grandparents. This is the promise of a high-value booking, without not too much wear and tear, and hopefully not too much noise for the neighbors. Large family trips are actually the ideal use case that Vrbo is pursuing, as attested by hist family-friendly TV commercials and booking features such as Trip Boards.
A curse: Even authorized parties can turn into a horrible occurrence for a property (and its owner). Stag weekends particular come to my mind. Between property damage and noise disturbances, there is not much to like in such parties.
Event-friendly vacation rentals: A niche identified by key players (AvantStay vs Crazy Villas)
Airbnb's permanent ban on house parties and the (now removed) 16-person occupancy cap seems to open the door to two value propositions: Either find vacation rentals that are open to peaceful large groups of people (AvantStay) or embrace the house-party concept and get more of them (Crazy Villas).
AvantStay's focus is on hosting groups, such as family reunions or team offsites. The company says that it currently manages over 1,000 vacation rental homes in 100+ cities between the United States and Mexico. When it comes to its inventory, AvantStay looks for homes and investment properties that have at least 4 bedrooms in one of their designated destinations.
How Crazy Villas pivoted from planning stag nights to running 24 event-friendly properties
Ten years ago, French entrepreneurs Alexandre Martucci and Aurélien Boudier launched Crazy Voyages. The company's goal was to help young French tourists plan bachelor parties and hen trips to destinations such as Prague, Budapest, Amsterdam, and Barcelona. Until March 2020, their business was booming.
Yet, when the COVID-19 pandemic struck, their revenues came to almost nothing and they had to drastically cut staff and costs. The two entrepreneurs understood that French people would now be traveling mostly domestically in 2020 and the need to get together would be strong at a time when nightclubs and restaurants were under lockdown. To get the money for their business pivot, they sold the three apartments they owned in Prague and Budapest to buy their first property in France. Crazy Villas was born.
Today, they own 24 properties in France, all of them within a 2-hour driving distance of Paris and its 12-million-inhabitant strong metropolitan area. In order to fully control the guest experience, Crazy Villas owns the properties in its portfolio. It allows them to pick the right location and renovate the houses to fit the needs of its clients such as adding a heated pool for year-round fun.
When Rental Scale-Up talked with Crazy Villas's leaders in 2021, they shared that their customer base was actually different from what they had initially thought: Bachelor weekends are indeed a sizeable part of their business, but they discovered that family reunions and corporate retreats were unexpected sources of reliable business.
Unbundling Airbnb: Nobody is going to book a trip on some no-name platform instead of Airbnb unless that platform is doing something 10x better
Here is the tweet that started the discussion among entrepreneurs 5 months ago:
Fabor's own company, SurfOffice, straddles the worlds of hospitality, group bookings, and corporate trips. It focuses on organizing corporate retreats across 24 destinations in the US and in Europe.
Following the success of his post about 10x-ing an Airbnb niche, he gave more thoughts to the concept of unbundling Airbnb on his personal blog.
He first reminded readers the bundle vs unbundle discussion was first raised by Marc Andreessen:
 "There are only two ways to make money in business: One is to bundle; the other is to unbundle".
We can add that, in 2010, Andrew Parker of Spark Capital published an illustration highlighting the different startups attacking different parts or services of Craigslist entitled "The Spawn of Craigslist." Note that Airbnb itself, with its old logo, was already on the map, as an example of unbundling the temporary housing category from Craiglist. HomeAway, now Vrbo, was also here, as the unbundler of the vacation rentals category.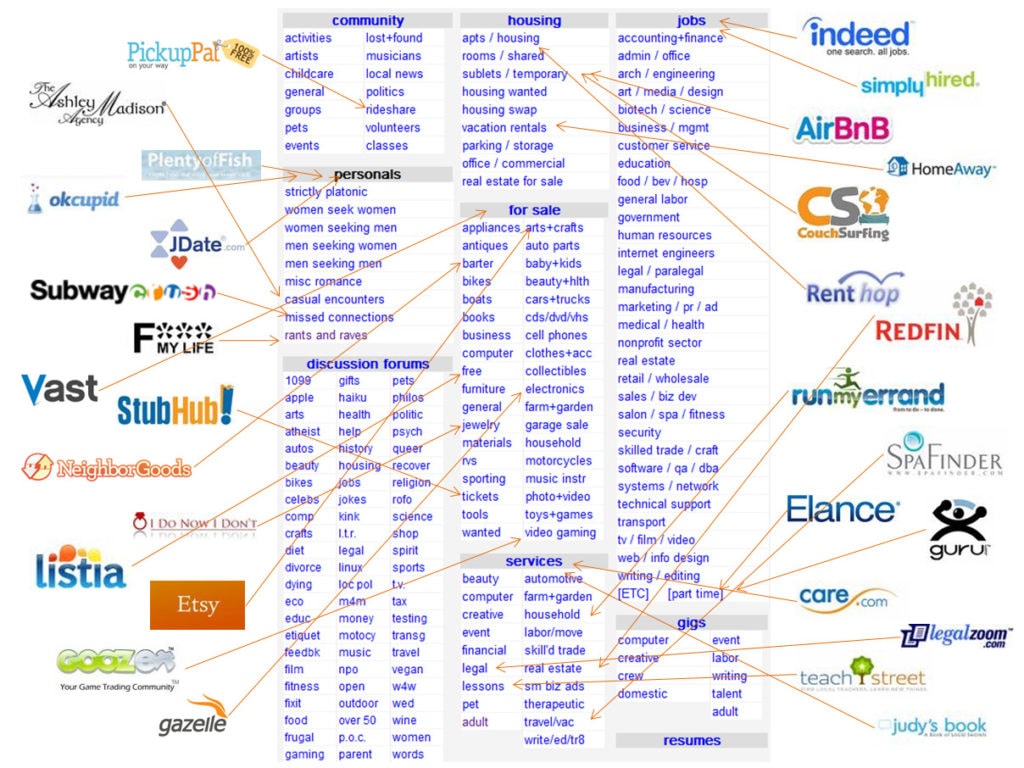 Yet, in order to do unbundling right, Fabor highlights that 10x-ing the execution is the key. Picking a niche and going vertical is not difficult. Anyone can think about it. The difference is in doing it in such a way that the gap between what's available on Airbnb and what the niche actor is offering is huge. 
"Nobody is going to book a trip on some no-name platform instead of Airbnb unless that platform is doing something 10x better"
Fabor adds that "one approach would be to build a unique inventory that fits your target niche but isn't available on Airbnb". It is what our case study Crazy Villas does with its portfolio of event-friendly properties at a time when Airbnb has banned party houses from its platform.
He then gives examples of such succeeding Airbnb unbundlers and notes, just like Crazy Villas, these companies tend to either own or lease long-term the properties where they operate:
Now, the long-term lease model has its own drawbacks, as illustrated by Sonder's recent decision to cut costs, staff, and expansion.
So, unbundling Airbnb is something that many companies have tried to do, from remote places for digital nomads (flOasis) to long-term stays (Spotahome). Note that many actors had already been around before Airbnb was even created, like luxury vacation rental company WIMCO. With its Airbnb for Work and Airbnb Luxe offers, and now its categories such as Castles and OMG!, Airbnb is creating a level of granularity in its offering that forces its niche competitors to do more than just gather luxury rental or castle listings. The 10x difference relies on offering a guest experience that is unique to their brand and offers means creating a real property management company to deliver it, while even owning the properties. As such, it can be difficult to scale such a business across locations. Crazy Villas' choice has been to focus on one big market, the Paris metropolitan market, and densify its supply across it.