Suddenly, Airbnb is busy rediscovering and promoting private rooms, i.e., renting a bedroom in someone's home. Brian Chesky has even listed a private room in his own apartment (more like a whole private floor, as you'll discover below). The category has been booming on the platform: New private room listings were up +31% between Q3 2021 and Q3 2022. During its 2022 Winter Release, Airbnb also revealed that "Private Rooms" had become an Airbnb Category of its own. This should drive more visibility, traffic, and bookings to this accommodation type.
Brian Chesky's Airbnb listing: Beyond the airbed
What better illustration of Airbnb's renewed commitment to private rooms than the awkward video showing Brian Chesky, the company's CEO, listing a bedroom in his own apartment?
Airbnb CEO listing a private room for the 2022 Winter Release
Yes, the real Brian Chesky and his real San Francisco place. Now, the place is only available for a few weekends and is already booked up. Just as many people offer private rooms, the Airbnb CEO is an occasional host. Remember occasional hosts? Along with private rooms, occasional hosts (and their needs for guidance) are coming back in vogue.
Why Brian Chesky and his private room are important to Airbnb's storytelling
This video is very important for Airbnb: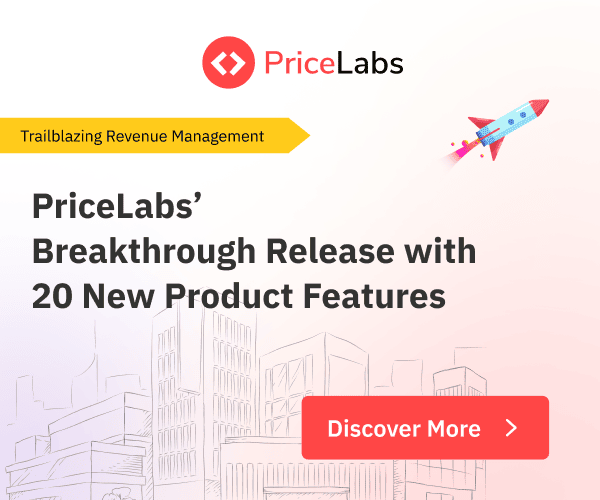 It connects back to the Airbnb lore when the company started out with the two co-founders renting out airbeds at the apartments. Today, Airbnb's CEO offers a whole floor, not just an airbed. This is why he titled his listing "Beyond the airbed".
It shows that the company puts value in employees being real users of its platform, both on the guest and the host side. It makes it easier to talk to hosts if you can say that you are one of them. It helps help product teams better feel the pain of users and innovate.
What is Brian Chesky's listing (and private home) like?
Here's the link to his listing: https://www.airbnb.com/rooms/756639798240652690
It's called Beyond the airbed
It is a guest suite (bedroom + bathroom) on its own floor
Guests share the chef's kitchen, the cozy living-room, and the sumptuous rooftop with Brian Chesky
Gym not included, but, as a serious lifter, Chesky says that you are invited to join him at his favorite sports place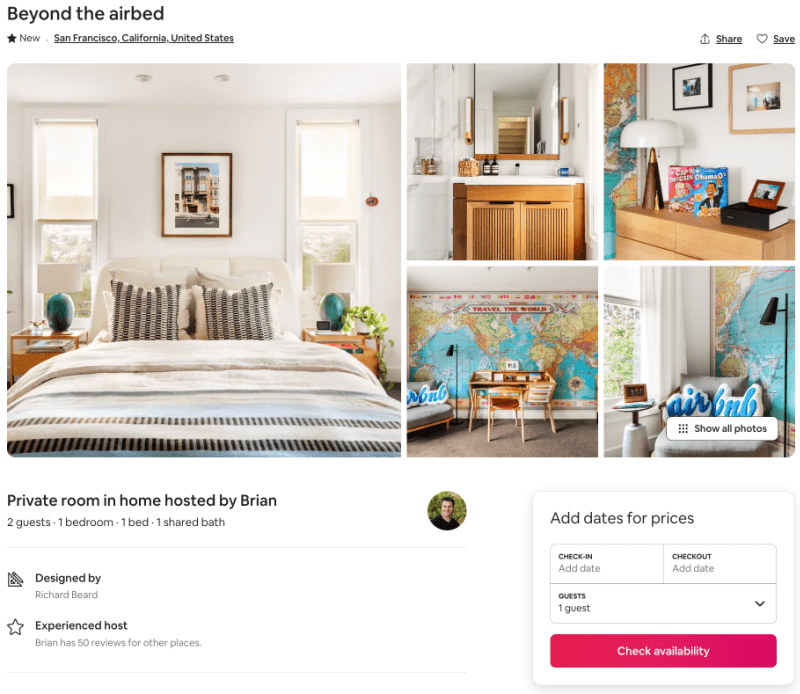 Here's the listing description:

Stay with me – the co-founder of Airbnb and its first Host. Back in the day, my roommate Joe and I blew up some air mattresses and welcomed three guests – Michael, Kat, and Amol. This time, I've upgraded from airbeds to a guest suite in my home. You'll spend time with me and Sophie, my golden retriever, as I share stories from the early days – or you can relax in your suite, decorated with some of my favorite pieces of Airbnb history.

The space

A thoughtfully designed suite featuring personal photos and artifacts from the early days of Airbnb. This light-filled corner bedroom has North and West-facing windows and a panoramic view of the Castro neighborhood. The room also includes an armchair to relax in, a desk to get some work done, two roomy closets, and a comfy queen bed featuring a real mattress — a big upgrade from the first airbed we bought in 2008.

When you stay here, you'll have access to a full bathroom with a large shower. You can also head upstairs to use the spacious chef's kitchen or hang out in the sunny living room with floor-to-ceiling windows.

My home is near the Mission, Castro, and Noe Valley neighborhoods with plenty of great boutiques, restaurants, and coffee shops. You'll be just a short walk from beautiful Dolores Park, Bi-Rite ice cream, and the world famous Tartine bakery for fresh bread and pastries.

Also, guests must love dogs. Or at least Sophie.
Why is Airbnb flirting again with private bedrooms while it has spent years repositioning itself as a provider of entire vacation homes or even luxury rentals?

One of the reasons is that many complain that Airbnb has become an expensive option for booking a trip. Cue in the recurring social media storms about high rates and expensive cleaning fees that Airbnb is trying to quell with its Total Price Display revealed a few weeks ago.
At a time when North American and European consumers feel that their purchasing power is eroding due to high inflation and energy prices, Airbnb needs to show travelers that it can offer cheaper options. Airbnb is very careful about how its brand is seen. It does not want to enter a recession without fighting the perception that it has become unfordable.
On the supply side, Airbnb thinks that recessionary times drive people to change behaviors and start doing things they had not considered before, such as hosting travelers in a spare bedroom. The company sees it as a chance to increase its number of hosts.
The hope is that, when good times come back, some of these hosts may add entire homes or even create mini short-term empires, as happened after the 2008 recession.
Private rooms powered Airbnb's rise as a disruptive innovator
When Airbnb started out in 2008 during the Great Recession, it was seen as an affordable way to stay in expensive cities. Meanwhile, hosts saw it as a convenient way to make some extra money.
In an archetypal case of disruptive innovation, Airbnb started its rise by peddling cheap private bedrooms. First, it was scorned by the likes of Vrbo and Booking.com. Yet, after a few years, Airbnb moved up the value chain and started offering all kinds of short-term rentals.
Its brand name even became widely used as synonymous with short-term rental:
"I'm staying at an airbnb".
"If you need some cash, just airbnb your place for a few weeks while you're away.).
Why entire homes were much more attractive to Airbnb (hints: more money, fewer safety issues)
Progressively, shared spaces and private rooms were relegated to the back of Airbnb's website and app. When Airbnb launched its Airbnb Categories in 2021, no category allowed it to find such options easily. Airbnb seems to have grown out of peddling cheap bedrooms at someone's palace.
For a travel platform, entire homes generate higher booking amounts. When you buy traffic from Google, you get a better return on your investment if you direct traffic to entire homes than to cheaper private rooms.
Private rooms also create different kinds of safety issues: Whether you are a guest or a host, sharing a roof with perfect strangers can open the door to bad experiences, from awkward moments in the shared bathroom to fears of theft and rape. Airbnb horror stories have become a movie genre.
Preventing or taking care of such problems can be thorny and costly for Airbnb, as illustrated by a famous article titled Airbnb is spending millions of dollars to make nightmares go away.
The COVID-19 pandemic also drove people away from private rooms. People felt safer booking a place that was 100% theirs. Sharing a home was suddenly seen as a health risk. In reaction, Airbnb made sure that its commercials only showed guests staying at an entire home and without any host in sight.
Airbnb 101: Entire Places vs. Private Rooms
Airbnb categorizes accommodations into four main types:
Entire places
Private rooms
Hotel rooms
Shared rooms
The bulk of Airbnb's offering is made of entire places (e.g., entire homes in the vacation rental and short-term rental sense of our industry) and private rooms (e.g., a private bedroom in someone's home or a private room in bed & breakfast).
Here's how Airbnb defines the two categories:
Entire places
Entire places are best if you're seeking a home away from home. With an entire place, you'll have the whole space to yourself. This usually includes a bedroom, a bathroom, a kitchen, and a separate, dedicated entrance. Hosts should note in the description if they'll be on the property or not (ex: "Host occupies first floor of the home"), and provide further details on the listing.
Private rooms
Private rooms are great when you prefer a little privacy, yet still value a local connection. When you book a private room, you'll have your own private room for sleeping and may share some spaces with others. You might need to walk through indoor spaces that another host or guest may occupy to get to your room.
Conclusion:
By shedding some light again on Private Rooms, Airbnb hopes to quell the perception that it has become an expensive trip option and tempt more people into becoming hosts.