Vrbo has been part of Expedia Group for a few years and the connections between the two entities are getting stronger; there is now hotel supply from Expedia on the Vrbo website, and the help pages for hosts, formerly called "Discovery Hub", have moved to the host.expediagroup.com address. Another example Vrbo's Fast Campaign, aimed at attracting Airbnb hosts: The campaign's landing page is located on the expediagroup.com domain name as well. Yet, the core of the issue, getting Vrbo's supply onto Expedia and its sister brands, is still far from completion.
6 years ago: Expedia Group acquisition of HomeAway / Vrbo
VRBO was founded in 1995 and acquired by HomeAway in 2006. Then, both brands were acquired by Expedia Group in December 2015. In May 2019, Expedia Group changed the name of its global alternative accommodations division from HomeAway to Vrbo. Finally, in June 2020, the HomeAway brand was retired in the US to make room for the sole Vrbo.
(Some) Expedia Hotels are now available on Vrbo
For the last 15 months, Vrbo has clearly repositioined itself as a provider of whole homes, large vacation rentals, that are a fit for families.
How are hotels consistent with Vrbo's positioning?

So, it is a bit surprising to see hotels popping up on Vrbo's website. On one hand, if the website is lacking some supply in key areas (e.g. cities), for some customer types (e.g. couples), or for a certain price point (e.g. cheap rooms), it may make sense to present some hotel alternatives to guests. On the other hand, it is not consistent with Vrbo's positioing, even if hotels are well-hidden from the site's homepage and communication, for instance.
Pages made for vacation rentals, not hotel rooms
When we looked at the hotels available on the platform, we found 195 hotels in Miami, for instance. We aslo noticed that the guests reviews were also visible on expedia.com and hotels.com. It confirms that the hotels shown are mostly comming from Vrbo's sister brands. And it shows: The property page is still made for vacation rentals, as the header "About this rental" shows.
Note that the property type is indeed mentioned ("hotel suite"). Yet, as that the word "rental" is bigger and users expect to see vacation rentals on Vrbo, it could create some confusion for guests who may book a hotel room when they thought it was a vacation rental.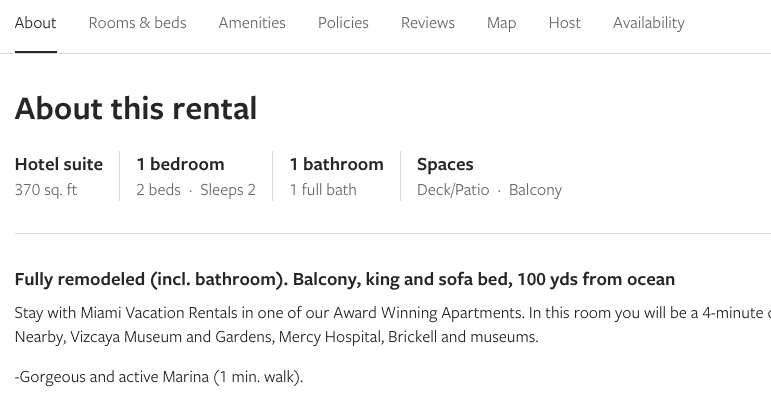 Vrbo and Hotel SEO
Vrbo is also attracting traffic with SEO pages targeting hotel keywords, such as "1 Hotel South Beach". Here's the page that users will find. Note that the page talks about "vacation rentals", while the keyword is about a hotel name.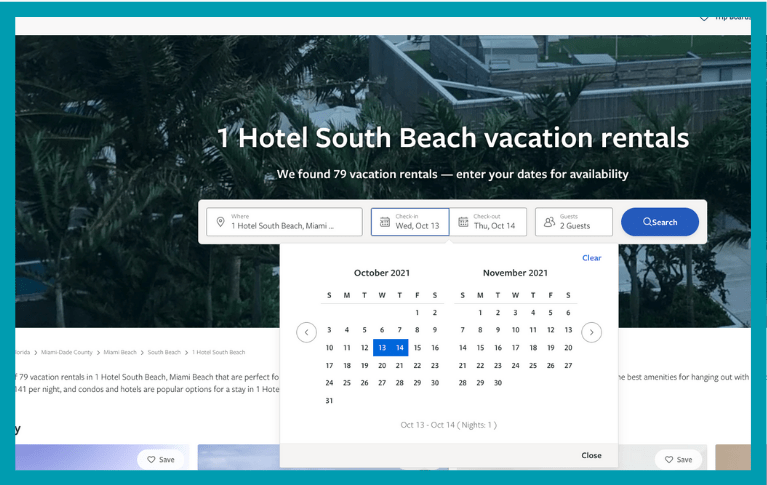 So, if Vrbo is also attracing traffic to arounf hotel names, it makes sense to list some hotels too.
The slow addition of Vrbo's supply to Expedia Group's OTA brands
Expedia Group has owned Vrbo / HomeAway for more than 5 years. The group has tried to get Vrbo's supply of vacation rentals available on Expedia, Orbitz, Hotels.com and other brands that it owns. It has been slow and painful, both in terms of getting the listings from one site to another and in terms of showcasing vacation rentals the right way on sites like Expedia.com that were conceived for hotels.
This is what Peter Kern, Exedia Group's CEO, had to say about it in February 2021:
We are also intending to drive alternative accommodations through our OTA brands. We haven't – we've been saying that for a long time. We are now highly focused on doing it. It's not ready to roll yet. We do, do it, but it is not – the consumer experience is not yet where we want it, but we are highly focused on driving that in the future. And that will be the way we attack markets where we don't have an existing Vrbo or other alternative accommodation brand.
We have a very modest business in the alternative space that happens through our OTAs. It has been a less than a satisfactory product that we are working on aggressively, but it is a small, small part of the business.
In May 2021, Peter Kern noted some progress, while not calling it a success yet.
We don't disclose the number of properties that are live on our other OTA brands. But what I will say is that we continue — two things. One is we continue to add more properties. It was higher in Q4 than Q3, and it's higher in Q1 than it was in Q4, and so we continue to make progress. And also, we continue to increase the number of OTA brands where we're distributing that inventory.
Why has it been so slow? Here's what we are thinking about it at Rental Scale-Up:
Vrbo was essentially a classifieds website when Expedia Group acquired it. Most hosts and property managers were paying a yearly subscription fee. This business model was not compatible with Expedia.com's tech platform which was 100% transational ecommerce.
Most Vrbo listings were on-demand, not on instant booking. Again, this model was not the most compatible with sites like Expedia where users book hotel instantly. Expedia's interface did not have the tools to enable back-and-forth communication, negotation, and contract signing as on Vrbo.
Expedia's property pages were optimized to display hotels, not vacation rentals: It has also taken years to Booking.com to start displaying vacation rentals differently from hotels. For instance, amenities such as kitchens, private pools, and overal surface are crucial for vacation rentals. Not as much for hotels, where bed sizes, room service, and breakfast options are choice criteria for guests.
Vrbo's owner help pages, Discovery Hub, are now Host at Expedia Group
An interesting sign of how Vrbo is aligning further with Expedia is that its owner and property manager help pages are now located at this address: host.expediagroup.com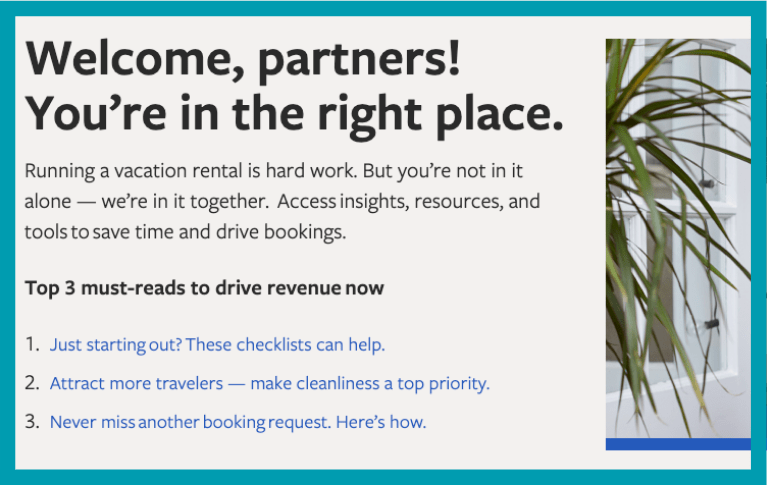 Vrbo Hosts or Partners?
Note that, while Vrbo is still not consistent about how it calls owners and property managers: Are they hosts or partners? A few months ago, Vrbo accounted that the term was changing from hosts to partners. And the subdomain is "host". Yet, the new page proudly proclaims "Welcome, partners!". Expedia Group's copywriters will have to make a choice at some point.
A shift for all Vrbo brands, international ones included
The switch has been done for all of Vrbo's brands. For instance:
Vrbo US: https://host.expediagroup.com/vrbo/en-us
Vrbo Brazil: https://host.expediagroup.com/vrbo/pt-br
Abritel (France): https://host.expediagroup.com/abritel/fr-fr
FeWo Direkt (Germany): https://host.expediagroup.com/fewo-direkt/de-de
Stayz (Australia): https://host.expediagroup.com/vrbo/en-au
Why such a change?
Sometimes, big companies like Expedia Group and Booking make choices for pure technical and financial reasons. For instance, the new Help platform works under a tech solution called Adobe Experience Manager and specifically Marketo, according to our research.
Expedia Group may have wanted to replace an old tech solution by something new, for which it already owned a license. As Vrbo's brand is expanding acrross the world, opening in markets like Mexico, Italy, and Spain, the company needs to deliver help pages in more and more languages. Also, Vrbo needs to publish content for several audiances: property owners, property managers and integrated property managers. A solution like Marketo is great for delivering personalized content and provide content tracking.
We are not sure why the domain name changed, though. Maybe the Marketo license was owned by Expedia Group, not Vrbo. Or Marketo was already set up to run to the Expedia Group website and it was cheaper and faster to just do it there.
Now, it is a bit weird for Vrbo hosts to land on a page with an Expedia Group domain. Some hosts may have not clue about the link between Vrbo and Expedia, for instance.
Not the first time: Vrbo's Fast Start campaign page is also hosted by Expedia Group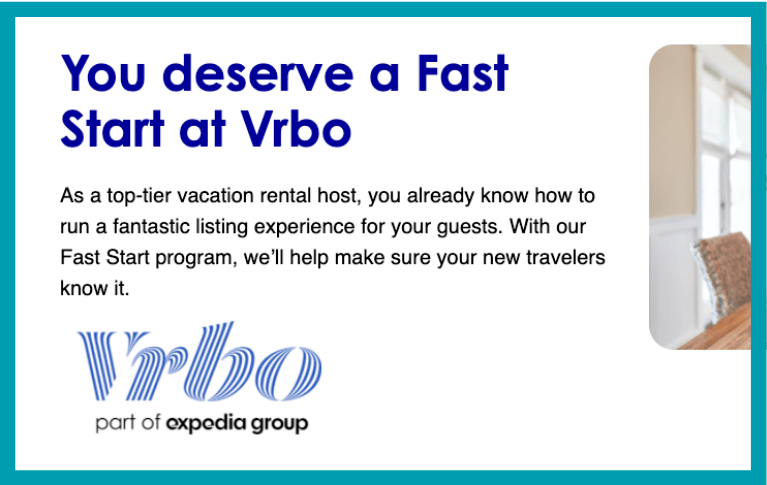 We already had noted that the landing page for the Vrbo Fast Start campaign was hosted on the Expedia Group domain name (welcome.expediagroup.com/fast-start).
Behind the scene, this is another page powered by the Marketo content solution. As Marketo is easy to use to create, deploy, and track new landing pages, the move may have made sense.
Once again, in terms of branding, it is bit weird for people who want to start working with Vrbo to land on a page that no mention of Vrbo in its URL.