Included in Airbnb's suite of professional hosting tools, along with rule-sets and the multi-calendar, is the pro marketing page. This customizable page provides a variety of benefits for hosts or property managers who operate a portfolio of Airbnb listings. If you're not familiar with the pro marketing page yet, this article will walk you through the setup process, the advantages of using it, and situations when it comes in handy.
What is an Airbnb Pro Marketing page?
For years, Airbnb has allowed users to view specific host profile pages. The host profile shares some information about the host, showcases a collection of their reviews, and displays links to the listings they manage. While this page is a great way for travelers to get acquainted with their hosts, the page doesn't allow for any customization and doesn't look especially professional.
The Airbnb host profile page: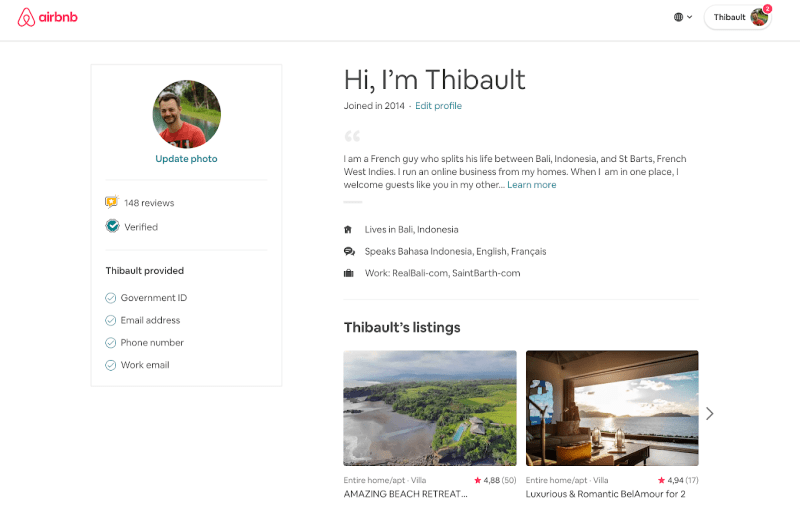 In 2019, Airbnb unveiled the new pro marketing page with professional hosts and property managers in mind. This page elevates the host profile with features that property managers want and makes it look more streamlined. The pro marketing page still contains all of the listings you manage, and travelers can enter their dates and number of guests to search for availability among your properties.
The Airbnb pro marketing page: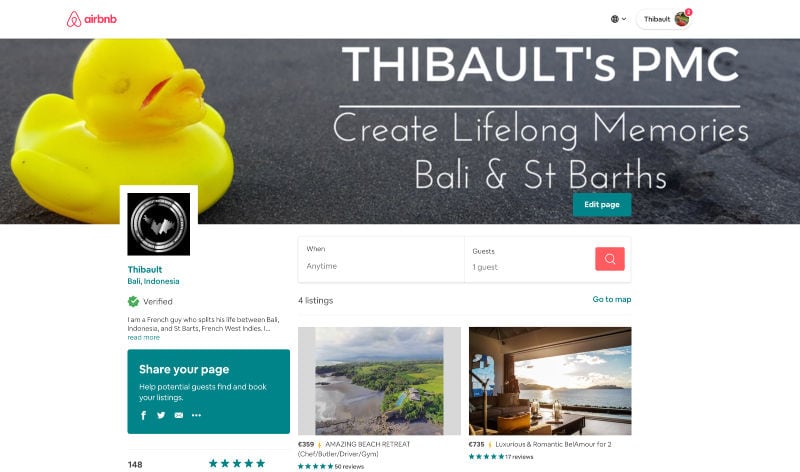 The main difference between the host profile and the pro marketing page is the level of customization possible:
Cover photo: Airbnb allows you to upload your own cover photo. This photo could be a great shot of one of your properties, or it could contain a marketing message. Your custom cover photo will only display on the pro marketing page, not on your actual listing pages.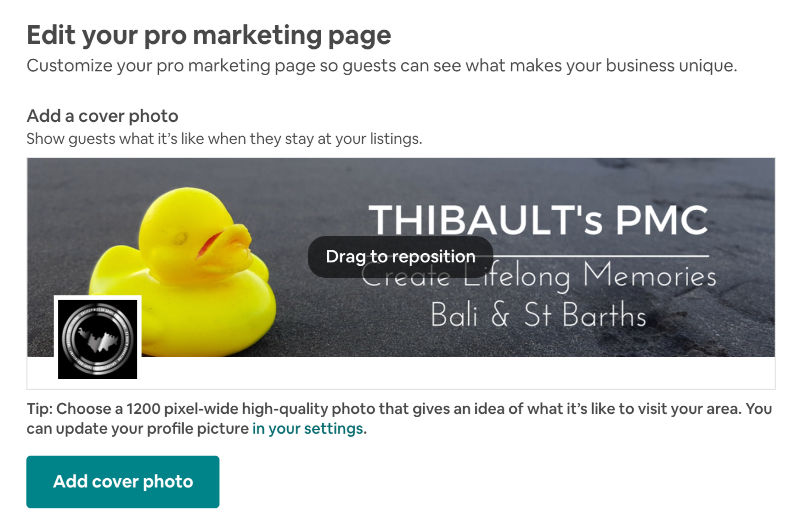 Logo: Rather than using your host profile photo, you can add your company logo to the pro marketing page. It shows just below the cover photo.
URL: By default, your pro marketing page will use a URL with an ID number that's a bit inconvenient to share. Customizing your URL will make it easier for travelers to find your page and add a more professional touch. When you're creating your custom URL, remember that Airbnb does not allow you to use certain words or phrases:

Anything containing the word "Airbnb" or the word "verified"
Symbols and punctuation
Only a number, a geographic name, or a generic property type (for example, your custom URL cannot be airbnb.com/p/apartment or airbnb.com/p/seattle)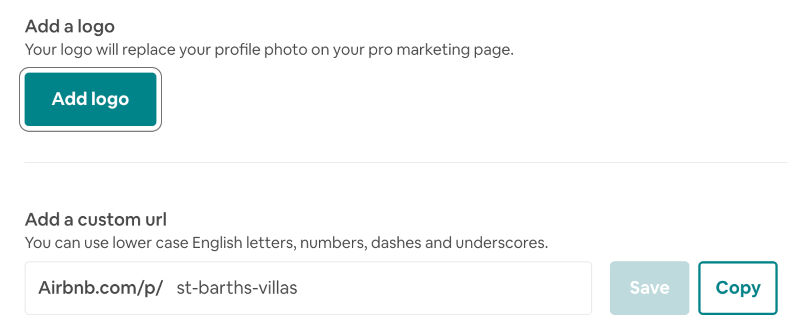 The Airbnb pro marketing page also includes social sharing buttons, which makes it easy for you (or your guests!) to share the page with friends or promote it on social media. To see a pro marketing page in real life, check out Thibault's page: www.airbnb.com/p/st-barths-villas.
How do you get an Airbnb Pro Marketing page?
Airbnb's suite of professional hosting tools become available automatically when you manage at least six listings. You can also manually activate the tools in your account settings if you have two or more listings. Pro hosting tools are not available for hosts with just one listing. These tools are completely free to use; your commission will not change, and there are no additional fees.
Once pro hosting tools have been activated, then you can navigate to your Host Dashboard and select "Go to pro marketing page." Note that this feature is only available for editing on a desktop computer, not in the mobile app. You can start customizing your pro marketing page from there.
When should you use the Airbnb Pro Marketing page?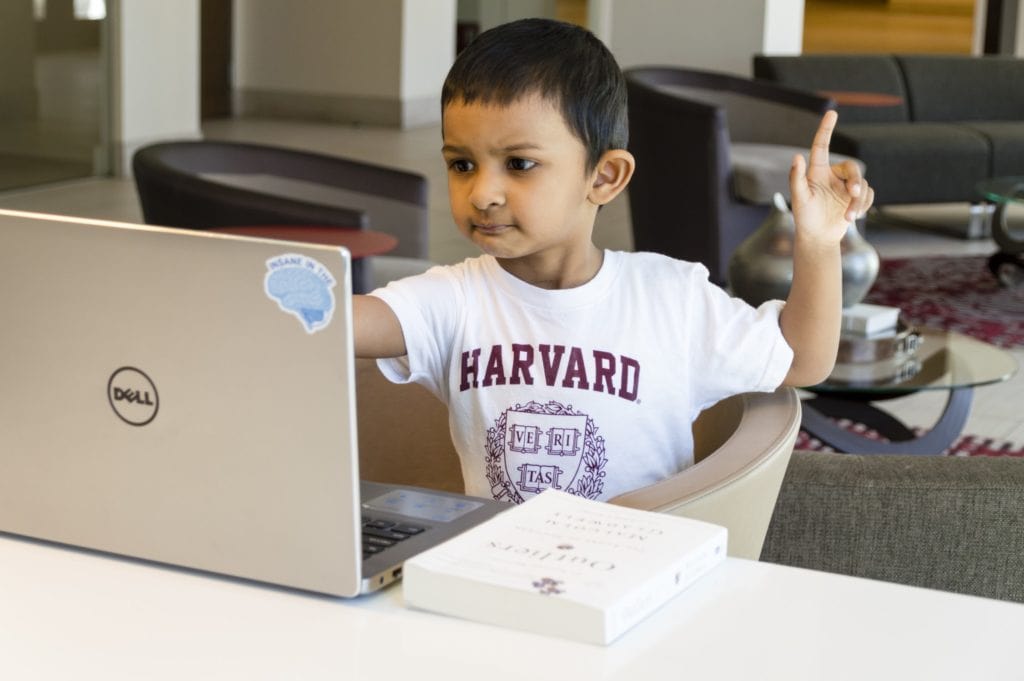 Does the Airbnb pro marketing page make sense for every property manager or host? Depending on your business model and strategy, the pro marketing page might not be especially useful, or it could be extremely beneficial.
If you only list your properties on Airbnb, then you could use your pro marketing page like a website. You could even purchase your own URL (like floridarentalsbythesea.com) and set your URL to redirect to your Airbnb pro marketing page. You could share your link on social media accounts, include it on your business card, and add it to any marketing materials. However, for property managers who also use Vrbo, Booking.com, and others, this strategy might not be relevant.
Another scenario when the pro marketing page is advantageous is if a guest requests to book one of your Airbnb listings but the property is not available or you cannot honor it for some reason. If you have other listings available that might be of interest, you could direct the guest to your pro marketing page to browse the other listings in your portfolio. Airbnb allows you to share your pro marketing page link, but the system would flag or scramble a link to an external site, like your own website, for example.
Conclusion
Airbnb's pro marketing page is a good addition to its professional hosting tools, and we like that it allows property managers to add some branded elements like logos and custom URLs. However, this feature might not be useful for all property managers, especially property managers who list on channels in addition to Airbnb and want to promote their own website. It's a nice tool to have in your toolkit, but it may only be relevant for certain property managers who receive the majority of their business from Airbnb.