At the Short Stay Week 2021 vacation rental conference, the Rental Scale-Up team presented how it grows its emailing list for its destination website SaintBarth.com using Instagram. You will find here a brand new article, with updated slides based on Rental Scale-Up's Uvika Wahi's original work for the brand.
Why should I use Instagram for vacation rentals?
This section presents the best reasons why anyone could post your vacation properties on Instagram.
Increase repeat guests and grow relationships
Having repeat guests benefits both vacation rental managers and travelers. Returning guests are easier to please and can be an invaluable reference for others. Instagram can help the vacation rental company to communicate in real-time with people during the winter season and grow the relationship up till the next time of the visitors. It can also get you outstanding reviews that help grow your business, which can help them have a great experience, and it can also be a great reference for new guests.
Get to know the travelers in your area
Instagram can help you find out what international and domestic travelers like doing and seeing around your destination. you and respond accordingly. For example, a quick hashtag search on #Dubrovnik reveals what travelers like to do while visiting the walled city on the Dalmatian coast and reveals where one should go while.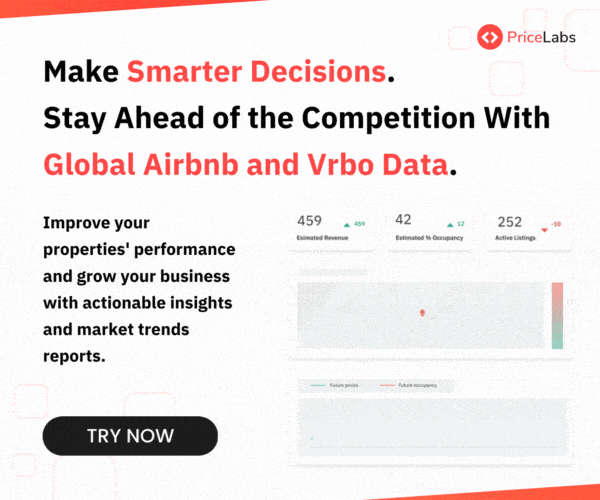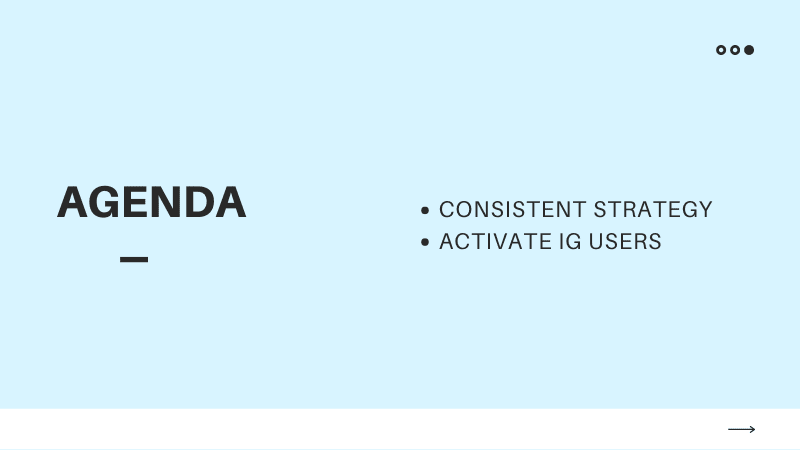 Use Instagram as a funnel to point back to your website
The link in your Instagram bio, as well as links within your stories, to send traffic directly from the Instagram app to your vacation rental website.
Improve trust
You can also use Instagram to communicate with your clients. By being visible and helpful, you create trust today that you can leverage later when travelers have to pick between you and a competitor when it comes to picking a place to stay in your destination.
Why should I use Instagram for my vacation rentals?
Property managers and vacation rental owners can utilize Instagram to promote their vacation rental business. How do I promote my vacation rental business on Instagram?
Keep contact with repeat guests
A guest previously renting your property will know what you offer and what to expect, hence they are easier to please. It is always worthwhile to keep regular contact with your visitors to develop the relationship as definite as possible. Guests may share images of them visiting this area and spending time in your vacation rental or they might comment on your messages. Comments and reviews are also a feedback goldmine: Previous guests can help you decide on to improve at your property. They are also useful references for new contacts and help you establish relationships with their friends.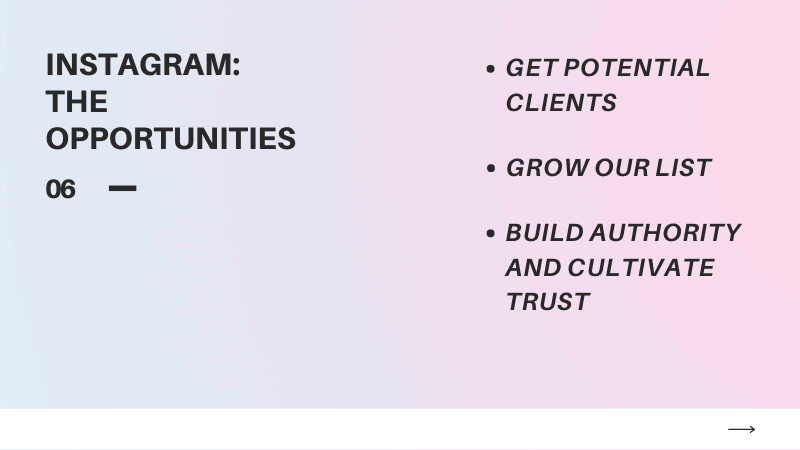 Grow your network and relationships
Instagram helps you get your business out to thousands of people but the platform allows you to share and engage them and grow your network. Growing your network of complementary services to your short-term rental will be able to offer better recommendations and enhance the quality of the guest experience. Get in contact with and follow companies and businesses in the area of your vacation rental home such as local restaurants, outlets, and activity centers will expand and prove the value of whatever you have to offer to your guests, such as free.
Easily showcase amazing photos of your property
Instagram is a social networking platform mainly focused on photography and videos. Since a picture is worth a thousand words with the help of inspiring pictures you can show prospective clients what makes your home unique. You can also demonstrate through pictures what they can do and experience as they were staying at your property or another place of interest and outdoor activities, to whom you will also showcase stunning pictures of your property as well.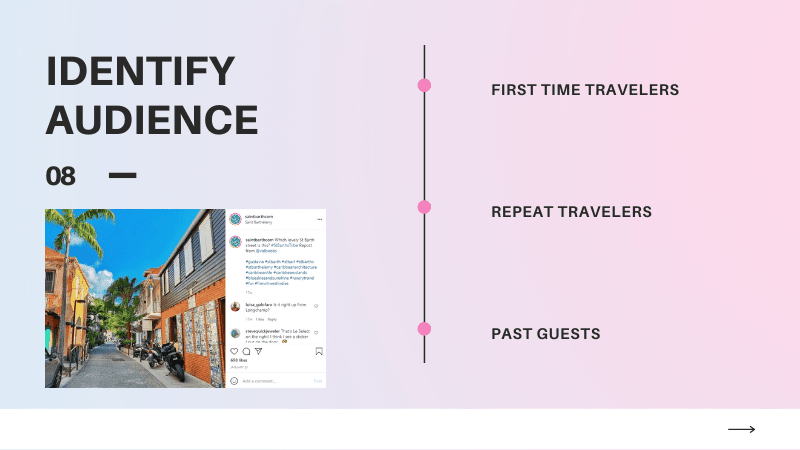 Redirect to your website
Direct bookings (#directbooking) enable you to rely less on sales channels such as Airbnb, Vrbo, and Booking.com and increase the profits from bookings since there is no commission for you (and for your guests). Instagram also helps you bring more interested people to your blog by asking them to book straight with you. Instagram is also a good way to increase booking volume.
Spread the word and gain visibility
Instagram will help grow the word and gain customers. Creating valuable content and using proper hashtags will get you to see many potential buyers. At the same time, travelers and potential guests may search your profile, view your holiday rentals and see what you have. Use a very strong hashtag to identify content on a topic. For instance, we use #stbarthstribe.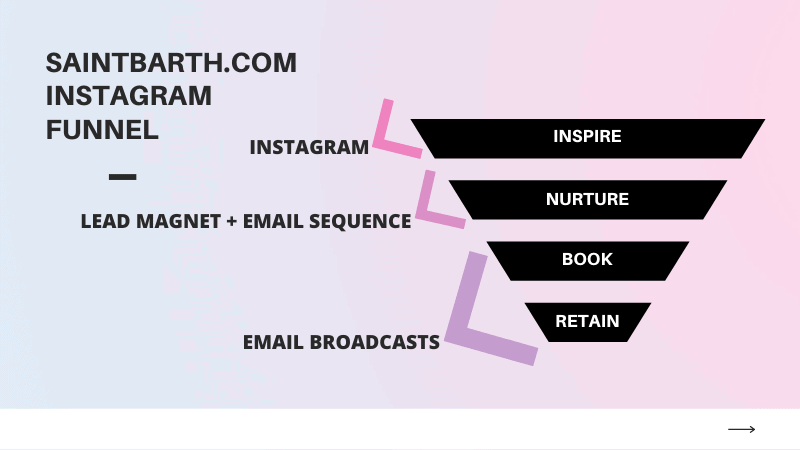 Gain and improve trust
If someone's interested in starting at an accommodation, they will probably turn to social media to check your vacation rental brand. This is why you need to share your vacation home pictures on Instagram? Potential guests should see you as transparent and trustworthy and this is going to enhance their trust.
Why should I use Instagram for my vacation rental?
Please see some of the reasons why you should advertise your vacation rentals on Instagram.
Develop a winning marketing strategy for your Instagram business
Plan your pictures on Instagram after you have defined a target audience and what a successful Instagram account means for you. Use of social media publishing calendar to ensure that you never miss important dates (e.g. annual local events) and get enough time for creative production.
Discover potential guests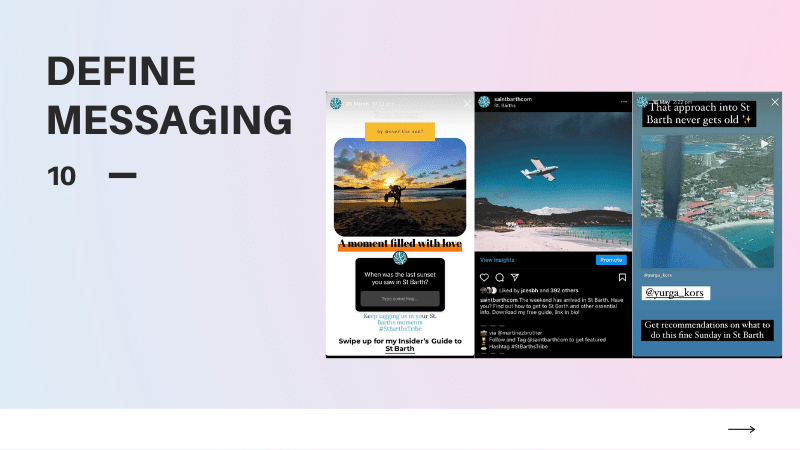 A better knowledge of the types of visitors coming to your property might help you position your holiday rental for maximum success. Do people want to come to your region to party, enjoy nature, or experience adventures? Do a hashtag search to find what tourists enjoy exploring or visiting.
Grow and engage with your audience
You could set up or manage some marketing campaigns to regularly activate your audience. Do not shy away from including a "Book Now" in your post description, from time to time. Run Instagram campaigns to drive engagement with an Instagram challenge or collect user-generated content using a unique hashtag.
Network
The Instagram platform is used to effectively target potential customers and develop your network. Connecting and following the restaurants, shops, and activity providers at the area of your vacation rental will demonstrate the value of what you have to offer. Providing complementary services through a short-term rental package helps provide you with better reviews to those who need it and will elevate the standard of guest service.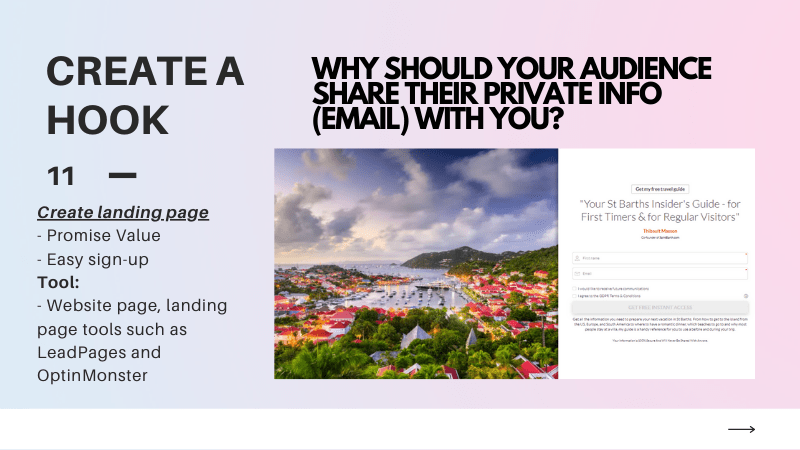 Promote high-quality content
s a rental owner or manager, you can also use Instagram Stories that allow you to take short videos and pictures to a temporary "STORY" that lasts 24 hours. Showing photos in this format is good for building a following. Instagram carousel: post 10 photos into an Instagram message. This Tik-Tok style format is now on Instagram's own site. Instagram Live: Up to four people can broadcast live on Instagram, which could be interesting to get 4 of your team members to showcase 4 properties from your porfolio.
Inspire with images
Instagram is an active photo- and social networking site. With the help of inspirational imagery, you can show prospective clients what makes your rental unique. In addition, you can showcase photos of what your guests should do and experience while at your house. Recreational activities can be included amongst other things: local bars, hiking trails, surfing spots, etc. You can weave a great story via Instagram.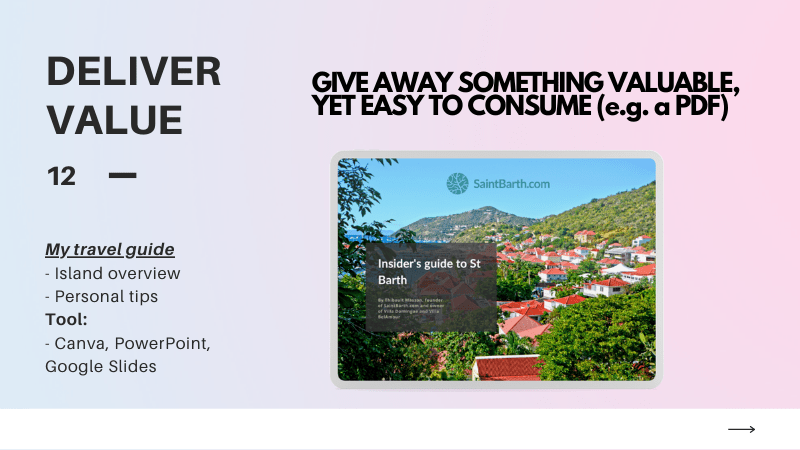 Keep in touch
Keeping in touch with past guests can help build your future relationship. Guest reviews can be great places to showcase your clients' delights and attract new clients with your website. These reviews can help you identify where you can improve your business in addition the opportunities they could provide you will be more effective. Moreover, it's a free advertising strategy. Share your photos of the local area when staying at your property.
Make your space known
Instagram is very likely to become a valuable resource to gain customers and distribute information about your business in many different ways. Vacationers and potential guests can check your site if the availability of any of the properties is available. By creating interesting and relevant content and using relevant hashtags (#) used to identify certain content you can attract a wider audience to your properties.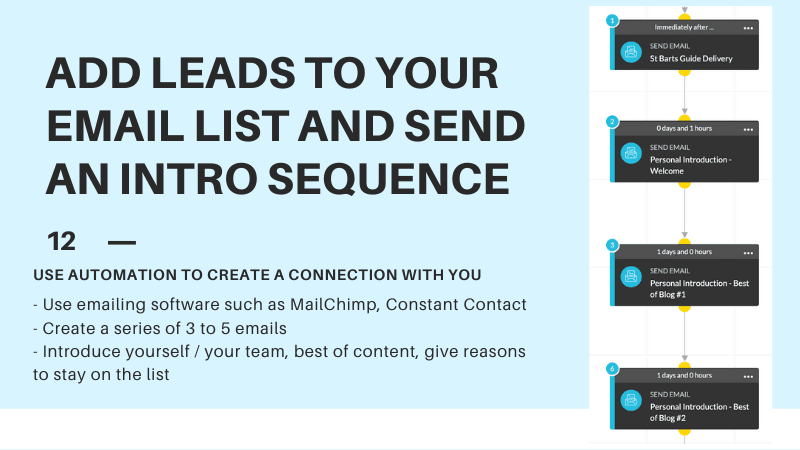 To be transparent about your offer
Getting your home up for sale through Instagram is a terrific strategy we use to gain your trust. You might be seen as transparent and reliable by potential visitors. By daily uploading content on your Instagram, you are likely seeing a lot of guest reservations and inquiries. You also increase motivation to book your property With Instagr.
To open up a direct booking channel #directbooking
Instagram has become a valuable way to increase sales. Since Instagram does not take a commission on bookings, it can act as a free advertising listing site for your properties. Direct bookings decrease your reliance on sales channels and increase the profit per guest.
Create your vacation rental Instagram account
The easiest step in using Instagram for iPhone and Android is to download it first. After you have installed the app, tap on the Instagram icon to open it. After logging in and using the app the user must register a new account and provide his or her cell number. If you have a Facebook account, you can also use this to signup for Instagram. Pick a great name for your account. If you can combine the name of your destination or your main target with property / company name, it is great.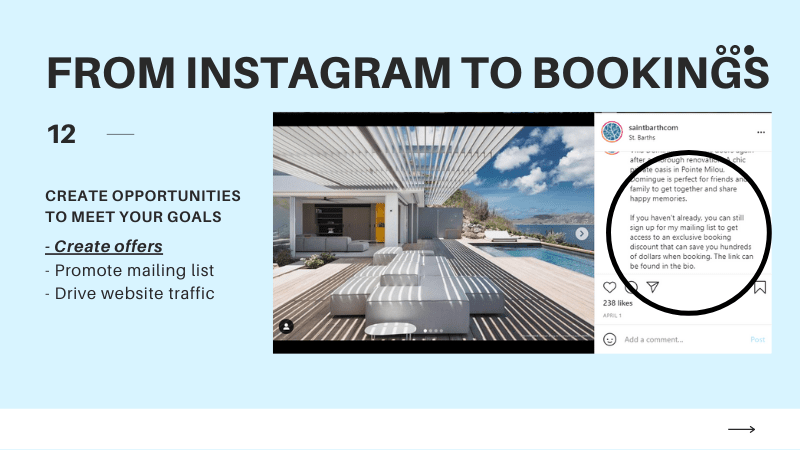 Examples of great vacation rental Instagram profiles
Our St Barths-based villa rental company is an example of a great vacation rental Instagram profile, tarting with its travel-friendly and SEO-friendly title, "St Barths Guide Saintbarth.com – Instagram". on @saintbarthcom, we are promoting more than our villas. It is a full-fledged destination guide, aimed at first-time and repeat travelers. Actually, our interaction data show that targeting repeat travelers makes the most sense, as they are most engaged with posts, stories, and polls.
Another good example is @bungalow214tx . The account makes it super clear that property is targeting families. For instance, the bio reads "We ❤️ Hosting Traveling Families" and the visuals show happy kids and a board with family-friendly activities do to around the bungalow.
Instagram for vacation rentals: Complete your profile
We recommend creating a professional Instagram account as this will promote your property or your property management company as a business. This step is crucial because it will enable you to use Instagram for Business and access additional features and stats. Follow Instagram's instructions regarding the connecting of business Facebook pages from Instagram accounts. Create a Business Description and Contact Information and select a specific category: Vacation Rental. Tap 'Done' then the switch from personal to pro is completed.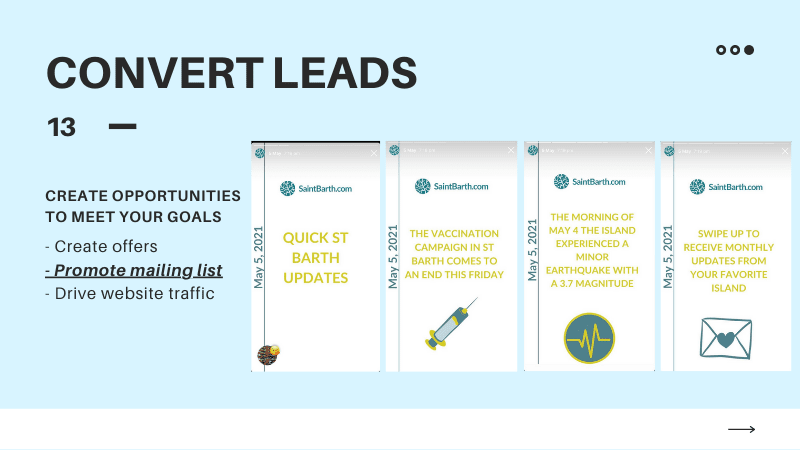 Making your profile more attractive
How can I attract more of my friends on Instagram by adding some images? In Instagram, your username is the user name with which your followers can see what you've written. As explained in our guide, we want to get more bookings by adding travelers to emailing list. Yet, you may have different business goals. For instance, you can add a call to action inviting guests to book your property to Airbnb or your website. If you have them both it's better if you have this online site where you can do the reservation without getting paid. Add a location or business name to your home rental. Provide links to your listing. You can invite guests to send request requests by means of DMs.
Instagram's currently preferring 'embedded' video content rather than any more of it. Reels are short, fun and engaging articles that are created to entertain viewers. InstagramLive allows you to view complete unresolved, live streams to your supporters. How can I upload a long version of my Instagram? Instagram guides is yet another new feature introduced in 2020. We would love to give you some step-by-step walkthrough of this feature with examples. Plus you don't have to use all their skills to have successful Instagrams.
How do I use Instagram for my vacation rental?
Please use the Business account which is free. It gives you a wider range of features including adding an industry label, analytics and intelligence and advertisement options clicking Call-to-action buttons on a website and more. It's easy to set up an Instagram account. Follow them in the proper ways. For more about Instagram click [link].
Use Instagram Insights
Instagram Insights allows users to analyze your fans' interests and follow certain posts or stories in detail by their age groups. You can easily learn which type of posts generated more engagement, how many posts you accumulated and number of impressions you received from. If you use Instagram ads, you also receive an analytics of its performance. And you can see where and when you can find a clear view of a customer's behavior: gender, age range of the user, and the active times. So by collecting this information you can determine if your article is mainly targeting the right persons interested in the holiday / rental sector or if you should adjust your target audience.
Post beautiful and inspiring photos
How can Instagram help you manage a successful holiday rental business? Post wonderful photos of your holiday home attract new visitors. The photos must show an artistic and professional nature as well as capturing the ambiance of the place. Reposting user-generated content improves your potential guests' visualisation and images of the vacation. It helps you establish and nurture relationships with your past and future guests. Keep in mind that you must still credit the artist of the images. When they post interesting and exciting places with upcoming experiences potential guests might be eager to discover them.
Be consistent in posting schedule and design
The overall design should be consistent with the company's branding – images and colors in order to ensure potential users can quickly identify you. As part of an effective scheduling of posting content you should also follow. The ideal practice is to learn and understand the days and times when your followers are online. You can use Instagram Insights to gain insight about the behaviour you want to show your followers and who follows them most. The most important thing is consistency with your posting days or times that you will post content – when your audience is most active and when you are posting content.
Use Instagram Stories
Instagram Videos enable you to share short videos and images within a temporary "story" of up to 24 hours. Story are great ways to drive engagement and promote value. You can use Stories to show insights into your property or business creating polls creating quizzes using the Question Sticker to let people ask you questions to which you can reply in DM or a story. You can see a list of who have viewed your story and you can see your company's insights about your Story performance using your company account. Many stories have these features that help to encourage audience engagement. You're able to use this.
Connect with Facebook and start promoting
The amount of accounts you reach depends on your budget and duration. Instagram recommends a default budget for optimal results which you can tweak to your liking. You decide whether you want to manually select target customers to target people who already follow you and if the target is also a follower. Each budget is compared to a given reach, and in a report you have the ability to view this stat to adjust your reach. In the example given above you can see your analytics dashboard to apply the upcoming budget to the target group of new visitors. See www.flickr.com for details about Instagram.
Create your own Instagram guides
Instagram's new feature gives you a simple way to add useful list suggestions for followers. To create a video guide on Instagram simply go to their profile and click the + button. You can choose three different Guide Format: places, product or posts. A good way to use this feature for your vacation rental should be to create a guide of interesting places of interest or activities in the area of your vacation destination. The guides appear in the dedicated area on your Instagram in order to make sharing easier for your friends. You could also create guides to the post you built or saved.
Create a compelling Instagram bio
So you need a cool yet honest bio in instagram. It must include all the necessary information about your business including your name, what your business does and what your industry is. You can make your description according to your brand identity and you can use Emojis to make it more attractive and universal. In the text you should add other options or clickable links to drive someone to your site or invite them to call you. You have the option of adding a clickable hashtag to each description. This is great way for people to see the content on the hashtag and use their own content.
Use hashtags
Hashtags are an excellent means to increase your audience and for others to find you since your post will show among other posts using the same hashtag. Many people also choose to follow hashtags which means that by using hashtags you will be more likely to appear to people who are not following you. Very generic hashtags will likely have lots of posts; thus your post could quickly get lost in the sea of results. Such hashtags could be #vacationrental #rentals and #airbnb but there are hashtags you can choose as described within your home or nearby neighborhoods.
Engage with your potential guests
Instagram is a social media platform keep in touch and engage your audience. Be honest and connect personally. Try not to appear 'spammy' and write individual comments instead of just copying and pasting the same response twice. Remember to like and comment on other people's work on Instagram.
Optimize your Instagram profile
Instagram is a platform where consumers can find you by following you on instagram.com, visiting your Facebook profile, and even going on holiday at your destination. It requires a little time each week for an Instagram business profile to accomplish much.
Assess success and adjust!
How should I utilize Instagram insights for my business? Find inspiration from your competitors. Watch what #tags they use . Observe their images and tags to see what works for them.
Instagram Analytics Tools
Instagram Insights are free and will only be visible to entrepreneurs. There's also an opportunity to observe the sentiment based on individual posts or stories and how they relate in real-time. And other analytical tools such as Iconosquare and Hootsuite Analytics may help you determine Instagram's performance. It's important to know how Instagram works so you can get the trend across your audience base and improve the performance of your campaigns. Let us take a look at Instagram's performance analytics.
Instagram for vacation rentals: share your first post
Take high-quality photos of the rentals to convey the mood and help guests imagine themselves there as they go out. Use Instagram to post pictures highlighting places to visit in the area. Use hashtags to organize posts that relate to one another to some extent or that have the same idea or subject. Use the hashtag #vacationrental or #Airbnb to be found among other sites that use the hashtag. Once the hashtag has been added you can share your posts on Facebook or LinkedIn. Tap the "Share" button or your tweet will appear in your Instagram profile.
Find out what's the best day to post on Instagram
To avoid the lowest engagement times for Instagram for recreation, SproutSocial advises not to schedule before 6 am and after 10 pm each day. Overall the best days and times for Instagram posting were: The analysis showed the engagement fell every day before 6 am and after 7 pm.
New branded content features
Instagram is adding more branded content capabilities for labeled content writers to add more elements from hashtags to places, captions, and references.
How do I start an Instagram account for a business in the vacation rental industry?
Approximately 200 billion social media users use the account daily. With an Instagram for Business account, you can benefit from Instagram sharing a short rent story and making that happen as they get new visitors. Having an Instagram business account is important because they allow for many benefits. In addition the account offers rental history of short duration. This is useful for attracting clients to your house and business.
What should I include in my Instagram bio?
Use an Instagram-appropriate style e.g. emojis. Please include a clickable tag in your bio. This lets your followers watch the content below the hashtag and create additional content for the hashtag. Try to have catchy lines that align with your branding and your own distinctive slogan. For instance, the bio for @Airbnb reads"Airbnb opens the door to interesting homes and experiences". Try to use emojis for a distinct look from others.
Create consistency for your design
Your images should bear a consistent look. You can create templates for your Instagram with tools like Photoshop or Canva. Creative Market and Design Shack also provide Instagram templates. To make your Instagram recognizable, the color of your profile must match the identity of your company. Fonts and graphics must also be consistent.
Connect your Instagram with your Facebook
If you already have an established Facebook page for your rental; you can link it to your Instagram account. It is handy for stats, multi-posting, and for advertising campaigns.
Grow your following and get bookings from Instagram with these effective tactics
You can start sharing your first posts and experiment with different types of information that works for you the most. If you are serious about using Instagram to promote your vacation rentals, there are ways you can get the most mileage out of your investment. You can use a couple of advanced tactics to increase your social media presence and increase the chances of followers joining your Instagram profile.
Using Instagram ads to give yourself a boost
Instagram ads allow you to target people based on how they have interacted with your site or your Facebook page. Instagram ads – also known as Stories or Photos – appear natural and feel organic. With a powerful Instagram ad strategy, the potential leads will be generated that convert into customers. Instagram Advertising is a massive subject that we cannot address in this blog post. Instagram ads allow vacation rental businesses to target audiences with specific demographic data such as age, gender, or place. And that is really the reason they are very effective.
Interacting with guests and followers
In order to increase the influence of your audience and to generate an audience for your blog, it's really important that you interact with your Instagram followers and guests regularly. Keep track of their pictures and comments on what they share. The more love you show, the more likely they are to reciprocate it. This helps you gain a following base that you can continue to grow as you share more content. Like-for-like and like-like really work.
Taking advantage of Instagram Analytics
Instagram's Business Account lets you get insight into your audience. Knowing your audience helps you improve the content of your work. You can find out more about your content and see what posts have performed the best so you can determine your own unique recipe for success. How can we use our Instagram account to improve our content or gain social engagement? Visit the link [link].
How do I market my vacation rental on Instagram? (paid marketing – IG ads)
Instagram Stories ads can run for as long as your choice and you can target it for content such as reach, view views, traffic conversions apps installs, or brand awareness. Most advertising is shown on display in a full horizontal fashion. Analyzing advertisement's performance is available on the insights section of the app. Instagram is the only photo advertisement site using square or portrait photography. Video adverts: share video files longer than 120 seconds in the square format or a Landscape format. Carousel ads allow another kind of depth to campaigns, where customers can swipe over to view additional pictures or videos in one ad. Collections ads can be present in a way that utilizes video or images.
How much does it cost?
Instagram recommends beginning with the default budget and duration displayed when you reach this screen. You may set a budget for each campaign and determine how much to spend on Instagram promotion on a case-by-case basis. It's possible to interrupt a promotion at any minute. Your budget and the duration of your campaign determine the number of people who saw your promo. You'll do it. Use promotions insight to know your budget adjustments for the promotion.
How do I buy ads?
You can purchase ads using Instagram within the application, through the Ads Manager and the Instagram partners website.
Instagram for vacation rentals – Summary
Instagram is an excellent way to communicate with past and current guests or increase bookings. Combining social media with other digital systems like property management systems like channels manager is vital to succeeding as a property professional. Instagram will increase your vacation rental business exponentially. Put to work the framework we use at our vacation rental company to convert Instagram followers into warm email leads that can become paying guests.