While data about the surge in vacation rental bookings in the US abound, fewer reports are available about other regions. Last week, we published our Summer 2021 European holiday market report, which showed the big contrasts between countries such as France and the UK on one hand, and Italy and Spain on the other. For Asia-Pacific market data, we can turn once again to Villa Finder, whose yearly villa rental market report is just out. We sat down with Daniel Rouquette, the company's Managing Director, to talk about the data and go deeper about the reasons behind these shifts. With him, we cover how Sydney now become the #1 villa market in value, ahead of perennial leader Bali, how supply has also decreased in key markets close for more than one year by now, and what is on the mind of APAC property investors at the moment.
Villa Finder's Daniel Rouquette on upheavals in the Asia-Pacific villa market
Villa Finder is a market leader for villa rentals in over 28 destinations in the Asia Pacific region. In 2020, the company also extended to Europe. It is uniquely positioned to observe markets trends across the region.
Watch Daniel tell us about:
How Sydney surpassed Bali
How villa owners, who are mainly property investors, have re-thought their strategy, switching to long-term stays or shutting down their villas completely
How Australian supply increased, with some owners becoming hosts for the first time
Why a lot of property owners are missing out on the local demand as they are absent from channels such as Traveloka, Tiket, and Pegipegi in Indonesia. While, ADRs can be discounted by 60 to 90%, it is also give a taste for villas to the rising S.E. Asia middle class.
Asia-Pacific villa market shrunk by 38%, from US$440m in 2019 to US$271m in 2020
The data here is for 2020, compared to 2019 numbers.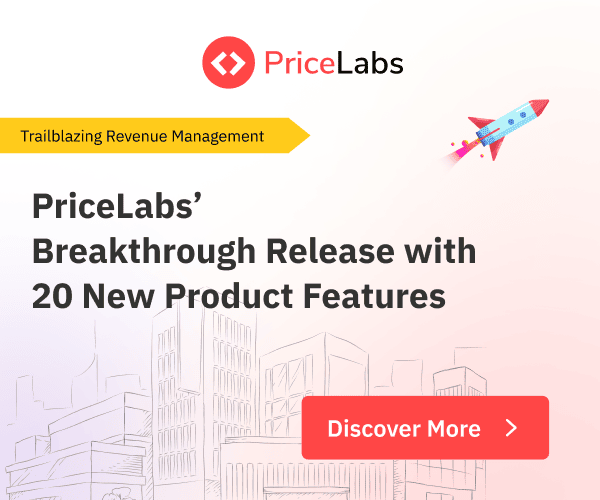 In the first half of 2021, many countries in Asia-Pacific remain closed to leisure travelers. As of writing this article, for instance:
Australia was only open to people coming from New Zealand,
Japan was not sure that it will be holding the Summer Olympics,
and foreigners were not allowed to enter Indonesia.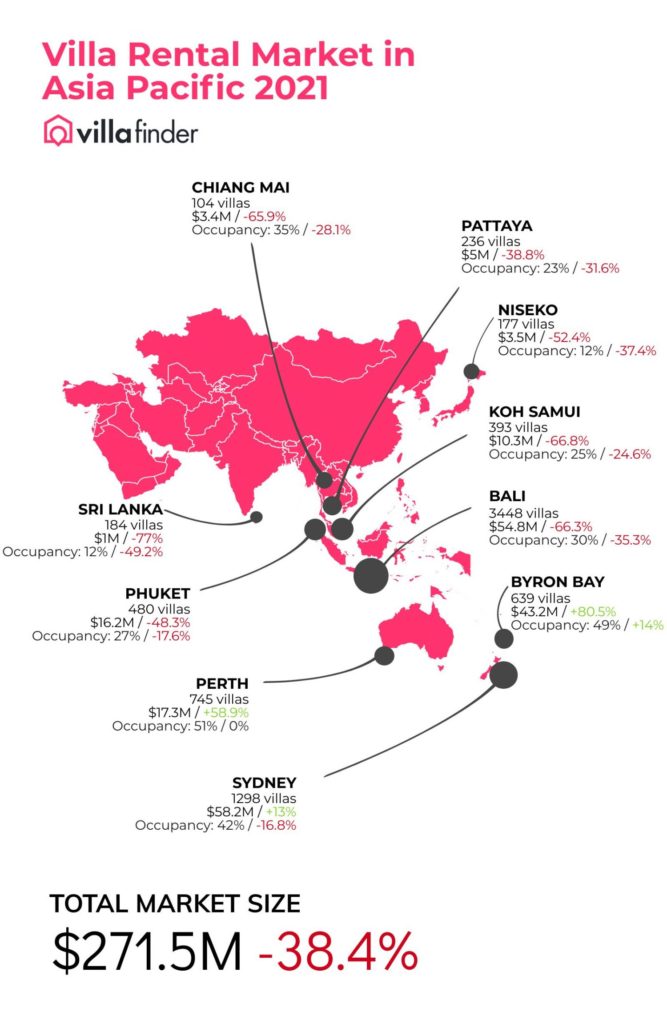 Bali loses its crown as biggest APAC villa market to Sydney
The Indonesian island of Bali had consistently been as the #1 villa market in Asia-Pacific in Villa Finder's previous reports. Yet, for the first time, another market is generating more revenues: Sydney Australia. Bali's villa rental market size has decreased by 66.3% from 2019 to 2020, reaching a US$54.8M value, while Sydney has jumped ahead with a 13% increase, with a US$58.2M value.
Sydney, Australia: US$58.M (-66.3%)
Bali, Indonesia: US$54.8M (+13.0%)
Byron Bay, Australia: US$43.2M (+80.5%)
Perth, Australia: US$17.3M (+58.9%)
Phuket, Thailand: US$16.2M (-48.3M)
The Australian villa market as a whole has jumped up, as Australians have not been able to travel abroad for almost a year (New Zealand excepted). It is a matter of demand, but also of supply, as some owners have decided to start renting out their holiday homes for the first time. Higher levels of demand and supply enabled market value to jump very high.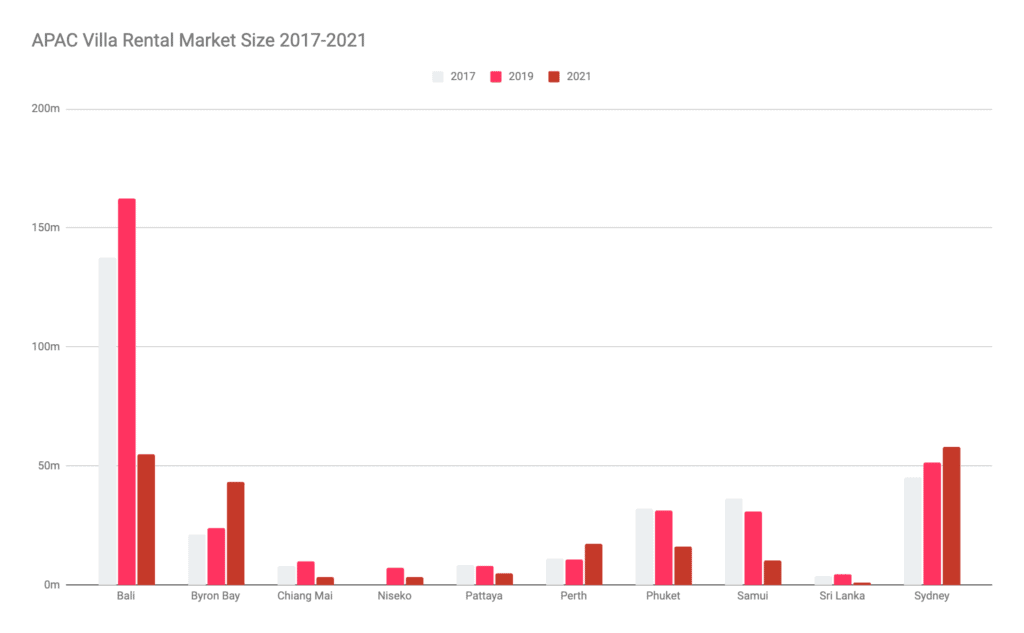 Turning to domestic markets …. where possible
The Australian villa rental market is showing resilience and even growth, as it offers a supply of properties, with decent rates (ADRs) and a local demand that cannot go to Thailand, Bali, or other tropical destinations.
In some markets such as Bali and Chiang Mai, which are traditional markets for digital nomads, the slump is very strong. Digital nomads are … nomadic, so a lot of them have gone back to home base. Villa owners are usually property investors who care about return on investment. Their choices have been to:
Pivot to long-term stays, attracting some locals and expats
Mothball their villas and close all operations until international demand is back
Attract domestic leisure travelers by slashing rates
As Daniel Rouquette explains in the video, going after the domestic market was not obvious to villa owners before the pandemic. First, rates were too high. Second, this was usually not the travel format that locals would pick. Affordable hotel chains such as OYO and RedDoorz were coming to travelers' minds, before villa rentals. Third, foreign villa owners, for instance in Bali, did not list their properties on Indonesian sites and apps such as Traveloka, Pegipegi, and Tiket.
Villa Finder thinks the market will return in 2022. In big parts of the Asia-Pacific villa market, both 2020 and 2021 will have been years to forget.