Rental Scale-Up is proud to announce the final list of confirmed speakers and sessions for its Southeast Asia & Oceania 2020 event. While the US and Europe have regular conferences for this growing industry, this event is the first of its kind in the region. This year's theme is "How villa and holiday rental managers in Southeast Asia & Oceania have adapted to COVID-19". This free online event will take place on May 27-28, 2020.
"Lower reliance on international travel platforms, higher cleanliness standards, more self-check-ins, and fewer Europeans, this is how villa and holiday rental managers see 2020 bookings in Southeast Asia, Australia, and New Zealand", said Thibault Masson, CEO and Founder of Rental Scale-Up. "Attendees at our online event will be best prepared for what's happening next in these COVID-19 times and be inspired by the region's top visionaries and on-the-ground operators as they share facts and data about the path to recovery."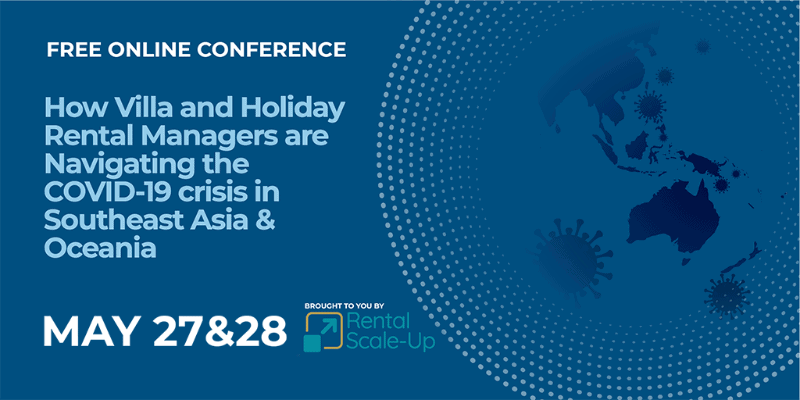 The speakers will be discussing the current trends that they see in their markets, especially in Australia, Indonesia (Bali), New Zealand, Singapore, Sri Lanka, and Thailand. Here is a preview of these trends:
Villas are a great accommodation format when self-distancing is a must-have: They allow guests to live in their own bubble of friends and family, while self-isolating as a group in a comfortable setting.
The place and role of villa staff are being redefined: Is the definition of luxury still to have staff at hand all day long, or is it better to have them as invisible as possible? How can villa managers preserve the health of their staff, while welcoming guests again?
In urban short-term rental markets such as Sydney, the switch to more extended stays may be tempting. Still, travel managers will need to trust the quality and cleanliness standards of short-term rental operators before sending business travelers.
European travelers will not be much present in our region in 2020. While global platforms like Airbnb have been successful in attracting international travelers to the region, holiday rental managers may need to turn to regional actors such as Agoda, Traveloka, and Tujia to attract inter-regional and domestic travelers.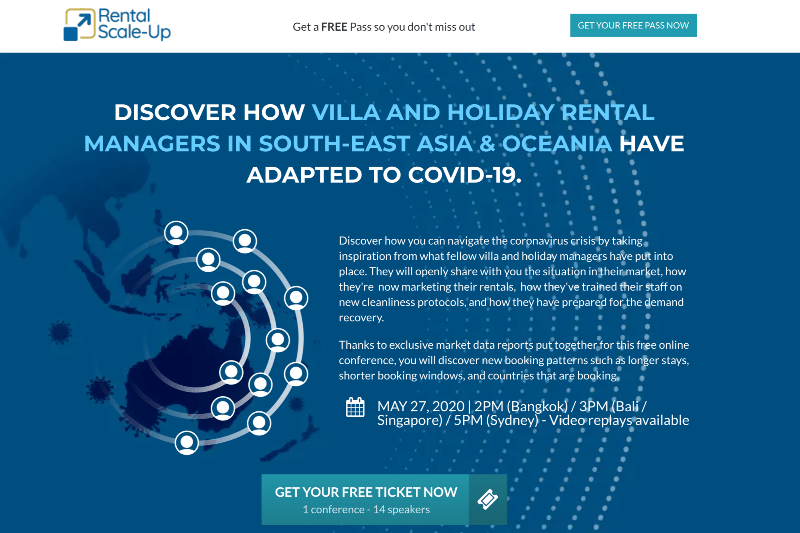 As for all Rental Scale-Up conferences, the topics and speakers of the Southeast Asia & Oceania conference are carefully curated to inspire attendees about the business and disruption potential of the industry, and to inform them on changing trends across geographies, customer segments, and property types.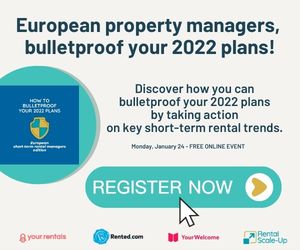 Speakers at this year's conference include
Jon Stonham, CEO, Elite Havens,
Quirin Schwaighofer, Co-CEO & Co-Founder, MadeComfy;
Daniel Rouquette, Managing Director & co-founder, Villa Finder;
David Whelan, CEO, Urban Rest Apartments;
Baron Jamesson and Andrew Macdonald, Zenguest Bali;
Best Haputpong, VP of Business Development, igloohome;
Jing Cho Yang, CEO, Bukit Vista; Marc Ribail, Director, Rentivo;
Anurag Verma, Co-Founder, PriceLabs,
Joanne Bourke, Managing Director, Bach Break Taranaki,
Yoav Tourel, Managing Director APAC, Guesty;
Jack Eden, CEO, Villas in Sri Lanka;
Rex and Sibylle Brown, Founder, Holiday Rental Mastery;
Victor Bosselaar,  Data Partnerships, AllTheRooms Analytics.
The entire line-up can be found here: https://www.rentalscaleup.com/villa-holiday-rentals-covid19/.
For more information, visit our Online Vacation Rental Conferences main page.