As Airbnb unveils its 2023 Summer Release, it is crucial to assess the strategic direction the company is pursuing, with new product features focusing on affordability, guest experience, and host support. In response to social media complaints about high prices and long lists of guest chores, Airbnb is taking steps to address these concerns and reshape public perception. Furthermore, the introduction of the Host Passport feature presents a treasure trove of personal host data, opening doors for AI-powered matching capabilities while raising privacy concerns. In this article, we will comprehensively analyze Airbnb's current moves, hinting at the potential 2024 Host Services App Store and offering insight into the upcoming 2023 Winter Release and the 2024 Summer Release.
Airbnb's Strategic Shift Towards Affordability
Airbnb's 2023 Summer Release reveals a strategic shift for the company, introducing new features, supply options, and public relations efforts to counter its image as an expensive way to book a stay. As both a tech and PR machine, Airbnb's latest moves are designed to reshape perceptions and drive home the message of affordability.
Emphasizing Airbnb Rooms for Budget-Conscious Travelers
The introduction of Airbnb Rooms underscores the platform's renewed focus on budget-conscious travelers, especially Gen Z. With an average rate of $67/night and over 80% of private rooms priced under $100/night, Airbnb hopes that the media will pick up on these numbers and spread the word about its affordable offerings. By actively promoting private rooms and creating a dedicated category with over 1 million listings, Airbnb aims to change the narrative around its platform's pricing.
New Features for Hosts Encourage Competitive Pricing
On the host side, new features such as redesigned pricing tools, improved discount sliders, and the ability to compare similar listings enable hosts to set competitive prices and offer more attractive rates. These tools not only help hosts stay in tune with market trends but also contribute to the perception of affordability among potential guests.
Redesigned Pricing Tools: Streamlining price management in one convenient location, enabling hosts to adjust prices, change availability, and review discounts or promotions more efficiently.
Improved Discount Sliders: Suggesting discount percentages based on similar listings' demand, making it easier for hosts to set and adjust discounts that reflect their area's market trends.
Compare Similar Listings: Allowing hosts to view the average prices of nearby listings that share similar features, amenities, and ratings, helping them stay competitive and better understand local pricing dynamics.
Guest-Friendly Features Promote Transparency and Budget-Friendly Options
For guests, clear pricing displays and affordable monthly stays with service fee savings for longer stays make the booking process more transparent and budget-friendly. Additionally, Airbnb's partnership with Klarna for Pay Over Time options in the US and Canada offers guests more financial flexibility, making accommodations more accessible for a wider range of travelers.
Clear Pricing Display: Providing total price transparency, including fees and taxes, so guests know exactly what they're paying before booking.
Affordable Monthly Stays: Offering service fee savings for stays longer than three months, promoting longer-term stays at more attractive rates.
Pay Over Time: Partnering with Klarna for interest-free installment plans over six weeks and monthly payment options for bookings over $500 in the US, catering to travelers seeking flexible payment solutions.
Conclusion: A Coordinated Effort to Reshape Airbnb's Image
In conclusion, Airbnb's 2023 Summer Release demonstrates a concerted effort by the company to shed its image as an expensive way to book a stay. By combining tech advancements with a savvy PR approach, Airbnb is using features, supply options, and targeted communication to drive the perception that its platform can cater to travelers seeking more affordable options.
Airbnb Addresses Guest Concerns Over Checkout Chores and Cleaning Fees
Airbnb's Summer 2023 Release introduces new features aimed at easing concerns over the checkout process and cleaning fees, following social media backlash against hosts imposing long chores on guests. As a travel industry journalist, we'll analyze not only the features themselves but also the communication surrounding them to understand how Airbnb is addressing these concerns and adding an extra layer of control and even potential punishment for hosts who may exploit the system.
Streamlining the Checkout Process for Guests and Hosts
Clear checkout instructions: Hosts can now add checkout instructions directly on Airbnb, allowing guests to access the information more easily. This feature is designed to make the process smoother for both guests and hosts.
Automatic checkout reminders: Airbnb will send guests an automatic reminder with the checkout time and instructions the day before checkout, ensuring that they are aware of their responsibilities.
Checkout feedback: After guests depart, they can rate their host's communication and specify what went well or could have gone better. Listings with repeated low ratings from unreasonable tasks can be removed from Airbnb. This feature adds an extra layer of control over hosts and holds them accountable for the checkout experience.
Overall, these new features and the communication around them demonstrate Airbnb's commitment to addressing guest concerns over checkout chores and cleaning fees. By streamlining the process and holding hosts accountable, Airbnb aims to create a better guest experience while maintaining a fair platform for hosts.
Host Passport: Enhancing Airbnb's Vision through Personalized Matching
The 2023 Summer Release introduced Airbnb's Host Passport feature, designed to help guests learn more about their hosts before booking a stay. This innovation aligns with CEO Brian Chesky's vision of providing inspiration, matching guests with the right listings, and establishing a trust system for users. By leveraging the rich data provided in Host Passports, Airbnb could improve the way hosts, guests, and listings are matched, taking the user experience to new heights.
A Deeper Dive into Host Passports
The Host Passport offers an overview of the host's information, including their name, Superhost status, number of reviews, average rating, and years of hosting. The detailed Host Passport provides additional insights, such as occupation, languages spoken, education, and birth decade. It also features fun facts, interests, and past trips. However, this increased transparency may raise concerns regarding discrimination.
Personalized Matching for an Enhanced Experience
Using the Host Passport data, Airbnb could identify commonalities in preferences, interests, and lifestyles between hosts and guests. By considering factors such as age, gender, location, interests, and past trips, the platform could calculate a compatibility score, ensuring guests are matched with trustworthy, reliable hosts.
Depending on Airbnb's priorities, the platform may adopt a playful, Tinder-like approach to matching or a profit-driven strategy that utilizes private data to boost bookings and revenue. In either case, Airbnb must comply with privacy laws and regulations, ensuring transparency and user control over data sharing and usage.
Leveraging the Unique Ecosystem of Airbnb Entrepreneurs: The Power of Co-Hosting
The growth of Airbnb has gone hand-in-hand with the rise of a diverse range of entrepreneurs, including casual hosts, short-term rental managers, co-hosts, cleaners, technology providers, and Airbnb consultants. This remarkable advantage sets Airbnb apart from competitors like Vrbo and Booking, as they don't have such an extensive ecosystem supporting their platforms. This often-overlooked benefit showcases the power of co-hosting and the potential for continued growth and innovation within the Airbnb community.
Ask a Superhost (now part of Airbnb Setup) connects new hosts with nearby Superhosts who give them tips on creating a listing, pricing their property, and welcoming their first guests. These Superhosts get bonuses every time a new host gets their first booking.
Hosts and short-term rental managers: Airbnb's co-hosting platform allows hosts to find local partners who can help them with everything from cleaning to full-service property management. This provides a network effect where hosts can work together to provide better guest experiences and increase the number of bookings.
The new co-host features by Airbnb focus on integrating better control and simplicity for hosts. These enhancements help new hosts succeed by providing customizable permissions and streamlined payouts for co-hosts. In specific European countries, vetted property managers through Airbnb's subsidiary Luckey further support hosts. The improved co-host features demonstrate Airbnb's commitment to empowering hosts and ensuring their success on the platform.
Airbnb CEO hints at 2023 Winter Release (November 2023) and 2024 Summer Release (May 2024)
Airbnb CEO Teases AI Enhancements
In a recent article, we explored the potential for Airbnb to utilize OpenAI's GPT technology in customer services, operations, and product development. It appears that the company plans to do just that, as Airbnb's CEO revealed in a recent Skift interview that the 2023 Winter Release (November 2023) and 2024 Summer Release (May 2024) will feature AI-powered tools.
Starting November 2023, Airbnb will introduce various AI-driven enhancements, such as:
Customer service: AI-augmented human support will roll out over the next 12 months, beginning this fall.
Review summaries: AI-generated summaries for listings with numerous reviews.
Photo to text: This feature will allow hosts to take a photo, and AI will automatically fill out amenities information.
Developer productivity: AI will be used to boost the efficiency of Airbnb's development teams.
Looking ahead to May 2024, the CEO promises a comprehensive overhaul of the Airbnb app, with AI at its core. This shift promises to further enhance the platform's capabilities and user experience.
Airbnb's AI-Driven Future: Leveraging Host Passport Data for Personalized Experiences?
As Airbnb embraces AI-powered tools in its upcoming releases, the potential for AI to enhance the platform using Host Passport data becomes apparent. By analyzing this data, AI can create personalized experiences for both hosts and guests, fostering more meaningful connections and improved stays.
AI-based matching:
AI can analyze Host Passport data and guest profiles to find common interests, preferences, and lifestyles. Factors such as age, gender, location, and interests can be used to calculate compatibility scores between hosts and guests, leading to tailored recommendations and a more enjoyable experience for both parties.
Enhanced search experience:
By incorporating AI into the search process, Airbnb can provide personalized suggestions based on guest preferences and host data. This approach can streamline the search experience, offering more relevant listings that align with the guests' interests and needs.
Improved communication:
AI can help facilitate communication between hosts and guests by providing prompts or suggestions based on the information in the Host Passport. This can help break the ice and foster a more genuine connection between hosts and guests, leading to more positive interactions and memorable experiences.
Airbnb's Potential Marketplace: Envisioning a Comprehensive Solution for Hosts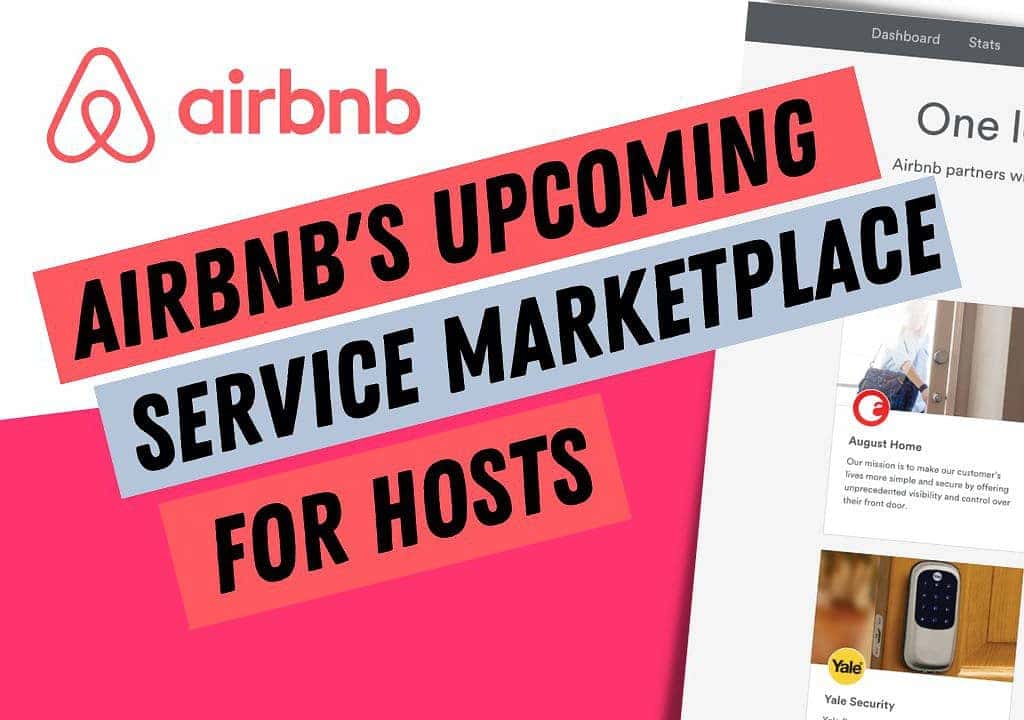 Airbnb CEO Brian Chesky has recently hinted at the development of an app store-like marketplace for hosts, aiming to streamline the hosting experience and exceed guest expectations. Based on this vision, our Rental Scale-Up team has imagined the possible features, services, and structure that this marketplace might offer hosts and property managers.
Key Points:
The proposed marketplace concept aims to create a comprehensive platform for hosts by integrating thousands of companies that provide various services, ultimately enhancing the overall hosting experience.
Potential services offered in this marketplace could include cleaning services, co-hosting and property management, guest experience enhancements (such as local experiences, personalized amenities, or in-house catering), and software solutions to help manage bookings and guest communication.
A successful marketplace could learn from the successes and failures of competitors like Booking.com and HomeAway. Focus areas for development include platform strategy, quality control, developer support, network effects, and a revenue-sharing model to incentivize service providers.
Seamless integration with Airbnb services and the creation of personalized recommendations for hosts based on their needs and preferences would be vital for a user-friendly experience.
Ensuring secure data sharing between hosts, service providers, and Airbnb would be crucial for building trust and maintaining user privacy.
A scalable platform that can accommodate a growing number of service providers and adapt to the evolving needs of hosts would be essential for long-term success.
By creating a robust, user-friendly, and comprehensive marketplace tailored to the needs of hosts, Airbnb could further differentiate itself within the vacation rental industry and strengthen its position as a leading platform for both hosts and guests.
Conclusion
Airbnb's 2023 Summer Release illustrates the company's strategic emphasis on addressing market concerns and preparing for future expansion. By tackling issues of affordability, guest experience, and host support, Airbnb is demonstrating its commitment to continuous improvement and adaptability. The introduction of the Host Passport feature and its potential for AI-powered matching capabilities presents exciting opportunities for enhancing user experiences, while simultaneously raising privacy concerns that the company must carefully navigate. As Airbnb looks ahead to its 2023 Winter Release and the 2024 Summer Release, it will be essential for the platform to balance innovation with user satisfaction and privacy, ultimately shaping the future of the vacation rental market.