In recent weeks, Airbnb has released new data and features to increase trust and safety on its platform. First, Airbnb wants to send the message that the various safety measures it has taken, such as the global ban on party houses, preventing young people from booking last-minute stays in the city where they live, the Guest Reliability Standards, and the promotion of noise monitoring devices, were working. For instance, the company says that incidents such as unauthorized parties dropped by over 49 % for Halloween and over 51 % for New Year's Eve, from 2019 to 2020. As for 2021, we'll see the new measures that Airbnb has just announced, touching the US, Canada, France, Spain, and the UK. Second, we'll see that Airbnb is pushing its hosts to disclose potential sources of danger at their property, such as stored weapons and non-gated swimming pools. Yet, the company also wants hosts to mention on their listing whether they have security cameras and noise monitoring devices. We'll see why, as an Airbnb host, you actually want to disclose all this, to avoid bad reviews, guest complaints, and lost revenues.
Airbnb: In the business of trust .. until a certain point
Airbnb has said multiple times that it was in the business of trust. From early on, it's been designing its product and experience for trust. Airbnb's co-founders, Brian Chesky and Joe Gabbia have talked several times about how Airbnb's tech, product, design, host experience, and guest experience are built around trust.
Yet, the trust economy cannot only rely on mutual reviews by hosts and guests. On October 31, 2019, on Halloween night, a shooting at an Airbnb in California's Bay Area left four dead and four wounded. As a response, Airbnb started enforcing party bans in late 2019 and early 2020. During the first lockdowns, while nightclubs were closed during the pandemic, a new type of incident emerged and spread globally: COVID-19 house parties, where groups of young revelers would join to party hard at a vacation rental. It forced Airbnb to set up booking bans on Airbnb users under 25 who want to book a whole home for one night in the same city or on a specific date (e.g. New Year's Eve).
Restrictions on unauthorized parties: Measures reconducted and extended, as "they worked"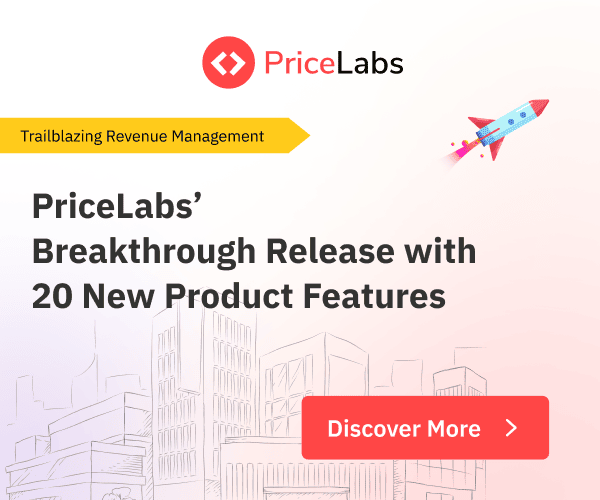 Extended restrictions in the US and Canada
Airbnb says that these restrictions, as well as sophisticated algorithms to prevent suspicious people from booking properties, worked: The company recorded a drop in incidents such as unauthorized parties by over 49 percent for Halloween and over 51 percent for New Year's Eve.
This is why Airbnb is reconducting anti-party measures for Halloween 2021, in the US and Canada:
For one-night reservations: Guests without a history of positive reviews on Airbnb will be prohibited from making one-night reservations in entire home listings.
For two-night reservations: As Halloween approaches, Airbnb will deploy more stringent restrictions on two-night reservations that may pose a heightened risk for parties. For example, Airbnb will leverage their technology that restricts certain local and last-minute bookings by guests without a history of positive reviews on Airbnb and also block reservations within an expanded radius.
Guests who have a history of positive reviews on Airbnb will not be subject to these restrictions.
Guests making one or two-night reservations will need to attest that they understand Airbnb's party ban and that they may be subject to legal action if that rule is broken, as seen below: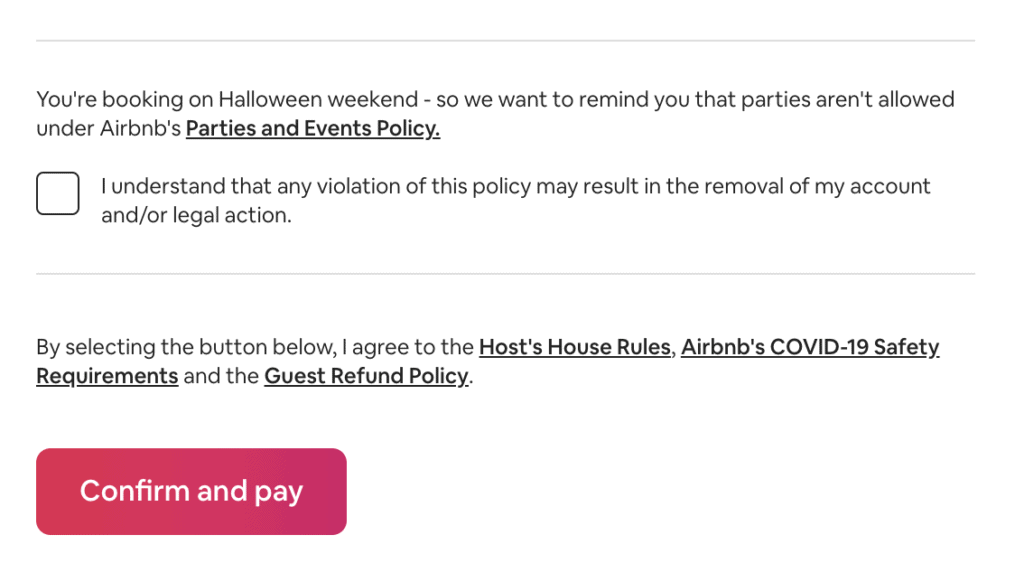 UK, Spain, and France: Date on nauthorized and disruptive parties, further measures in the UK
Incidents also happen outside of North America. COVID-19 house parties were also reported in Europe during summer 2020. As a result, in August 2020, Airbnb extended its restrictions on users under 25 years old to France, Spain, and the UK. One year later, here are some data that Airbnb has just shared: Over the last 12 months, the company has blocked or redirected reservation attempts from nearly 375,000 people.
Across France over 240,000 people were blocked,
in the UK almost 84,000 people were stopped,
and in Spain, almost 50,000 people were prevented from making a booking.
The high level of incidents in France probably tells us less about unruly French people than about the length of lockdowns and vacation rental bans in other countries (for instance, in the UK, stays at secondary were strictly banned, several times, for several weeks in 2020 and 2021).
In the UK, Airbnb has also launched new trust and safety programs over the summer:
On top of the existing tools and restrictions, Airbnb in the UK has launched high-risk reservation technology to help combat parties and other neighborhood disturbances. The technology, already used by Airbnb in the US and Canada, considers a number of factors in relation to certain reservations, including the date and duration of the booking. It blocks attempts to book stays that could present a high risk of certain types of disruptive parties.
In a European first, Airbnb has launched the UK Trust and Safety Alliance, a network of expert organizations that will work closely with Airbnb in the UK and provide information and guidance to Hosts and the Airbnb community. Founding members of the Trust and Safety Alliance include the National Fire Chief's Council, Neighbourhood Watch, Crimestoppers, Get Safe Online, the Royal Society for the Prevention of Accidents and Race on the Agenda. The Alliance will engage with Airbnb Hosts on a quarterly basis through Airbnb's 'Meet the Experts' series and will produce guides and information on an ongoing basis.
Airbnb pushes its hosts to disclose more property safety information, including weapons, security cameras, and … horses!
As an Airbnb host, you may have noticed how Airbnb is sending you constant reminders to fill in its safety and property info page. The company wants to know whether, at your property, you are storing weapons, have a non-gated swimming pool, are exposing guests to potentially dangerous animals, or have security cameras and noise monitoring devices, among other things.
Why should care about the "Guest Safety" info page? Because it is information that potential travelers may care about and that you want to disclose to avoid bad reviews and even guest complaints.
By filling in this information, you craft the right expectations about your property. As a host, you do not want to have guests surprised by something they see and find disturbing, or even dangerous. They may contact Airbnb and lodge a complaint against you.
What will Airbnb do with this "Guest Safety" information? How will it be shown to guests?
This is what Airbnb says:
The specific safety and property info you provide will appear as part of your listing. It will be shown along with things like your House Rules and any additional rules.
This will give guests a clearer picture of what they can expect when they arrive at your place. Informed guests make happier guests!
Answering these questions will also help you, as a host, get a better understanding of what we consider important safety info. That's why some of the questions are required.
Safety is and always will be our priority. We're dedicated to ensuring our community of hosts and guests have great experiences on Airbnb.
So, what does Airbnb consider dangerous or in need of disclosing to guests?
This is not just about dangerous stuff, but about things that Airbnb wants guests to know, for instance where there is a noise recording device at the property.
The page is sometimes a bit of a laundry list. For instance, the guest safety page list "weapons on property" right after "amenity limitations (e.g. no wifi)".
To find this page, go to the Airbnb Hosting Dashboard, then Listing, and finally "Guest Safety".
This is the page we're talking about today.
Safety Considerations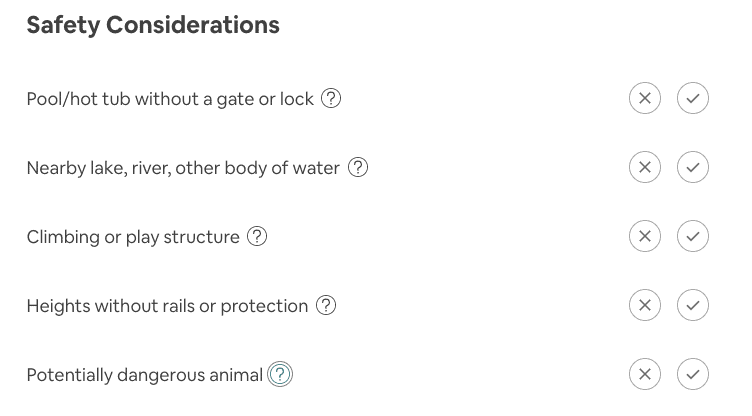 Pool/hot tub without a gate or lock: Guests will have direct access to an ungated / unlocked in-ground or above-ground swimming pool or hot tub.
Nearby lake, river, other body of water: Guests will have direct, unrestricted access to any permanent natural or artificial body of water located directly on or next to the property. Ex: ocean/beach, pond, creek, wetlands.
Climbing or play structure: Guests (including children) will have access to structures or items intended for climbing or playing on. Ex: swing, slide, playset, climbing ropes.
Heights without rails or protection: Guests will have access to an area or structure that reaches a height of more than 1.4 meters/4.6 feet and does not have a rail or other protection. Ex: balcony, roof, terrace.
Potentially dangerous animal: Guests (and their pets) will be around or near wild or domesticated animals that could cause harm because of their behavior or size. Ex: horse, mountain lion, dog that growls or bites.
Safety Devices

Security cameras/audio recording devices: The property has a security camera or recording device capable of recording or sending video, audio, or still images. Airbnb requires hosts to inform guests of any such camera or device located in a common area—even if it will be turned off during a guest's stay. Airbnb prohibits security cameras or recording devices in private spaces like bedrooms, bathrooms, or sleeping areas.
Carbon monoxide alarm: The property has an alarm that detects and warns about the presence of carbon monoxide gas. Check your local laws for specific requirements.
Smoke alarm: The property has an alarm that detects and warns about the presence of smoke and fire. Check your local laws for specific requirements.
Property Info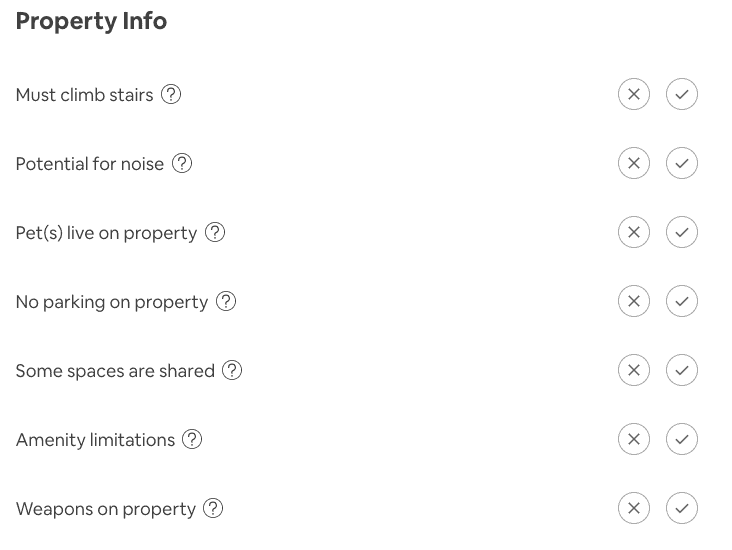 Must climb stairs: Guests can expect to walk up and down stairs during their stay.
Potential for noise: Guests can expect to hear some noise during their stay. Ex: traffic, construction, nearby businesses.
Pet(s) live on property: Guests may come across pets and experience a little animal love during their stay.
No parking on property: This property does not have dedicated parking for guests.
Some spaces are shared: Guests can expect to share spaces with other people during their stay. Ex: kitchen, bathroom, patio.
Amenity limitations: Guests shouldn't expect some essentials they may be used to having when traveling. Ex: wifi, running water, indoor shower.
Weapons on property: Guests should be aware that there is at least one weapon stored on this property. Airbnb requires all weapons to be properly stored and secured.
Airbnb is built on trust but on blind trust. The company wants hosts to disclose things such as security cameras and weapons stored on the property. Meanwhile, it is taking measures to prevent unauthorized parties, a plague that has increased since the start of the COVID-19 pandemic and the shutdown of entertainment venues.