Pricing competitively is proven to drive profitability for vacation rental businesses, but adjusting prices manually is time-consuming, and often prone to suboptimal decisions. It is not a coincidence that the short-term rental industry has seen tool after tool dedicated to the mission of dynamic pricing, allowing vacation rental managers to automate price optimization based on concrete, real-time data.
How are dynamic pricing tools relevant to vacation rental management?
The great thing about dynamic pricing tools is that they are flexible in aspects you need flexibility: you can set a minimum nightly rate and minimum lengths of stay, along with many other parameters, and then sit back as the tool takes over the process of setting nightly rates based on historical and market data. Here's a great primer that explains the use of historical and market data in dynamic pricing by Neal Cyr, the Co-Founder of Quibble RM.
No one-size-fits-all approach when selecting the right tool
The plethora of dynamic pricing tool choices available to short-term rental property managers do not always make things easier. Once you decide you need an automated pricing tool, before you lies the Herculean task of finding one that is right for your business.
In the past, we have shared detailed demos and reviews of new and existing dynamic pricing tools or tools that offer datasets that help make pricing decisions such as Airbtics, AirDNA, ART by Rented, Beyond, DPGO, Pricelabs, Transparent's Smart Rental Pro, and Wheelhouse. As you go deeper, it becomes quite evident that each tool has something different to offer, making it less or more suitable for your specific vacation rental management business.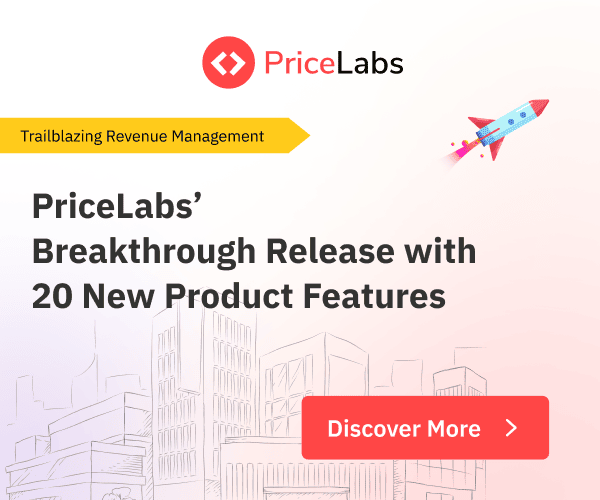 How the dynamic pricing tool comparison table was created
Researching each available dynamic pricing tool time-consuming work. We wanted to create a resource that could act as a quick reference point for property managers looking for the best dynamic pricing tool for them while providing the most accurate information. To this end, we began listing key features for each dynamic pricing tool and validated it against other options.
After conducting our own independent research, we asked the dynamic pricing tool companies listed to themselves validate our findings, not just for their own product, but also for their competitors, thereby increasing the number of checks to ensure better quality data. The result was our vacation rental dynamic pricing tool comparison table: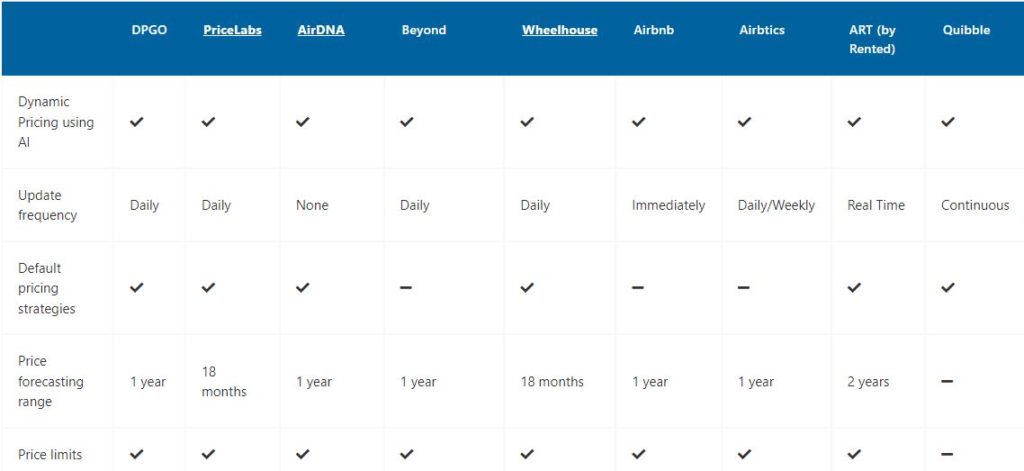 View availability of key features quickly
The table gives you a quick, but comprehensive snapshot of features offered by dynamic pricing tools available for short-term rentals. Right away, you can tell how frequently each tool is updated, how far out can each tool forecast the pricing strategy, whether or not you can set price limits, custom rates, or provide built-in discounts, if you can set a minimum nights' stay parameter, whether the tool adjusts pricing for weekends and based on seasonality, and view many such features that play a crucial role in deciding which pricing tool to adopt.
Finding the right tech tools is key to growing a short-term rental business, as it frees up your time to focus on overall growth strategy, and increases profits by optimising pricing as often as needed, without much intervention. It also helps you make better pricing decisions informed by competitor and past data. It is just a matter of finding a tool that fits your specific needs like a glove.