To help you look back at 2020 and see which ongoing trends you should prepare your rental business for in 2021, we've combined data from Google Trends with our Rental Scale-Up industry articles.
Looking at data can be ambiguous: For instance, searches for vacation rental-related brand names, such as Airbnb, Vacasa (US), and Hoseasons (UK), surged in March and April, and again in July. This is where being part of the industry helps decipher contradictory trends that can simultaneously boost searches: In the Spring, travelers and owners wanted to learn about these companies' cancellation and refund policies. It was more positive and correlated with one of the biggest ever booking booms in the industry in the summer.
Overall, the graphs show the March / April bust and the July / August boom, with searches for terms like "vacation rentals" and "holiday rentals" reaching their biggest peaks ever. Cabins and cottages were very popular, while searches for chalets boomed in the US while they nosedived in the UK (we will see why).
Domestic travel was hot too:
searches including the terms "near me" peaked (e.g., "cabin rentals near me")
searches for more exotic destinations (to most English speakers) plummeted (e.g. "Bali villas").
Some topics, which drastically affected vacation rental owners and property management companies, surged and then disappeared. For instance, the term "cancelation policy" peaked during the week of March 8 to 14 and then fell back to normal level from mid-April on. Topics like "COVID-19 cleaning" slowly faded over the summer: One explanation could be that, in the new normal, people may not need to search for tips on how to clean a house anymore, as they know by now what to do. So a waning number of searches may not denote that practice has stopped entirely.
Some topics that had surged did remain high into the last weeks of December, such as "Airbnb ban" and "Airbnb parties." The constant number of searches reflects some of our industry's lingering problems, such as new regulations and party prevention. Finally, the Airbnb IPO was also a hot topic that is now fading away.
Reminder: How to read a Google Trends graph?
Google Trends generates a graphical representation of the search volume on the most popular keywords based on geographic targeting and selected categories.
Google Trends calculates the number of searches on keywords typed by Internet users compared to the total number of searches carried out on Google over a given period. The value 100 indicates the date when the number of searches was the highest.
2020: A peak for vacation rental searches on Google
Searches for self-catered accommodations went from hell and back: In 2020, they reached both their lowest and their highest points over the last years. The pandemic exacerbated seasonal search trends.
Note that search terms like "vacation rentals" point more to the beach, mountain, and country properties. All short-term rental categories and destinations did not bounce back the same way (see below the graphs for "Airbnb London," for instance).
Searches for "vacation rentals" (USA)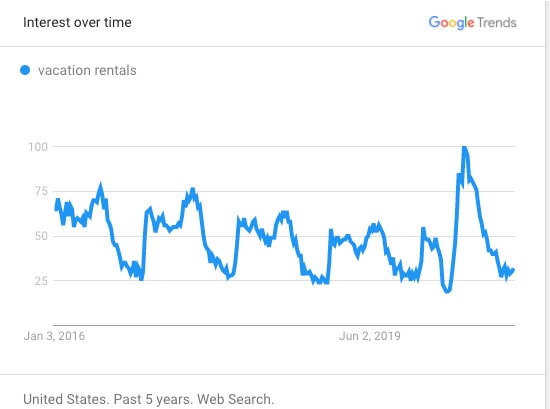 Searches for "holiday rentals" (UK)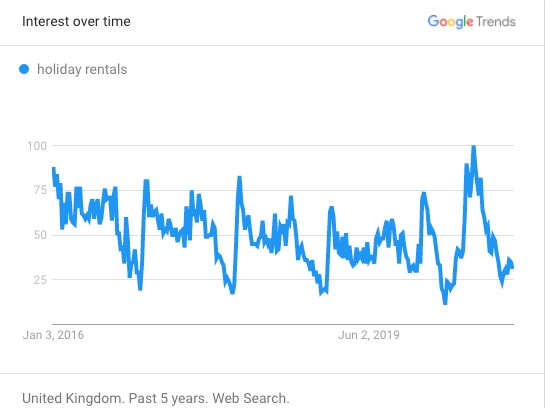 Searches for "self catering" (UK)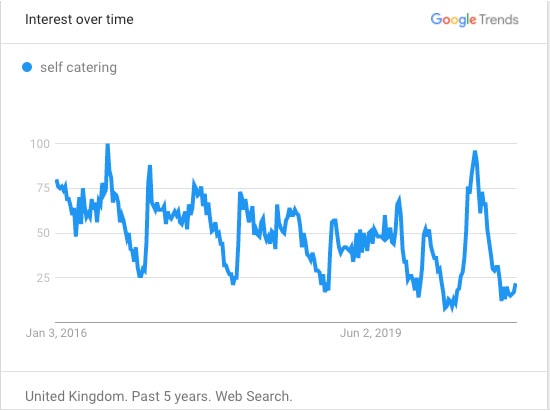 Searches for "gîte" (France)
What is a gîte? Gites are traditional cottages in rural France, sometimes restored or renovated from old farm buildings.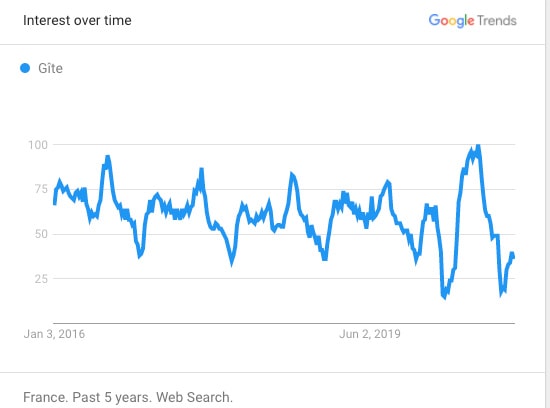 Searches for "luxury vacation rentals" (USA)
Over the last 5 years, the US's highest number of searches for "luxury vacation rentals" was recorded in May 2020. If you were in The Hamptons in July and August, you know how supply ran low as property owners stayed there the whole summer.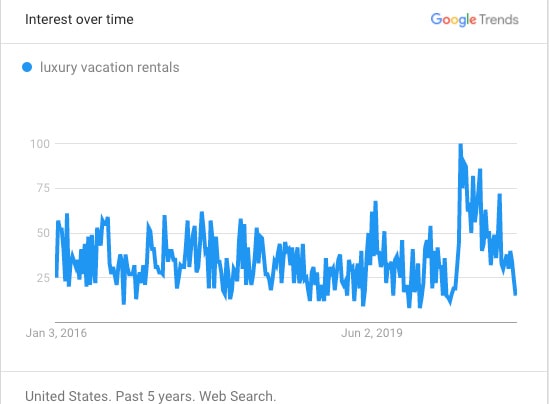 Chalets fared differently across countries
Travelers do not just search for chalets in the early winter months. A chalet is also an accommodation type that is attractive in the summer, for instance, for hiking.
In 2020, chalets looked like very attractive mountain getaways, especially for people wanting a break from big urban centers under rolling lockdowns.
Worldwide, July and August 2020 were at the peak of searches for chalets over the last year. Yet, the seasonal December peak for chalet searches did not materialize. Most European countries shut down their ski lifts for the holidays, and travel restrictions prevented the British, a chalet-mad contingent, from reaching the Continent.
Searches for "chalet" (Accommodation type – Worldwide)
The week of March 22-28 marked the lowest point in 5 years, while July and August were the highest. The seasonal December peak is muted in 2020.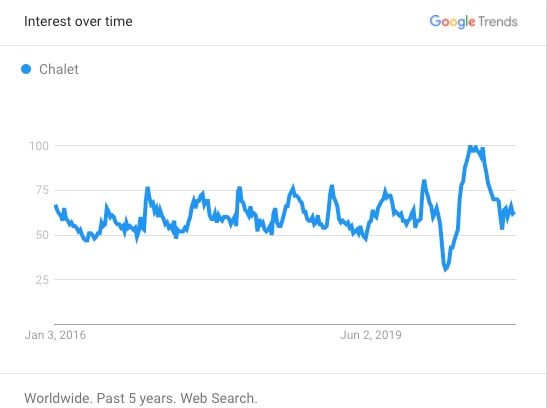 Searches for "chalet" (Accommodation type – USA)
The week of Thanksgiving 2020 marked the highest period of interest for the "chalet" accommodation type in the US over the last 5 years. Mountain getaways were also all the rage last summer.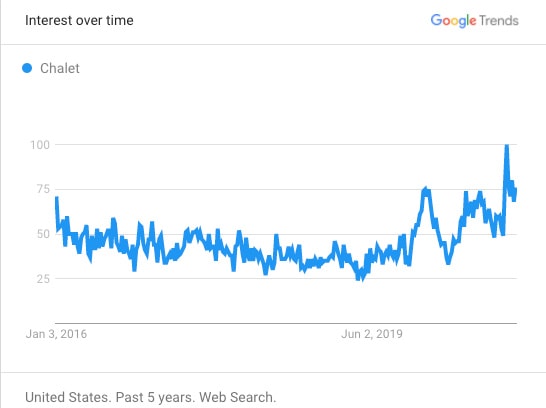 Searches for "chalet" (France)
Chalet searches nosedived in March 2020, but summer 2020 showed more interest than usual. Once the second lockdown was lifted in France in November, searches for chalets surges again.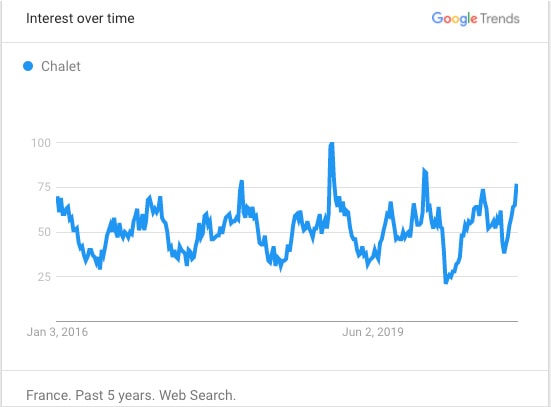 Searches for "chalet" (UK)
2020 was not a great year for international chalet providers catering to British travelers.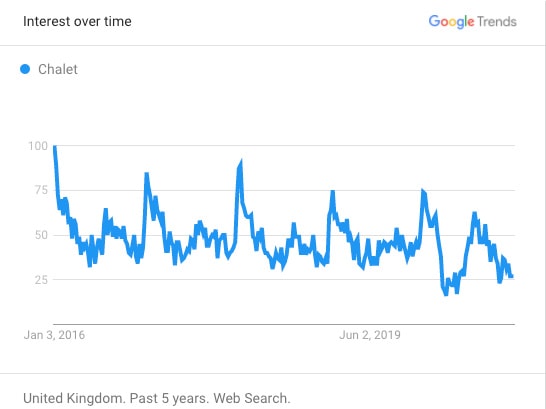 Travel restrictions remain on travelers' mind
Even if interest in vacation rentals (and bookings, in some areas) rebounded in summer 2020, people still felt a need to know more about travel restrictions:
Can we leave our home?
Can we stay in the area where we have booked a vacation rental?
Can we cross the states / countries laying between our home and the vacation rental?
Will we have to get tested on arrival?
Will we have to quarantine when returning?
Searches for "travel restrictions" (Worldwide)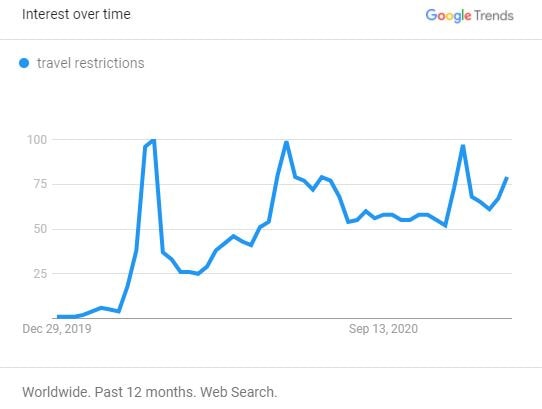 Searches for "travel restrictions" (UK)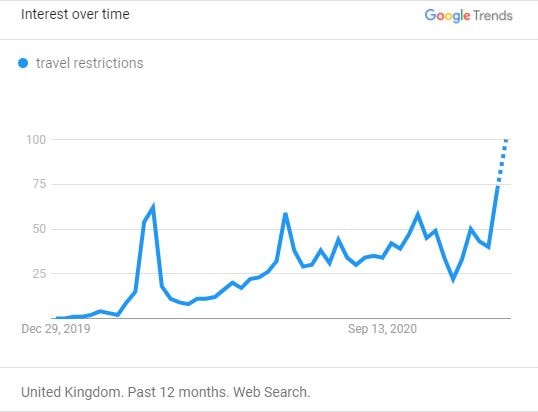 In the UK, a fresh wave of local lockdowns, Brexit, and the new strain of coronavirus made searches around travel restrictions peak again in December.
Searches for "travel restrictions" (Australia)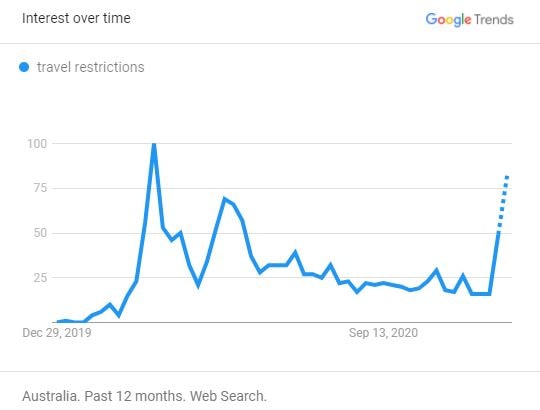 In Australia, where the COVID situation is more or less under control, travel restrictions came back as a topic in early December. Then, the country announced further restrictions on outbound travel until March 2021.
Searches for "stay at home" (USA)
New Stay-at-home orders were issued in the US before and after Thanksgiving. The peak was much lower as in March, April, or May, yet it was visible on the graph.
Travelers looked for "Near me" accommodations
As we explained in an August 2020 article, searches such as "vacation rentals near me" reached an all-time peak as travel restrictions, fears of flying, and the rise of voice search combined to lure people to drive-to destinations.
Searches for "vacation rentals near me" (Worldwide)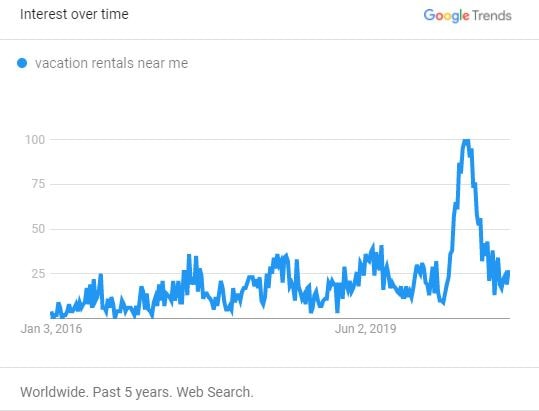 Searches for "Airbnb near me" (USA)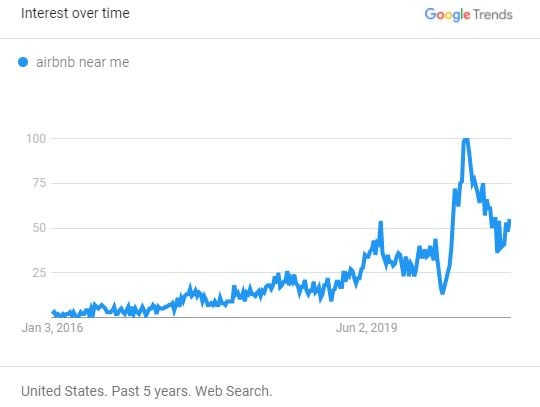 Searches for "Vrbo near me" (USA)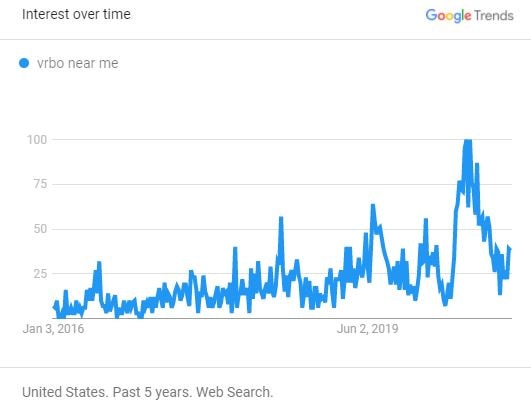 Searches for "cabins for rent near me" (USA)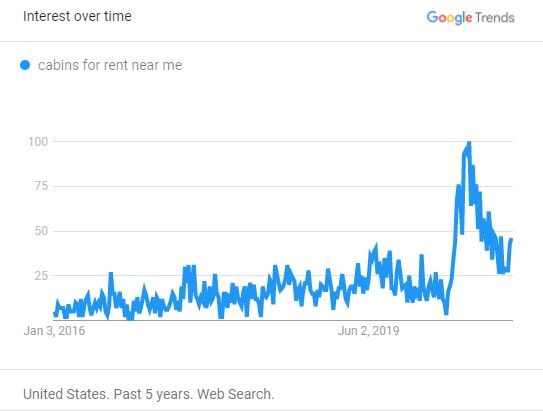 Top cities for short-term rentals got hit hard
Urban short-term rentals have recorded low numbers of searches since March 2020. While non-urban vacation rentals saw an incredible rebound over the summer, interest in urban properties seems to have remained depressed since then.
Searches for "Airbnb Paris" (Worldwide)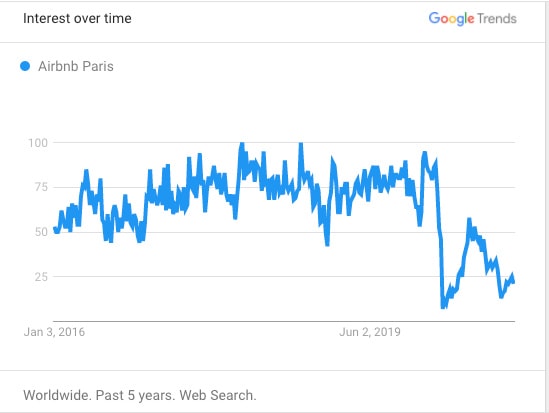 Searches for "Airbnb London" (Worldwide)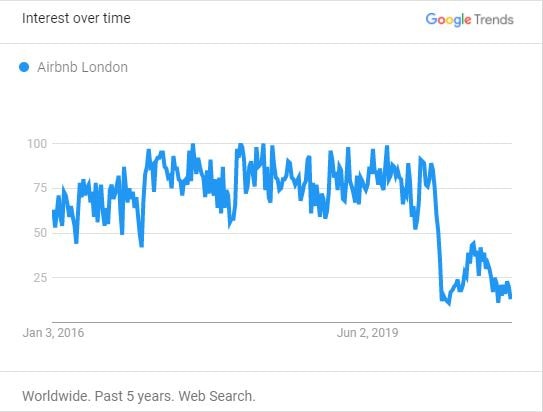 Searches for "Airbnb Barcelona" (Worldwide)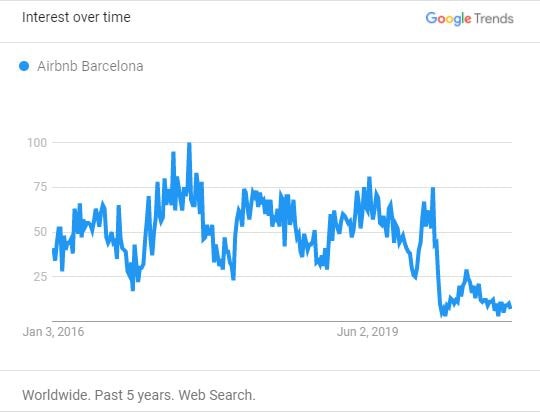 Far-away destinations stayed out of reach of people searching in English
Villas in Bali and Thailand have seen minimum interest, mostly from digital nomads and long-term tourists who have decided to stay there to ride out the storm. Countries like Indonesia have closed their doors to foreign tourists, while travel restrictions and aversion for flying have not helped either.
Searches for "Bali villas" (Worldwide)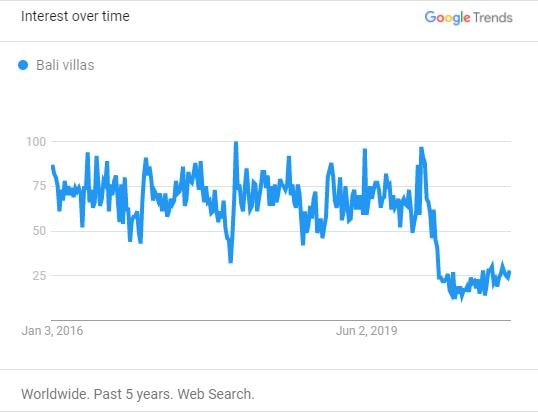 Searches for "Koh Samui villas" (Worldwide)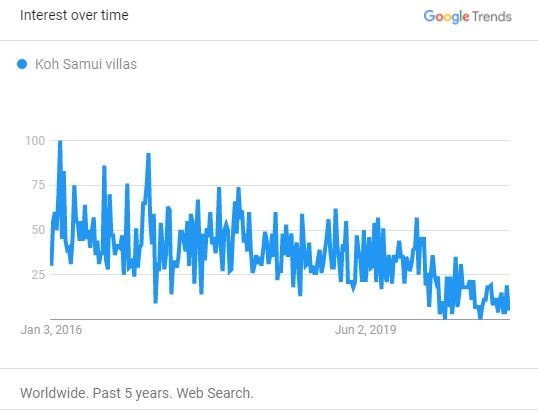 2020, the year of Airbnb
As usual, Airbnb was in the news. Yet, in 2020, Airbnb did not always control the script, as it normally does.
We will below that a lot of searches, in March, had to do with cancelation policies and refunds. In April, interest for Airbnb was the lowest over the last 5 years. Was the company doomed?
Fast-forward to the months of July and August, where searches for Airbnb are the highest ever. In the US, this peak was even beaten later in the same year, thanks to the buzz generated by the Airbnb IPO.
Searches for "Airbnb" (France)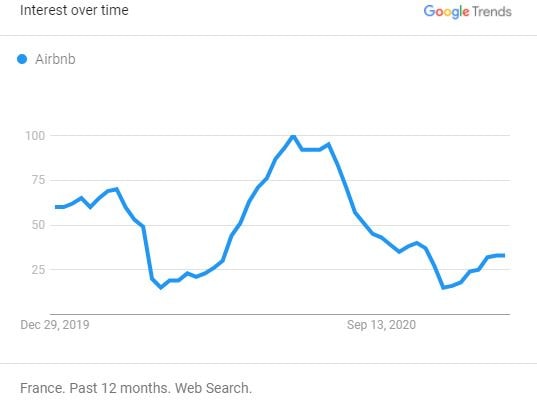 Searches for "Airbnb IPO" (Worldwide)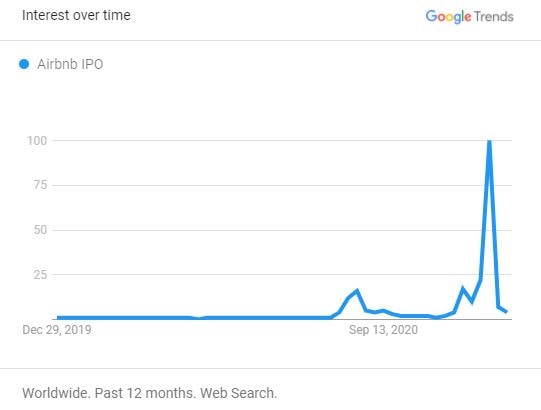 Searches for "Airbnb" (USA)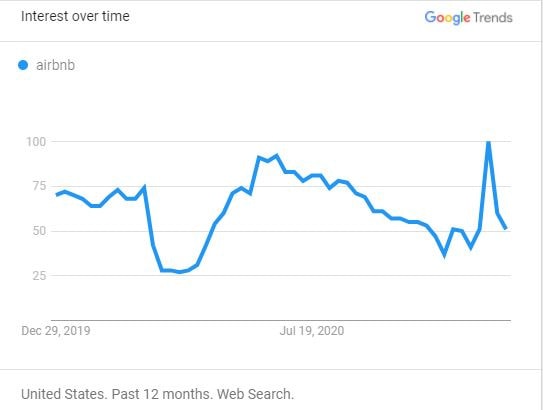 Vrbo rebrands into HomeAway
In 2020, the Expedia Group accelerated the rebranding of the HomeAway websites into Vrbo-branded destinations. Despite years of investment in the HomeAway brand, the term VRBO (originally, vacation rentals by owner) remained more popular in searches. So, it made sense to stop having dueling brands and pick the strongest one.
Yet, over the last 5 years, Airbnb has been gaining ground over Vrbo, as a search term. Note that both terms strongly dipped in Spring 2020 and just as strongly boomed in Summer 2020. The main difference in the graph is due to searches for Airbnb during its IPO period, in late 2020.
Searches for "Vrbo" vs "HomeAway" (Worldwide)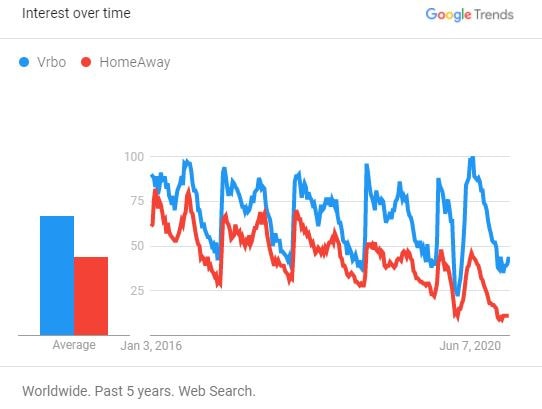 Searches for "Vrbo" vs "Airbnb" (USA)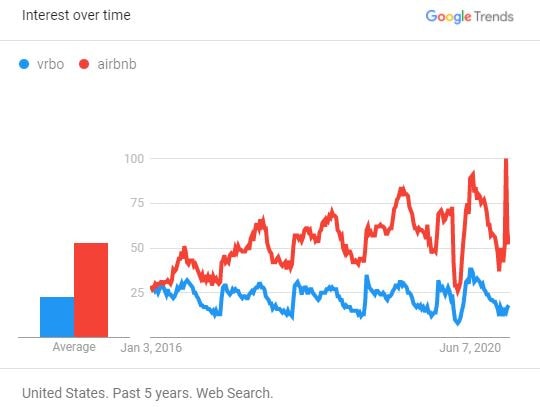 Vacation rental brands recorded went from low to high numbers of searches, for mixed reasons
Searches for brands were associated with negative words in the Spring, e.g., cancelation policy" and "refunds." Still, they were more positive in the Summer as they reflected a boom in rural destination bookings.
As an illustration, we can look at the data for Sykes Cottages, UK's biggest player in cottages / holiday rentals / self-catering accommodations. We can see two spikes and one dip in 2020:
A first spike in mid to late March , caused by searches such as "Sykes Cottages cancellation" and "Sykes Cottages coronavirus". Clearly, there was some negative halo around these searches
A long dip in April and May, as lockdown rules were pretty strict in some parts of the UK, with even an overall ban on all holiday rental bookings for weeks
A second spike, from mid-June to August, after the rental ban got lifted and as British travelers turned to the biggest local brand to book self-catering homes in domestic destinations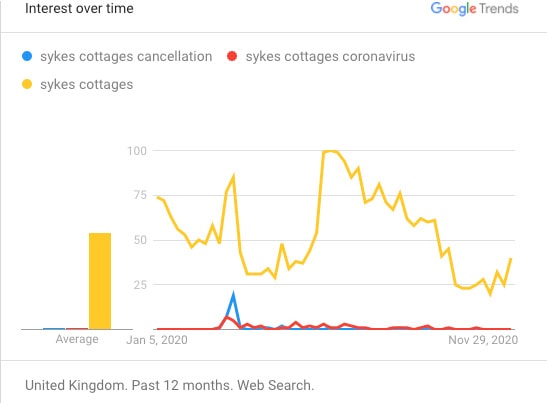 Searches for "Vacasa" (USA)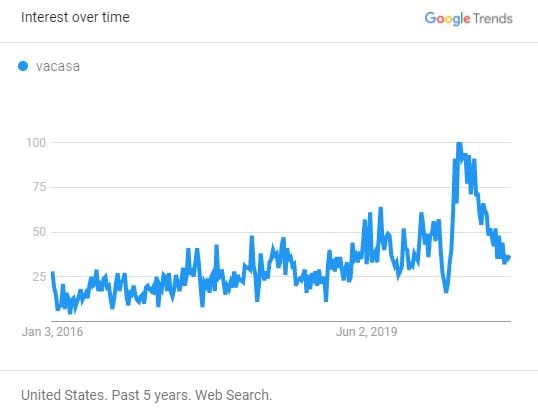 Searches for "Hoseasons" (UK)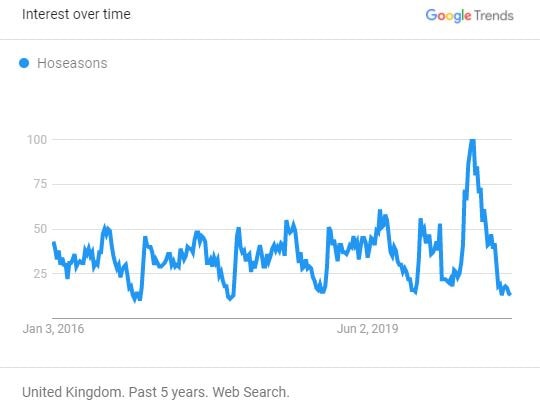 Searches for "cottages.com" (UK)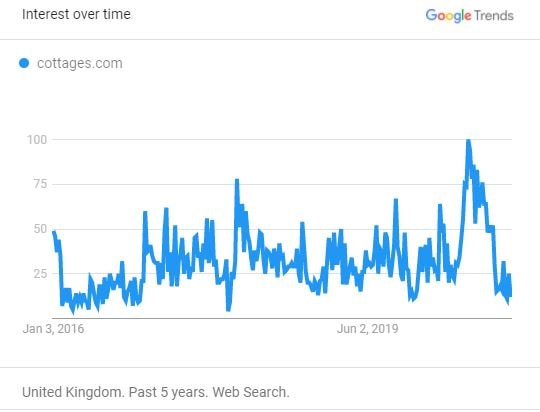 Searches for "Gites de France" (France)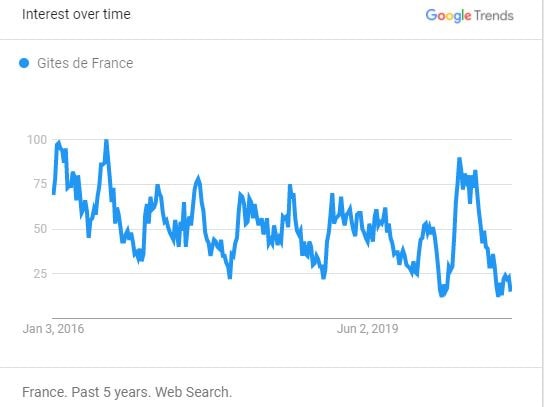 Some keywords surged for some weeks in 2020, prompting the industry to alter its operations (e.g., cleaning guidelines, cancelation policies). Yet, searches for these topics are dwindling. It may be part "new normal," part "COVID fatigue."
Cancellation policy, travel insurance, force majeure, and extenuating circumstances
In March 2020, big short-term rental platforms unilaterally altered their cancelation policies, invoking force majeure (e.g., at Booking.com) and extenuating circumstances (e.g., at Airbnb). It prompted guests and owners to search for more information. People were told to check the fine prints of their travel insurance.
Even if the platforms have brought out more changes to cancelation and other policies since March 2020, related searches have gone down. Changes are less wide, brusque, and unilateral. And vacation rental sites do a much better job at mentioning flexible policies, for instance. Ideas such as mandatory Airbnb's booking buffers have been dropped.
Searches for "cancellation policy" (worldwide)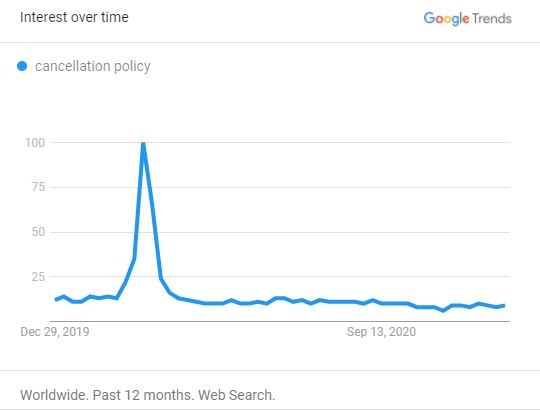 Searches for "Airbnb cancellation policy" (worldwide)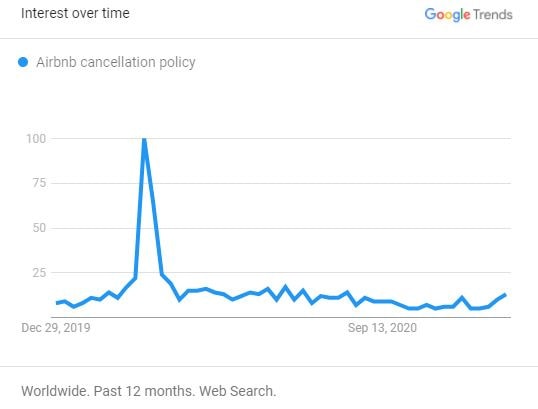 Searches for "Airbnb refunds" (worldwide)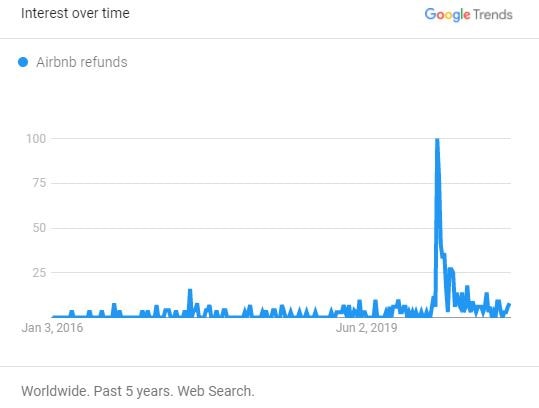 Searches for "force majeure" (worldwide)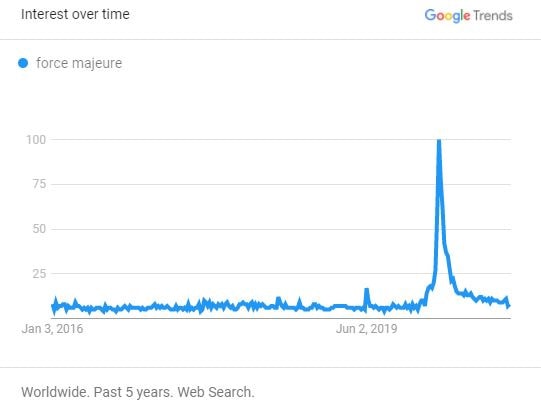 Searches for "extenuating circumstances" (worldwide)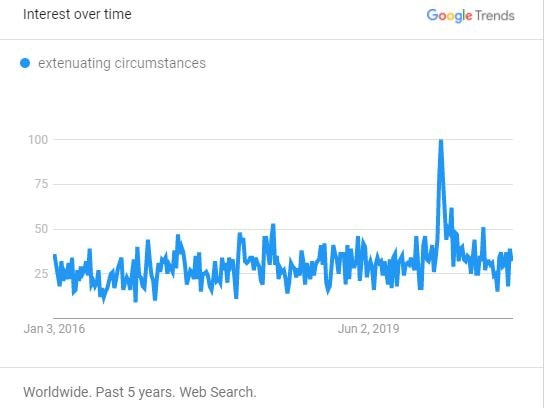 COVID-19 cleaning guidelines: Waning interest. Were lengthy, madatory clening protocols unnecessary?
In April 2020, people were not sure how COVID-19 could spread. In some countries, frequent disinfection of high-touch surfaces, such as door handles, seemed more important than simply wearing a mask.
Various vacation rental entities launched their own cleaning guidelines, among which:
Yet, searches for COVID-19-related guidelines went steadily down along the year. People may by now, know everything they can about the topic. Or they may not care as much.
Airbnb did say, a few weeks before its IPO, that "Beginning November 20, all hosts will be required to commit to our new COVID-19 safety and cleaning practices. Otherwise, their accounts may be subject to warnings, suspensions, and, in some cases, removal from the Airbnb platform.". For the moment, it is not clear whether the threat has turned into reality.
Searches for "COVID-19 cleaning" (Worldwide)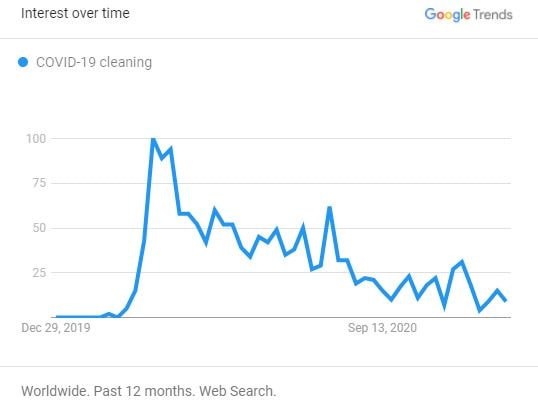 Searches for "COVID-19 cleaning" (USA)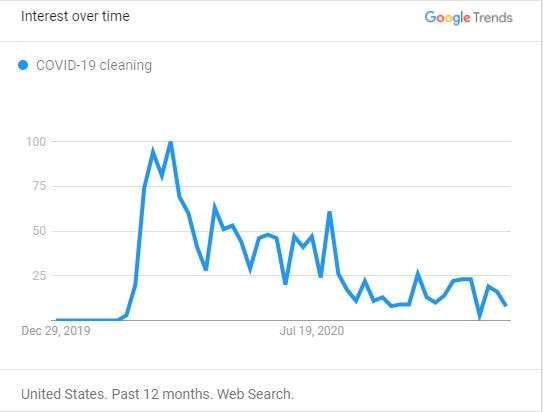 Searches for "disinfectant" (USA)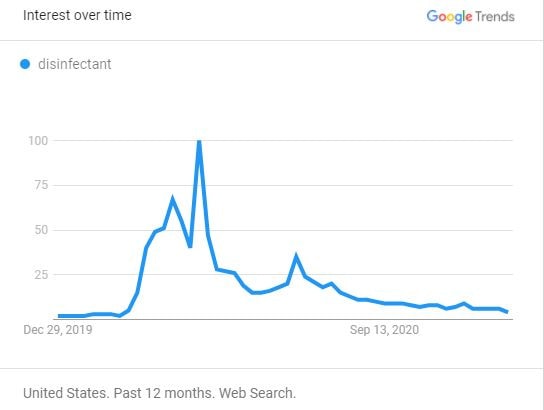 Searches for "social distancing" (Worldwide")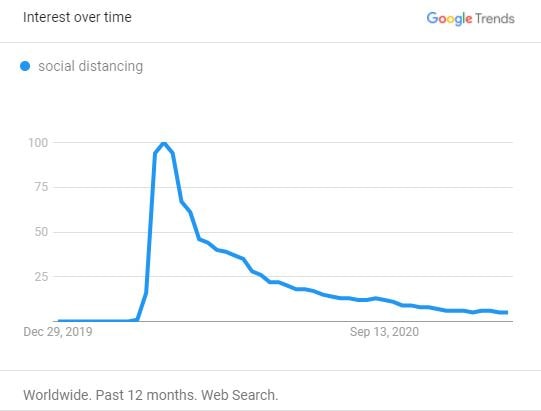 Risky reservations and unauthorized parties remain an issue
COVID house parties hit the news over the summer, as clubs and other venues were closed. Unauthorized parties were a concerned during the summer, as well as for New Year's Eve.
Owners and property managers looked for more information about vacation rental party prevention.
Searches for "airbnb party" (USA)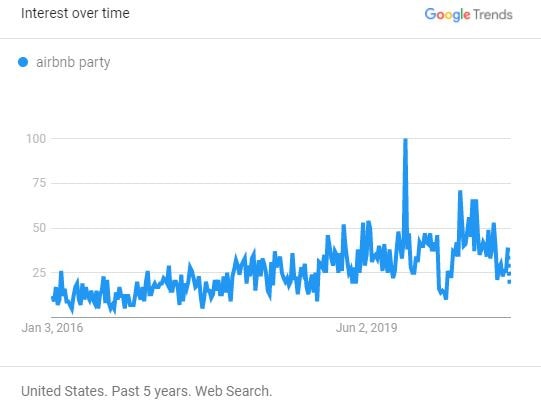 Searches for "party prevention" (USA)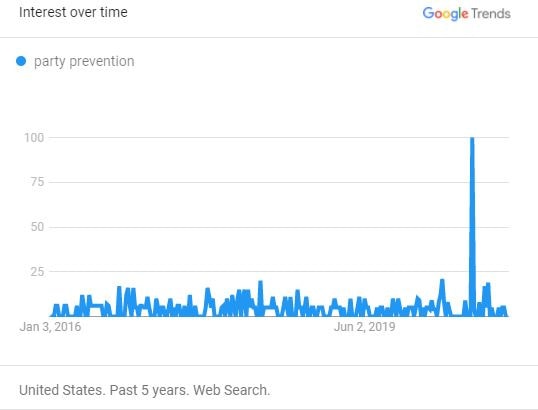 Bans on short-term rentals came and went and came back again. Searches may be linked to COVID-19 restrictions as well as to long-term plans by municipalities.
Searches about vacation rental bans were the strongest in May 2020, but the ever changing travel restrictions and local regulations (e.g. ban on vacation rentals in Florida) created small peaks for the topics regularly over the following months.
Searches for "vacation rental ban" (USA)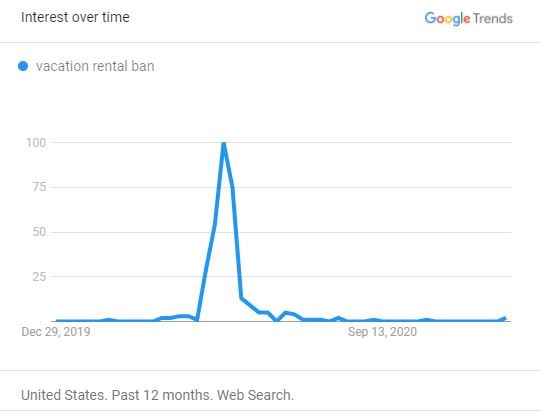 Searches for "airbnb during COVID" (Worldwide)
Hosts and property managers wanted to know how to airbnb during COVID. What were the new rules from the platform? What were the local rules applying to airbnbs?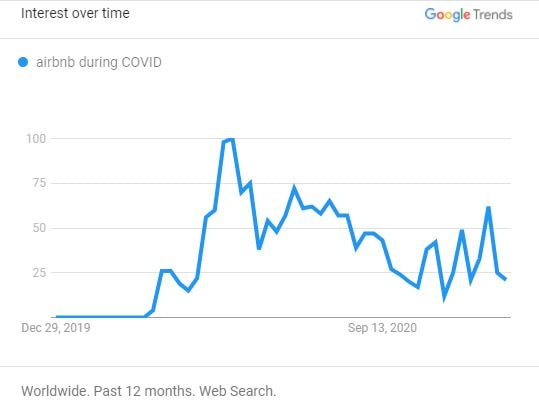 Searches for "Airbnb COVID rules" (Worldwide)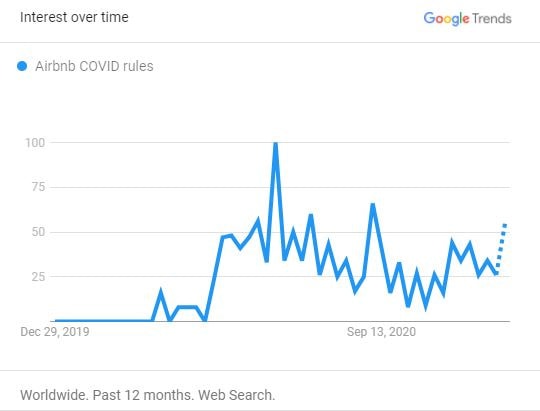 Conclusion: Trends for 2021?
While insistence on cleaning guidelines may be less important in 2021, helping travelers navigate local, state-level, and international travel restrictions may be key to get more bookings and fewer cancelations.
Interest in beach, sea, and mountain vacation rentals should remain high. However, the progressive rolling out of vaccines and the appetite for city lights should also help generate demand for urban short-term rentals in 2021.
For destinations like Bali or Thailand, the first wave of demand will be from China and other Asian countries for which the pandemic crisis is almost over.