How has the COVID-19 pandemic impacted the OTA (Online Travel Agency) landscape? Rental Scale-Up's Thibault Masson was recently invited by news site Shorttermrentalz.com to share his views on the topic, alongside Alex Alioto (founder of Whimstay), Stephen Thresh (MD, North America, Holidu), and Will Cunningham (Vice President, WestCap).
Here's a summary of Thibault's points: How Airbnb, Vrbo and, Booking.com have repositioned their brand and their offering since the start of the pandemic; How a window of opportunity has opened for new vacation rental listing sites to emerge, thanks to an unprecedented inflow of money and new technology that make it easier to connect a new platform; and how the family of listing sites is getting larger, once again, with companies focusing on curated supply (e.g. Plum Guide) or on adding FinTech to Travel (e.g. Hopper Homes).
How have Airbnb, Vrbo, and Booking been positioning themselves differently since the pandemic?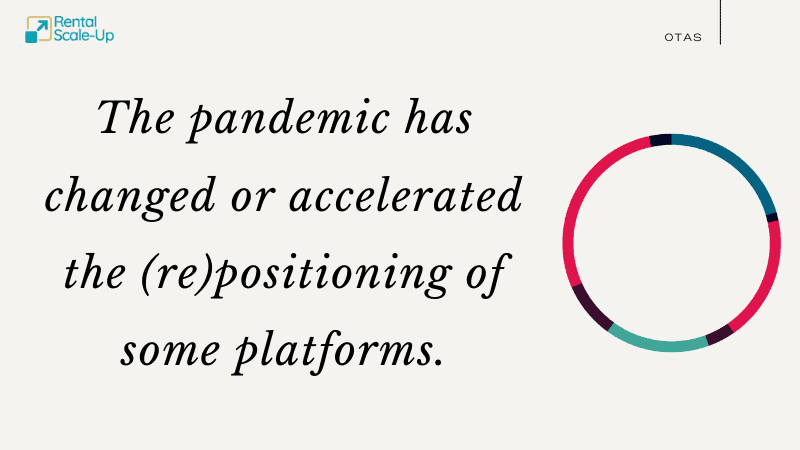 – Pandemic has changed or accelerated repositioning of some platforms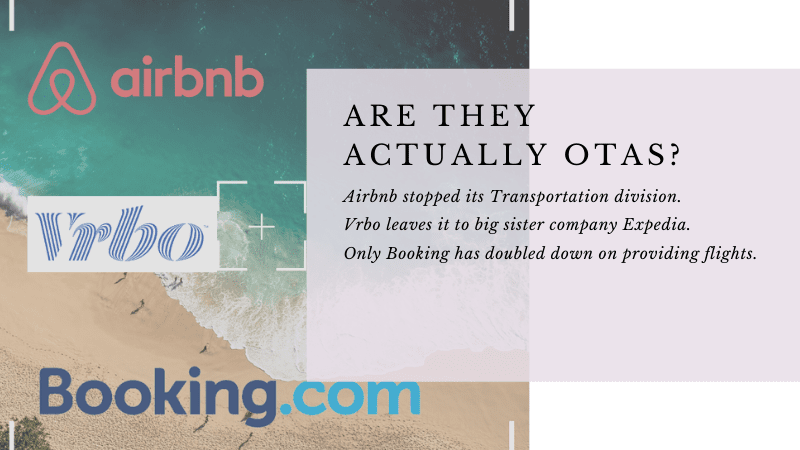 – Are they actually OTAs? In the first weeks of the pandemic, Airbnb stopped its Transportation division. Vrbo leaves it to big sister company Expedia. Only Booking.com has doubled down on providing flights.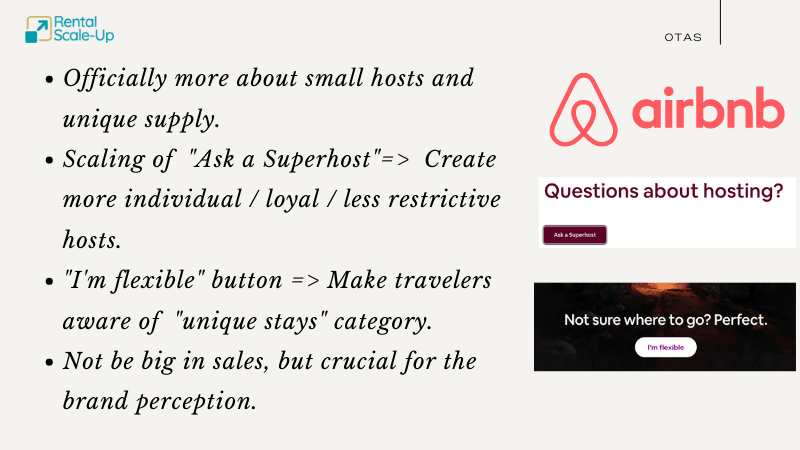 – Airbnb: Officially more about the small hosts and about unique supply. The scaling of the "Ask a Superhost" program is a clear indicator that they want to create more individual hosts. The "I'm flexible" button also helps them make travelers aware of their "unique stays" category, such as treehouses and yurts. May not be big in sales, but crucial for the brand perception and a reason to believe in the company's new mission statement, away from the pre-pandemic reality of Airbnb as a purveyor of an apartment for 2 for a weekend in a big city.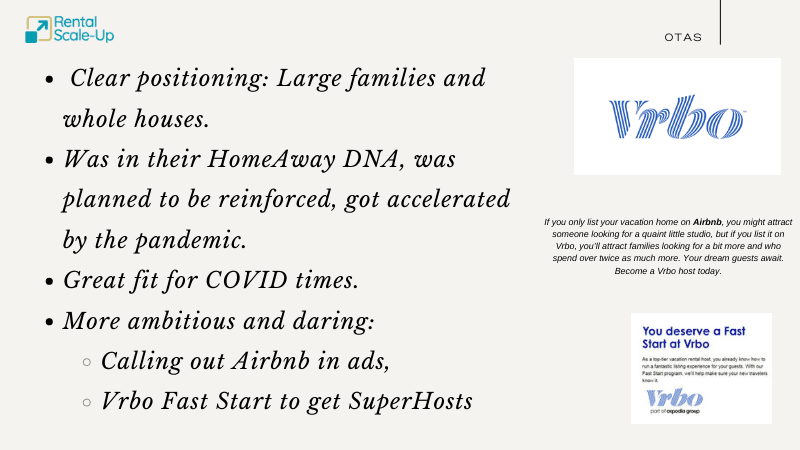 – Vrbo: large families and whole houses. Was in their HomeAway DNA, was planned to be reinforced, rebranding got accelerated by the pandemic. Great fit for COIVD times. More ambitious and drain than in the past: It called out Airbnb in its ads and says that hosts earn more on Vbro, it launched Vrbo Fast Start that directly aims at SuperHosts.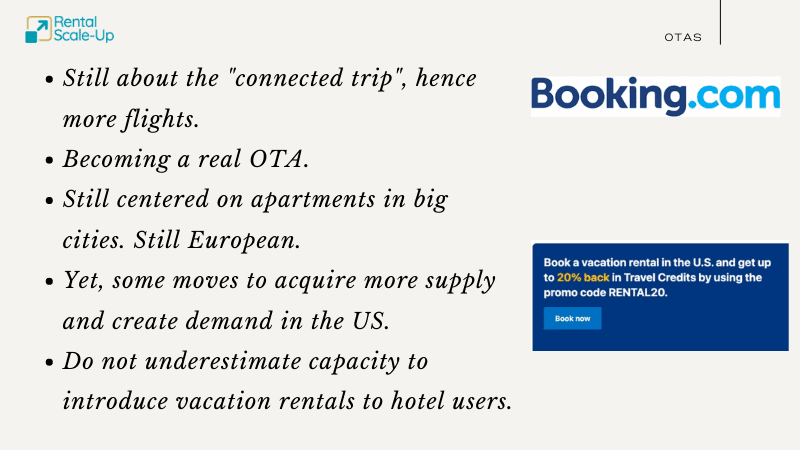 – Booking: Still about the "connected trip", hence more flights. Still centered on apartments in big cities. Still European. Yet, some moves to acquire more supply and generate demand in the US. Still great at introducing vacation rentals to hotel users. Making steps to grow into a real OTA.
A window of opportunity for new types of OTAs to emerge e.g. Hopper Homes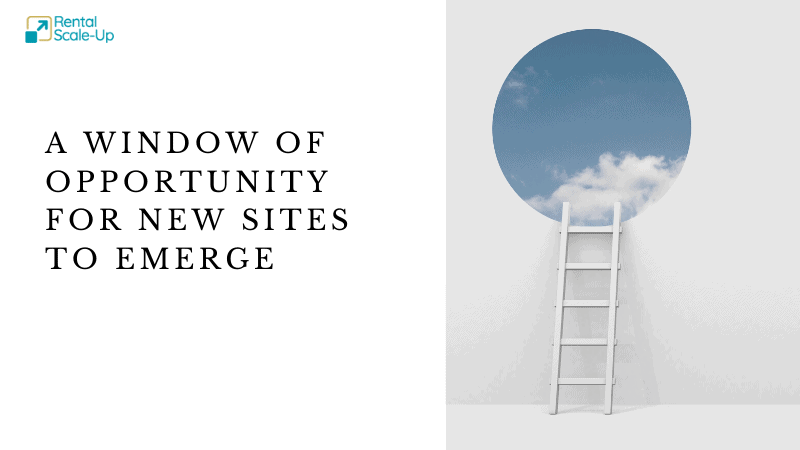 The old model was based on buying Google ad words and getting the highest return on investment possible. The highest bidders, like Booking, were taking a 15% commission from each booking to bid very high and capture all the demand. The quasi oligopoly between Booking, Expedia, and then Airbnb locked out new entrants. Yet, with the crisis, companies have revised their market spending. For instance, Airbnb says that 90% of its traffic has been coming from its direct channels, since the start of the pandemic.
The massive influx of money that can fill in the coffers of new entrants (HomeToGo SPAC deal, Hopper raising money, etc) and give them money to buy traffic, tech, and supply. So, not always rational money here.
Tech has entered the short-term rental market. With more APIs available, it is possible to launch a new site that can connect to key PMSs fast. Yet, there are hundreds of PMSs so there may be issues in scaling up.
The rising popularity of specialized, niche or targeted listing sites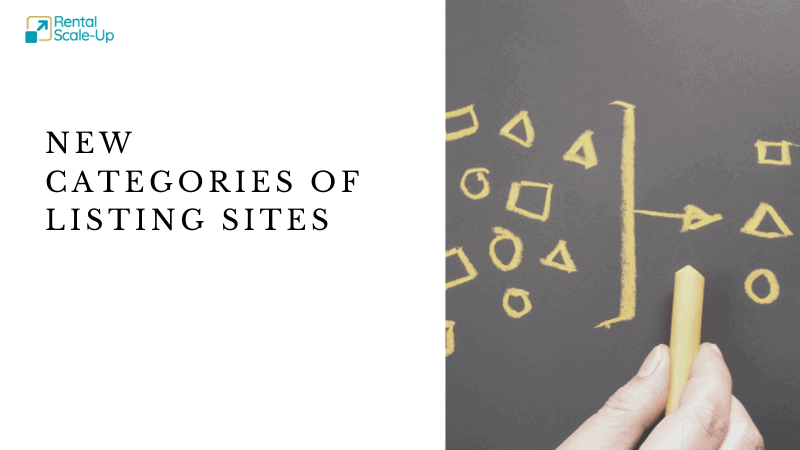 Once again, we see the rise of different listing site families
Pure aggregation: Booking.com, the #1 accommodation provider in the world (Everything for everyone)
Differentiated positioning: Airbnb for unique stays, Vrbo for families, Whimstay for last-minute deals.
Meta-search becoming booking channels: HomeToGo, Holidu, and Google Vacation Rentals offer property managers the possibility to list directly on their platform and to send traffic straight into their own websites.
Curation: Plum Guide (which claims that they only allow 3% of properties to join), Marriott Homes & Villas for curated high end, Spotahome for long-term stays with inspections => Dominate money-making segments, great for positioning and marketing
New business models: Hopper Homes where the money is made on FinTech products, not always on selling travel products. An interesting model to bring flexibility to unflexible cancelation policies.