When vacation rental owners start looking online for marketing advice, it is often to find ways to increase low season bookings. When owners start talking with vacation rental management companies, it is also with the same question: "Can you get me more low-season vacation rental bookings"?
To help you with this dreaded topic, I've put together a list of 15 things that you can today to boost your occupancy rate during the slow season.
Study – Determine when it is low season for your rental and who your ideal low season guests are
1 – Determine what low season exactly means for your vacation rental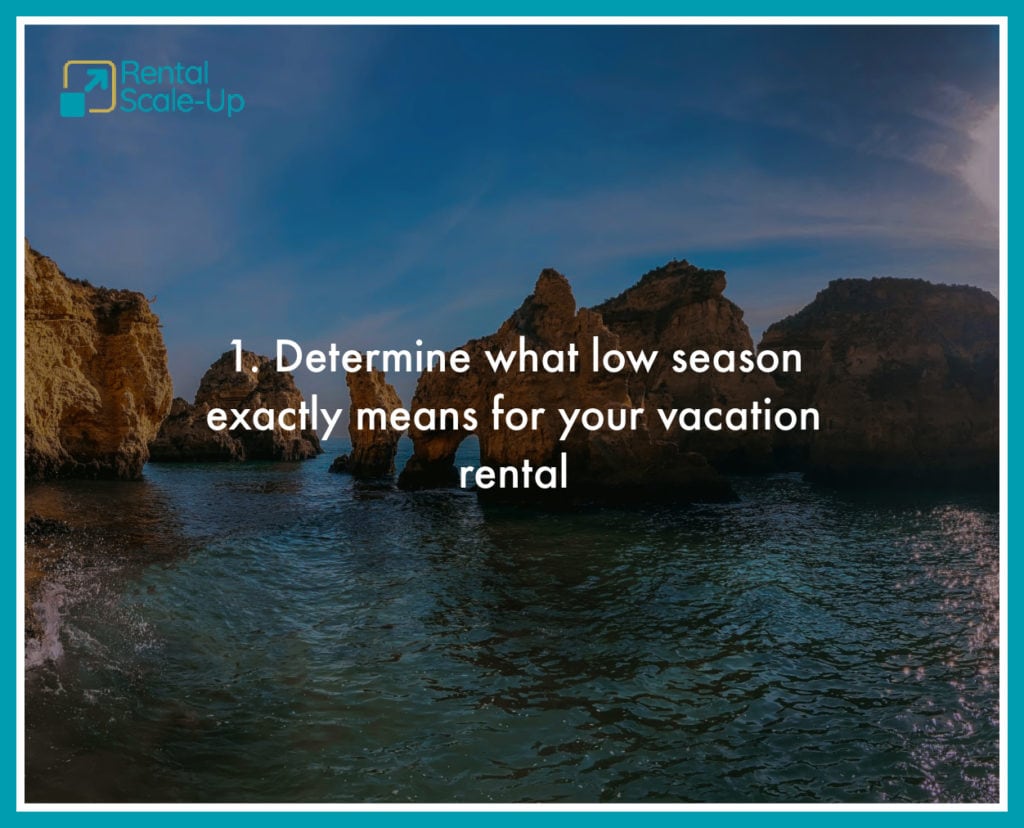 From one location to another, from one type of vacation rental to another, what constitutes the low season seems to vary a lot. I am sure that you have noticed this already when talking with other vacation rental owners.
But what is low season? Sure, high season is when you have a lot of demand, it's relatively easy to get bookings, and you sometimes have to refuse some guests as your rental is full. Good times! The off-season is, well, when you have zero bookings, when nobody is asking to stay at your place. Not so good!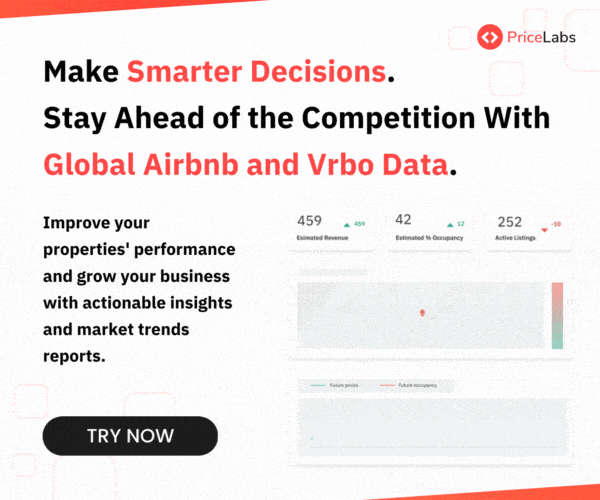 Low season is much harder to define: You are getting some bookings, but your occupancy rate remains low Guests want to stay at your place, but not for your high season rate and sometimes not for as long as during the high season.
There is a sweet spot for the hotel industry and vacation rental management companies within the low season called the "shoulder season." It is defined as the travel season between peak and off-peak seasons, especially spring and fall when fares tend to be relatively low. This is when you can make a lot of money.
Great, we now have a fancy definition, and we know what low season (and especially the shoulder season) are great times to make money. So it's time to put all this at work for you. How is it in your own place? Let's take some examples to guide you.
For instance, in the US, the low season starts after Labor Day weekend in places as different as the Hamptons, NY and Myrtle Beach, SC.
My Caribbean island of St. Barths is a winter destination, so the low season starts around April 15 and lasts until December 15. However, Thanksgiving weekend is in high demand in St. Barths, so I have shoulder rates for that period (i.e., rates higher than the low season, but not as high as the high season).
But the low season is also a time when the demand pattern can change: Weekends are still full, but it can become harder to find guests willing to stay during weekdays. In some places, large properties do not rent well during the low season, while apartments for couples do really well. How is it, in your area, for your type of rental?
Similarly, it would be best to remember that some days within the low season can actually be in high demand. For instance, in my home town in eastern France, it's always tough to find a vacation rental available during the first weekend of October. Why? Because hundreds of people gather there to take part in a popular triathlon. And triathletes love rentals, as they can store their bikes, cook the food they like, and bring their families along to support them. It's just a better option than booking a cramped hotel room.
You can also get local market trends by using data from vendors such as AirDNA, Pricelabs, Transparent, and AllTheRooms. Graphs and data about average occupancy rate, average daily rate, or booking page can help you determine when bookings are historically the lowest.
So, make sure to check whether popular events will be taking place near your rental during the low season. Do not lower your price too much during these few days of high demand in the low season, as you would be leaving money on the table.
2 – Determine who your ideal low-season guest is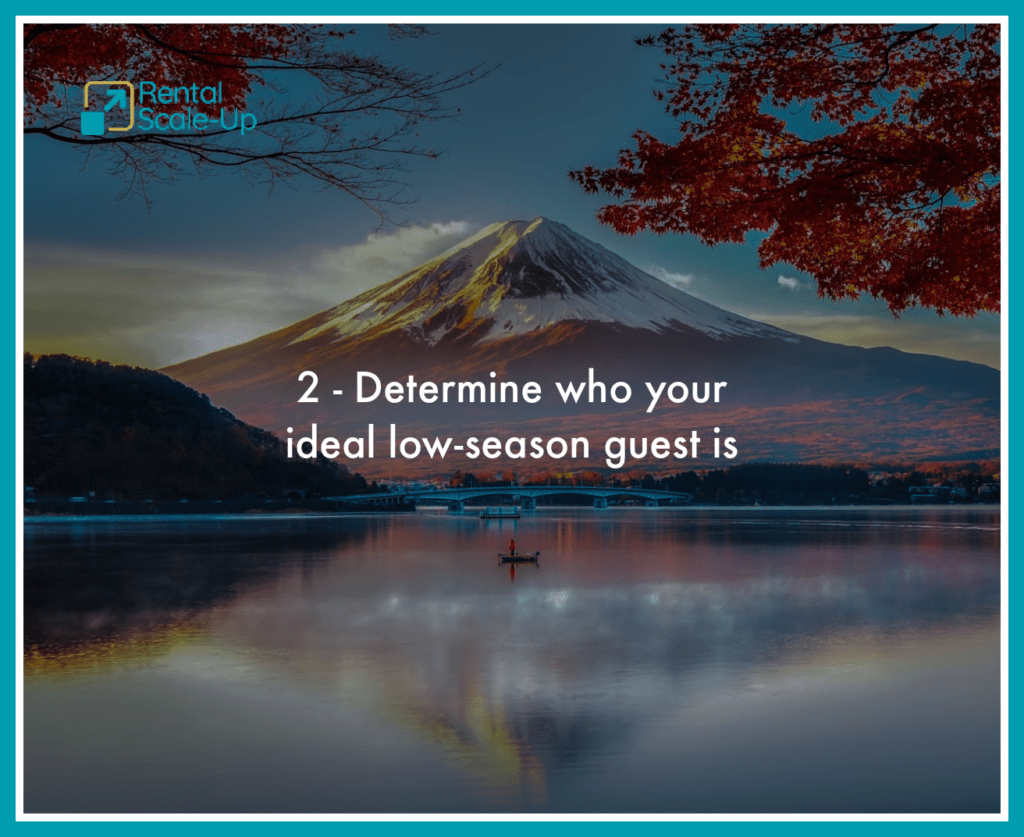 You probably have in mind the ideal guest for your vacation rental. For instance, it could be a family of 4, traveling by car from the US East Coast, who want some special time together as they are all super busy during the rest of the year. Yes, this family may be your ideal guest for the high season, but are you sure that they are the best fit for your rental in the low season as well?
For example, I have a 4-bedroom villa in St. Barths. In the high season, people come and stay for a week, usually as a family of 6 or 7, or a group of 4 couples. However, during the low season, I am ok with offering the villa at different rates if people are booking 2, 3, or 4 bedrooms. I know that I will not get as many large families or groups outside of the holiday season and of Spring Break. For instance, one of my repeat low-season guests is a TV celebrity who books the villa for 1 month every year to write a new book. It is just the 2 of them for the whole villa, and they get the 2-bedroom rate for the whole month.
But this is just one example. Rely on your data. During the previous low seasons, who booked your property? Couples without kids? Retired people looking for some sun? Small biz entrepreneurs looking for an affordable retreat for their executives? How many guests per booking did you get, on average? How many bedrooms did they use? Were you able to upsell some services or packages? Where did most of those low-season vacation rental bookings come from, Airbnb, Vrbo, your website, referrals from previous guests?
Start with understanding who your past guests were, as it will help you define who your ideal low season guest is. Once you know when the low season is and who is coming to your place during this time of the year, you are ready to start adapting your vacation rental marketing to capture more bookings. For instance, if you use Instagram marketing for your vacation rental, you will know what kind of people to feature on your account, doing the relevant kind of low-season activity.
How to increase vacation rental occupancy in low season – Adapt -Change your product ( = your vacation rental) to make it the perfect match for the low season demand.
3 – Lower your price … only if it makes sense!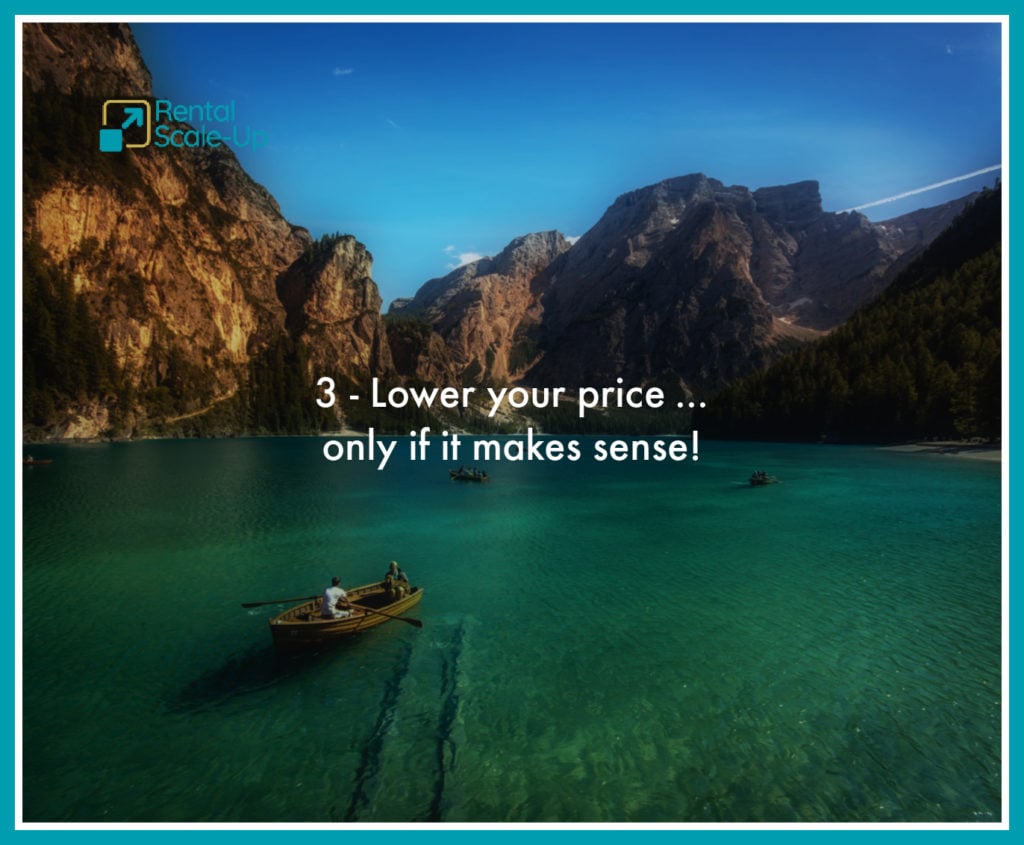 Yes, you do have to lower your rental rates in the low season. But as you will be now have studied the pattern of the demand at your own vacation rental, you now know that you only need to lower your prices when the demand drops. You also know that some weekends, for instance, will be in high demand, so you keep your prices up during those times.
It is time now to look at what others are doing. First, look at how your direct competitors are setting their low season prices. My advice is to go on sites like Vrbo, Airbnb, Booking and find 5 properties that are very similar to yours, have more than 5 positive reviews, and whose calendar seems relatively busy during the low season. These are successful vacation rental owners from who you could learn one or two useful pricing tricks.
What are they doing? How much do they lower their price compared with the high season? 40% less? On weekends as well as on weekdays? Run some tests, enter some dates in the booking engines to see how prices are fluctuating.
To come up with your low season and shoulder rates, test out hotel prices too. Go to Hotels.com and search for prices of hotels near your vacation rental. Test out several check-in and check-out dates during the low season. Hotels usually have a pretty good yield management tool, so this kind of quick study can give you a good idea of the demand's general shape.
You can also get price suggestions from Airbnb (SmartPricing feature) and Vrbo (MarketMaker feature). Technology vendors from the short-term rental ecosystem like Wheelhouse, PerfectPrice, PriceLabs, BeyondPricing, and AirDNA can also give price recommendations.
Whatever the source you are using, always take it with a grain of salt. It's better to examine data from several sources and to combine the results with you have noticed from your past guests, before deciding on your low season prices. Sometimes, you think that you have to lower your prices a lot in the low season, but you discover that your direct competitors are doing well with reasonable prices. Do your research!
4 – Lower your minimum stay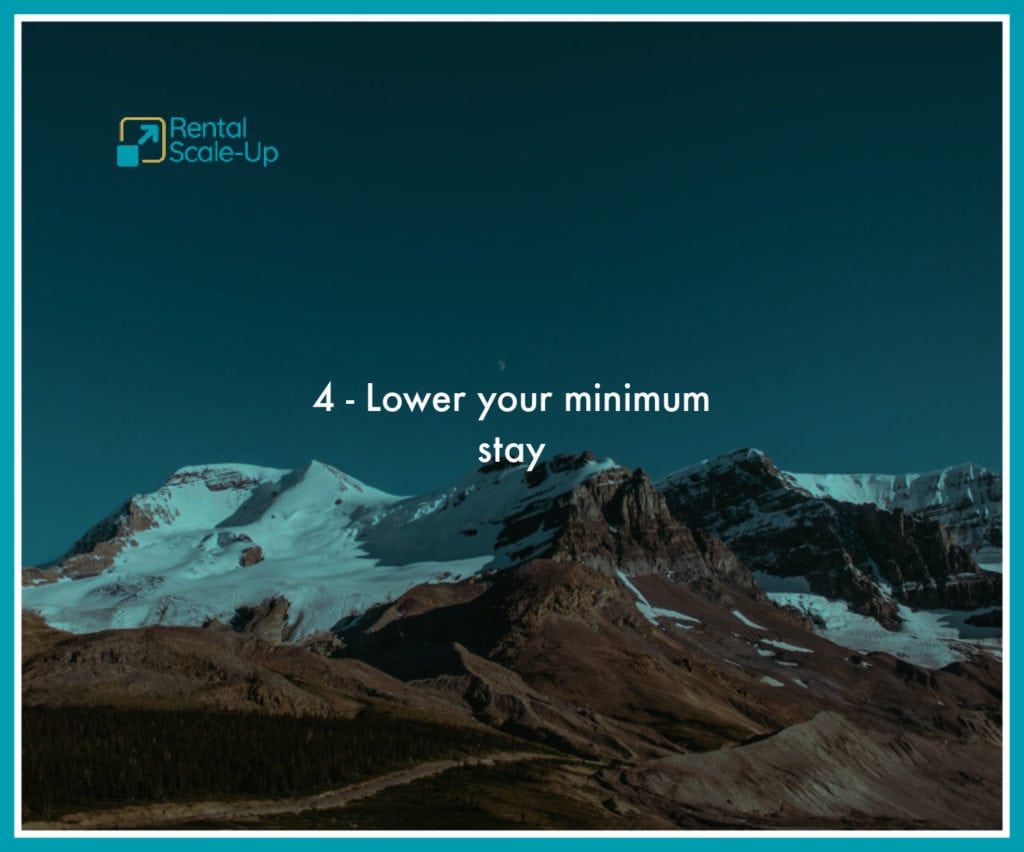 In the high season, you may have a strict 7-night minimum stay policy. But you may consider lowering your minimum stay during the low season and the shoulder season to three nights to accommodate travelers seeking long-weekend vacations.
Again, this depends on your rental, your area, and the kind of guests that you are targeting. Once again, data and pricing solution vendors may give you some indications, even by just sign up for a free trial.
Vacation rental listings sites such as Vrbo, Airbnb, and Booking allow you to create discounts based on length-of-stay. While you are lowering the length of your minimum stay, you can also choose to reward longer stays by discounting your rates for weekly and monthly stays. For instance, you can use Airbnb's tools to set up discounts and promotions, based on length-of-stay. Booking.com also you to create weekly and monthly rate plans.
But you may get away with keeping a premium price at weekends, provided you lower your minimum stay.
5 – Make weekdays attractive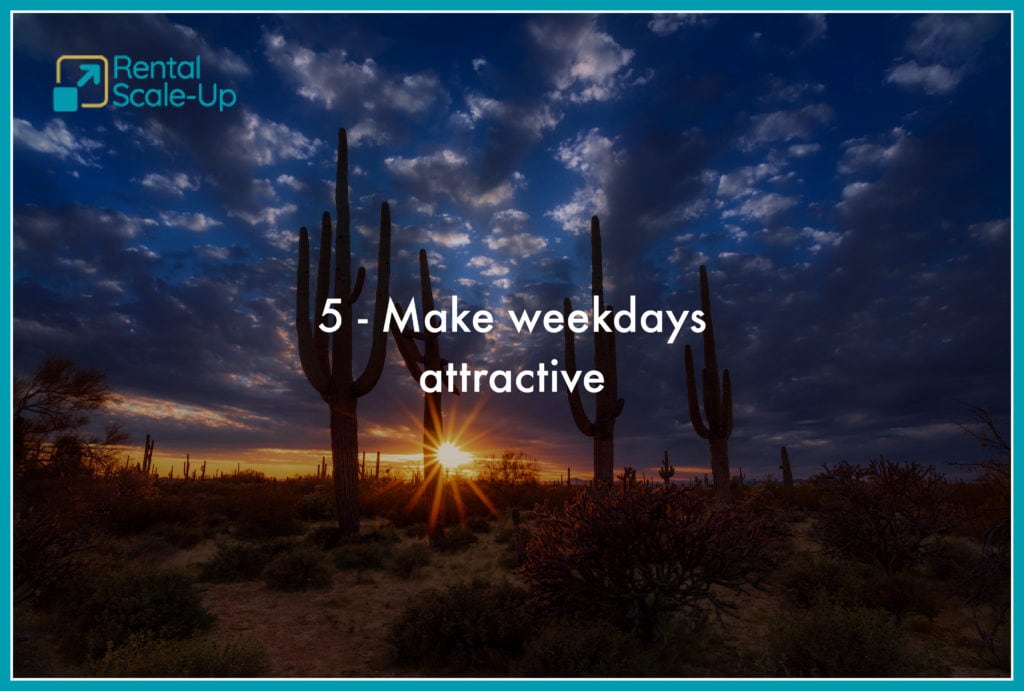 Weekends may still be in high demand, but you may face a problem with weekdays.
How about running special offers for weekdays, for instance by offering 3 nights for the price of 2?
This is another way for you to avoid discounting your apparent price too much and to avoid damaging your image: Keep the same night price, but give away 1 night if people stay for 3 nights during the week.
To get started, you can simply lower your prices for the whole low season, but make weekends more expensive. For instance, if you are a property manager and have access to Airbnb's Professional Hosting Tools, that you use rule-sets to automatically increase weekend prices.
6 – Close down some bedrooms to attract smaller groups
In the low season, it is often harder to rent out large houses than smaller ones. Families are not so numerous, while couples with no kids are more the norm.
Think whether it is reasonable for you to close 1 bedroom or 2, and offer a lower rental price. This is a way of lowering your price without lowering your value too much.
On vacation rental listing sites, you can set up occupancy-based rates: For instance, on Airbnb, you choose a price based on a standard occupancy (e.g. 4 guests) and then specify the cost for each additional guest, up to your actual maximum occupancy (say, +$50 per night per person, for up to 6 guests in total). On Booking.com, it is the other way round: You first indicate your maximum occupancy (e.g. 6 guests) and then you can indicate a price for 5, 4, 3, 2 and/or 1 guest(s).
7 – Create packages to get more vacation rental bookings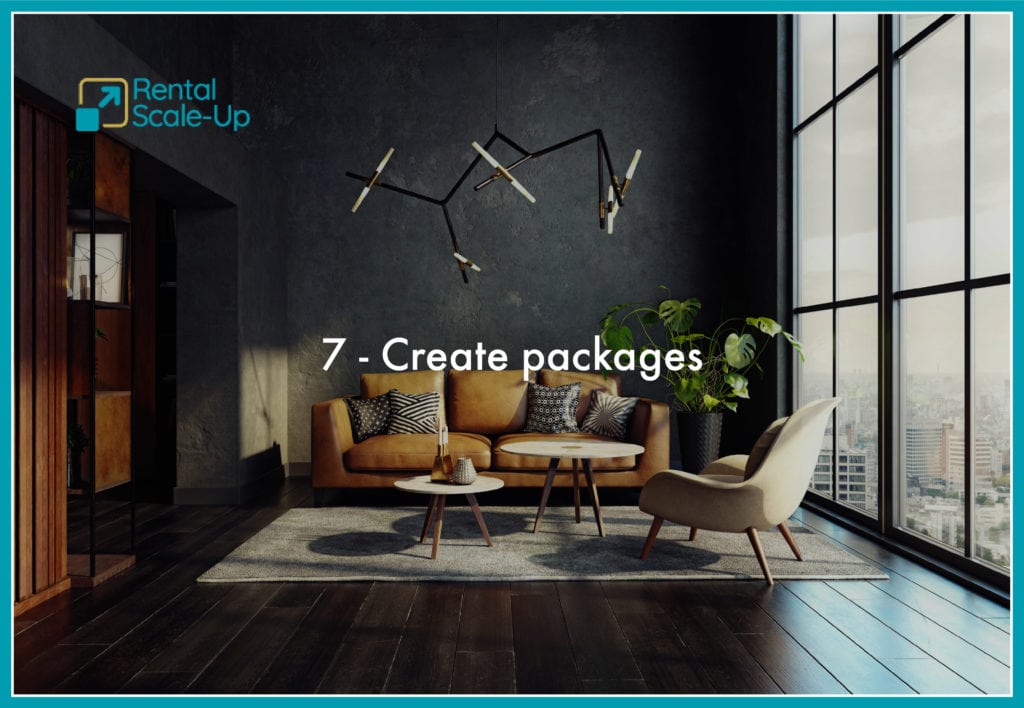 Another way to avoid lowering your shoulder and low season rates too much is to offer more for the same price.
For instance, you may have noticed that, in the fall, you are attracting foodies who enjoy going to from one restaurant to another. How about offering a free meal at a nice restaurant located near your property? Adding a photo of a romantic dinner at a nice restaurant may attract some people. You may even negotiate a discount with your local restaurateur, which would lower your costs.
If there are some local events taking place in the low season, you can also create a package including 2 free (or discounted) tickets to the event.
8 – Add a hot tub … especially if you are targeting couples!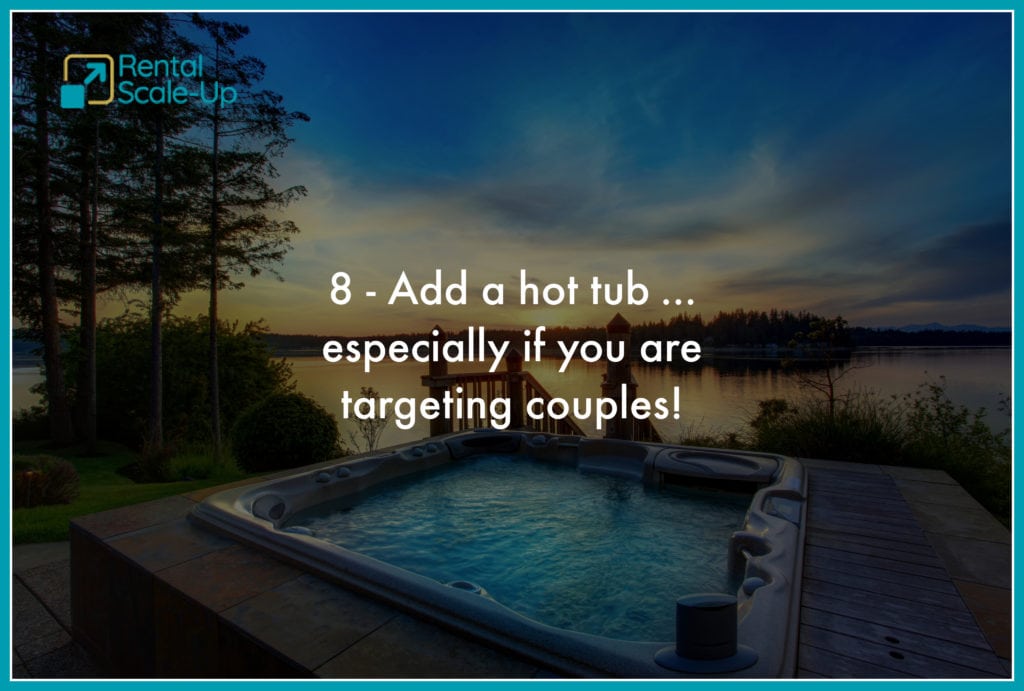 Another way to adapt your "product" (i.e. your rental home) is to add a few items that make it more attractive in the low season.
First, you need to make sure that you tick the boxes for most or all of the basics that vacation rental guests are looking for. In 2020, Vrbo published a list of amenities that makes up "a good vrbo". This list is based on the most-used filters on vrbo.com by travelers, as well as on guest surveys conducted by the Vrbo Research team:
Parking
WiFi
Air conditioning and heating
Shower and/or bathtub
Laundry facilities
Toiletries and toilet paper
Access and use of disinfectant at the property and waiting period between different stays
Linens, towels, and temperature at which linens are washed
Safety features such as smoke detector, carbon monoxide detector, and fire extinguisher
Emergency escape route
Now, you also want to make sure to do a bit more than that. If you have a cold season and have some outdoor space, you could think about getting a hot tub. This is great when the weather gets cold and can be seen as something romantic if couples are your target. A 2014 TripAdvisor study actually lists hot tubs as one of the top 5 luxury amenities that attract travelers.
Believe it or not, adding a hot tub / jacuzzi is also a good strategy if you are targeting couples traveling to a Caribbean island. Selling the promise of romance will do wonders. Make sure to feature your hot tub among your listing photos, for instance with 2 cocktails nearby. Help coupled picture themselves there.
What if a hot tub does not make sense in your area? Look carefully at the hints provided by the short-term rental platforms. For instance, in the Booking.com extranet, you can find a tab called Quality Rating Score. There you will find a series of amenities or services, based on your location and property type, that Booking advises you to add, as they've been shown to get bookings at properties competing with you. In the Airbnb app, check the Performace tab for opportunities based on the popular amenities searched by guests in your property's area.
How can I maximize my short term rental? – Deploy – Be proactive and start with the low hanging fruits to make it easy on your vacation rental marketing effort.
9 – Contact previous guests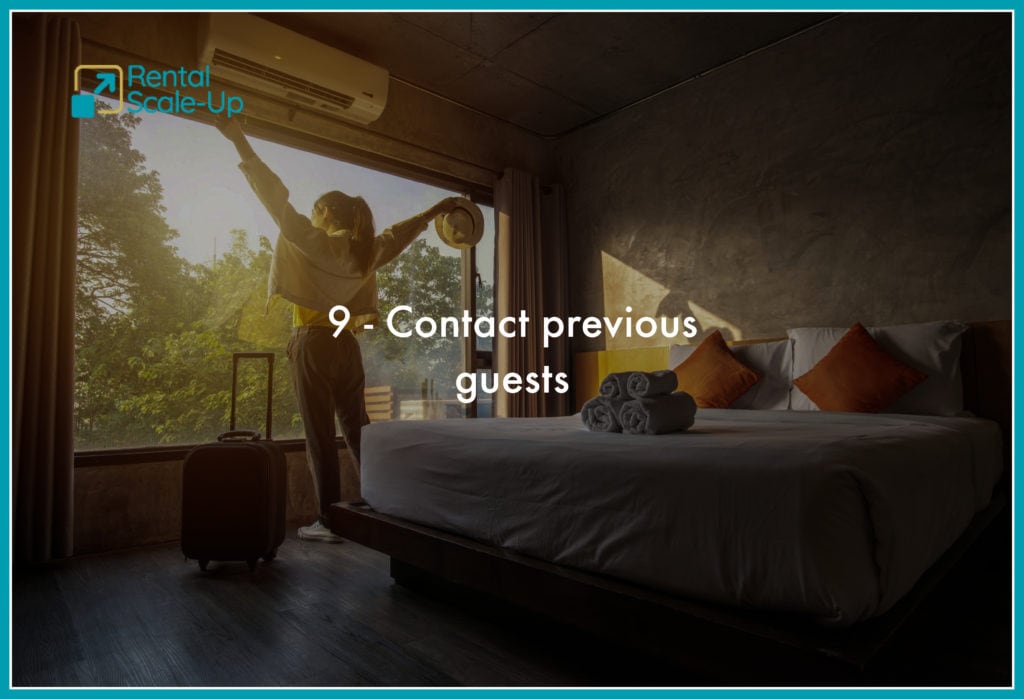 Stop. Do not rush.
Now that you have your pricing in order and have even created some offers and packages, it's time to reach out to potential guests.
But start with the most obvious ones. People who know your rental, who know you as a host, and whose contacts you already have.
Yes, I am talking about past guests. Even if it is only 30 different people who have booked your rental in the low season over the last 3 years, they are the ones that you should be contacting first.
It will be easy: You have their email address, they know you. Just re-introduce yourself shortly if needed, ask about them. Tell them about your best offer.
This is way faster, less costly, and more efficient than trying to go after totally new people who have no idea about what you offer.
Your conversion rate should be pretty high if you are in the kind of area where guests come back with pleasure. Casal dei Fichi's Bob Garner does it really well at its eco-friendly vacation rental business in Italy.
10 – Ask for referrals from previous guests and make it worthwhile to them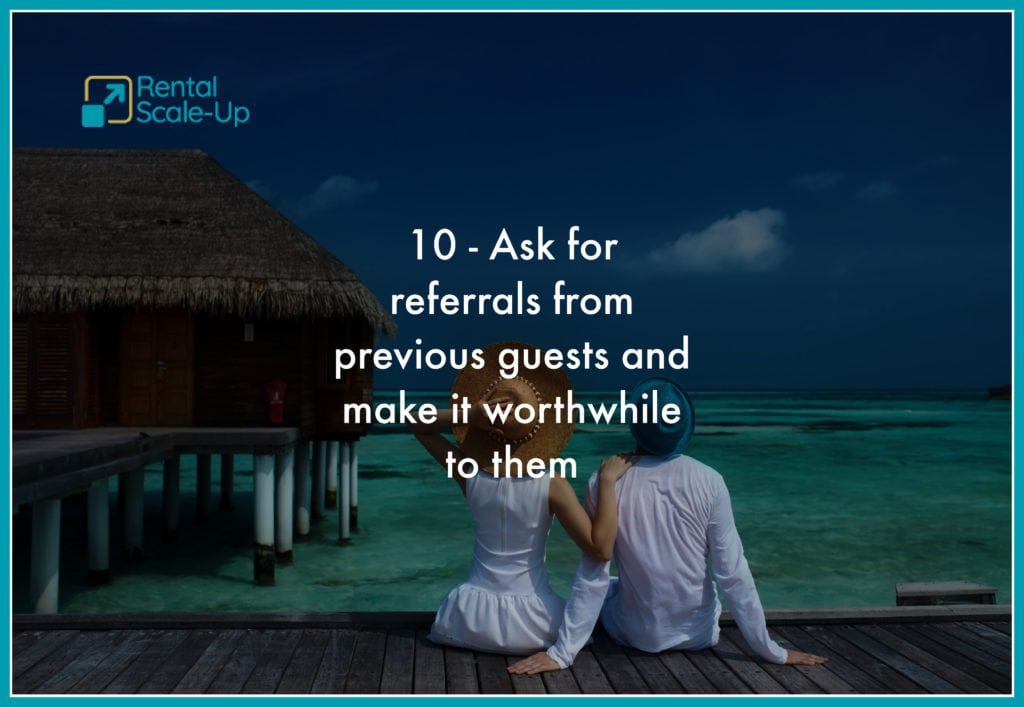 At my Bali vacation rentals, my repeat business is much less than in St. Barths. About 30% of my St. Barths business is made of repeat guests (mostly people from the US East Coast who come every year), while it is only 10% in Bali.
Why? I guess that Bali is a once-in-a-lifetime trip for a lot of people. Once they have crossed it off their bucket list, they move on and explore another place.
Does it mean that I do not write back to past guests? Of course, not! Here, my goal is more to get them to refer my villas to their friends.
Usually, people have fond memories of my luxury beach retreat Bulung Daya, so they tend to mention it to their friends. It is not about boasting, but about sharing a well-kept secret.
So, in my emails, I ask my past visitors to think about a friend of theirs with whom we could share this secret.
To thank my guests for the referral, I send something nice, like a box of Belgian chocolates or some Champagne. It depends on which nice online store I can find that delivers where they live.
If you have more repeat business than I do in Bali, you can also promise to give them a discount on their next stay with you if their friends book your rental.
Just make it worthwhile for the previous guests to recommend you and offer something that fits your clientèle.
11 – Contact people who had enquired about your place, but did not book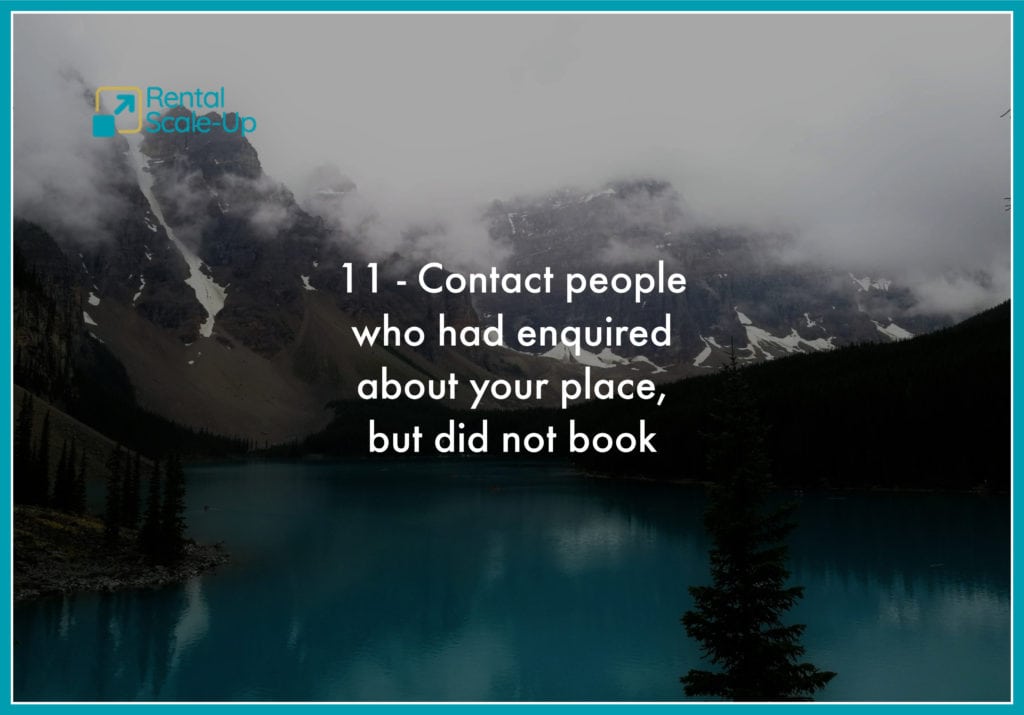 Right after previous guests, people who had enquired (but did not book) about your rental make up the lowest hanging fruits. Depend on where you live and where your guests come from, privacy laws, such as the EU's GDPR, may prevent you from contacting prospective clients.
I am thinking about the kind of people:
to whom you had to say no last year or the year before, around the same of the year, because your rental was full
who ended up not coming, for some reason, but were super nice and mentioned that you would maybe book your place in the future
Again, these people know you, and you have their email addresses. It did not work out last year or the year before, but maybe all they need is you reminded them about your great vacation rental.
Share with them the special offer that you created. You are not cold calling them, you are just reconnecting with them with a nice email and an offer.
Do remind them how you got into contact the first time, so that they do not take you for a spammer.
If privacy laws are ok with it, you may even take it up a notch and do some Facebook remarketing for your vacation rental to target your past contacts and site visitors.
12 – Update your listings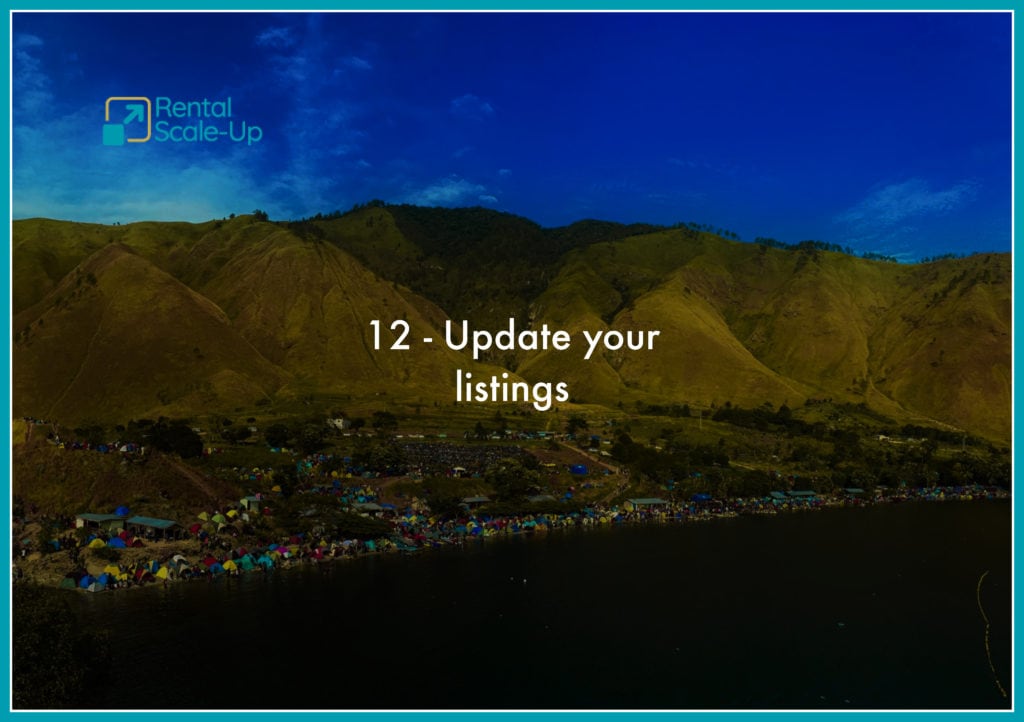 If you are using vacation rental websites such as Vrbo, Airbnb, and Booking.com, you need to update your listings to attract low season guests.
If you do only 1 thing, then it should be updating your calendar. First, you want potential visitors to feel confident that your place is available. After the high season, many rental owners do not take the pain of updating their calendars as often. Be different. Second, your listing will rank higher than those of your competitors, as websites like HomeAway / Vrbo reward owners who keep their availability calendar fresh.
Update at least your cover photo, showing how nice your property is during the low season (e.g., trees, fireplace, hot tub, etc.). Make it easy for the visitor to imagine what it is like to be there during the slow season.
If you have a special offer, try to feature it into your listing headline. In your listing copy, mention local events taking place during these months near your vacation rental. You can also mention the season specific activities that people can enjoy, such as long walks to look at fall colors ("leaf peeping").
Do not forget to enter your low season and shoulder rates. Make sure that you are not discounting too much on weekends that may prove popular because of local events.
Last, vacation rental listing sites tend to add new features and to ask you for your new details every month. Check whether they are not asking for a property feature that you have had for a long time but that they had never asked about (e.g. a shallow pool, self-check-in, a work desk).
13 – Try niche vacation rental websites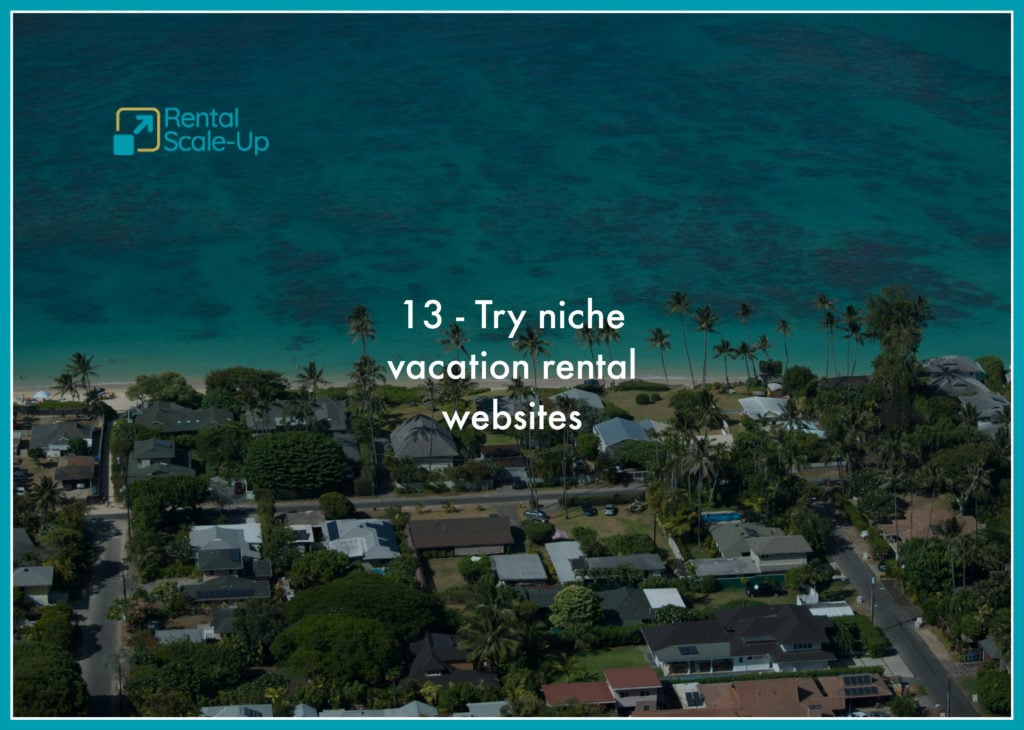 The low season might also give you time to try out new booking channels. If you are already on the major sites, then you can test out niche vacation rental websites.
For instance, have a look at PetsWelcome or BringFido if you own a pet-friendly vacation rental. If you are in a gay-friendly location, then you may want to list on MisterBnB or to check out Booking.com's Travel Proud program.
To help you, we have compiled a list of sites and of pros and cons of niche vacation rental listing sites. For your property is more upscale, you may want to check our list of 20+ luxury vacation rental listing sites.
To help you, we have compiled a list of sites and of pros and cons of niche vacation rental listing sites. For your property is more upscale, you may want to check our list of 20+ luxury vacation rental listing sites.
14 – Write a blog post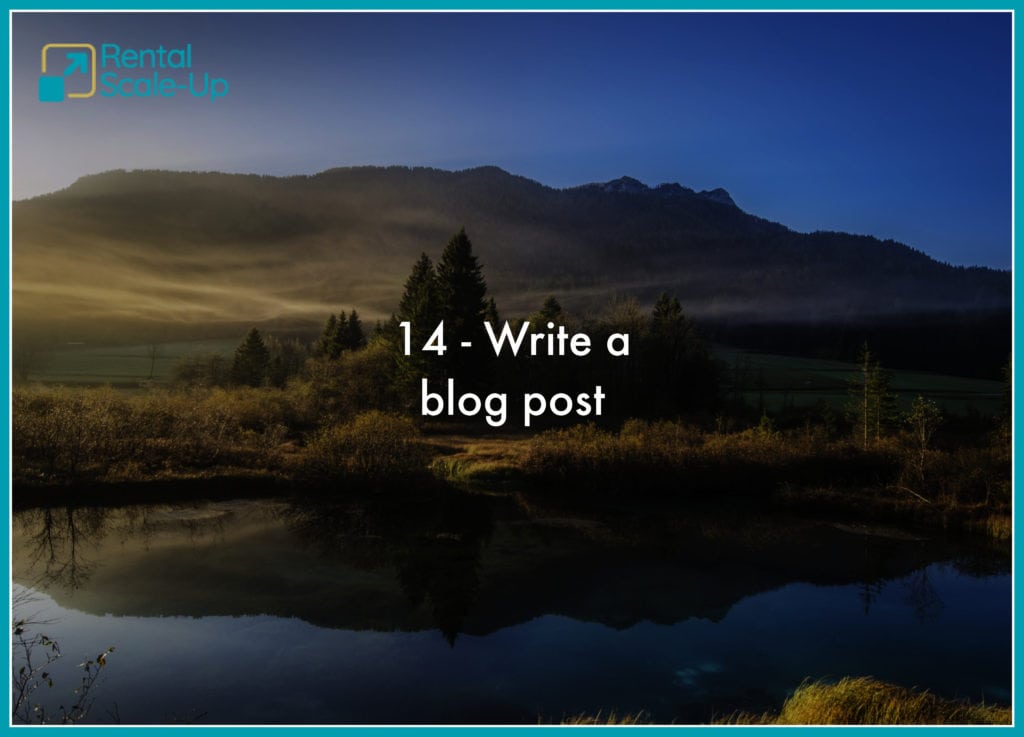 If you have your own website, you will want to mention your low season and should rates, your special offers, as well as photos that show how great it is to say at your rental in after the peak season.
You may also want to write a blog post such as "7 things that you can only do in (Your Location) in the fall" or "Top 3 reasons to visit (Your Location) in the low season". This will give ideas to visitors about what they will be able to do while at your place. Share this blog post on social media and send it by email to your past guests.
15 – Contact organizers of local events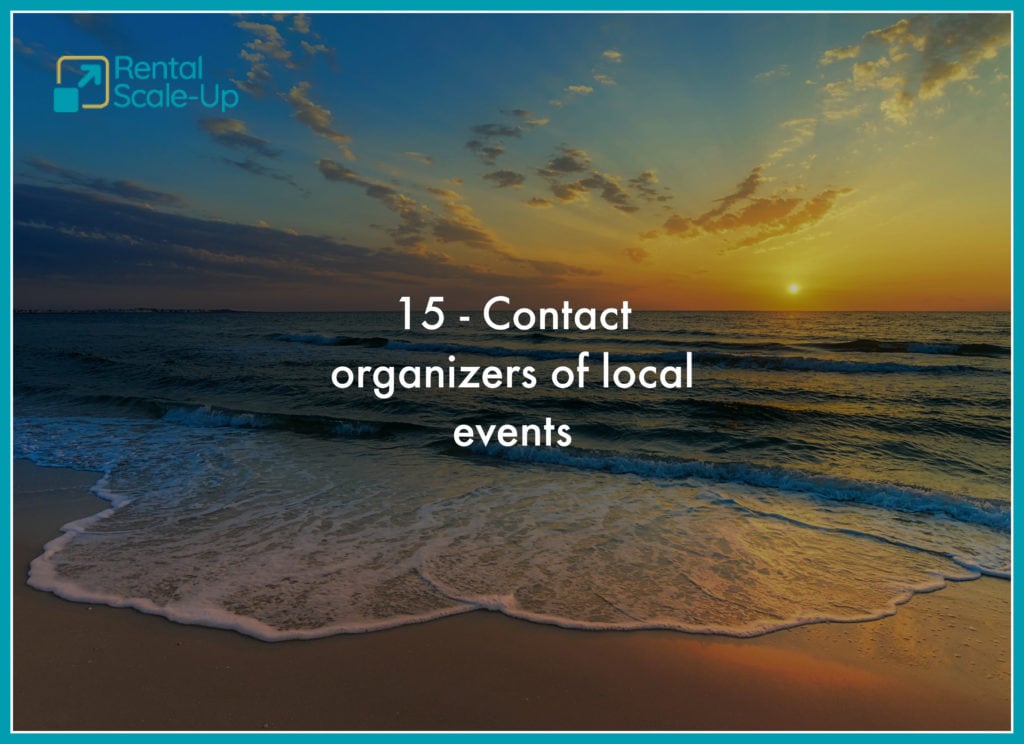 Maybe this will take you out of your comfort zone, but try and call (or visit) the organizers of the local events that you have listed.
They may be thrilled to have somebody care about their event and happy to list your rental in their leaflets and on their website. Maybe you can tell them about a special offer that you are making just for their attendees and that it would be great if they mentioned it in their next email newsletter.
Not many vacation rental owners will go that extra mile, so this tactic may be quite successful to fill up a few weekends here and there.
How do I increase my occupancy rate on Airbnb, Vrbo, Booking.com, and other listing sites?
I hope that these 15 things to do to get more vacation rental bookings will be helpful for you. Try and implement at least 1 today, so that you can start getting more low season bookings as soon as possible.
If you have other tactics, please share them with your fellow vacation rental owners in the comment section.